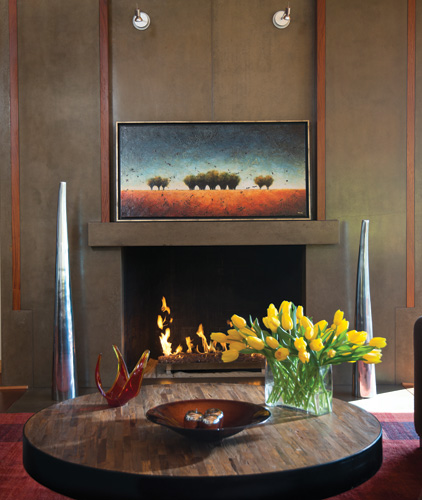 I decided that "turning point" was an appropriate label for this issue, one that straddles wintry February and March, the wild first month of spring. In these two pivotal months, we move from our deep winter hibernation into the season of renewal.
By the time February is over, I am bone tired of looking through my windows at the decay and destruction that is my yard. As we light the evening fire and bundle up, John and I begin to dream of new plants and draw up a tragically long to-do list of garden chores. The entry to our home is a sad spot in an otherwise great front yard. Thankfully, and right on time, garden editor Lucy Hardiman provides great suggestions on how to spruce up an entryway. I want to replace the driveway, a hideously expensive undertaking that my husband, who never says no, has put the kibosh on. So I'm going to take Lucy's advice and rethink my containers and colors to add some sparkle without breaking the budget.
Managing editor Vivian McInerny is always on top of things, and in this issue she canvasses Oregon interior designers for ideas. Happily for me, since our home is often described as "eclectic" or "interesting" (our friends are kind), these professionals say that individuality is the key to a happy outcome.
Individuality — and partnership — is at work in the three homes we feature this issue. A remodel of a classic Cape Cod paired empty nesters George and Marcia Beard with interior designer Jason Ball and resulted in a great mix of old and new . Homeowner Tracy Kim and architect Bob Schatz tackled a challenging sloped site to create what Kim calls a very cool "spaceship." And Bernard Gasch joined forces with designer Lee Shradar and architect Alan Jones of Holst Architecture to beautifully knit together a multistoried house.
Whatever your budget, whoever your partner in crime, I hope this issue gives you some great ideas as you transition into the next season.
Robin Doussard