Voodoo Doughnut casts its spell. Bleary-eyed crowds stand outside the 24-hour shops to buy the likes of bacon maple bars and doll-shaped fried dough. "I try not to question its success," says Tres Shannon. He and business partner Kenneth "Cat Daddy" Pogson employ 140 to operate two shops in Portland and one in Eugene, and "we're flirting with Denver." Voodoo's pink-bottle Bacon Maple Ale by Rogue Ales is a hit, and there's talk of a pink vinyl record label. Tres, pronounced like the Spanish 3 "because I'm a III," plays tambourine in the band Karaoke From Hell and regularly greets fans of the dough. His Portland home is chockablock with visual deliciousness.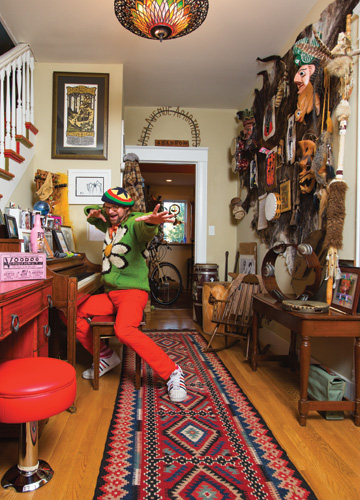 Photo by Ty Milford
WALL OF FAME: In the entry are African masks, a Native American bag, beadwork, a drum, cowhide, prints from friends and family, and a 2008 mayoral proclamation of the Portland Cream as the city's official doughnut.
NANA NANA: The red sewing machine cabinet and piano "are from my Nana."
NOT SO HANDY: He bought the 1890s-era house "because of Obama" and the financial incentives for first-time buyers. He keeps plastic action figures of the president and first lady on the piano. "I am not a fixer-upper-er." He had tartan put on walls off the kitchen to create a "plaid pantry."
TICKET TO RIDE: Prominently taped to the kitchen wall is a strip of season tickets to the Oregon Symphony. "I forgot one show, so I figured if I put them on the wall …"
FOOD ARTS: "I bought most of my art at bars or restaurants that have art on the walls." The house is filled with velvet paintings, glass mosaics, rock-god portraits and campy pinup girls. "I am fond of the ladies." His collection includes Tom Hardy, Tom Kramer, Marne Lucas, Arnold Pander, Shanon Playford and Mary Tapogna.
ROOM FLOW: He misses drummer Obo Addy. "He used to come by and rearrange the house to improve the energy."
MEAL DEAL: When he bought the house, it needed a new central heating system. He got a dining set instead. "That was my furniture-for-furnace trade-out."
SENTIMENTAL JOURNEY: For all his eccentricities, he is soppy. Rocking chair, cowboy vest and cuckoo clock are childhood treasures. His grandfather's key holder hangs by the door. "It has his handwriting on it."
{besps}articles/2013/02_2013_FebMar/voodoo|width=680|height=500{/besps}
{besps_c}0|01.jpg|A friend, artist Mary Taponga, created the glass mosaic bottles using vintage photos of a young Tres and his parents..|PHOTO TY MILFORD|{/besps_c}
{besps_c}0|02.jpg|Tres has one long narrow room devoted to his vinyl collection but keeps a few out near the turntable in the living room ready to play. Much of the artwork on the walls is by friends though he also likes to buy off the walls of restaurants and bars…|PHOTO TY MILFORD|{/besps_c}
{besps_c}0|03.jpg|An ornate candelabra-slash-table, a gift from a friend, holds a portrait of Sarah Palin, plaster faces, and a shoe. An eclectic collection of art, odds and ends fills his 1890s-era house in North Portland.|PHOTO TY MILFORD|{/besps_c}
{besps_c}0|04.jpg|The dining room of a guy behind Voodoo Doughnuts was bound to be a little quirky. In addition to the dining set (not pictured) that came with the house, it holds his bike, balls, childhood cuckoo clock, paintings and photographs by and from friends. The red electric typewriter is about as high tech as he goes. Tres eschews smart phones, email and social media. .|PHOTO TY MILFORD|{/besps_c}
{besps_c}0|05.jpg|The key ring holder was made and used by his grandfather for decades and now hangs in the entryway of Tres's Portland home though most the keys are a mystery..|PHOTO TY MILFORD|{/besps_c}
{besps_c}0|06.jpg|Feeling playfully inspired, Tres Shannon hits the keys. The piano and red sewing cabinet beside it belonged to his Nana. A pink box of donuts and signature beer from Rogue Ales is the perfect accompaniment. He picked up the cardigan from a vintage store because he "was cold and it had pockets.".|PHOTO TY MILFORD|{/besps_c}