By Holly Stickley | The White Pear
Crave Salads? I do! A few evenings ago, I was having a salad craving — not my usual fare, but a new and exciting one…:-). If you love delicious, nutritious seasonal salads, check out my Colorful Smoked Trout Salad that I cooked up the other evening.
As much as possible, I use vegetables that are homegrown, especially tomatoes — makes a more tasty salad. Late summer/early fall is the best time to enjoy this salad, because of the abundance of homegrown vegetables. My salads are usually made as a dinner meal for my husband and me, so I make a big salad in a big bowl!  
Here are the ingredients for two dinner servings:
• 6 oz fresh smoked trout
• lettuce mix – I grow three different varieties. I fill my large bowl with lettuce — enough for two dinner servings.
• Sun Gold tomatoes – Use as much as you like; I use a small handful. Grown by my recently widowed friend, Kenny. Super sweet tomatoes and super sweet friend. 
• 1 small Persian cucumber, unpeeled — you can use another variety, but I love the crunch of Persians. 
• 1 small firm avocado. (I don't like soft avocados in a salad!)
• 1.5-2 tbls Garlic Expressions Vinaigrette Dressing — I love this dressing, made with healthy, fresh whole garlic cloves. I buy mine at City Market in NW Portland, OR.
http://www.garlic-expressions.com/
• fresh ground pepper
Wash, spin-dry lettuce, and shred in bite size pieces; place in refrigerator for 20 minutes to crisp. Shred smoked trout in chunky pieces, set aside. Cut tomatoes in halves, or quarters if using larger tomatoes. Slice cucumbers 1/4″ thick. Cut avocado in chunks. Place all ingredients in a large bowl except smoked trout. Pour dressing on top; start with 1.5 tablespoons and add more if desired. Lightly mix all ingredients together. Serve on individual plates or bowls. Top with smoked trout and fresh ground pepper. I like to serve with a crisp dry white wine and artisan crackers. Enjoy!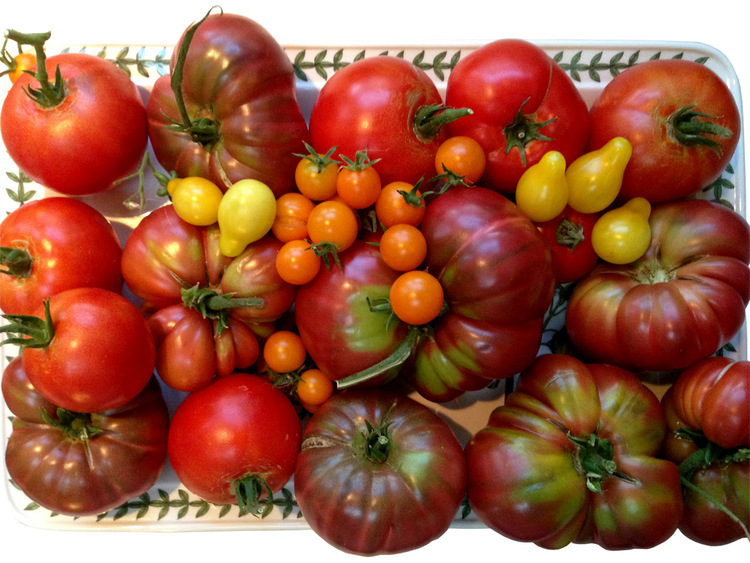 Yumm — homegrown tomatoes!
Note: If you live in Portland, Oregon, as I do, I buy my fish local at Newman's Fish Market at City Market, in NW Portland. This is their retail space. Newman's Fish also sells wholesale to some of our finest restaurants in Portland. They have beautiful seafood and a beautiful website: http://newmansfish.com/.
Love, Holly ~ Your Queen Bee at The White Pear