Holly Erickson and Natalie Mortimer share many life philosophies — an open-door policy when it comes to cooking with friends, a belief in seasonal food and a deep longing to be around a table. "The more, the merrier," says Erickson. The two friends, who met through their husbands, were blogging separately before they decided to join forces to create The Modern Proper, a food site with an elevated sense of ingredients but a casual approach to entertaining. Their first book, geared toward novice cooks, is out now. "We wanted a solution to that question: What's for dinner?" Erickson says.
---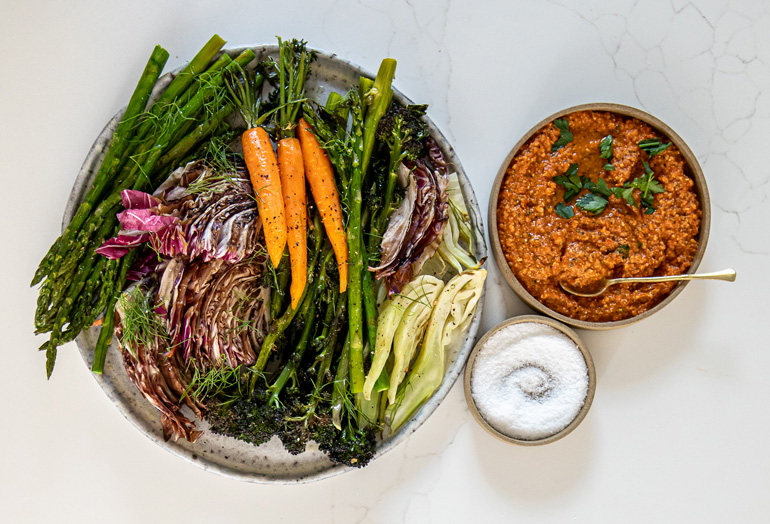 ---
Any Roasted Veggie With Romesco Sauce
Serves 4
Dairy-free, gluten-free, vegetarian
Prep Time: 15 to 30 minutes
Cook Time: 15 to 30 minutes
If you want to roast a vegetable so it's truly tender on the inside and just slightly charred on the outside, you must have high heat. 425°F is our roasting temperature of choice for all vegetables. All you need to know is that number—425—and the respective cook time for various veggies. Some, like asparagus or green beans, take almost no time. Potatoes, on the other hand, take a little longer. That said, you can still roast them all together on one pan! You'll just need to work those elementary school math skills. Load your sheet pan with the vegetables that take longer first and pop it in the oven. Add the other vegetables at the appropriate intervals until suddenly you have a pan of perfectly cooked veggies of all kinds. Two tips: Go easy on the oil (too much will make everything soggy), and make sure the vegetables aren't touching.
Romesco Sauce (makes 3 ½ cups)

Be sure to use fire-roasted tomatoes and roasted red peppers here—no substitutions, please! That smoky wood-fire flavor is the key to balancing this tangy Catalonian sauce. When blending, you're looking for a texture somewhere right in the middle of chunky and just smooth, like the consistency of pesto.
1 (14-ounce) can fire-roasted tomatoes, drained
1 (12-ounce) jar roasted red peppers, drained
3/4 cup blanched almonds
1/4 cup pine nuts
1/4 cup fresh flat-leaf parsley leaves
1/4 cup extra-virgin olive oil
3 garlic cloves, smashed
2 tablespoons sherry vinegar
1 teaspoon smoked paprika
1 teaspoon fine sea salt
In the base of a blender or food processor, combine the tomatoes, red peppers, almonds, pine nuts, parsley, oil, garlic, vinegar, paprika, and salt. Blend until your desired consistency is reached, about 1 minute. Store refrigerated in an airtight container for up to 2 weeks.
Veggies
1 pound vegetables of your choice (see chart below)
2 tablespoons extra-virgin olive oil
3/4 teaspoon kosher salt
Romesco Sauce (recipe above)
1. Preheat the oven to 425°F with a rack in the center position.
2. In a medium bowl, toss the vegetables with the olive oil and salt. Arrange the vegetables on a rimmed sheet pan, being careful not to overcrowd. Roast, according to the guidelines below, until the vegetables are browned and tender.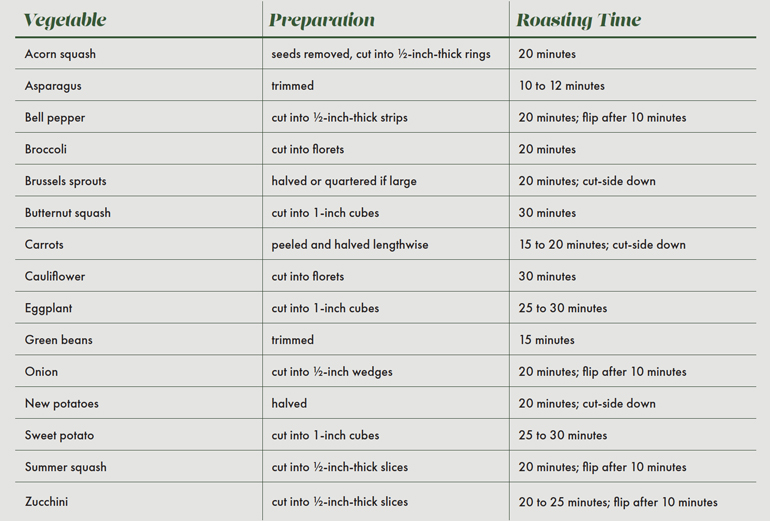 3. Transfer the vegetables to a serving platter. Serve with the romesco alongside for dipping.
---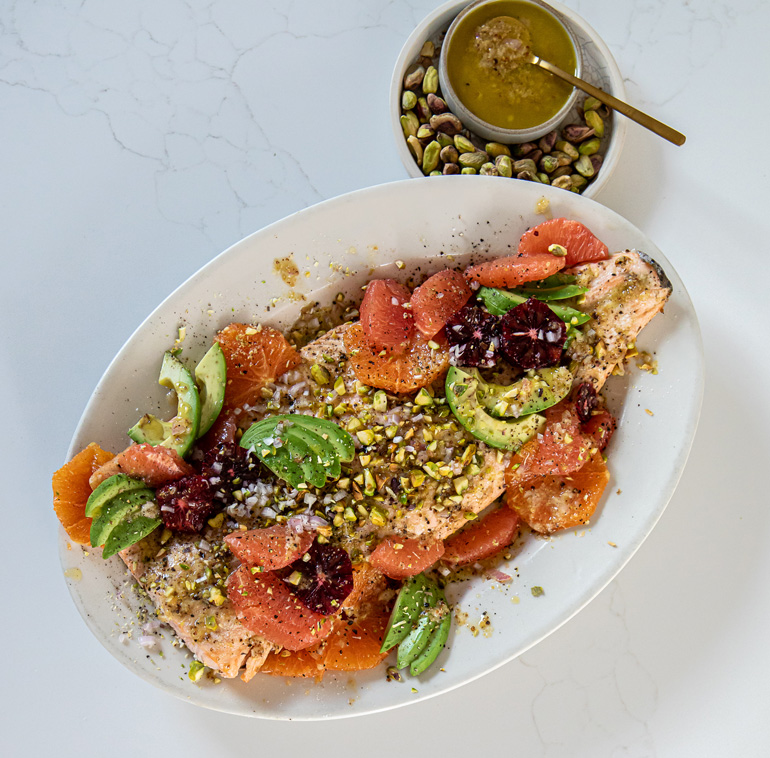 ---
Roasted Honey Mustard Salmon With Citrus Salad
Serves 4-6
Dairy-free, gluten free
Prep Time: 20 minutes
Cook Time: 15 minutes
One of our favorite "secrets" is that most salad dressings happily do double-duty as seasonings for meat—fish and chicken, especially. Honey mustard vinaigrette is one such dressing, and we particularly love its sweet-tartness not only as the marinade, as in this dish, but also drizzled over simply baked salmon. It cuts through the fattiness of this beloved fish, and a hint of sweetness means even non–fish lovers are more likely to give it a go. As for this citrus salad, a sharp knife makes quick work of removing the peel. Then it's up to you whether you'd like to supreme the citrus into wedges or slice it into rounds. Either way, it'll be a festival of sunset hues that will play perfectly off the pink of the salmon, making for a dinner that's almost too pretty to eat—almost.
Salmon ingredients:
1 (1 ½-pound) salmon fillet
1 teaspoon fine sea salt
Freshly cracked black pepper
2 tablespoons
Honey Mustard Vinaigrette (see recipe below)
1/4 cup finely chopped unsalted pistachios
Salad ingredients:
1 large grapefruit
2 medium oranges
1 avocado, sliced
1/2 cup Honey Mustard Vinaigrette
1 tablespoon finely chopped unsalted pistachios
1 small shallot, minced
STEPS:
1. Make the salmon. Preheat the oven to 375°F. Line a rimmed sheet pan with parchment paper.
2. Place the salmon on the prepared sheet pan. Season with the salt and with pepper to taste. Brush the vinaigrette all over the salmon, then sprinkle it with the pistachios.
3. Bake 12 to 15 minutes (depending on thickness), or until the fish flakes easily with a fork.
4. Meanwhile, make the salad. Using a small paring knife, trim the tops and bottoms off the citrus so that they sit flat. Carefully trim the peel off just enough to expose the fruit while removing as much of the white pith as possible. From here, either supreme the fruit by cutting out each wedge from the membranes, or slice into rounds.
5. Assemble the salad on each plate by layering the grapefruit, oranges and avocado. Dress lightly with the vinaigrette. Sprinkle the pistachios and shallot over the top. Place the salmon on top of the salad and serve.
Honey Mustard Vinaigrette (makes 1 ¼ cups)
Shallot and rice vinegar bring bright acidity, sweetness and mild heat to this dressing, while a good pour of olive oil makes it creamy. You'll want to pour this on everything!
1/2 cup extra-virgin olive oil
1/3 cup rice vinegar
1/2 small shallot, roughly chopped
2 tablespoons stone-ground mustard
2 tablespoons honey
1/2 teaspoon fine sea salt
1/4 teaspoon freshly cracked black pepper
In the base of a blender or food processor, combine the oil, vinegar, shallot, mustard, honey, salt and pepper. Blend until creamy and smooth, 2 to 4 minutes. Store refrigerated in an airtight container for up to 1 week.
---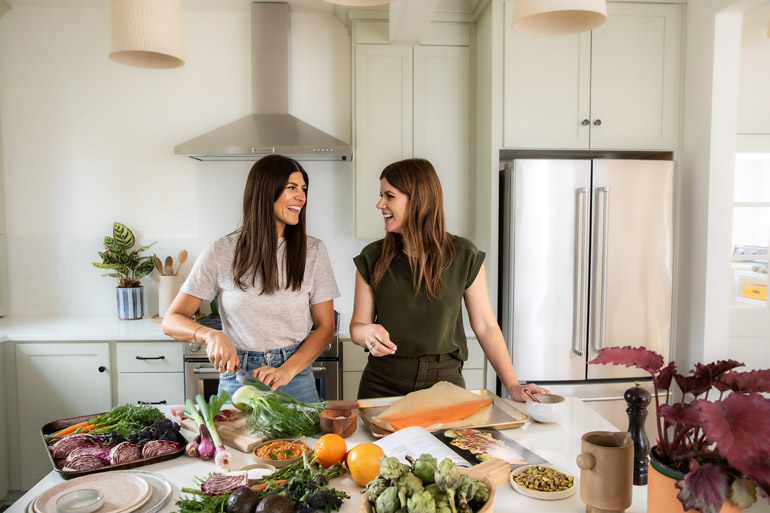 ---
EXCERPTED FROM THE MODERN PROPER: SIMPLE DINNERS FOR EVERY DAY. COPYRIGHT © 2022 BY HOLLY ERICKSON AND NATALIE MORTIMER. REPRODUCED BY PERMISSION OF SIMON ELEMENT, AN IMPRINT OF SIMON & SCHUSTER. ALL RIGHTS RESERVED.