Text and Photos by Zach Martin 
Erin Rosvold teaches a healthy cooking class for kids called Kids in the Kitchen every Wednesday from 5-7 pm at the Bridgeport Village Farmers' Market, through September 28th. As a cooking instructor, chef and mother of two boys, Erin knows what kids like when it comes to food. "They don't really care what the plate looks like, they just care what they're tasting," she says over a checkered tablecloth, which is covered in carrots, sun butter, local honey and strawberries – the kids are making healthy kebabs today.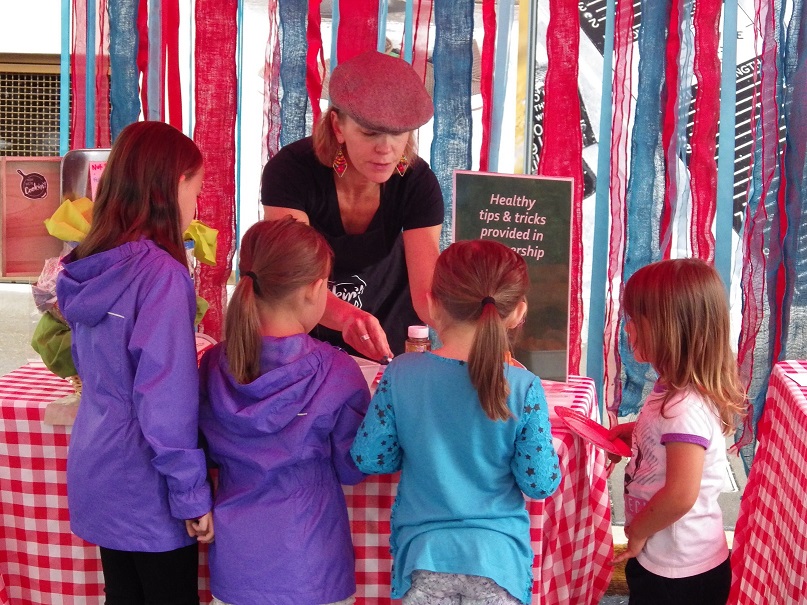 Erin also knows what kids don't like, but that's never too hard to figure out. "Adults have a social filter," she says, "they won't say, oh that sounds gross, but kids will." Convincing kids that healthy food can taste good is one of Erin's proudest achievements: "They'll say, 'Oh no, cauliflower!' But by the end of class, there will be nothing left – because they made it, they're proud of it and everyone wants a taste."
Specializing in low sugar and nutrient dense food, Erin prides herself in proving to both kids and adults that food can be delicious without sugar. Erin regularly teaches classes at Nourish Northwest in Southeast Portland as well as at Nic and Figs in Lake Oswego, and is the owner and chef at Now We're Cookin', where she offers customized cooking classes and culinary adventures for adults, couples and even entire families.
There are very different challenges in teaching cooking to kids and adults, according to Rosvold: "For adults it's about appreciation of taste and the way flavors work together – we plate the food and make it look beautiful, we sit down and have a meal, we talk about the food…With the kids it's much more about a slower pace, allowing enough time for them to be playful – because that's what they want to do."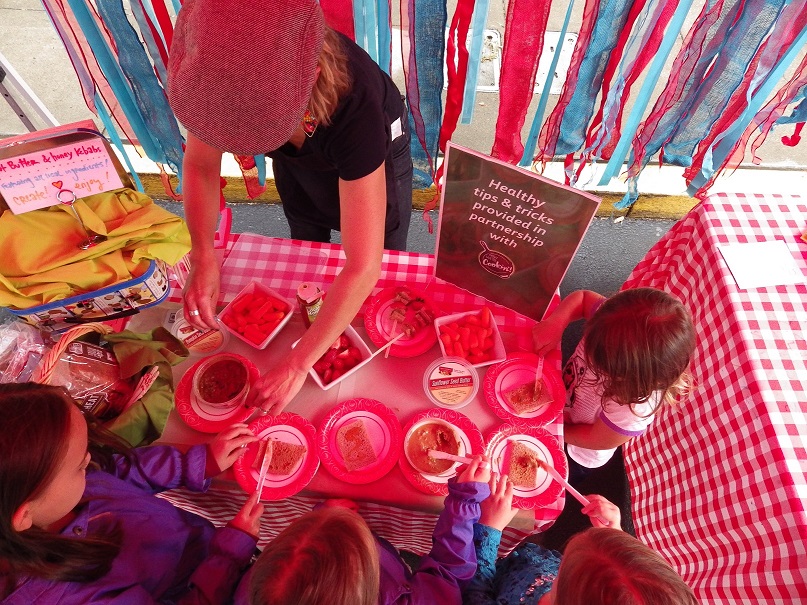 A big mess at the end of a cooking session with kids is actually a good sign. "A lot of times as parents in the kitchen we have a tendency to want to keep things clean and neat and orderly," says Erin, but it's important to relinquish some control so the kids can feel empowered and have fun."
To really get your kids involved in what they eat, Erin suggests going the opposite direction of clean and orderly: "Instead of having one spoon in the kitchen for my kids when they're cooking, I'll have five – and I'll say, 'Play with your food, taste it as you go, you be the chef.'"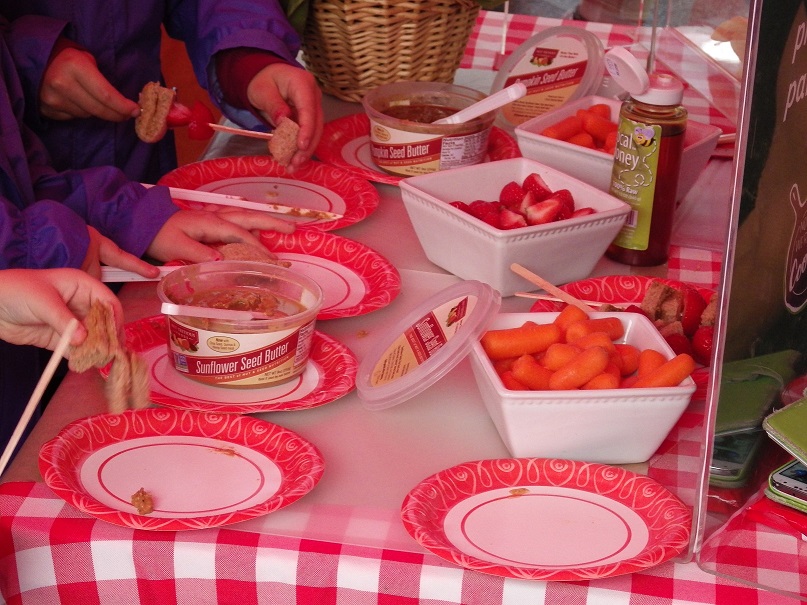 It's crucial to make sure your kids feel involved in the kitchen. "All kids want to be engaged and validated," Erin says – but it's also important to make sure you assign kids a job that's appropriate for their skill level. "If you're a four-year kid who can only measure ingredients, then that's your job," says Erin, "If you're an 8-year-old kiddo and you can actually stir a pot, that's your job. Make sure you engage their abilities, and that they feel successful."
Here are some recipes Erin recommends for families!
Families in the Kitchen with Now We're Cookin'!
Balls 'o Energy
Makes about 3 dozen
These are perfectly portable orbs of energy for the everyday superhero in your life!
Feel free to substitute chocolate chips for raisins or other delicious goodies. They freeze very well. If they last that long…
Ingredients:
½ c old fashioned oats
¼ c flaxseed (ground)
3-4T dark chocolate chips
¼ c peanut butter, no sugar added
1 ½ – 2T honey
½t vanilla
Directions:
1. Combine all ingredients in a large bowl. Stir until well combined.
2. Scoop out about a ping pong ball sized amount from the bowl with your hands or with a spoon. Roll it into a ball and place on a baking sheet lined with parchment paper or aluminum foil. Repeat until all remaining batter has been used (or eaten). Chill for 1 hour in the refrigerator. If you can't wait, we won't tell. In that case, eat immediately and enjoy immensely.
Portable Egg Blasters!
Makes 10-12
Using the ingredients below as your base creates a dish that can be as flavorful as you like. If you don't care for one of the veggies listed, swap it with another!
Ingredients:
4 eggs
1 package (10 ounces) frozen chopped spinach – DEFROSTED
3⁄4 cup shredded cheese
1⁄4 cup diced green bell peppers
1⁄4 cup diced onions
Directions:
1. Preheat your oven to 350 degrees. And if you forgot to defrost your spinach, microwave it in a microwave proof bowl for 2 1/2 minutes on high (or let it defrost on the counter) . Drain the excess liquid.
2. Line a 12-cup muffin pan with foil baking cups. Spray the cups with cooking spray.
3. Combine the eggs, cheese, peppers, onions, and spinach in a bowl. Mix well. Divide evenly among the muffin cups. Bake for 20 minutes, until a knife inserted in the center comes out clean.
Note: These quiche cups can be frozen and reheated in the microwave. Any combination of vegetables and cheeses may be used.