No matter how lovely one's home, sometimes it's nice to get away. Chef Ryley Eckersley of Portland's Quaintrelle has a new excuse to head for the hills – specifically, 82 acres in Carlton.
Emily Everett and Daniel and Sandi Wilkens, the co-owners of Quaintrelle, have recently acquired Abbey Road Farm, home to Silo Suites Bed & Breakfast, an event space, a vineyard and a 20-acre farm poised to transform a corner of farmland just a few miles from 99 West. Though the Quaintrelle kitchen has long been seasonally driven, sourcing locally grown produce since the restaurant opened in 2016, Eckersley hopes that having a farm of their own will provide an even more immediate source of inspiration year-round.
"I'm really excited to see what the farm is going to bring," Eckersley said. "Right now it's all brand-new. The vines are just planted. I just want to get out there as much as possible."
While winter may seem a quiet season in the agricultural year, there remain plenty of delights to fuel both Eckersley's constantly shifting menu at Quaintrelle and also a homey brunch for a weekend away at Abbey Road.
---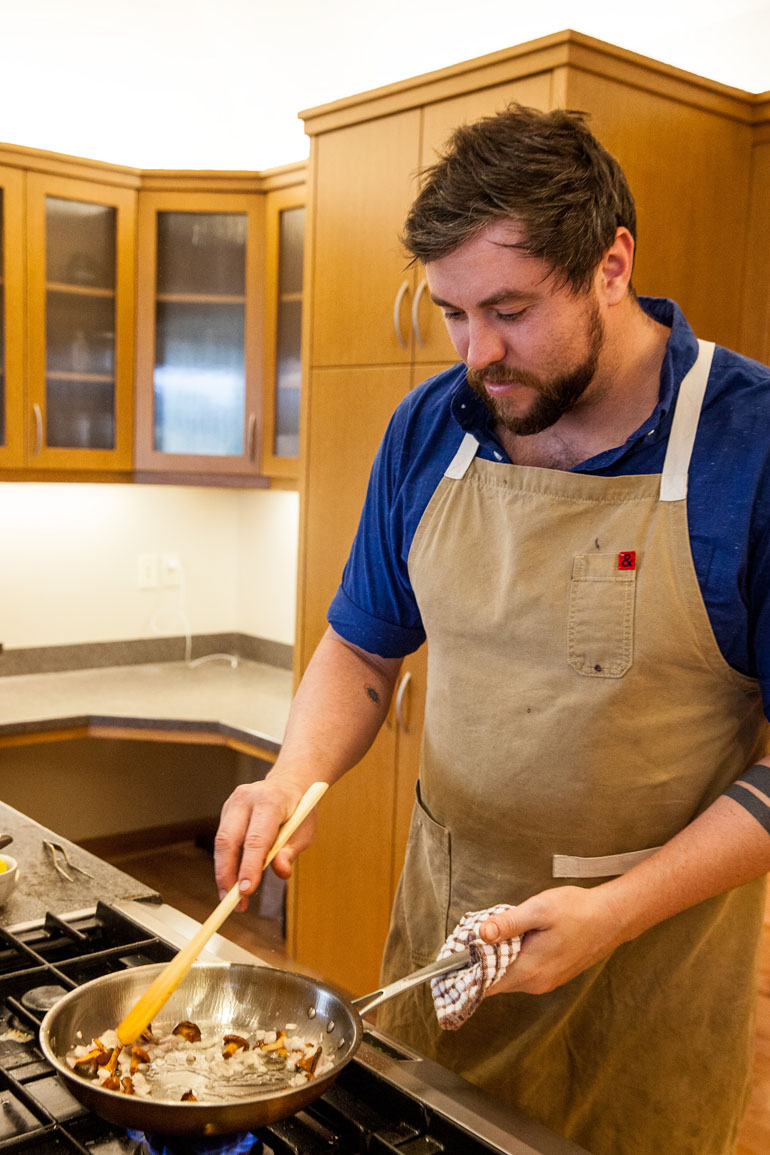 ---
"Brunch does well in the wintertime," says Eckersley. "It's cozy and nostalgic."
Eckersley was a scholar of psychology before he started cooking, and nostalgia is a key element in how he constructs a dish. He strives to combine the familiar and the innovative, so guests are "comfortable, but they're also trying something completely new."
Polenta with smoked trout is, for him, simply a riff on shrimp and grits, a dish he grew to love while working in Raleigh, North Carolina. When he trades out the shrimp for smoked trout and adds sweet onion and broccolini, it becomes a dish of the Northwest.
At Quaintrelle, Eckersley is known for how he layers elements generously to punctuate one another, a technique he brought to this seasonal brunch menu.
"In making any menu, you are always looking for certain things…heat and acid and texture and crunch," he said. "I'm going through the checklist: What does this dish need right now?"
For French toast gratin, says Eckersley, "We need depth in the custard, so let's add brandy and a bunch of orange zest and some vanilla, and you've got to hit the texture element, so that's where the hazelnuts come in.
"It's just going through the checklist. It sounds simple, but it is simple."
---
Click here for the recipes to the best brunch you'll ever make at home.
---
FACE TIME
The views from Abbey Road Farm change 10 times a day. Fog rolls in across Ken Wright Cellars' Guadalupe Vineyard; sunlight rises on groves of hazelnuts tended by the monks of the nearby Our Lady of Guadalupe Trappist Abbey, catching on a red barn tucked into a micro-valley; late-afternoon clouds send shadows onto pastures where donkeys and alpacas graze and ducks bathe in puddles. If the name Guadalupe has always signified a pilgrimage, this one means something else for visitors: rest, repose, a chance to stop a moment and take in the life happening all around you.
---
{igallery id=5594|cid=59|pid=1|type=category|children=0|addlinks=0|tags=|limit=0}