Portland cookbook author Jenna Passaro shares the allure of sous vide.
Photos by Natalie Gildersleeve
---
While the question "What's for dinner?" can strike fear in the hearts of many busy parents, Portland food blogger and cookbook author Jenna Passaro always seems to have dinner in the bag — literally. That's because she's a sous vide cooking expert who's well acquainted with the simple joys of grabbing a vacuum-sealed steak from the freezer, plopping it right in a pot of hot water, and letting it cook until she's ready to give it a good sear and dig in.
Of course, there's a bit more than that to sous vide cooking, but that's where Passaro's popular blog, Sip Bite Go, and new cookbook, The Home Chef's Sous Vide Cookbook, come in. Through them she shares all of her tips, tricks and equipment recommendations, not to mention dozens of recipes, so the rest of us can have dinner (and even breakfast) in the bag too.
"Slowly cooking [sealed food in a water bath] at the specific temperature controlled by the sous vide machine means there's no way to ruin dinner," she writes in her book. Case in point: delicate seafood. "There are things that I don't cook often enough to cook perfectly, like lobster tails, but I have no problem knowing I'm going to sous vide them and they'll turn out great," Passaro says.
---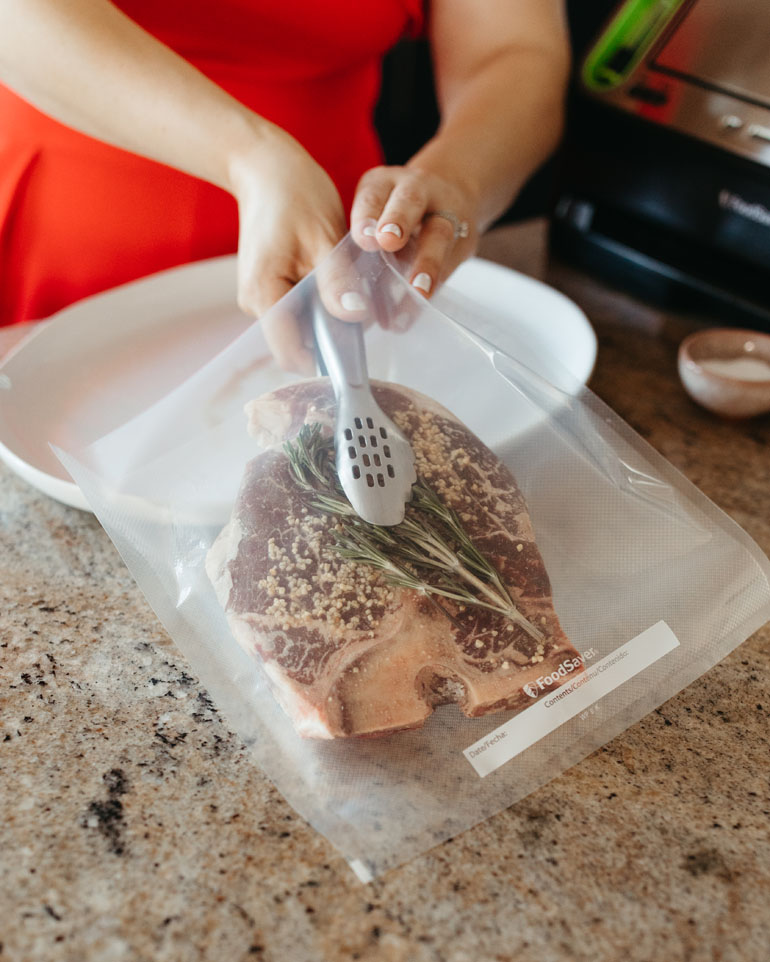 ---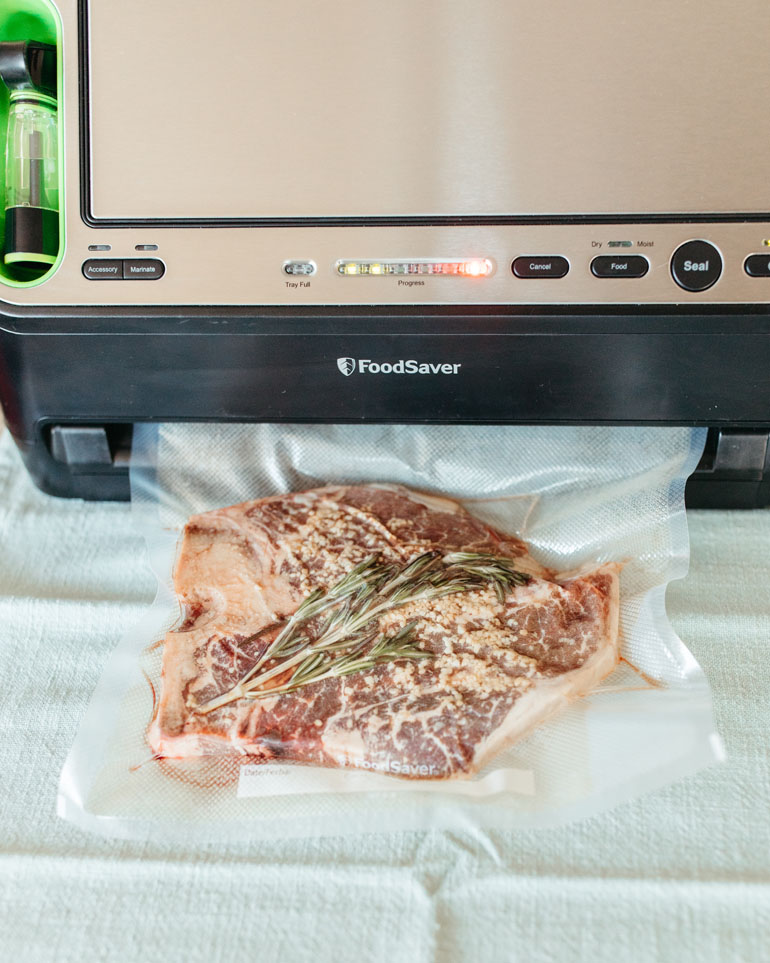 ---
If you haven't dipped your toes in the sous vide waters, winter is the ideal time to give it a try. The rich, warming short ribs we're craving this time of year, or even pricey steaks for Valentine's Day, are all flawless when cooked sous vide. And whether you're staying in to watch Sunday football or hitting the slopes for the day, you don't have to worry about keeping an eye on the oven since the food can't overcook.
"We love to do the traditional Sunday-night meal," says Passaro. "And if it's a football day, that takes a lot of our attention, so we'll do something that's a long cook, like a pork shoulder. The juices from the pork, we'll add to barbecue sauce and reduce it on the stove. It's a way to use the juice and make an everyday condiment more exciting."
Another favorite? Roast whole chicken, though it's not actually roasted. "I spatchcock it, put it in a bag with some herbs and it cooks for six hours," she says. "Some of these things you have to monitor when cooking traditionally in the oven, but you don't have to do that when cooking sous vide. We can make it in the morning, it cooks all day, and an hour before dinner, we take it out and put in the oven to broil and get a beautiful skin."
---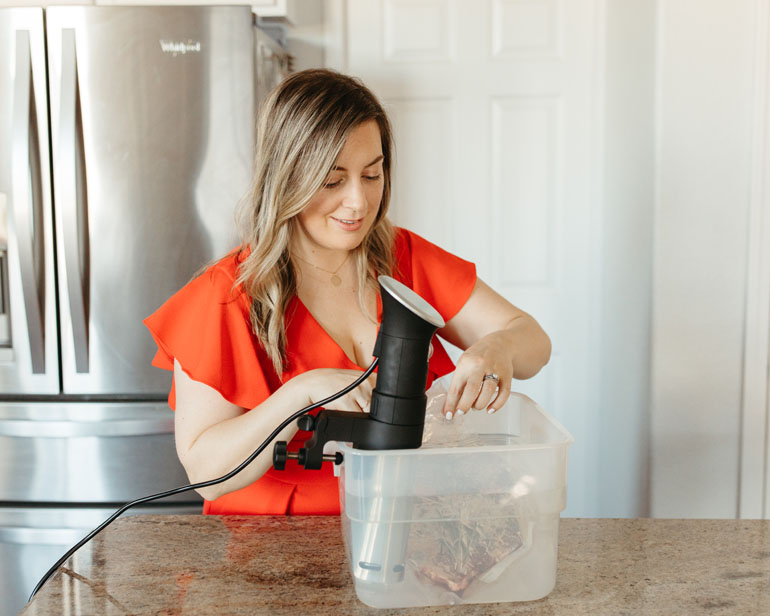 ---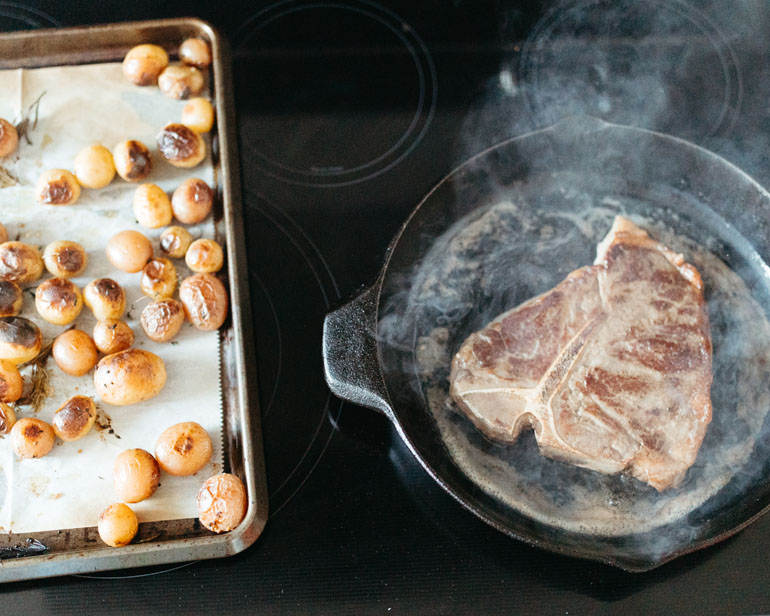 ---
Passaro and her husband, Patrick, a former chef, both love to cook, but as parents of a toddler, their kitchen time is limited. "We used to be up until 2 a.m. making fresh raviolis from scratch," she says. "That used to be our lives — drinking wine and making pasta until we can't keep our eyes open. Now we can't keep our eyes open past 10 p.m."
But the hands-free, foolproof nature of sous vide cooking means the dishes they love can still fit into their busy schedule. "We divide up the week — one of us does the bath-and-play routine while the other gets free reign in the kitchen. For both of us, cooking is creative and almost therapeutic, so it's nice to have that time to carve out for some cooking R&R."
Although sous vide cooking might seem too chef-y for the average cook, Passaro says it's exceptionally easy once you get past the idea that cooking food in a bag is strange. "I can totally relate to people who were gifted a sous vide and haven't touched it," she says. "New technology is a hurdle. They say, 'I've got one of those. It's still in the plastic.' But I'm like, 'Well, take it out! Otherwise, you're missing out.'"
---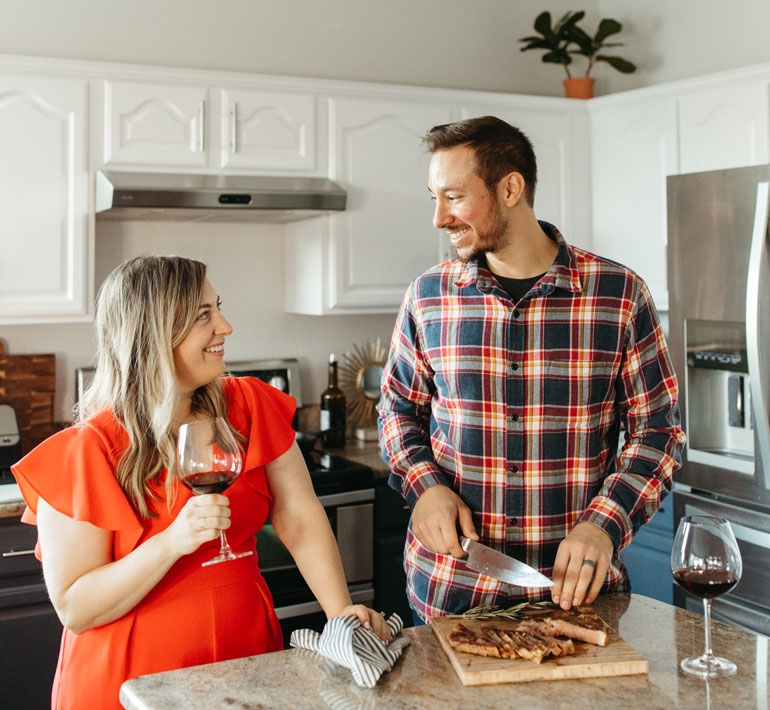 ---