When Chef Cody Auger has a free evening in spring, chances are good he is hosting family and friends with a menu of produce and fish he has picked up from his favorite spots in Portland — Providore Fine Foods in Northeast, or the Portland Farmers Market. "At home I keep it really casual," says Auger, chef at Takibi, the restaurant attached to the Japanese outdoor lifestyle brand Snow Peak. "It's really great when the mushrooms come in and the spring produce starts to pop." We asked the chef what he would make for a day off with his wife, Casey, and two kids. "There always has to be some kind of color contrast on the plate," he says. "But flavor always comes first."
---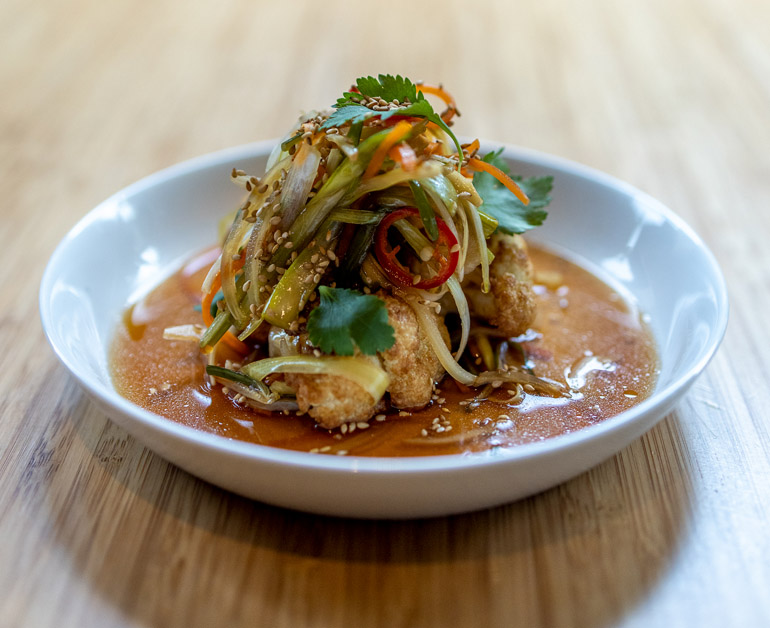 Morel Nanbanzuke
(Serves 6 as an appetizer)
Ingredients:
4 1/4 cup vegetarian dashi (recipe follows)
1 C sake
1 1/2 C sugar
1 3/4 t salt
1 C shoyu
3 pieces togarashi pepper, whole
2 carrots
2 yellow onions
3 bunches green onion
1 C tempura flour
1 pound morel mushrooms
3 C vegetable oil
Sesame seeds for garnish
Vegetarian Dashi:
4 1/4 C water
3 dried shiitake mushrooms, whole
2 pieces konbu, about 6″×6″
Preparation:
Make vegetarian dashi: Combine all ingredients in a saucepan over low heat for 2 hours, never boiling. Strain the liquid and set aside.
In a small saucepan, simmer the sake until alcohol is cooked off. Set aside.
Combine the vegetarian dashi, sake, sugar, salt, shoyu and togarashi pepper.
Julienne the carrots, yellow onions and green onion, and place in a glass bowl. Heat the vegetable dashi liquid and pour over the julienned veggies. Let the vegetables cool and then chill.
In a mixing bowl, gradually add water to the tempura flour until you have a loose batter. Reserve a small amount of the tempura flour. Dip morels in tempura flour, then dredge in batter.
Heat the vegetable oil in a large, high-sided saucepan on medium-high heat until it reaches 375˚F; test the oil by dropping in a tiny piece of the tempura batter (you should have about 2 inches of vegetable oil in the saucepan). Fry the morels until golden, about 2 minutes. Place on a cooling rack until ready to serve.
Plate the fried morels in a cluster, top with the carrots and onions, then pour a little dashi to cover the base of the plate. Garnish with sesame seeds.
---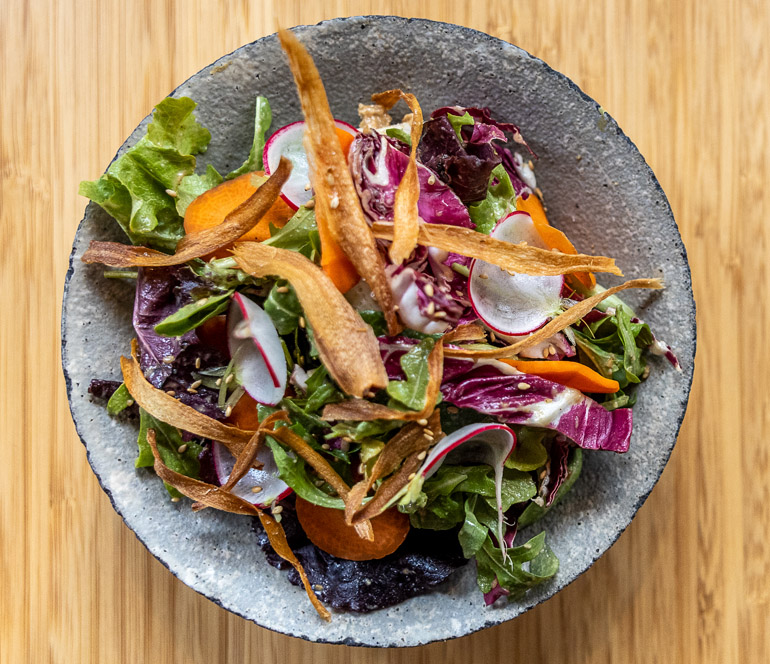 Spring Salad
(Serves 2-3)
Ingredients:
1/2 C mirin
1/3 C toasted sesame seeds
1/3 C sesame paste (or tahini)
1/2 C white miso
2 1/2 T usukuchi shoyu
2 3/4 T rice vinegar
1 pound spring lettuce
3 radishes, shaved
Preparation:
In a small saucepan, simmer the mirin until alcohol is cooked off. Set aside.
In a blender, add toasted sesame seed (reserve some for garnish), sesame paste, white miso, simmered mirin, usukuchi shoyu, and rice vinegar. Blend until combined.
Toss spring lettuce with dressing (adding gradually to taste), and top with shaved radish and reserved sesame seeds.
---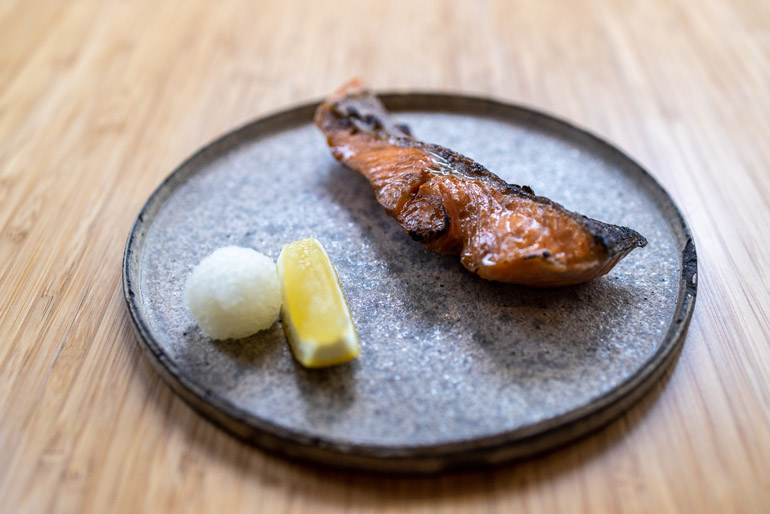 Sake Shioyaki
Ingredients:
1 filet spring Chinook salmon (3-6 pounds)
1-2 C coarse kosher salt
1/2 daikon radish, grated (optional)
1 lemon, cut into wedges
Preparation:
Portion the salmon into 3.5-oz. pieces, and place on a tray or baking sheet.
Using your hands, salt the fish on both sides and let sit for 45 minutes. Rinse off salt and pat dry.
Set broil to high. On a baking sheet, broil on high heat a few minutes per side, or until there is a light caramelization.
Serve immediately. Garnish with grated daikon radish and lemon wedges.