It's hard not to draw parallels between the Momtazi family and their 500-plus-acre certified biodynamic estate in the hills southwest of McMinnville. There's a thread of harmony and synergy that runs through both, as Iranian immigrants Moe and Flora Momtazi and their three adult daughters all work together and support each other in the business in a way that's not unlike their holistic approach in the vineyard.
Winemaker and eldest daughter Tahmiene grew up seeing firsthand the transformational power of holistic farming. Her father, Moe, an engineer by trade, farmer at heart, and a pioneer of biodynamic farming in Oregon, transformed the abandoned wheat field he purchased in 1997 into a lush vineyard of Pinot Noir, Pinot Blanc, Pinot Gris, and Riesling, the fruit of which is sought after among winemakers all over the valley.
After earning her degree in food science and technology as well as fermentation science from OSU, Tahmiene worked at several wineries around the state and Kim Crawford in New Zealand before joining the family business as the inaugural winemaker in 2007.
"Working with our grapes is truly a blessing because I can always count on knowing I'm working with the best fruit, and it shows in the wine," she says. "By creating healthy soil and in return healthy grapes, we produce high-quality fruit without having to harm or take away from the local environment."
While many Willamette Valley winemakers point to Pinot Noir as their true love, Tahmiene says her heart belongs to white wine. "At Kim Crawford, I found my love of working with white wines. They had me step out of tradition and explore other ways to make it, and it set my white wines to be different from many of the other producers here in Oregon. Our Pinot Blanc is bright in acidity, full-flavored with mineral, lychee, lemon zest, and tropical fruits."
No matter what varietal she works with, the goal is always the same: let the fruit speak for itself. "I make sure that I'm not taking away from the fruit, but rather showcasing it in its truest nature."
---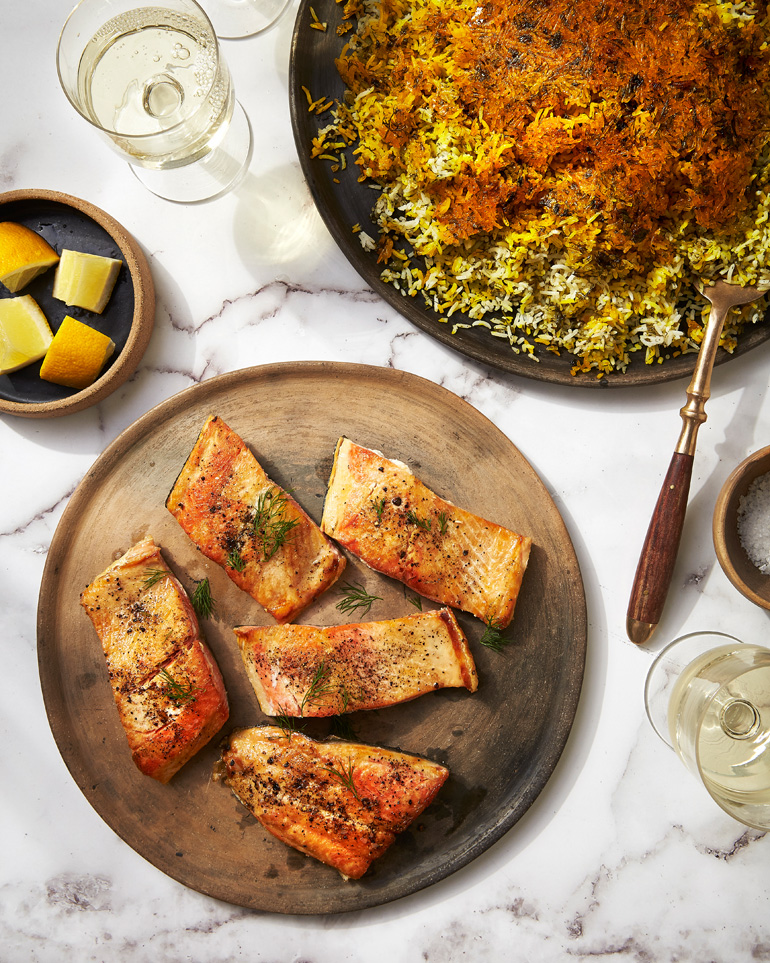 Persian Herbed Rice with Fish (Sabzi Polo ba Mahi)
Courtesy of: The Momtazi Family, Maysara Winery
Wine Pairing: Arsheen Pinot Gris
Serves 4 to 6
HERBED RICE
Ingredients:
2 cups basmati rice
3 Tbsp plus
1 tsp salt (divided), plus extra to taste
3 cloves garlic
2 scallions, roughly chopped
1 cup dill
1 cup cilantro
1 cup Italian parsley
1/2 tsp saffron
3 Tbsp extra-virgin olive oil
1/4 cup (1/2 stick) butter, cut into 4 cubes (divided)
Method:
Place rice in a bowl, cover with water, and stir in 1 tablespoon salt. Allow to soak in a cool location for 1 to 2 hours. Rinse the rice under cold water.
In a food processor, combine the garlic, scallions, dill, cilantro, parsley, and 1 teaspoon salt and pulse until finely chopped.
Bring 5 cups of water to a boil in a large nonstick saucepan over medium-high heat. Add the rice and the remaining 2 tablespoons salt. Bring back to a boil and cook, uncovered, for 3 minutes, until rice is al dente. (Break a grain in half; it should be hard in the center and soft on the outside.) Drain, then rinse rice with cold water to stop the cooking.
In a large bowl, mix a scoop of rice and a scoop of the herb mixture, taking care so the rice does not break. Repeat until all the rice and herbs are mixed in the bowl.
Grind or crush the saffron and mix with 1/4 cup of hot water in a small bowl.
Heat oil in the saucepan over medium-low heat for several minutes until hot. Spread 2 cups of herbed rice evenly across the bottom of the pot. Drizzle with half of the saffron water and season with a pinch of salt. Press down on the rice to create a packed layer. (This creates the crispy tahdig.) Mound the remaining rice on top. Insert the handle of a wooden spoon into the rice to make a few holes for steam to escape.
Arrange 2 tablespoons cubed butter on top of the rice. Cover, increase heat to medium-high, and cook for 10 minutes. Reduce heat to very low and wrap the lid in a clean dish towel to absorb condensation (see Note). Cook for 45 minutes.
Remove from heat. Arrange remaining 2 tablespoons cubed butter on top of the cooked rice. Drizzle with the remaining saffron water. Lightly fluff the top layer of the rice. Cover the pan and set aside for 5 minutes.
Uncover pan. Place a large serving dish over the pan and, holding both tightly against each other, carefully invert the pan over the dish. The rice should have a golden, crunchy crust on top.
Note: If your burners can't go very low, place a metal heat diffuser or upside-down metal pie tin on the burner to avoid hotspots. Iranians use a cloth lid cover called a damkesh when making rice, but you can also wrap the lid like a bundle in a large flour-sack-style dish towel, tying the ends up near the knob. Just be sure the fabric is secure and won't hang over the sides near the burner.
FISH
Ingredients:
5 to 6 salmon or steelhead fillets
Salt and black pepper
2 Tbsp vegetable oil
3 lemons or
2 sour oranges (or a combination), cut into wedges
Method:
Season the fish with salt and pepper.
Heat the oil in a large skillet over high heat. Reduce heat to medium, then place fish in the pan. Cover with a splatter screen, if necessary. Cook for 4 minutes, or until the bottom is golden and fish is opaque halfway up the sides. Turn and repeat on the other side until the fish is cooked through and flakes easily.
Serve fish alongside the herbed rice and lemon (and/or sour orange) wedges.
---