Simple Things Win Over Customers
Photos by Jason Kaplan
In an increasingly crowded and noisy world, it is the simple things that make a business stand out from its competitors: Deliver on one's promises, be prompt and head off problems with proactive solutions.
Contract Furnishings Mart is committed to providing caring service and the widest selection of flooring, cabinet and countertop products in the Northwest. From carpet, vinyl, tile and natural stone to hardwood, laminate and green products, customers can view all their options at one of 11 showrooms.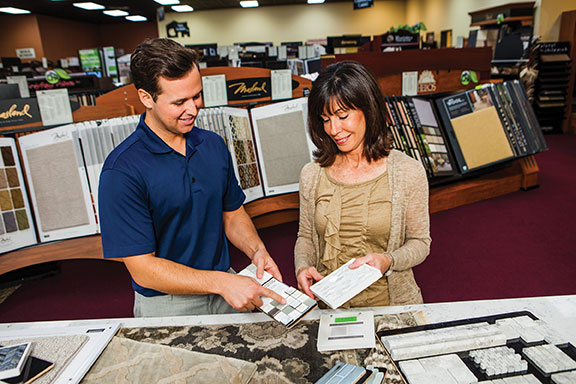 Northwest contractors, design professionals and homeowners expect a high level of service. CFM delivers. Founded in 1981, this family business puts relationships first and lets the sales follow. Its no-commission sales policy means customers are greeted when they walk in the door and given the chance to shop as they wish—with or without help.
Need the assistance of a knowledgeable, experienced professional? The CFM sales staff is eager to help their customers create design concepts as well as find solutions for their projects. They share their knowledge about products to help guide selections while staying within the client's budget.
When asked what makes CFM stand out in the industry, President Tim Bechtold says, "For us it is always the balance between meeting the customer's needs and taking great care of our employees." For Bechtold, the two go hand in hand. "You cannot serve your customers well with poorly trained staff that is always turning over. We are a family-owned business that has extended a family mentality to all of our employees. In doing so, we have had more retirement parties than notices given."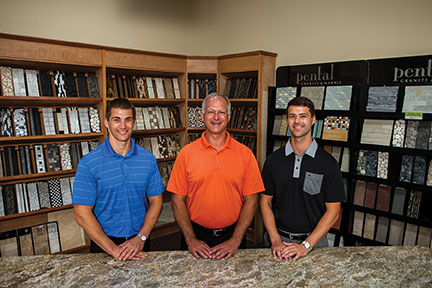 CFM's commitment to its employees means its customers can return to their favorite location and work with the same individual on projects for years to come.
Bechtold believes that successful businesses are not built upon one sale, one transaction or one customer. They are constructed one positive experience at a time, building trust and forging relationships that last a lifetime.
---
A Q&A with Tim Bechtold, President of Contract Furnishings Mart
How long have you been with Contract Furnishings Mart?
I joined the company in 1986, shortly after it started and have seen a few recessions and a lot of good times.
What has been the most fun to watch change in your time with the company?
I enjoy watching our people strive to improve their job performance and look for ways to grow the company and customer service.
To what do you attribute the company's success and growth?
The success of any company comes from the strength of its individuals. The growth of CFM has come from a solid business plan and a staff that really wants to help our customers. Customer service is key to any successful business.
What are the top characteristics you look for in employees?
Honesty–always do what you say you will do
Team player–work with other crew members for the best experience of each customer
Personal growth–continually learn about products, job skills and customer service approaches to make their job easier
How do you keep your employees around so long?
We get the right people into the company and make sure that they are doing the right job suited for them. The goal is for our employees to feel success in what they do. We also try to create a family culture where everyone looks forward to the environment that they are in.
What is your relationship with your vendors?
We think of doing business with our vendors as a partnership. Both companies need to be successful for either to be successful. This approach allows us to quickly work through any problems that may arise and know that we can take better care of our customers with our partners' support.
How do you remain current with flooring trends?
We constantly have the various manufacturers visit our showrooms to present their newest products directly to our staff. And we also send staff each year to the various mills and manufacturers around North America so they can learn firsthand about the products they sell.
What changes do you see in the future, either in the industry as a whole or with Contract Furnishings Mart specifically?
The floor covering industry is constantly changing through the introduction of new products and styles. Luxury vinyl flooring is the fastest growing product category right now. As a company, Contract Furnishings Mart will continue to add additional locations to better serve our customers.