Presenting the winners of the 2020 Structure + Style Awards: Remodel!
---
KITCHEN REMODEL: $50,000 – $99,000
WINNER: Powell Construction
This remodel resulted in a functional, bright kitchen that is the centerpiece of family gatherings. Relocating the kitchen and converting the original galley kitchen to a hallway with powder room, connected the living, dining and outdoor spaces. Cream and sage cabinets paired with rustic hardware adds to the character.
Project Lead
Tom Powell
Photographer
hearth + VINE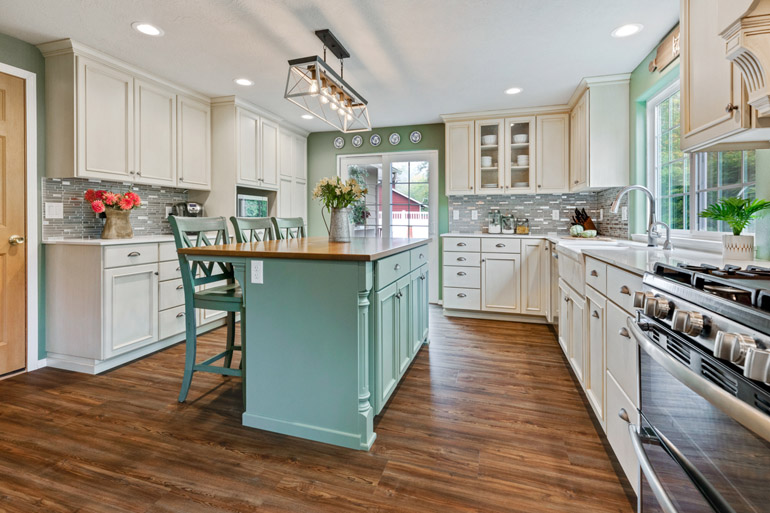 ---
KITCHEN REMODEL: $100,000 – $149,999
WINNER: Creekstone Designs
Our client's new kitchen had to accommodate their high end cooking hobby and deliver unique design elements. The kitchen features a daring 3D tile cube design, solid mahogany floating shelves, a counter that flows into windows, a custom made Eastern Oregon walnut counter and burn-proof island counters.
Project Lead
John May
Photographer
David Papazian
---
KITCHEN REMODEL: OVER $150,000
WINNER: Olson & Jones Construction
Beautiful and full of natural, bright light, this update gracefully took this Northeast Portland kitchen out of its era and placed it into 2020. The remarkable tilework and custom moving island invite our clients to warmly entertain their family and friends over a meal and a glass of wine.
Project Lead
Kevin Rosa
Photographer
Sally Painter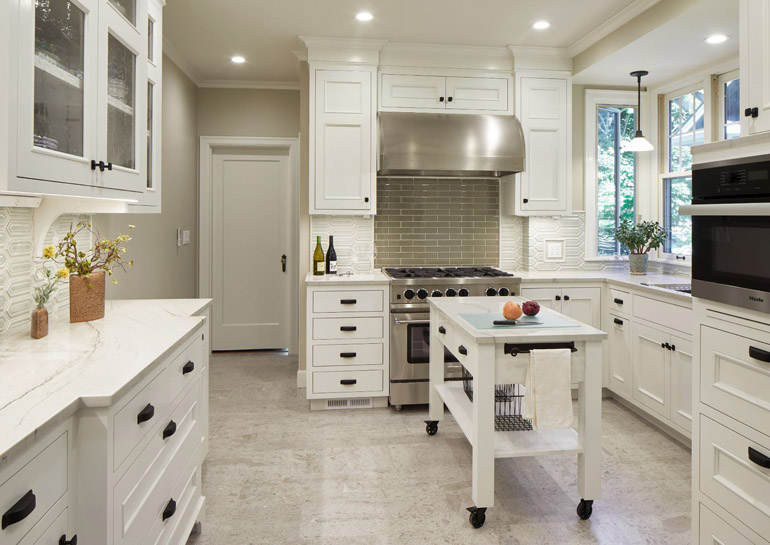 ---
BATHROOM REMODEL: UNDER $50,000
WINNER: Cornerstone Builders
For a homeowner that required barrier-free features, we designed a bathroom that pairs accessibility with modern styling. Our client's needs called for innovative techniques to overcome small space limitations.
Project Lead
Allen Tankersley
Photographer
Courtney Jade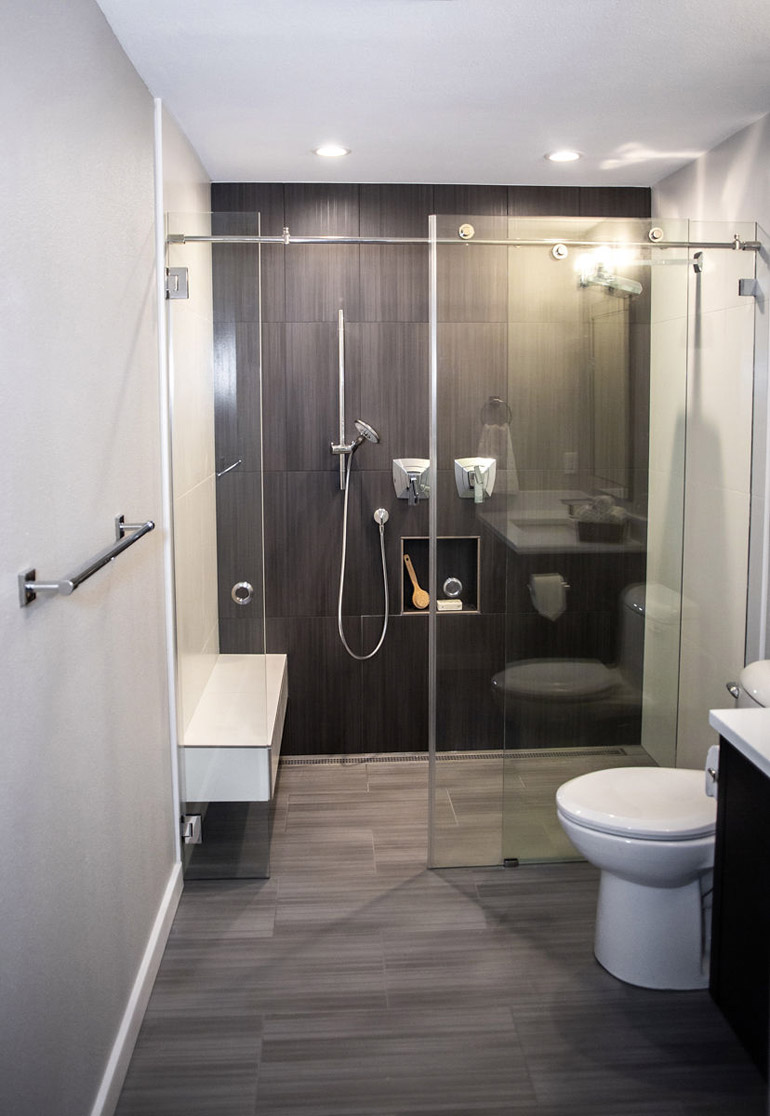 ---
BATHROOM REMODEL: $50,000 – $99,999
WINNER: Metke Remodeling
Indulgent floor tile was a splurge, but totally worth it as it became the anchor for the entire design. Mixed metals, grey-green cabinets, and a spacious new shower all compliment the floor as well as elements of the existing home, making a sophisticated and unique master bath.
Project Lead
Crystal Elder
Photographer
Crosby Dove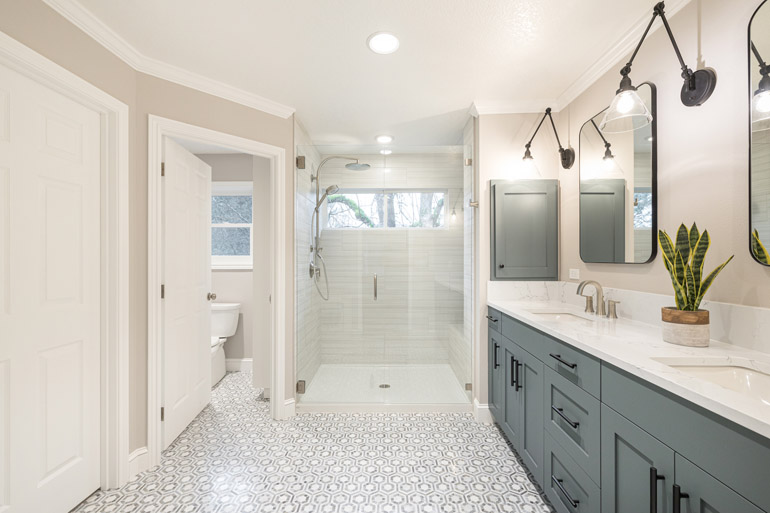 ---
EXTERIOR REMODEL: OUTDOOR LIVING
WINNER: Specktacular Home Remodeling
This outdoor entertainment area is a dream come true for the family that loves to host. Pour yourself a beer at the bar, take a seat at the dining room table, or get cozy by the fireplace on a chilly evening. This year-round sanctuary is for grillers and entertainers.
Project Lead
Mitch Speck
Photographer
Zac Meyer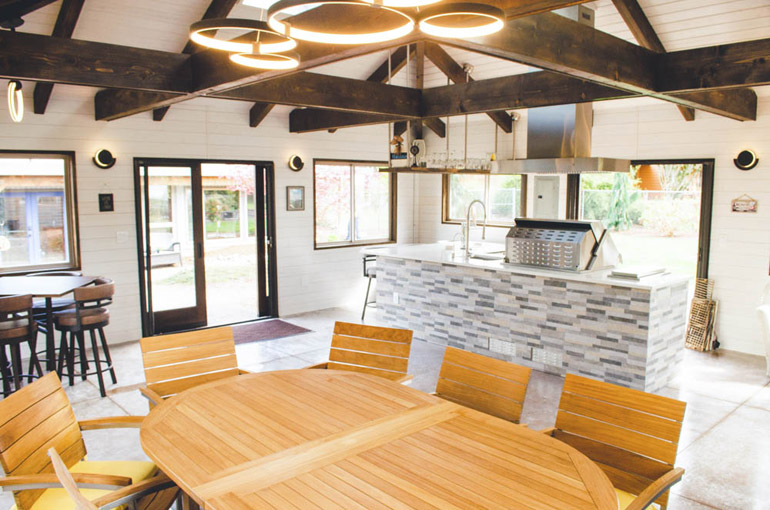 ---
MAJOR HOME REMODEL: UNDER $250,000
WINNER: T.H.E. Remodel Group
A dynamic new central living space was created within this early-1960s ranch by opening up the connection between the small, segmented rooms of the original house and an old, boxy garage conversion. Up to date in form and function, the result honors the essence of mid-century modern.
Project Lead
Michael Hull
Photographer
Corey Terrill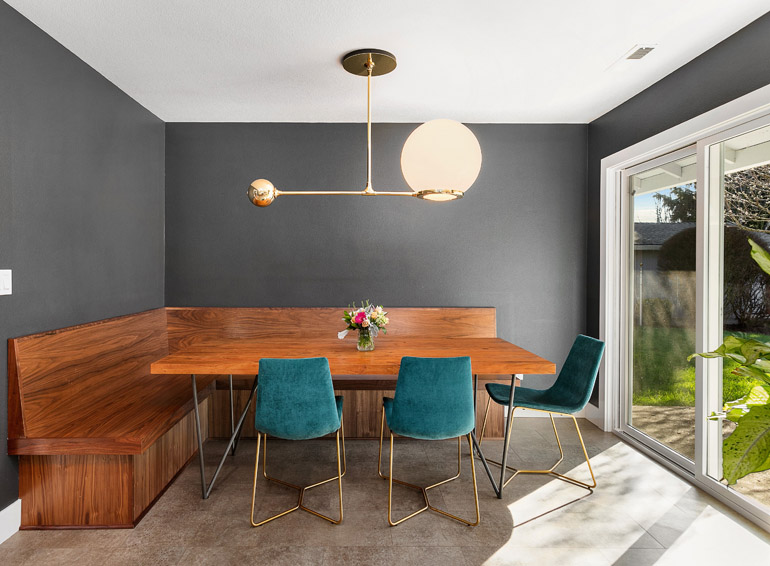 ---
MAJOR HOME REMODEL: $250,000 – $400,000
WINNER: Mountainwood Homes
After living in their home for four years, our clients wanted to better align the functionality of their 1995 builder-grade home to reflect their daily living. This included creating dedicated areas for projects, office work, enlarging the master closet, changing the layout of the master bathroom, and enlarging the kitchen. Since every room in the house was remodeled, the scope of the project was massive.
Project Lead
Mountainwood
Homes Photographer
Nathan Holden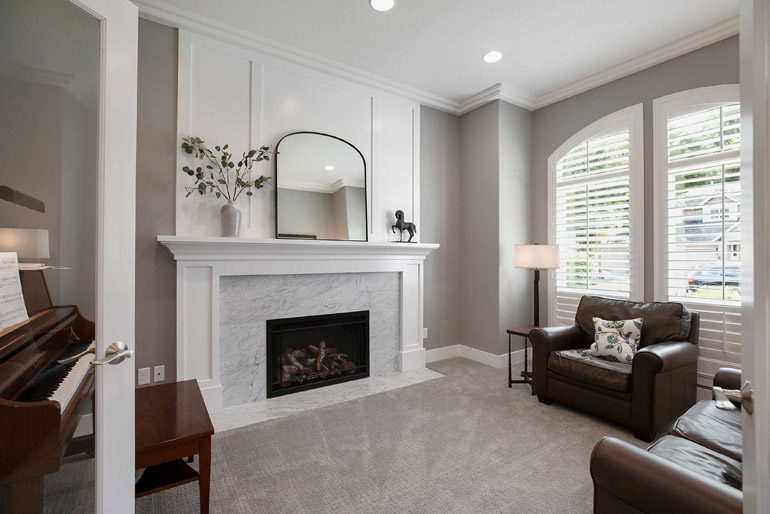 ---
MAJOR HOME REMODEL: OVER $400,000
WINNER: GreenTown Homes
This elevated three-story home was built with luxury and quality in mind, using walnut accents throughout. An entertainer's delight kitchen with all Thermador and Bosch appliances features custom cabinetry, Quartz counter tops, and a custom designed wine closet.
Project Lead
Brett Grantham
Photographer
Vadim Tsygipalo