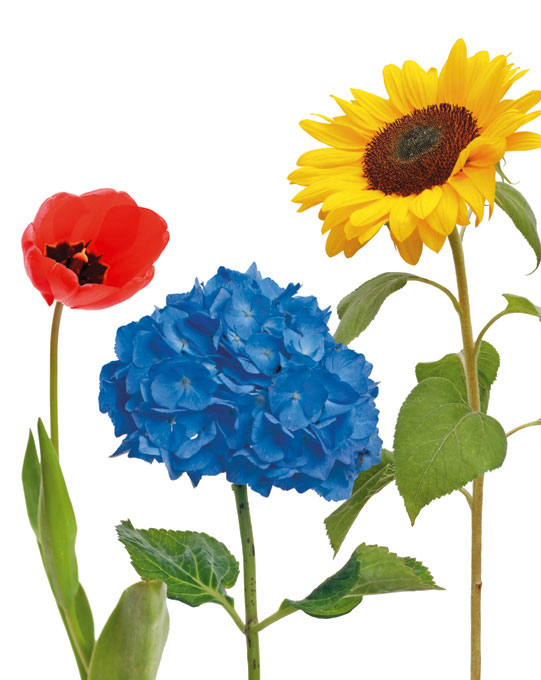 I am a color diva — no white walls for this girl. Adhering to the same theory outside and knowing that the taste police won't be making an appearance any time soon, my garden gallery is ever changing. Always experimenting with colors and how they affect one another means that shrubs and perennials are constantly on the move as I reconfigure them according to my latest whim.
Color is the most seductive of all the elements in garden design. Artful color schemes and plant combinations guide us through a garden, illustrating the gardener's intent, serving as focal points and creating ambience. As gardeners we paint with plants, each in our own style based on our psychological, emotional and cultural cues.
Neutral green, the little black dress of the garden, is the background color of my outdoor canvas. The primary colors, red, yellow and blue, are the building blocks from which all other colors are derived and are important to my palette. All three impact the perception of space differently and are critical components in garden making. Red and yellow are hot and provocative and impossible to ignore, while blue calms things down and soothes the soul. Seasonal brushstrokes of red, yellow and blue bark, berries, flowers and foliage are the essence of my year-round garden.
---
Best of the blues
Aster x frikartii 'Monch'
Brunnera macrophylla 'Jack Frost'
Clematis 'Perle d'Azur'
Delpinium 'Guardian Blue'
Geranium 'Rozanane'
Hosta 'Halcyon'
Hydrangea macrophylla 'Blue Wave'
Iris siberica 'Bennerup Blue'
Lavendula 'Hidcote'
Nepeta 'Walker's Low'
Pulmonaria 'Benediction'
Salvia guaranitica 'Argentine Skies'
Blue in all it guises is a subtle but dominant force in the Pacific Northwest where we are surrounded by water. The recessive qualities of blue make it the go-to color for small gardens. Learning that I could use blue to manipulate space was a revelation. Strategically placed blue flowering perennials and shrubs in my narrow north border expand the horizon by creating the illusion of greater depth.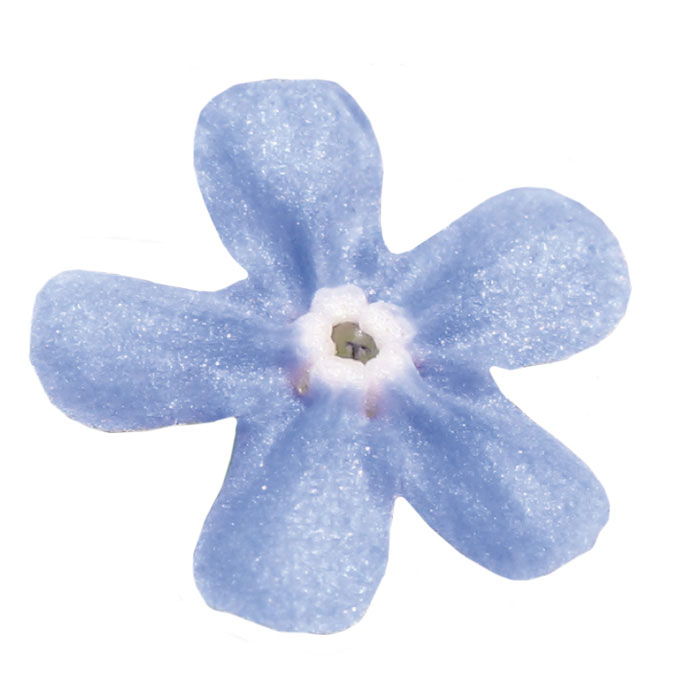 In the fresh, clear light of early spring the true blue blooms of columbine, pulmonaria and grape hyacinth appear at their deepest and most saturated in partial shade under the branches of a spreading tree on the east side of the garden. As summer wanes, the upright silver stems of Russian sage, bedecked with innumerable sky-blue flowers, create a lazy, hazy mélange mingling with ornamental grasses and asters in the wall garden where they revel in reflected heat from the house and sidewalk.
---
Mellow yellows
Achillea 'Moonshine'
Coreopsis 'Moonbeam'
Hakonachloa macra 'Aureola'
Helianthus 'Lemon Queen'
Hemerocallis 'Happy Returns'
Hosta 'Golden Sunburst'
Narcissus
Phlomis russelliana
Rosa 'Happy Child'
Rudbeckia 'Goldsturm'
Solidago 'Baby Gold'
Solidaster x luteus 'Lemore'
Tulipa
We perceive yellow as being cheerful and happy, a color that makes us feel good. The dullest, darkest Northwest day is transformed when the sun pierces through the clouds.
Gardeners revel in the promise of spring as splashes of yellow daffodils, tulips and emerging yellow-green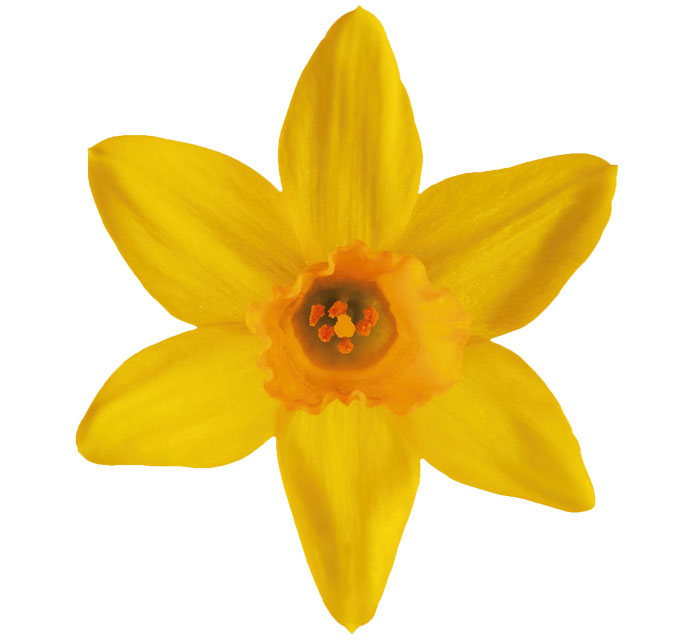 and chartreuse-yellow foliage echo the intensity of the sun. Autumnal light burnishes the composite blooms of Black-eyed Susans, casting them in a golden glow. Yellow is reflective and appears luminous and bright even in shade. Strokes of yellow-variegated foliage can transform dull and uninteresting spaces, adding the quality of lightness. A drift of yellow daylilies surrounded by dusky pewter or eggplant foliage pulls the eye forward. Yellow foliage or flowers situated in the middle or back of the border foreshorten the distance by focusing our attention.
---
Radiant reds
Astilbe 'Fanal'
Clematis 'Niobe'
Crocosmia 'Lucifer'
Fuchsia magellanica 'Aurea'
Geum 'Mrs. Bradshaw'
Hemerocallis 'American Folklife'
Lobelia 'Queen Victoria'
Monarda 'Gardenview Scarlet'
Paeonia 'Kansas'
Penstemon 'Garnet'
Potentilla 'Gibson's Scarlet'
Rosa 'Scarlet Meidiland'
Tulipa
When Mother Nature plays the role of drama queen she employs red, the color that cannot be ignored. I never seriously considered using red in my garden until seeing a high mountain meadow transformed by the ruby-red blooms of Indian paintbrush spangling a carpet of green foliage. Throughout the summer hummingbirds identify the red flowers of fuchsia, crocosmia and monarda as nectar sources. With the addition of feeders in the winter the diner is open all year.
Vermilion tulips herald spring, while silky, shiny scarlet poppies are the coupe de rouge of summer. Smoky crimson dahlias add spice to my summer garden. The onset of cooler nights and shorter days ignites the fireworks of fall. When the mantle of winter settles over the garden, red twig dogwoods, candy-apple red berries and rose hips glow like embers in the soft gray light.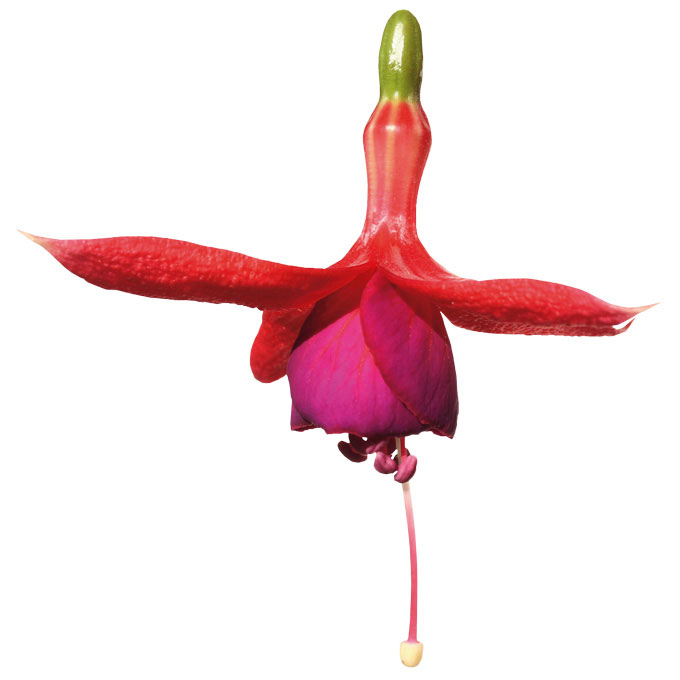 In the full sun I like to partner red, yellow and orange flowering plants for a fiesta of late summer fun. If that feels too strident add some touches of blue to cool things down.
It's the most brazen color in the gardener's repertoire, often rejected as too bold. But the thoughtful use of red flowers can raise the temperature of the garden in flagging beds and borders during the dog days of summer.