Western Interlock helps Oregon homeowners create the landscape of their dreams.
---
Paving stones are a versatile, eco-friendly product that makes it easier than ever to create unique and personalized outdoor spaces. They are not only practical — pavers can be a great way to solve slope and drainage challenges on-site — they can also be used to add texture, color and pattern.
We talked with Nathan Wright, marketing director for Western Interlock — a hardscape supplier in Rickreall, Or. ­— who shared some of the hottest trends for using pavers to add decorative pop to everything from patios and pool decks to pathways, retaining walls, fire pits and more.
---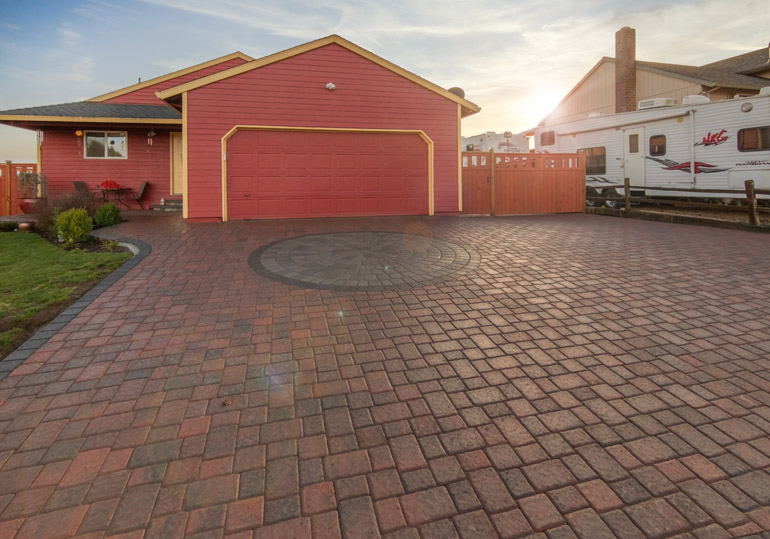 ---
Vibrant Colors
The maximalist trend currently having a moment in indoors (think saturated hues and brass accents) has made its way to the garden.
"Homeowners see pavers as yet another way to inject personality into the landscape," says Wright. "We are seeing a shift to richer colors, with homeowners asking for colors they never asked for before. One benefit to being small and local is that we can do custom colors. We can run any product in any color in our catalog."
One of the lines the company carries, La Pietra Moderna, is a five-piece family of slabs that features dramatic color blending. The line's new Umbria Blend colorway features broad swaths of red, gold and umber. With endless possibilities for combining the pieces, the only limit is your imagination.
---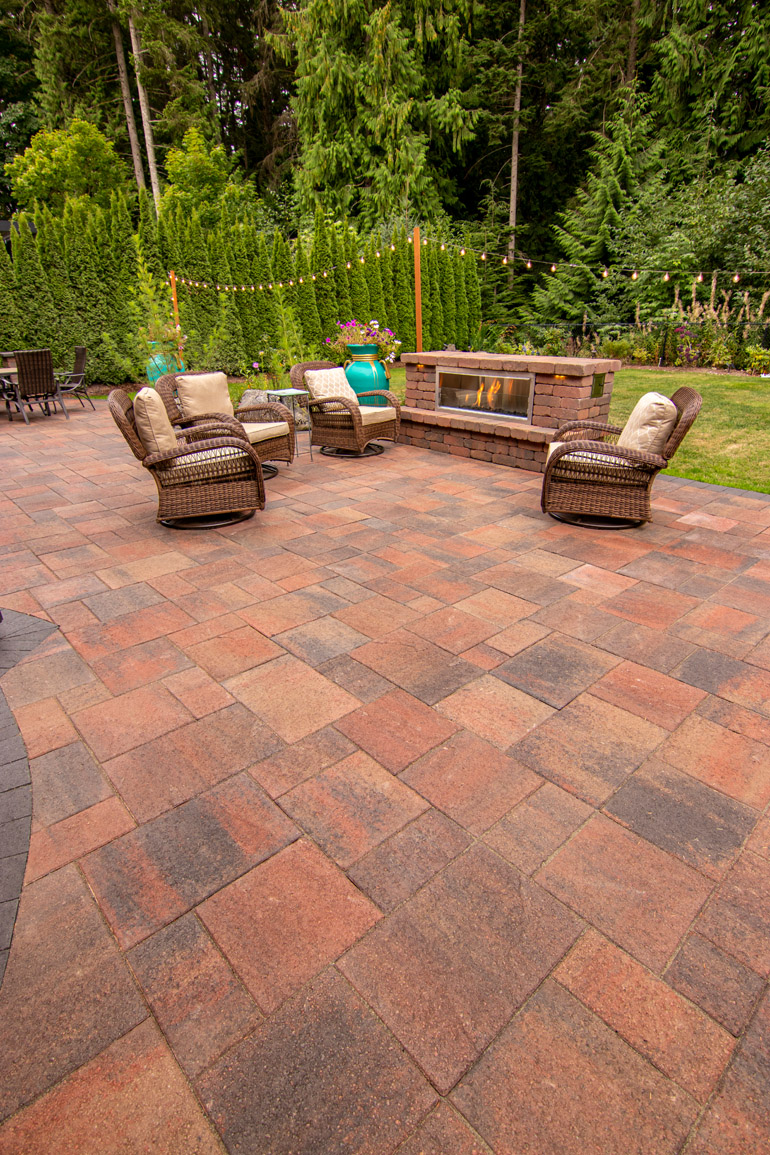 ---
Organic Modern Texture
On the heels of a recent trend toward sleek and smooth surfaces, earth tones and natural textures are seeing a resurgence, Wright says. Textured pavers offer an antidote to the minimal look and are a great way to add a touch of warmth to outdoor spaces.
Roma Stone, for example, is a permeable paver that comes in 12 different organic shapes and sizes that can be positioned to mimic the look and feel of an ancient Roman path.
---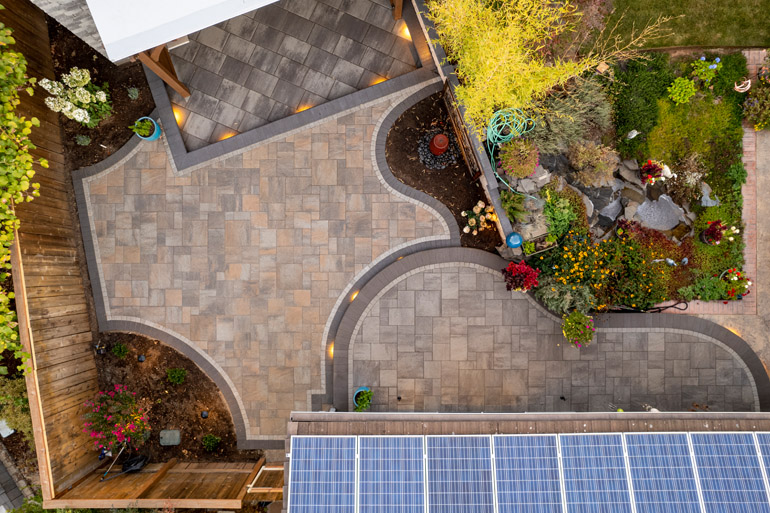 ---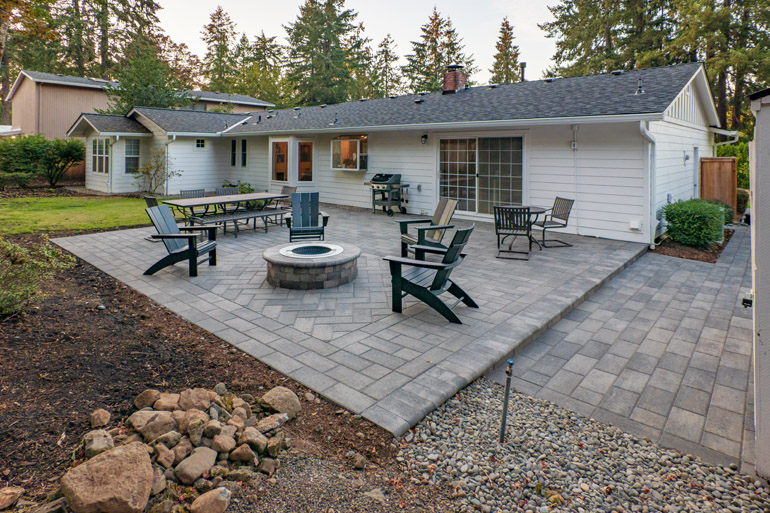 ---
Pattern Play
Wright and his team at Western Interlock are always on the lookout for new ways people are filling a space with durable surfaces, whether it's wood, tile or pavers.
"We looked at the global tile market and started thinking about what patterns would work with the products we have and how to expand what we offer," he says. "We are constantly looking for ways to give people more options for creativity."
One trend that caught the company's attention was the way designers are using inlays of smaller pavers to create patterned large areas, with a result that's similar in look to a rug. The trend of so-called "paver rugs" has fueled a resurgence in interest in the smaller detailed pavers that can be combined to create intricate patterns and borders.
The company's textured pavers are a good way to add a decorative accent in the landscape. A change in shape, color or texture breaks up the space and adds an element of visual interest.
With hundreds of options for designing outdoor spaces, Western Interlock likely has a product to meet your needs. The company sources all of its materials in the Willamette Valley and is proud to be one of the few remaining family-owned and operated hardscape suppliers in North America.
"We are hyper local, and a benefit of that is that we can do pretty much anything for our customers," says Wright. "We can provide products quickly, to spec and with short lead times."
---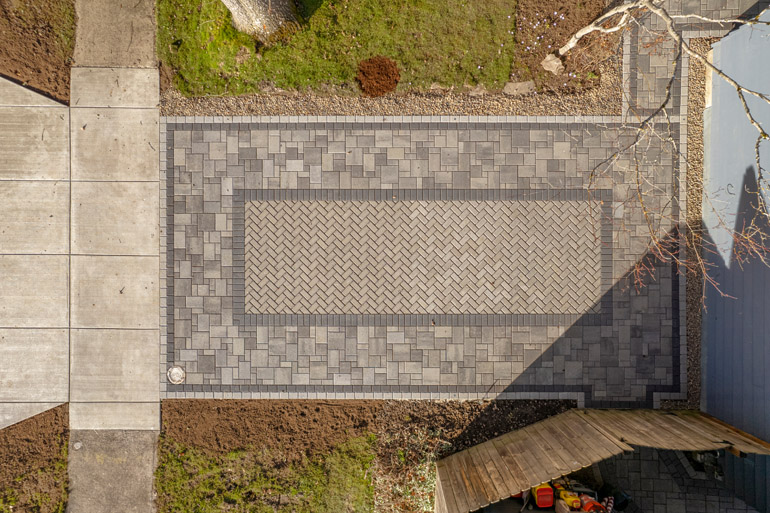 ---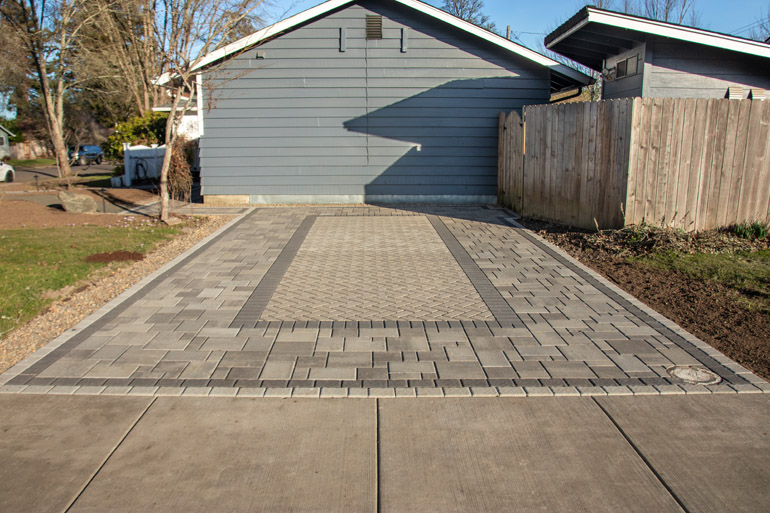 ---
Ready to Tackle a DIY Paver Project?
Western Interlock offers lots of resources for customers ready to tackle their own landscape project. They sell directly to the public and conduct free DIY workshops in Rickreall. Their website is also a great resource, with articles and videos to help plan and execute your project. Simply looking for inspiration? Visit their 10,000-square-foot outdoor display, where every product they make is used.
---