Display some "hens and chicks" on your front porch. There are more than 3,000 sempervivums from which to choose. The hen is the main plant; chicks are the offsets //Photo by Joshua McCullough
My summer containers are part of an extravagant floral garden party blending in rather than standing out. In the months after the winter solstice, the pots in our front entry garden are a welcome counterpart to the bleak weather. Combinations of evergreen shrubs, hardy grasses, perennials and ground covers welcome us home. Containers designed for winter rely on foliage texture, form and color rather than flowers for visual interest.
Plants in containers need to be hardy to survive winter temperatures. Select plants that are appropriate to at least a zone colder than your USDA hardiness zone. Check pots regularly to make sure they haven't dried out. Pots situated under overhanging eaves or on a porch need supplemental water all winter. Stop fertilizing about six weeks before the first frost date, and don't begin again until spring.
During the holidays, I augment my containers by adding cut stems of red and orange twig dogwood, holly and evergreen magnolia to the pots. Branches harvested from a blue cedar hold their needles for months inserted into the soil. Like a magpie, I am attracted to shiny things, so silver and gold spray paint transforms pinecones and dried hydrangea heads.
---
Picking the small stuff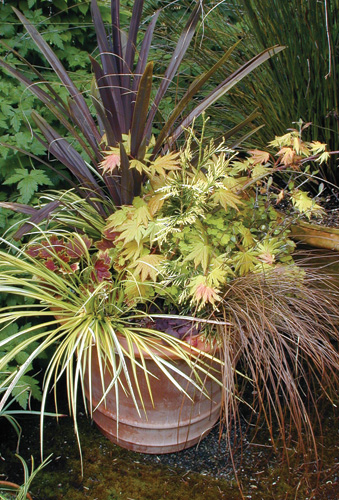 Cordyline 'Kaspar' is a foil for the lime-green leaves of a small Japanese maple and a dwarf conifer.  The sprawling foliage of sweet flag and a bronze carex extend the line of the planting.
// Photo by Joshua McCullough
Bergenia 'Bressingham Ruby' is celebrated for its ruby-red winter foliage. Leaves that look like elephant ears are good foils for grasses and coral bells.
Carex oshimensis 'Evergold' is not a true grass, but we won't quibble. Shiny green margins surround a gold stripe on this evergreen that thrives in sun and part shade.
Carex 'Red Rooster' crows about its coppery-orange foliage and upright habit in sun or part shade.
Euphorbia x martinii 'Ascot Rainbow' flashes tints of sage, lime and gold to create contrast with darker greens, burgundy and black.
Helleborus, evergreen perennials commonly called Christmas or Lenten roses, bloom throughout the winter.
Heucheras are standouts in containers. It can be hard to choose from the current array of coral bells with stunning leaf coloration ranging from frosted green and purple to marmalade and crimson.
Libertia ixioides 'Taupo Blaze' is an iris relative with blades of chameleon-like foliage that change from bronze to orange and red.
Ophiopogon planiscapus 'Nigrescens' is easily recognized by its common name, black mondo grass. In containers, use it as an edger and pair with variegated or lime-green foliage.
Polystichum polyblepharum, a relative of our native sword fern, is a sturdy evergreen fern with shiny, dark-green fronds.
Sempervivums, often called hens and chicks or houseleek, make tight, ground-hugging rosettes of pointed leaves. These hardy succulents exhibit foliage colors in shades of green, silver, burgundy and russet. Combine them in a shallow container for a bold and exotic touch.
---
The right trees and shrubs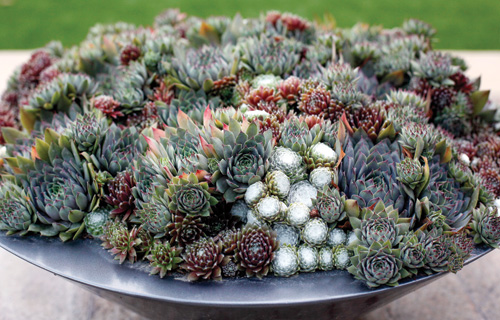 Touches of ruby red focus the eye on a mosaic of silver-green "hens and chicks."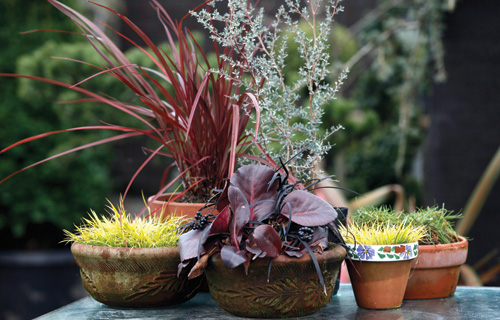 Grouping containers together creates impact and allows plants to be seen individually.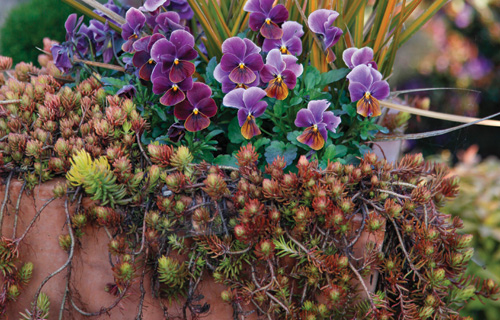 The old-fashioned faces of Viola Sorbet 'Antique Shades' are reminiscent of Grandma's garden.
// Photos by Joshua McCullough
Acer palmatum and its many cultivars adapt well to container culture. Select a small one with good branching structure to provide the bones of your composition.
Buxus 'Green Tower,' an upright boxwood, is a perfect centerpiece for a pot. Variegated boxwood brings light into a container composition.
Chamaecyparis obtusa 'Kosteri' is a dwarf false cypress. It is upright, slow growing and amenable to life in a container. Feathery foliage is tinged with bronze in winter.
Cornus alba 'Elegantissima,' a red twig dogwood, punches up the color in a winter container when its vivid branches are seen against a background of evergreen foliage.
Nandina 'Moon Bay' exhibits the same textural qualities as bamboo. Foliage that turns scarlet in the winter and its dwarf size make it a good choice for a pot.
Pieris 'Little Heath,' a compact form of lily of the valley shrub, shimmers in the gray light of a winter day. Green leaves are margined in creamy white.