Micah Dennis shares his secrets for getting a luxury space outside
It's hard not to get jealous when viewing this beautifully landscaped home. Located on a hilly lot in Happy Valley, this space is a dream for families who want to spend more time outside.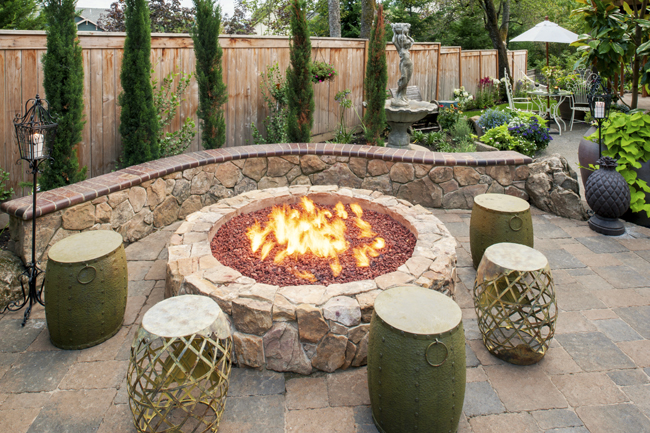 It has all of the ingredients of an ultimate outdoor living experience: a beautiful pool with underground slide, a hot tub, a sheltered cooking area with a wood-fired pizza oven and a fire pit. If you're drooling right now, we understand why.
But this idyllic space wasn't always a picture of paradise. The hilly lot had lots of room, but not a single square foot of level ground — making it difficult to entertain guests outdoors. Enter Micah Dennis of Paradise Restored Landscaping. Drawing on two decades of experience, he knew exactly what the space needed. The results are magical.
We tracked down Micah to learn his secrets. He explains how any Oregonian can create an irresistible outdoor space.
What makes an ultimate outdoor living experience?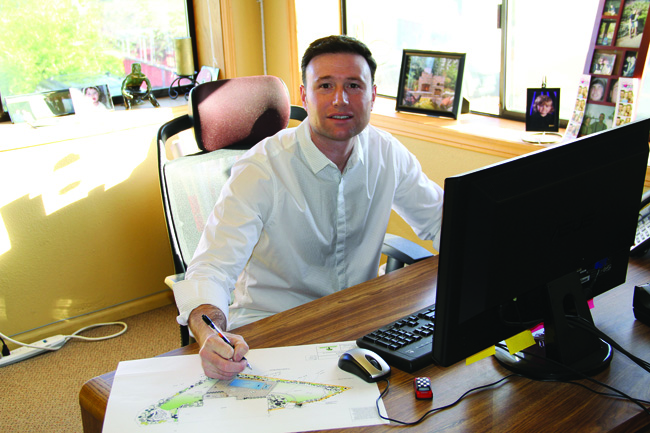 It might surprise you, but you don't need to have a huge budget. Someone might look at this project and think, "Oh wow! I would love this, but I can't afford it." You can turn even small yards into amazing outdoor living areas. What really makes an ultimate outdoor space is destination points — reasons to go outside and spend time with family and friends.
What are destination points, and how can we incorporate them in our outdoor spaces?
Destination points attract us to spend more time outdoors. Some of the biggest things that invite us outside are fire features: fire pits, fireplaces and cooking spaces. These three things help us spend more time with friends and family.
At my house, I especially love having an outdoor pizza oven incorporated in my outdoor cooking space. It's a great family thing. My two kids will invite their friends over, and we make personal pizzas where they add their favorite toppings and then we bake them fresh in a pizza oven in our own backyard. That's an incredible way to make some memories in nature.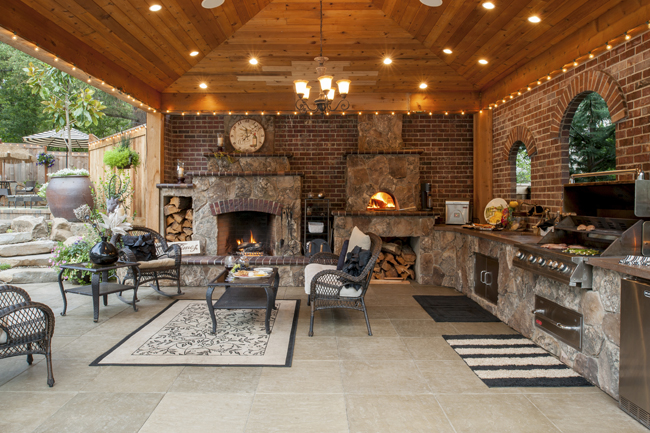 Do you have any actionable tips to help make our outdoor spaces more livable?
Here are two tips I always give my clients: The first is encouraging us to go outside in the first place, and for this we need to consider our sightlines, what our view is from inside our homes looking out. We consider this in all of our designs — the placement of a beautiful fountain, a fire feature and so on. I call it the "eye candy."
The second thing is addressing road noise. We have to try and figure out ways to mask that with outdoor speakers and soothing, meditative water features. It's a great way to help us destress, too.
In our damp Oregon climate, what are some ways we can enjoy our outdoor spaces all year long?
It's true: our weather can be quite damp. But there are some things you can do. Covered structures are an excellent choice, and there are so many options: gazebos, classic lean-to structures and pergolas with rain-proofed covering are a just few great solutions to create living spaces you will enjoy all year long.
How can we begin the process?
This can be a hard process to begin unless you're a professional. You wouldn't build a house without a design. So, we offer a free consultation to help you start the process and determine what your needs are. We help you discover your outdoor style, whether it is modern, Pacific Northwest, Japanese or Mediterranean. We help you design a space you'll want to keep spending time in.