On a budget? Here's what we at the White Pear did …
To stay on budget, there were no design drawings, instead lawn paint was used to outline the pathway and planting berms. Our goal was to design a beautiful garden with a sense of order, while retaining the integrity of the surrounding woods.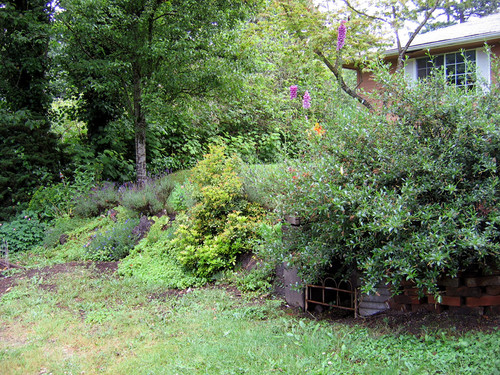 Left is a photo of what we started with…
• Old weedy grass on a slope.
• Trees covered with ivy; one dead.
• Encroaching blackberry and ivy.
• No defined planting berms.
• Random mix of plants.
The makeover…
• Removed all grass – too time consuming to rejuvenate and too expensive to maintain.
• Removed dead tree – dangerous; more sunshine.
• Bridged the slope – gravel pathway with edging that crosses the front yard to the back.
• Designed a small patio with inexpensive concrete blocks and gravel – charming & inviting.
• To connect patio to pathway, added a stack of 3 steps.
• Shaped planting berms on both sides of pathway using a blended soil mix.
• Transplanted existing plant material and added colorful evergreens, perennials, and annuals.
• Medium dark hemlock for top dressing.
• Concrete blocks and edging from The Home Depot.
• Gravel, soil, and top dressing from Woodwaste Management in Portland, OR.
• Plant material from Portland Nursery and Cascadian Nursery in Hillsboro, OR.
A simple, garden makeover on a budget – beauty, definition, and purpose, while retaining the integrity of the surrounding woods.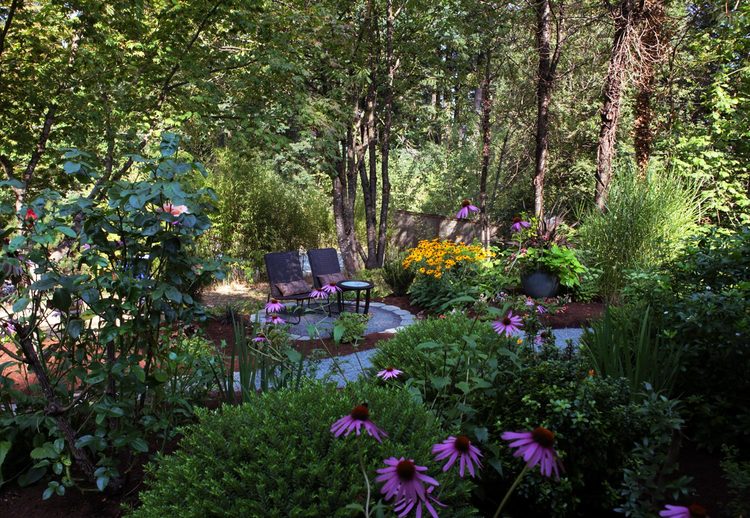 Looking towards the woods. Photo by Holly Stickley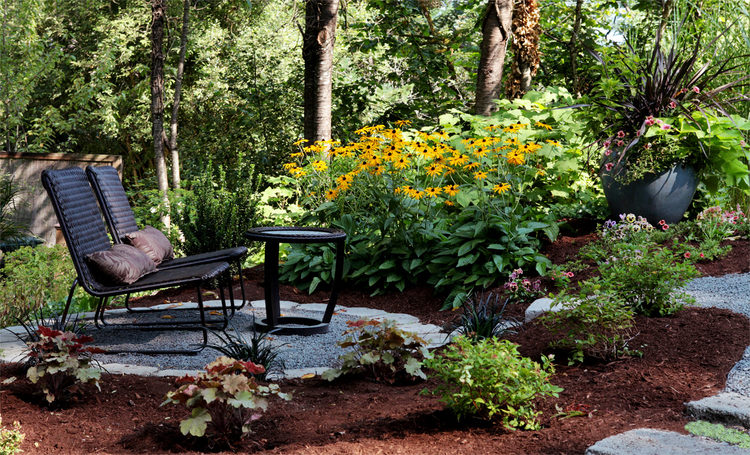 A place to contemplate life…:-) Photo by Holly Stickley
Love, Holly ~ Your Queen Bee at The White Pear