Holly Stickley | The White Pear
Looked inside your boxwoods lately? If not, you should!
I love a beautiful boxwood hedge! Last March 2014, I lost 35 of my Buxus sempervirens Suffruticosa — the boxwood that is most susceptible to the blight!
Yes, we have boxwood blight in Oregon! It was identified for the first time in Oregon, late 2011 and has been identified as a new fungus species —Cylindrocladium pseudonaviculatum. 
At first, I was told by three sources that we didn't have the blight in Oregon, so I thought maybe mine was just stressed from not enough water or too much water — neither was the case. I also called the Boxwood Garden for help and the owner told me very strongly, "We do not have the blight in Oregon" — and instead sold me two bags of fertilizer for $80!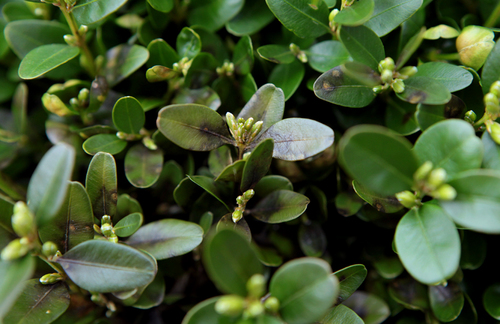 With no known cure, I was heartbroken. My boxwood hedge was planted in 2010, and was looking quite beautiful — I was just getting ready to do my first shearing into a squared-off hedge.
Boxwood blight starts out as dark spots with white centers on the leaves. The leaves quickly turn brown, straw color, and then fall off. The defoliated stems develop black lesions, and the entire plant eventually dies.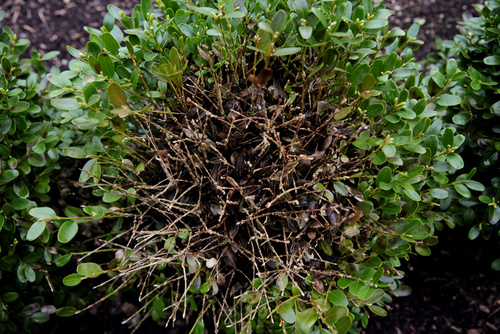 The sticky fungal spores are spread by both wind and water (rain or sprinklers) over short distances and also spread by human activities such as pruning — warm, wet weather facilitates its spread.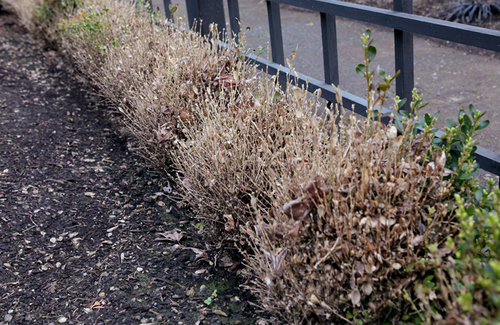 Here's what I did to get the problem in control, nurse the sick and soon to be sick plants, and save the boxwoods I had left:
• I removed and discarded all the infected plants and put them in the garbage —  not the yard debris can.
• I went through each boxwood that looked somewhat healthy, and opened up the middle and base and cleaned out the inside — at times getting on my belly to view from ground level the base of the plant to get them cleaned thoroughly. 
• After cleaning each plant, I dipped and swirled my pruners and Hori-Hori knife in bleach for about 20 seconds. The Hori-Hori knife helped me push out the diseased foliage through the open base. I also worked with multiple pairs of gloves — and my bare hands, so as not to spread the disease. It was easier to wash my hands after each plant cleaning, although tough on the hands.
• After cleaning out all the plants, including the dirt below each plant, my husband had the task of spraying the plants every 7 days with Green Cure Fungicide, given to me by my kind neighbor and fellow gardener, Marcia. I buy mine locally here in Portland, OR at Roots. In case you can't find it in your area, here's their website. http://www.greencure.net/
On average, it took about 20 minutes to clean each plant — I cleaned 48 plants! The entire cleaning process was extremely tedious, time consuming, and cold in the month of March — lots of frustration and tears.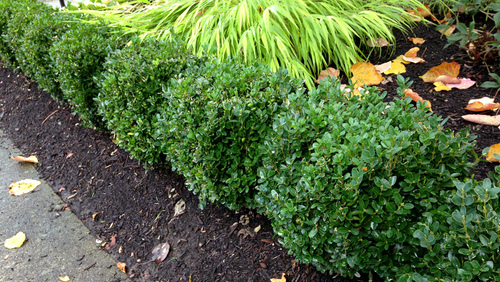 But, great news — my efforts paid off! Check out the photo on the right that I took just yesterday — they are on the mend. I am now going through each plant this fall, making sure they are clean and sprayed…:-)
If you need additional information on who to contact if you think your boxwoods may have the blight, send me a comment in the comment box below. Don't reply to this email, other readers may benefit from the information.
Love, Holly ~ Your Queen Bee at The White Pear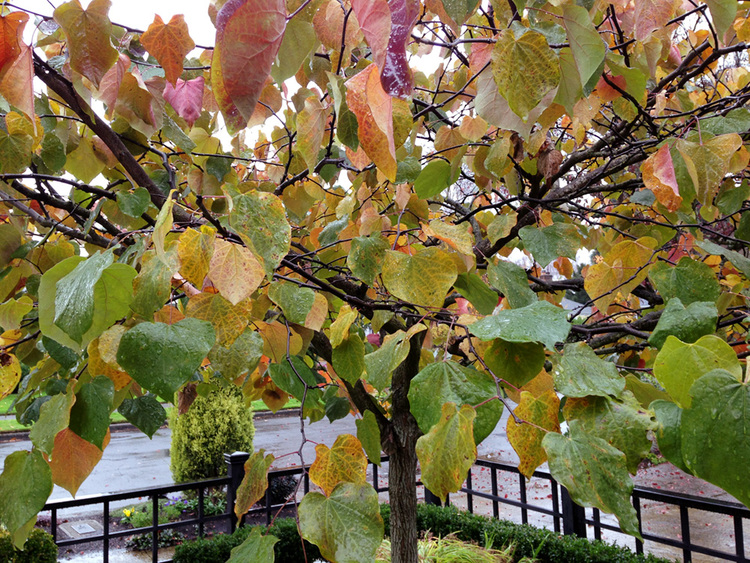 Happy Fall! Colorful foliage of the Cercis canadensis 'Forest Pansy.' See my healthy boxwood hedge below the tree. The gap on the bottom left corner is where I lost two boxwood plants.