Laura Wallace and Matthew French were planning their August 2020 wedding when the pandemic shut everything down. So instead of pumping their $30,000 wedding budget into a seated dinner event, they decided to build a backyard pavilion — complete with a pizza oven, an Argentine grill and an outdoor bathroom. More than 30 neighbors and friends helped with the project.
"It was way too much project to do on our own," says Wallace.
As physicians' assistants and first-line responders during the pandemic, they were eating a lot of takeout pizza. The couple began dreaming by laying out their initial ideas with pizza boxes in the backyard, shaping zones for gathering with friends out back. They eventually enlisted New Energy Works and its sister company, Pioneer Millworks, to design a timber-frame structure for their backyard in Northeast Portland.
"I love that traditional, timber-frame style," French says. "It has something really elemental about it."
The couple had a community event, like a barn-raising, to install the structure and called on people within their immediate neighborhood for various other parts of the project. One neighbor helped build the grill; another, a painter, helped with the painting; another neighbor was a welder and assisted with those tasks.
The project, which the couple credits with helping them develop deep roots within their neighborhood, has since gone on to be a national finalist for the Architizer A+ building awards in the backyard category.
French, who has also spent time as a chef and caterer, now serves up regular seasonal pizzas (a classic margherita is a favorite choice) to crowds who stop by all summer long.
"Pizza really is his love language," Wallace says.
"It's a lot better than serving 200 people chicken piccata at a wedding," French says.
---
Raise the Roof
Photos by Noel Adams
The morning of the French-Wallace pavilion project, about a dozen volun-teers had gathered over pastries and coffee at a foundation site built in the couple's backyard. A bell rang out, and the group, including the homeowners, raised the timber frame into position, each person shouldering about 25 pounds of the weight. Once everything was secure, the crowd began to shout.
"There's a sense of exhilaration when a large bent [at its simplest, a truss with legs] stands vertical and the weight of the timbers slack," says Jonathan Orpin, founder and president of New Energy Works. Afterward, the company performs a traditional ceremony where a pine bough is secured to the frame's ridge in honor of the trees used and the effort the group has put forth, and everyone toasts the new owners.
---
---
In its 30 years in business, New Energy Works has done about a dozen community raisings involving groups of volunteers. The company's largest was a 100-person one-day project for the Benedictine Brewery in Mt. Angel. "When we do a community raising, we look to feasibility," Orpin says. New Energy Works always considers why it would raise the timber frame this traditional way.
"I've long lamented that so many people know more about their new cars than their new home, and we want to be sure the home or structure starts off on the very highest note," Orpin says.
---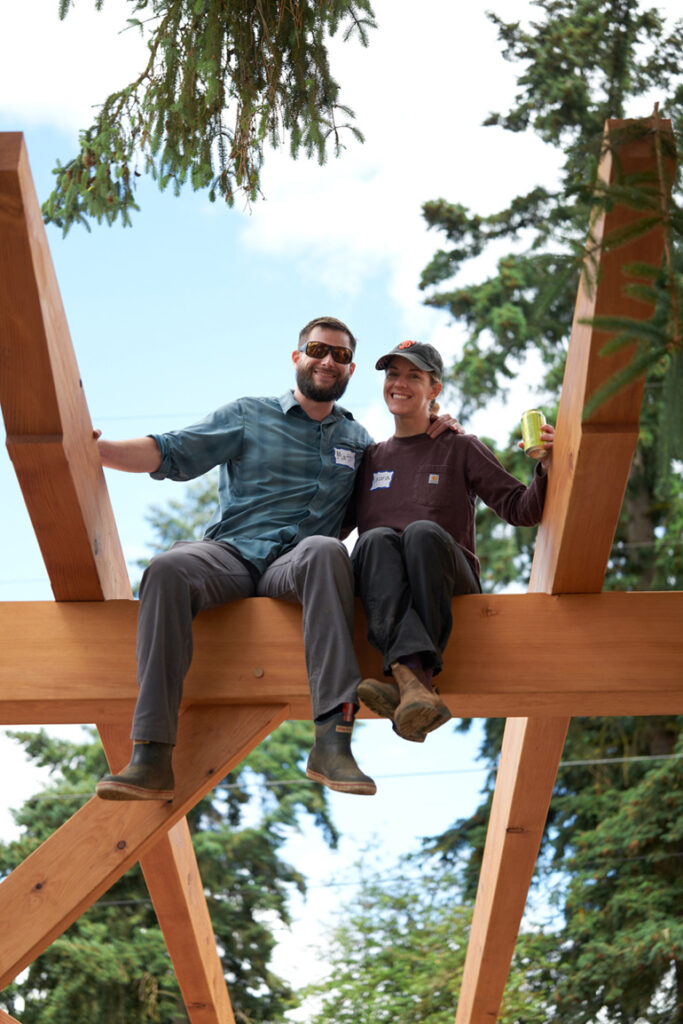 ---
Hey Neighbor!
Illustrations by Joan McGuire
Getting to know your neighbors yields dividends for everyone involved. Support from neighbors is associated with increased overall well-being in mid- to later life, according to studies from the Journal of Gerontology, and face-to-face relationships can do even more — like increase your sense of belonging and your access to good information and resources, combat loneliness, and make neighborhoods safer as a whole. And if you run out of eggs for Sunday-morning muffins, you know where to turn to save the day.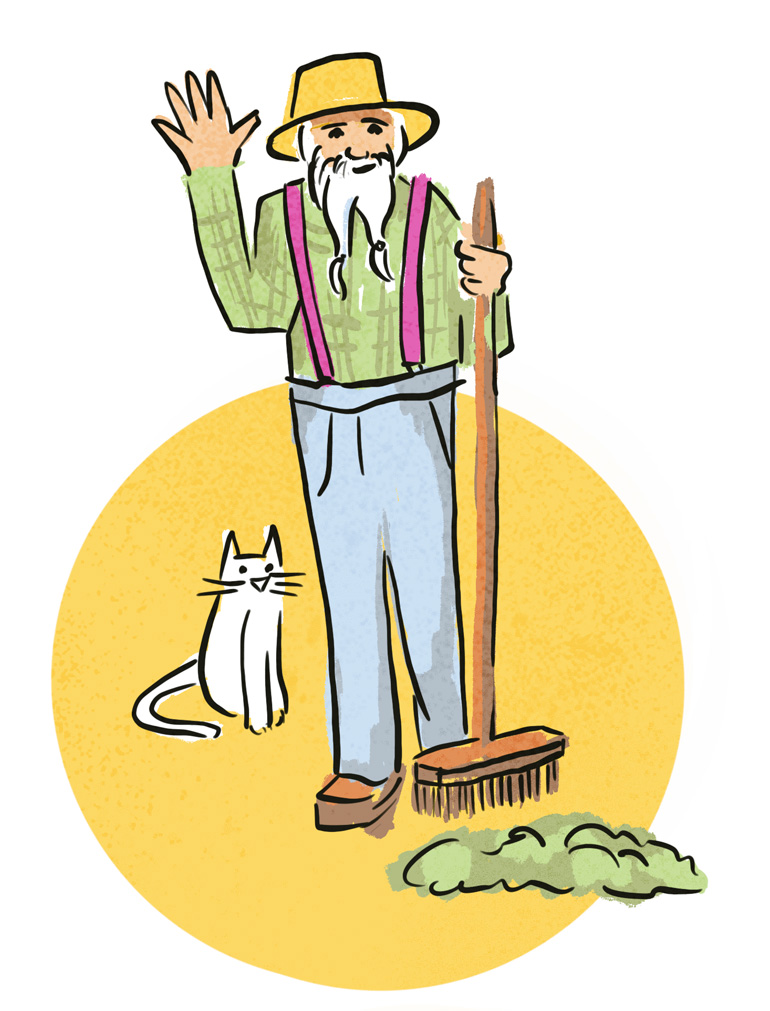 ---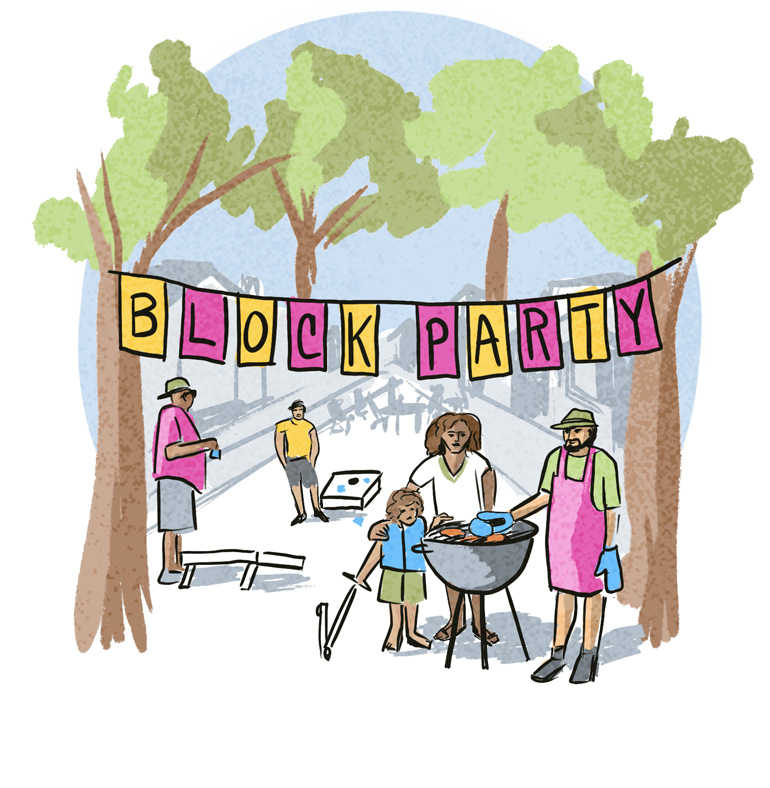 ---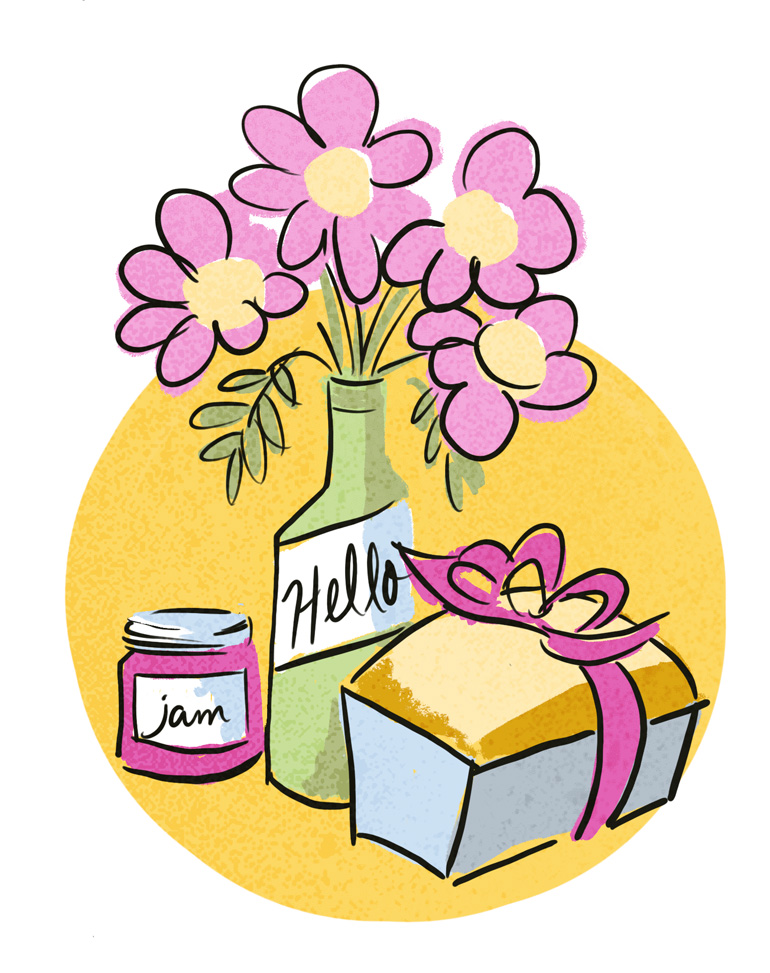 ---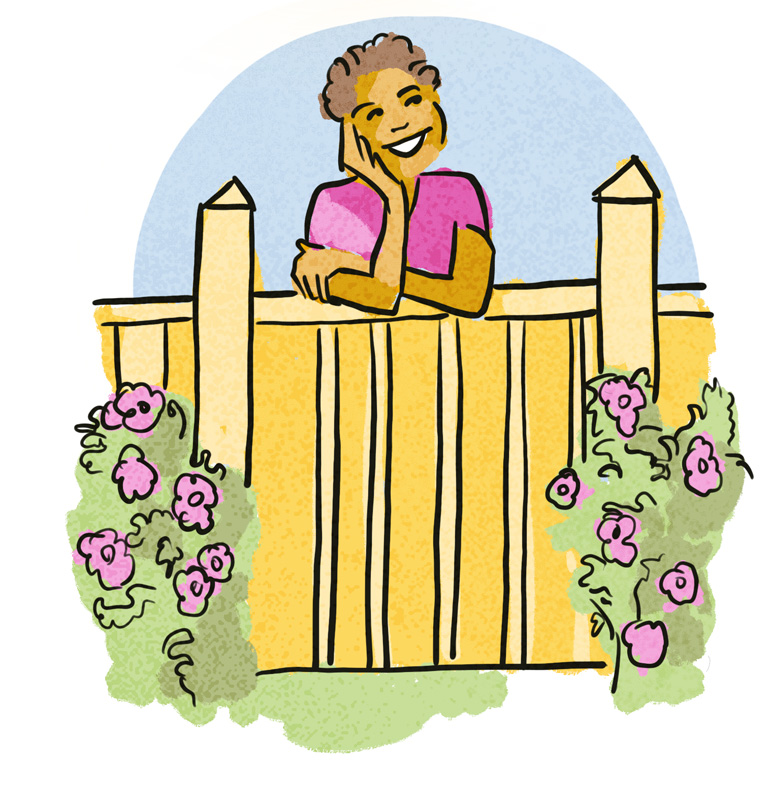 ---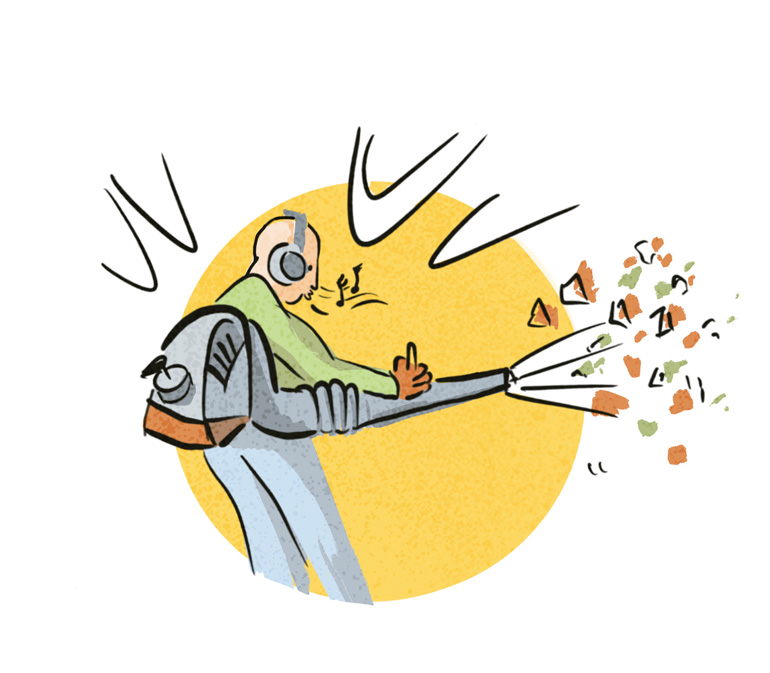 ---