It can be done… a garden transformation on a budget!  
Of course, everyone's budget is not the same, but here are a few ideas to keep costs in check and still produce big results.
For Peg's garden transformation below, Peg hired The White Pear for an overall design to map out the bones of the garden.  I highly recommend having an overall design, whether drawn by you or a professional.  When you're organized and have a vision it saves time and money.
In Peg's garden, we started with old bumpy, weedy grass, a strip of bamboo, and an old shed.  Even though Peg loved grass, it was costly and time consuming for her to maintain a healthy lawn, so we took out all the grass, and the old shed.  In doing so, we now had room to create berms for beautiful plant material, and curved pathways that lead you gently around the garden.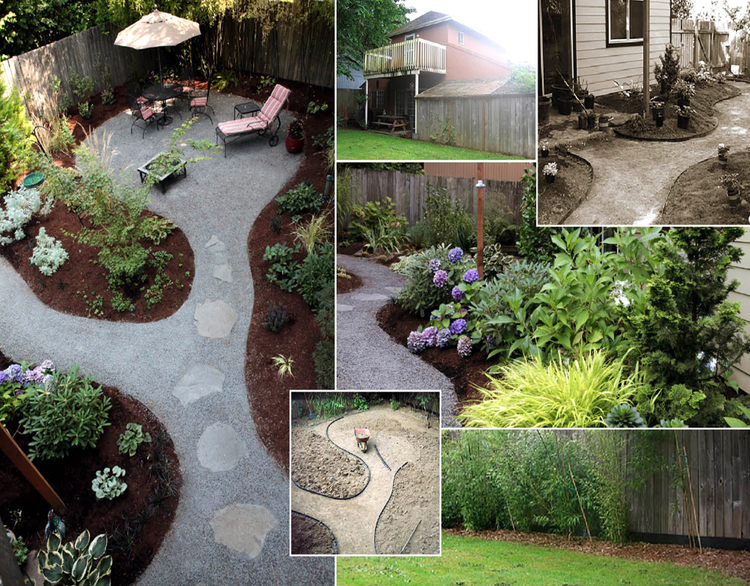 From Left to Right & Down:
• New patio area and planting berms. 
• Before – old shed and old grass. 
• After we removed shed.  Bedroom window is exposed.  Light now filters into the house.
• New shade berm in bloom; more lovely than the old shed.
• Before – old grass and a strip of bamboo.
• In progress – leveling ground, shaping the berms, patio area, and pathways.
To stay on budget, we used 1/4 minus gravel for the patio floor and pathways.  In the future, Peg has the option of installing a more permanent flooring material, if she desires.
To stay on budget, we used as much existing plant material, if it made sense to the overall design; moving plants around and adding more of the same plant material for cohesiveness.  Be organized with your plant shopping list and determine a color palette to avoid impulse buying.  You don't want to end up with a mismatch of onesie twosies.
With plenty of time before Spring, now is a great time to think about designing your new garden.  Take time to enjoy the process and not rush to finish a plan, shop for new outdoor furnishings, and sew new outdoor fabrics for a fresh look.  Come Spring, with a plan you'll be ready to shop, install, and enjoy your new garden transformation!
Love, Holly ~ Your Queen Bee at The White Pear