A Dayton couple goes for more land and less fuss in a jewel box of a home.
---
Photography: Loren Nelson and Jason E. Kaplan
Builder/Architect: New Energy Works
Woodworking: New Woodworks
Reclaimed Wood, Kitchen Cabinetry, Bedroom Door: Pioneer Millworks
---
Phil and Rocio Lundy never wanted a large home.
"It's so easy to maintain a small house," Rocio says. "I don't like big houses."
But they did want a gorgeous one, a home that was designed intentionally, and with a high level of craftsmanship. So when the couple retired — she from financial services and he from landscaping — they knew they wanted a home that would allow them to spend their time exactly as they wished. They wanted to be outside walking their half-mile nature path, watching air shows from their deck, cultivating specialty tree varieties on their land and overall living a less complicated home life.
They found their match in New Energy Works, a design firm and builder in Portland specializing in modern timber framing, who was willing to take their big vision for small living and make it a reality. In a collaborative process, the couple and the team landed on a design for a 1,140-square-foot home that would leave no wasted space while feeling touched in every corner by an artisan's hands.
---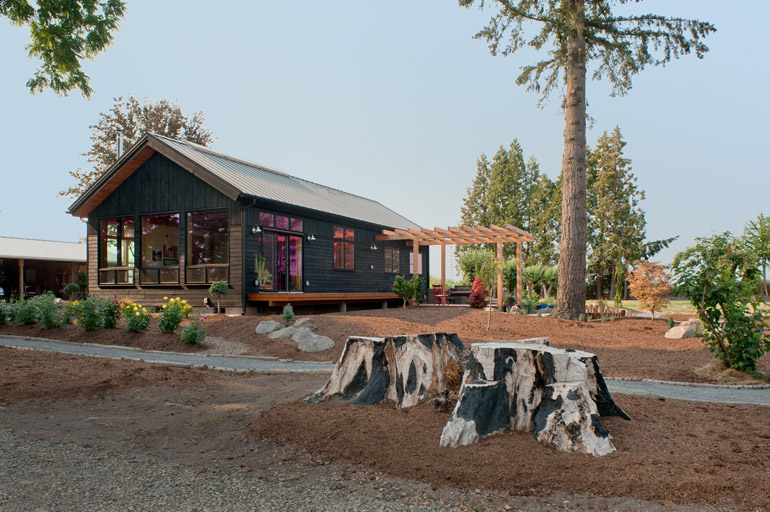 ---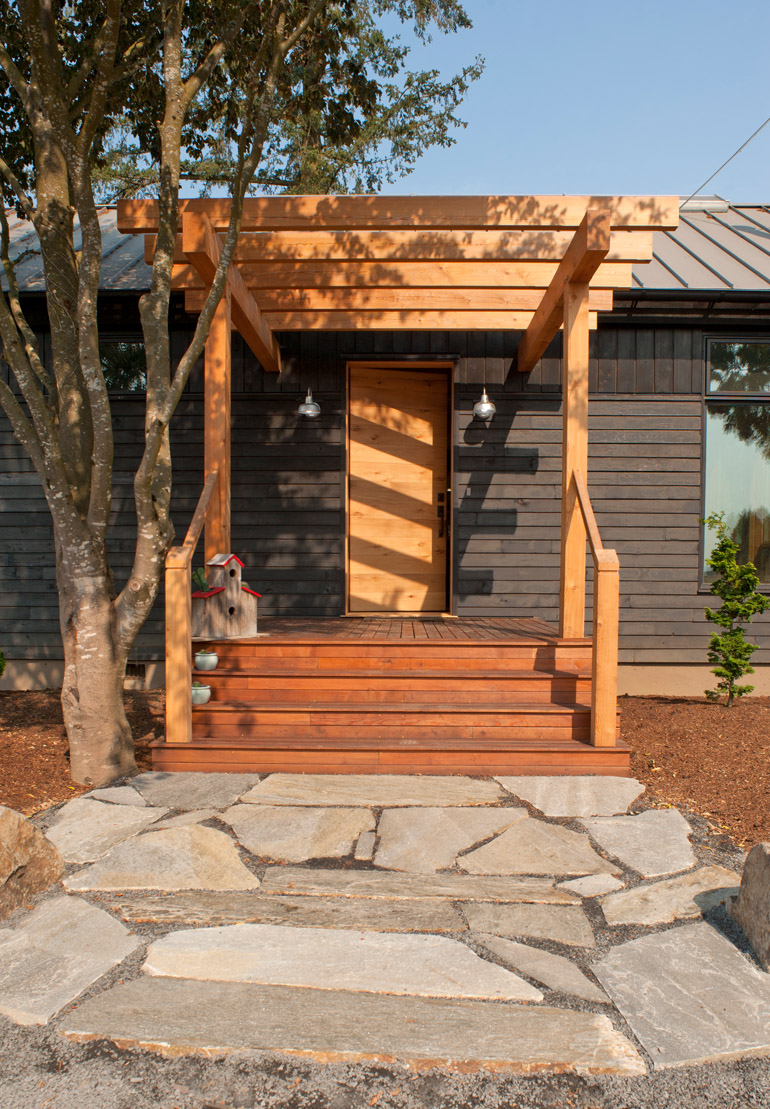 ---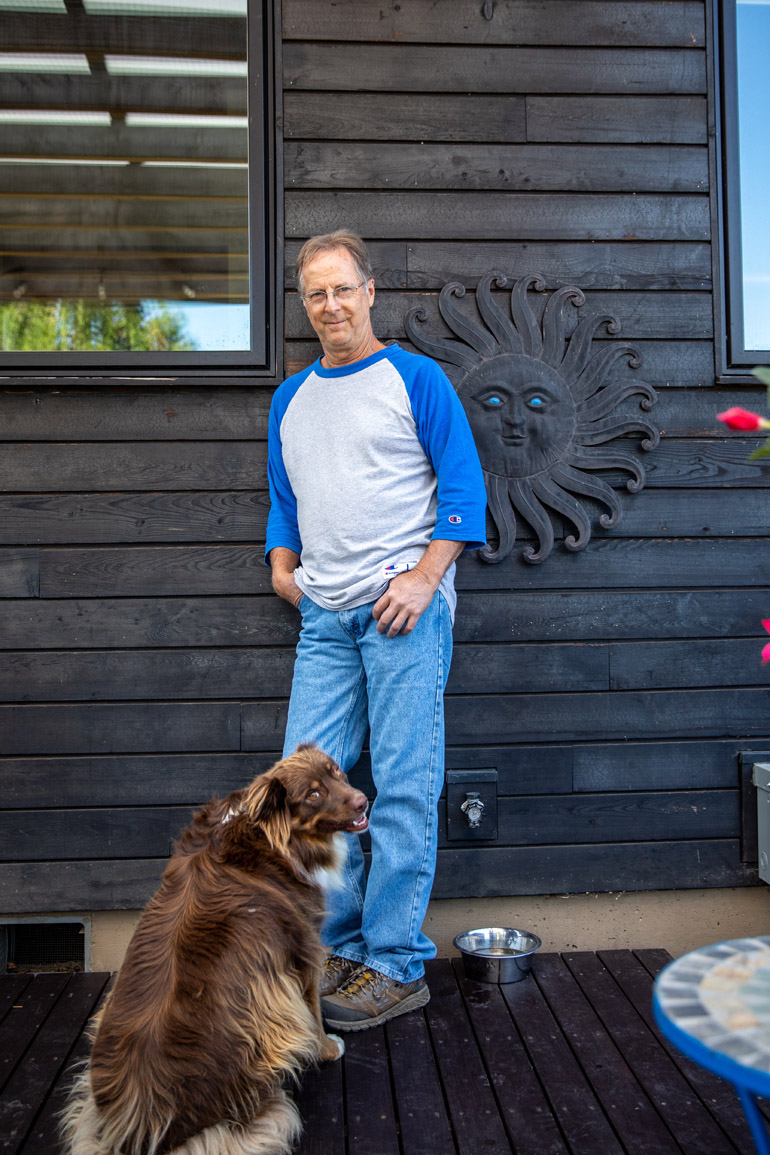 ---
"Half of the aesthetic was decided the second we picked New Energy Works," Phil says.
Planning is one thing; unexpected results are another. Since moving into their home, nearly 30 people have pulled off the wine-country back road and parked their cars next to a towering walnut tree to ask to see the interior of the home.
It's easy to see why. Outside, the home stands out in stark contrast to the changing valley landscape. On the exterior, cedar planks treated in the traditional Japanese Yakisugi (shou sugi ban) technique turn what might otherwise be a small box into a modern marvel. Inside, it continues its celebration of the possibilities of wood. Douglas fir beams shore up the timber-frame design, creating the effect of a small cathedral, and find additional use on the flooring and trim. Black walnut harvested on-site transforms into showstopping solid-wood cabinets. The counter butcher block is made of reclaimed beech, and larch interior wood paneling and shiplap adds a homey visual to the walls.
"New Energy Works are wood people, so we got along great," Phil says. "Every piece of wood you see has been oiled by hand."
---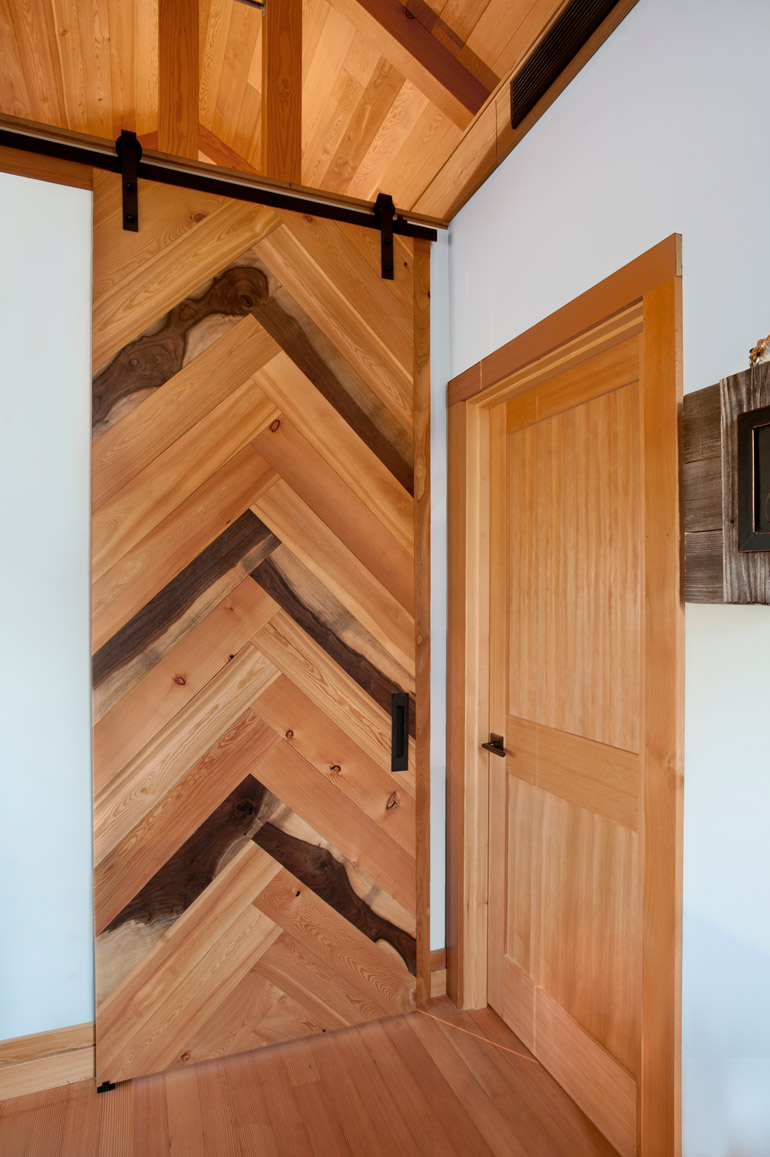 ---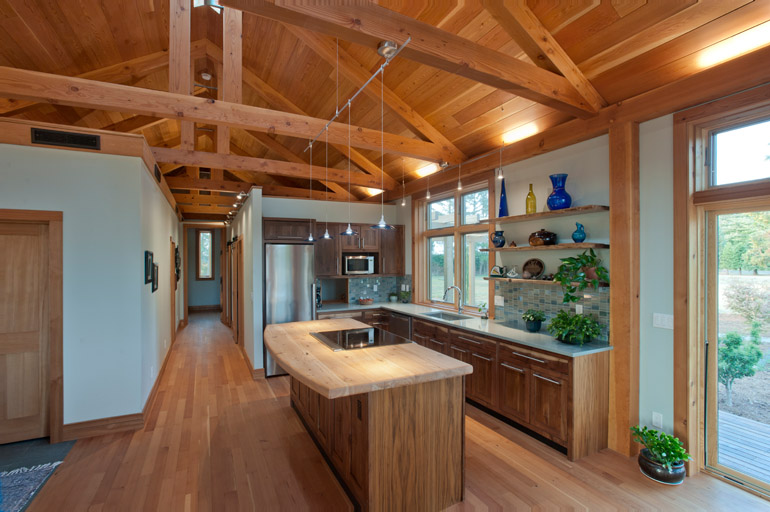 ---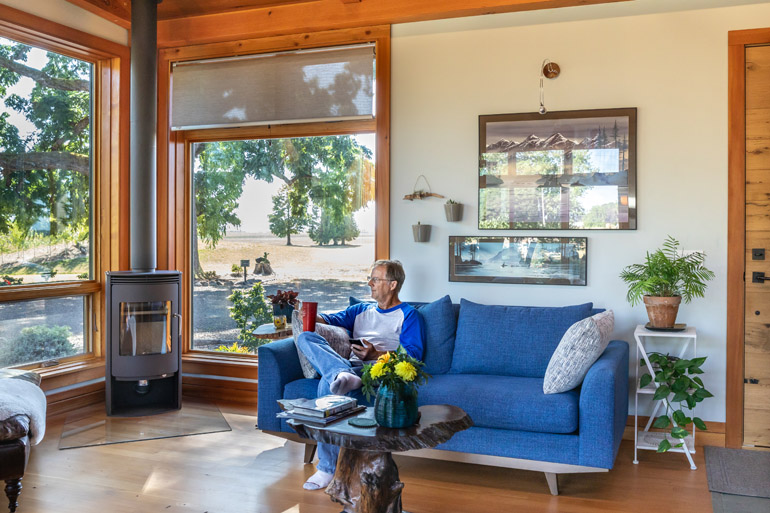 ---
"It's easier in the long run to just let it be," Rocio adds. "Wood changes over time."
The home has just enough of everything to satisfy a nature-loving couple set on simplicity. A large pantry with a cut-out to the kitchen makes food preparation go fast. A half-size European refrigerator is big enough for two. An office does double-duty as a family media room. A walk-in closet next to the owner's bedroom provides just enough space for two curated wardrobes.
Windows give the home a jewel-box quality and allow the couple to experience the changing moments of the daylight: from the sun coming up in the east, as they read newspapers from around the world while sitting next to the small wood stove, to the moment when the North Star is on permanent display in a window in one of the upper rafters.
"This place just glows at night," Phil says.
---