A lot of artists can turn new paint and just-stretched canvases into amazing works of art. But we live in Recycleville, where creative, resourceful artisans and craftspeople are making sophisticated things out of former throwaway items (think pennies, plastic bags, broken glass and old sweaters and shoes). Meet upcyclers whose handiwork merits every cent it can fetch.

PENNIES TO PINECONES

Does money grow on trees? No, but you might want to rethink your answer after you see 57 pennies retooled as sculptural pinecones that adorn the decorative ironwork of John Fyre (971-235-5869; http://www.sellwoodblacksmith.com ), who embellishes the gates, fences and tree grates he creates as the Sellwood Blacksmith. He also turns copper gutter remnants into 6-inch-tall golf bags complete with clubs ($40) and discarded metals into vintage bike-shaped weathervanes perfect for the rooftop of your favorite cyclist. His pieces are also at Moreland Frameworks (6517 S.E. Milwaukie Ave., 503-234-5478) in Portland.


VINTAGE TIES TO PILLOWS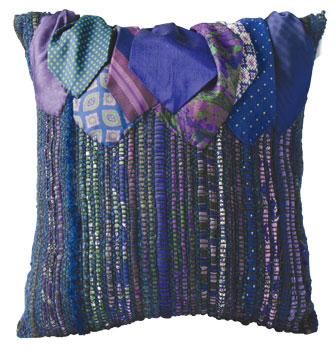 For the last two years, weaver judi mccubbins, the director of the William Temple House Thrift Store in Northwest Portland, has turned vintage ties into home accessories such as this pillow ($45) and rugs ($80) as Turtle Dance Handwoven (503-930-1948 or e-mail her at [email protected]). "I like to work with really wide ties—the ones that were made around 1960," says the former textile major at Oregon State University who lives in Salem, Ore., and sees her craft as part of a generations-old tradition. "In the old days, after loved ones passed away, part of the grieving process was to weave together strips of their clothing into new things." Her woven pillows and rugs are sold at Cannibals (518 N.W. 21st Ave., 503-224-BONE) in Portland.


SUBMERGED OLD-GROWTH DOUGLAS FIR TO FURNITURE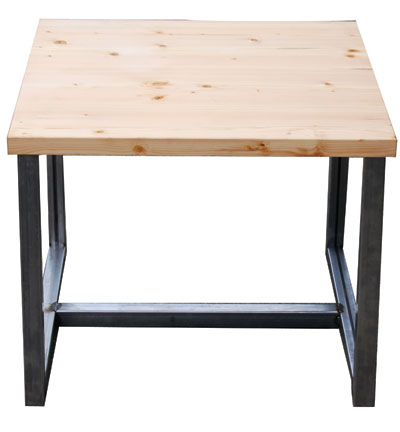 Erick Haglund, the president of Columbia Riverwood, an FSC-certified wood supply business dedicated to reclaiming and recovering old-growth wood from Pacific Northwest rivers (and turning the lumber into custom molding, beams, doors, flooring and paneling), also designs and fabricates furniture as e. haglund design (503-880-6664 or go to ehaglunddesign.com ). His 29-inch-high, 3-foot-square Cube table ($525) is made of reclaimed steel and wood from a log of Douglas fir that was underwater in the Columbia River for 250 to 350 years.


SWEATERS TO TEA COZIES

Urban chicken keeper Kristina Perry need only walk to her backyard to glimpse her next model on which to dream up a new Cozy Chick tea cozy ($28) for her business, Liv & Lotus (livandlotus.com ). The Portlander, who has a BFA in studio arts from the University of New Mexico, reshapes reclaimed wool clothing such as sweaters into yellow-billed "birds" that look as if they are warming a yet-to-hatch brood when you drape the cozy over your just-filled teapot to ensure that your second cup of green tea will be as warm as your first.

ENCYCLOPEDIA PAGES TO WALL AND CHRISTMAS TREE ORNAMENTS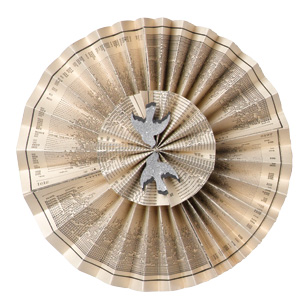 Randy Parman has a day job, as well as one of the best booths at Monticello Antiques Marketplace and his own antiques shop in Portland—Madison Park—that looks as if Martha Stewart herself did the sweet displays built around Victoriana and other vintage treasures. The antiques dealer also crafts these 8-inch-wide, medallions ($6.50 to $7.50) from pages in old encyclopedias that he folds and secures into multi-layered disks. Check the walls at Madison Park (7805 S.E. 13th Ave., 503-233-3731) for these clever yet simple embellishments.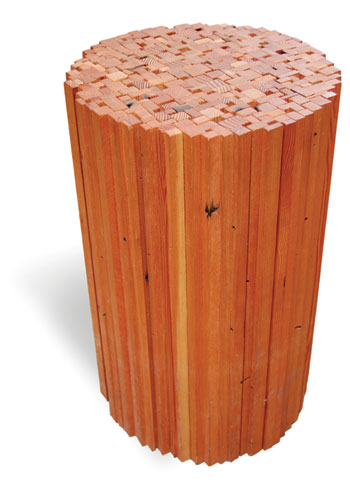 STICKS TO SIDE TABLES

The ReFind Furniture manager at The ReBuilding Center in Portland, kirby jones, has degrees in furniture design from California College of Arts and Crafts and San Diego State University. As Kirby Jones Furniture (503-445-1756 or go to kirbyjones.com ), he makes minimalist benches, cabinets and tables such as this Stick Table ($275) out of reclaimed wood, steel and glass.

1950s EYEGLASS TEMPLES TO CHANDELIERS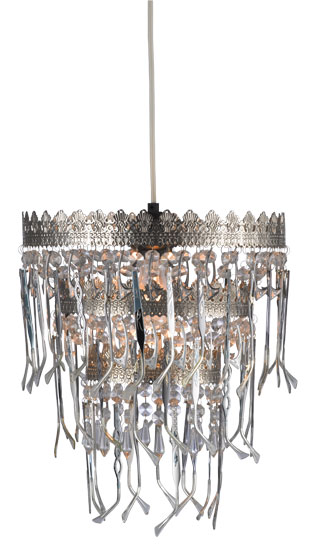 Seven years ago, Lars Sandel (541-924-5638) and his wife left New York state, where he'd been a restorer of vintage light fixtures (among other things), and eventually settled into an 8,000-square-foot former Assembly of God church in Albany, Ore., that's been turned into a residence. Now he makes light fixtures out of odds and ends such as this discontinued Ikea chandelier hung with tens of decades-old Romco eyeglass temples ($475).
BICYCLE WHEEL RIMS TO LAWN CHAIRS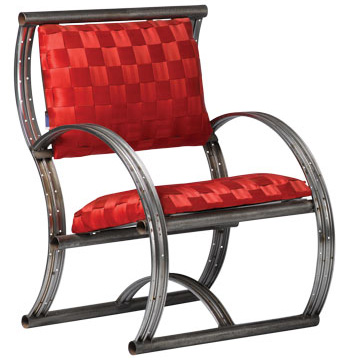 Designer-fabricator matt cartwright builds functional art, sculptures and custom furniture as Cartwright Design (503-240-6742 or go to www.cartwrightdesign.com ). The grandson of a pipefitter who taught him metalwork, the former bike mechanic crafted a 7-by-13-foot bench in the shape of a lotus for a park in Colorado and the super-cool wine rack and forged-steel banisters at clarklewis. He made this aluminum rim garden chair ($450), out of bicycle wheel rims and surplus webbing.


RECLAIMED RADIATORS TO COFFEE TABLES

When stacks of rusty radiators gave Susan Silodor a warm and fuzzy feeling one day when she was browsing the salvaged goods at The ReBuilding Center, she banged out the perfect way to reuse the old serpentine iron pipes: as coffeetables ($450) and end tables. As Blue Girl Designs ([email protected]), she sandblasts the radiators and anti-rustcoats them, then turns them over to KC Hanson (she does paint touch-ups on cars for a living), for a meticulous painting in, say, Metallic Blue. Finally, the radiators are sprayed with a protective clear coat and topped with a rectangle of glass. "I'm always amazed to see how beautiful a radiator becomes after a new coat of paint brings out all the details in the old ironwork," says Silodor.


SILVERWARE TO KEY CHAINS

Like the heft of a lovely vintage spoon or fork? Jack Hartman (541-556-7535 or e-mail him at [email protected]) of Bend, Ore., retools old eating utensils into sleek key chains ($2). The key chains are available at the Waldport Flea Market (260 Arrow St., 541-563-6436) in Waldport, Ore.


RECLAIMED BEAMS TO WABI-SABI BENCHES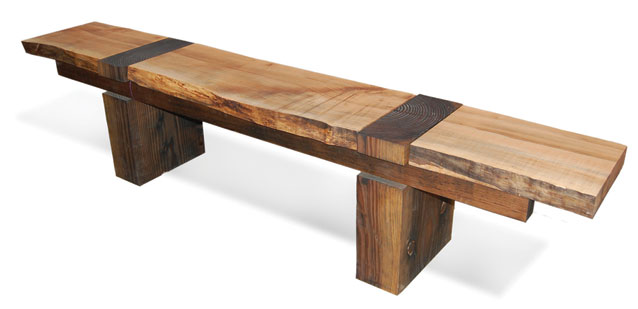 Kirby Jones is the artisan of this TimberLine Bench ($1,150), which is a special-order item at ReFind Furniture at The ReBuilding Center (503-445-1756) in Portland. The 50-inch-long, 14-inch-wide seat is made from reclaimed old-growth maple and Douglas fir beams.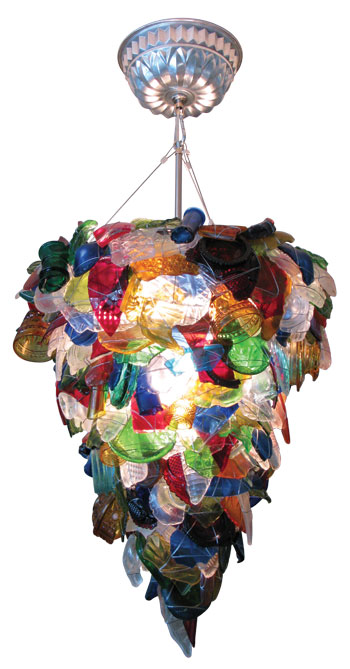 BOTTLES, BIKE WHEEL RIMS AND CAKE PANS TO CHANDELIERS
Seattle-based artist Russ Morgan hand-wires and assembles glass shards of broken bottles and vases into chandeliers, lamps and sconces as Russ Morgan Chandeliers (206-915-2128 or go to his website, www.justarumor.com ). He often incorporates items such as ashtrays, candy dishes, and punch bowl cups and saucers, which he once pieced together into a chandelier called Who Spiked the Punch? "I'm always delighted when someone admires one of my chandeliers and then says, 'Wait a minute: Are those ashtrays?'" he says. This commission, a 25-inch-wide by 27-inch-long chandelier with cake-pan canopy where it meets the ceiling, costs $2,800.


VINTAGE HANKIES TO QUILTS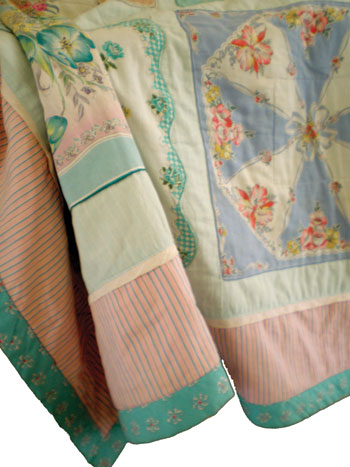 Kate Nason, the proprietress of Chairwear (503-335-8692), usually whips up slipcovers, fabric-covered headboards, curtains and Roman shades, and all manner of home couture for her clients. The Portland seamstress-designer stockpiled vintage hankies to make this duvet as a surprise going-away present for her college-bound daughter. Something tells us the bedtopper is bound to become an heirloom.


OLD GARDEN TOOLS TO GATES AND FENCES

Can't bear to part with your late grandfather's gardening tools? Commission Ray Huston to turn his pruners, Cape Cod weeder and trowels into a gate, arbor or forged fence. As Deezines (503-630-2256), Huston brings new life to heirlooms.


TWIGS AND STICKS TO ROCKING CHAIRS

A self-taught woodworker, JERRY TOMASEK will sketch his next rocker, then head for the woods near his White Salmon, Wash., home to find his raw materials: sticks and twigs. He sells his modern yet rustic pieces as Westwinds Furniture (509-493-3746 or go to www.westwindsfurniture.com ).


PAPER AND MONOFILA-MENT LINE TO MOBILES

Heather frazier makes like Edward Scissorhands when she hand-cuts hundreds of shapes (think ovals, flowers and asterisks) out of recycled paper and strings them up on monofilament line to create modern mobiles, garlands and wall hangings as Frazier and Wing (www.frazierandwing.com ). Her pretty works look as if a flock of birds are frozen mid-flutter! Check out her multi-strand columns as large as 7 by 6 feet ($200).


RECYCLED STEEL TO COFFEE MOBILES

Gina Nash torches tin cans to create her mobiles, sconces and lamps as Experienced Materials (503-380-0289 or go to her website, www.experiencedmaterials.com ). We liked her 3-foot, 7-inch-tall mobile of a coffee pot with HOT COFFEE written on its side, three coffee cups and a spoon ($38), which would add a little kick to any kitchen or breakfast nook.

—Sheila De La Rosa