OPTICAL LENSES TO CHARMED NECKLACES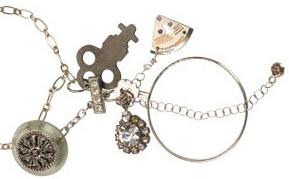 Considering Tamara Goldsmith's surname, it's fitting that she makes jewelry, and that her pieces are where vintage meets creativity. She makes her sparkling charm necklaces ($68) with old optical lenses, keys, crystal buttons and reclaimed chains. Find them at Redux (811 E. Burnside, 503-231-7336), her shop in Portland.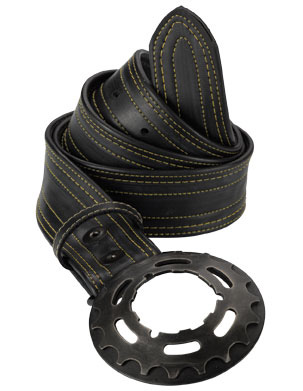 BIKE PARTS TO BELTS AND BUCKLES
At last: Something nonSpandex that the cyclist in your life can wear. Two Seattle craftspeople—blacksmith erica Gordon of Steel Toe Studios (www.steeltoestudios.com ) and Eli Reich at Alchemy Goods (206-484-9469)—turn refinished bike cogs and old bike inner tubes into cool belts. "We design them to look finished, but we don't hide what they're made from," says Reich. The belt ($38) and buckle ($55) are available at Redux.

JUNK MAIL TO CUFFS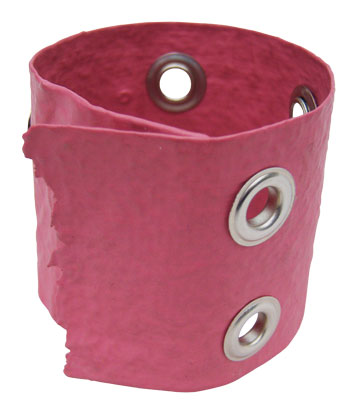 Kristen Mikosz has a use for junk mail. She turns it into paper pulp that she uses as a base to make masks and jewelry, such as this 8-by-2-inch grommet-studded cuff ($30). Don't like pink? She also does custom colors. (www.reimaginedmusings.etsy.com )

CAR PARTS TO DELICATE NECKLACES
Jewelrymaker Emily Baker finds a junkyard full of old car parts
inspirational. She converts them into beautiful shapes that hang from
vintage chains. Her ceremony necklace ($72) consists of recycled steel
hoops hung on an adjustable chain. Baker's jewelry is available at her
shop and studio, Sword + Fern (811 E. Burnside Ave., #114,
206-992-3932) in Portland or go to www.swordandfern.etsy.com

RECYCLED WOOL SCRAPS TO FELTED TOTES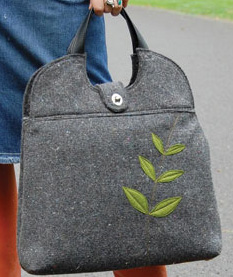 Sometimes you want a tote that doesn't look like a tote. Rebecca Pearcy of Queen Bee Creations (503-232-1755 or go to www.queenbee-creations.com
) in Portland can help with that. She crafts her water-resistant and
biodegradable Edith Tote ($96) of felted wool that's recycled from
textile mill scraps, then embellishes it with jaunty leaves.
OLD DRAPES TO HATS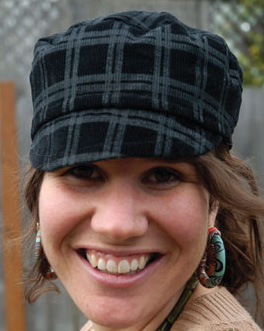 When KORI GIUDiCI was studying at the National College of Naturopathic Medicine in Portland, she made a reversible hat as a present for a friend. She got requests for more hats, which led to her own business, Flipside Hats (www.flipsidehats.com ). She scours estate sales for old fabrics with structure such as curtains and interior design samples and turns them into the cutest of caps (prices start at $34).

VINTAGE TIMEPIECES TO BIRD BROOCHES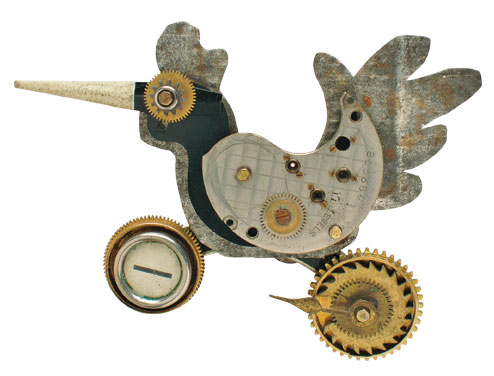 When she takes apart items such as cameras, timepieces and typewriters, CHRIS GIFFIN (541-327-2903), a Jefferson, Ore.-based metal artist, gets inspired to create esomething new. She transforms the pieces into gems such as this gleaming bird pin ($120). Giffin cold-constructs her pieces using nuts, bolts and wire, which turns the fastenings into part of the design.

BOTTLECAPS TO BRACELETS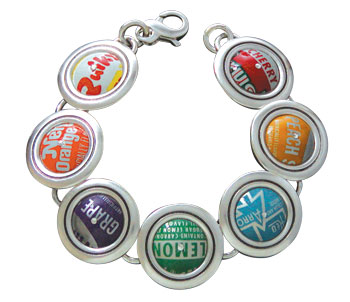 Have a favorite summer soda you remember from childhood vacations? Laura Robson and Benjamin Beamer collect vintage bottlecaps and turn these castoff bits of color into jewelry ($190 for this seven-cap bracelet set in sterling silver). If soda isn't to your taste, they also work in international beer caps. "I like the metamorphosis the caps go through after we've cut and shaped the pieces and set them in silver," says Beamer. Contact them at Beamer Arts (541-782-4529 or go to www.beamerarts.com ) in Oakridge, Ore.

CHENILLE BEDSPREADS TO KIDS' COUTURE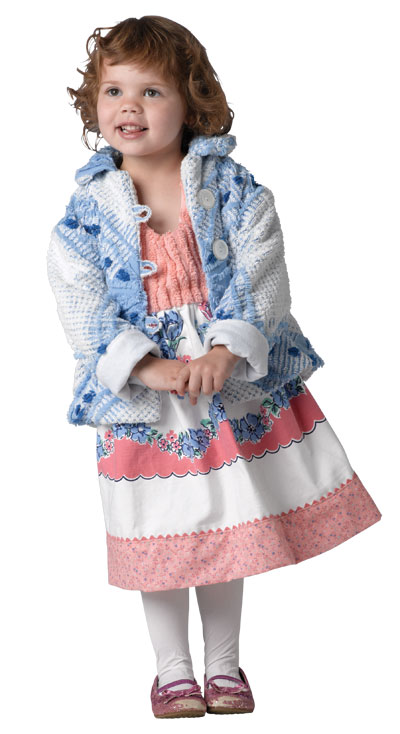 For clothing designer melinda LIbby, the texture of old chenille bedspreads and the beautiful prints of vintage tablecloths pair up perfectly for Libby Baby (www.libbybaby.com ), her line of children's wear that she whips up in Hood River, Ore. "A lot of the old fabrics are just works of art," she says. "When you combine them with the softness of the chenille, you get something wonderful." This V-neck sundress ($50) and jacket ($110) are perfect for the little girl who wants to be comfortable yet still look pretty!

STEEL BALING WIRE TO WOVEN BRACELETS
While hiking around her Bend, Ore., home, denise Rowcroft (www.lostandfoundart.com) finds materials that she turns into art. She twists baling wire into one-of-a-kind woven bracelets ($30).

SKATEBOARDS TO EARRINGS
During the last three years, Lindsay jo holmes of MapleXO (www.maplexo.com) has transformed the vibrant patterns of more than 500 old skateboard decks into accessories (prices start at $24) such as hoop earrings, bangles and belt buckles.

LAWN CHAIRS TO WALLETS
In the creative hands of April Alden, reclaimed lawn chair webbing is reinvented as colors-of-summer wallets, bags and totes. On your next night on the town, why not tuck one of her clutches (prices start at $25) under your arm?
—Margaret Foley