RECYCLED STEEL TO SCULPTURES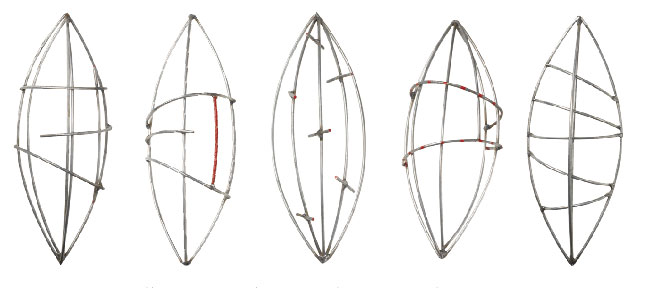 Jill Torberson builds sculptures out of everything from household objects to heavy equipment parts as Weld Metal Works ([email protected]). Her steel Pods (above), 10-inch-tall to 3-foot-tall wall hangings ($85 to $400, depending on size), are accented with red acrylic paint and would look great in a loft or a ranch house alike.

VINTAGE PHOTOGRAPHS AND EPHEMERA TO COLLAGES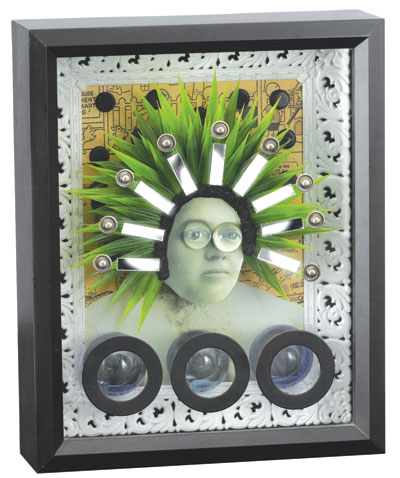 If framed ancestors bore you, hang one of Greg Hanson's shadowbox assemblages ($140 for No. 30) that he fabricates as Portraits Alive (portraitsalivepdx.com ). His wacky storytelling pieces are also sold at Cannibals (518 N.W. 21st Ave., 503-224-BONE) in Northwest Portland.


CRUSHED CHRISTMAS ORNAMENTS TO SHRINES
Alicia justus builds little shrines such as this cuckoo-clock-top accented homage ($200) to her great-great-grandmother, Mattie Noe, which is crafted inside a pre-1950s cardboard box. Her work is available at Cannibals (518 N.W. 21st Ave., 503-224-BONE).


RECYCLED SWEATERS TO "PAINTINGS"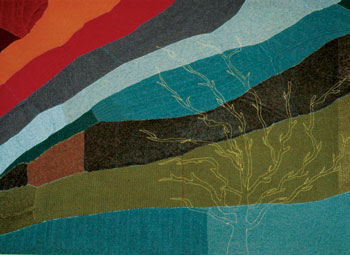 Jenna Robertson whips up "canvases" as part of her Woolie Originals line (503-422-5175 or go to woolieoriginals.com). The abstract landscape Land and Sky ($350) features hand-drawn and cut wool pieces sewn onto a sweater background and stretched over a frame. Her paintings can also be seen at Tilde (7919 S.E. 13th Ave., 503-234-9600) in Portland.

PLASTIC BAGS, BUBBLE WRAP AND TAPE TO SCULPTURES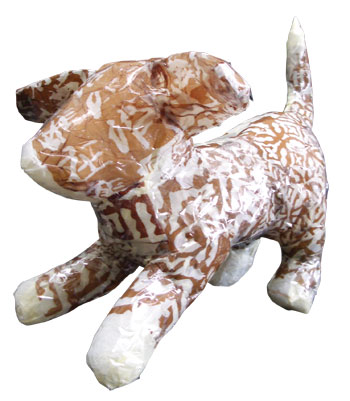 Olympia, Wash.-based eco-artist Diane Kurzyna makes neo-folk art as her alter ego, Ruby Re-Usable (rubyreusable.com and rubyreusable.etsy.com). We give four paws up to her Upcycle Plastic Bag Puppy Dog (below), a 13-inch-long, 11-inch-high, 9-inch-wide canine ($75) that never needs walking. (This piece reinvents Cost Plus World Market shopping bags; the hot dog on p. 60 is crafted from Wonder Bread bags!) The former home energy specialist has a BFA in fiber arts from the University of Washington, but she creates her work from recycled and reused pre- and post- consumer waste materials to live by her personal motto: MAKE ART, NOT WASTE!


RECYCLED SINKS AND WINDOW SCREENS TO TUTUS
Tualatin, Ore.-based Marta Ferris (503-638-7313 or go to martaferris.com ) loves to makes garden art from recycled materials. She can pound out a 28-by-30-inch tutu from a recycled stainless steel sink and a window screen, or craft a garden bell ($125 to $200) from recycled materials such as air compressor tanks, plow disks, street lights and other found objects.


RECLAIMED WINDOWS TO PAINTINGS
Portlander Puji Sherer has established a following for her sweetly simple birds, stylized flowers and organic shapes that she paints on vintage bubbly glassed windows. Check out her canvases ($175 to $260) at Noun (3300 S.E. Belmont St., 503-235-0078) in Portland.

7,800 WINGNUTS TO SCULPTURES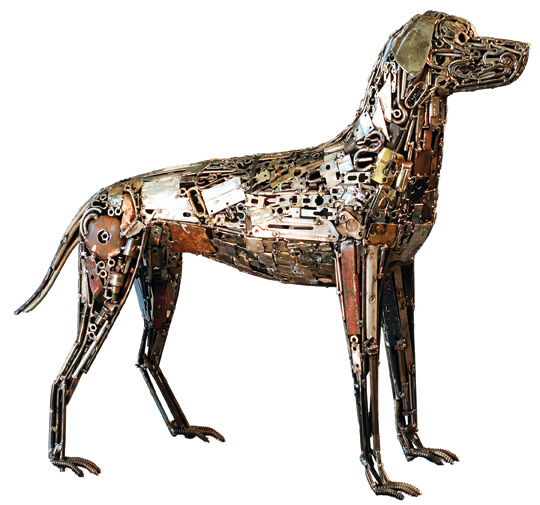 Portlander Brian Mock (503-643-6413 or go to brianmock.com) welds things such as 7,800 wingnuts into an 80-inch-tall sculpture of a winged woman or found industrial scrap metal into spot-on, footlong to 40-inch-long D.O.G. (Done Out of Garage) dogs. His work costs $400 to $10,000, depending on its size and complexity.


VINTAGE VELVET AND TATTERED SHOES TO 18TH CENTURY FRENCH FOOTWEAR
Pumps from Goodwill become shoe-ins for footwear belonging to Marie Antoinette in the hands of Elizabeth Johnson. She embellishes worn heels with old velvets and silks and other vintage embellishments. Her decorative shoes ($120 per shoe, $225 per pair) are available at Bernadette Breu (1338 S.E. Sixth Ave., 503-226-6565) in Portland.


16MM FILM, CORDS AND THREADS TO SCULPTURES
Olympia, Wash.-based Gail Tremblay, a member of the Onondaga and Micmac nations of New York, fabricates "baskets" that combine traditional techniques of weaving with contemporary materials. Her vessels ($900 to $3,000) are sold at the Froelick Gallery (714 N.W. Davis St., 503-222-1142) in Portland.
—S.M.D.