Remodeling Today
Written by Debbie Anderson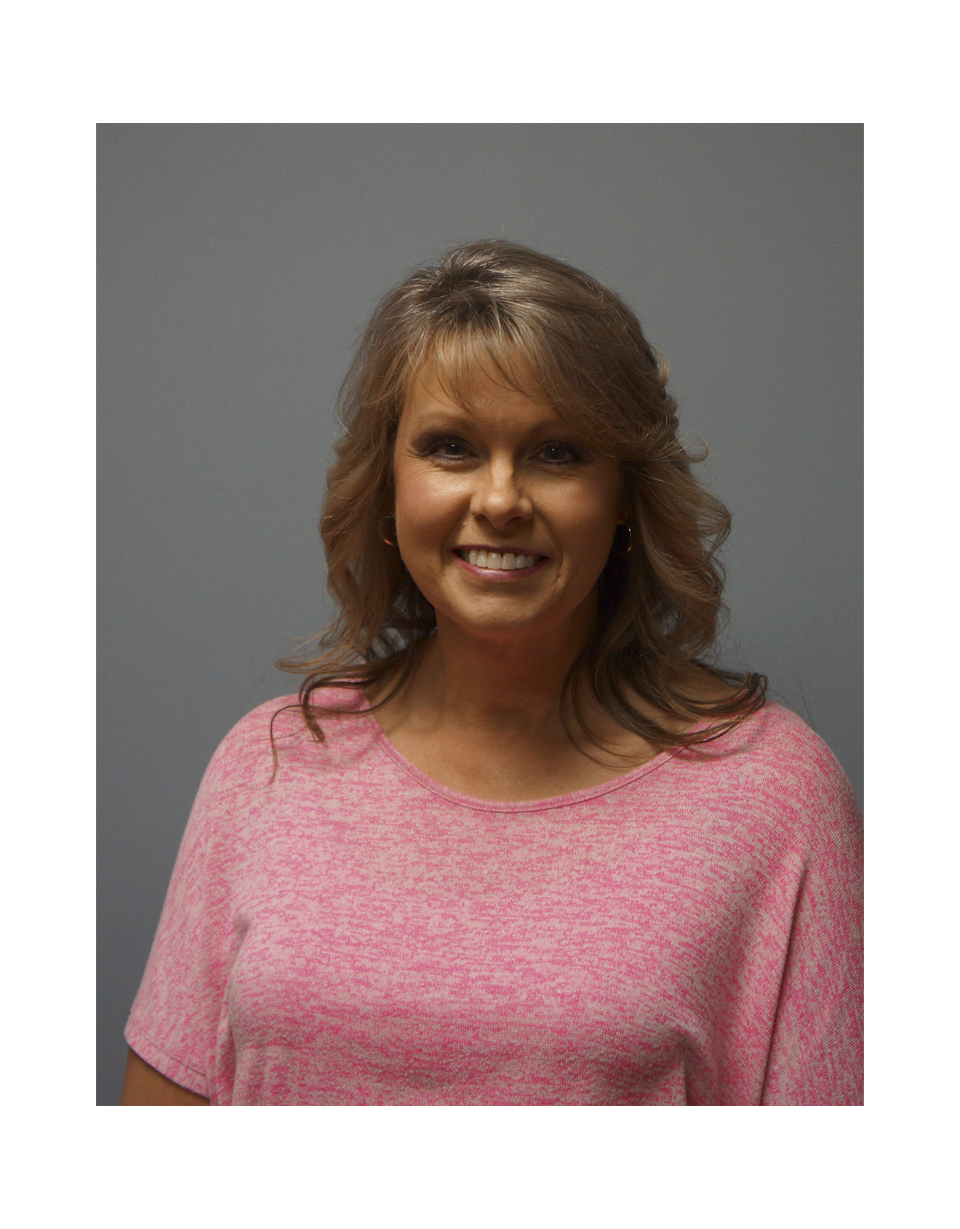 WOW! 2015 is turning into a banner year for our members. All professionals in the remodeling industry are very busy and their great work re-enforces the homeowner's decision to improve their existing home rather than moving. The value of staying in your own home has never been greater. Remodeling is an exciting time for homeowners as it is full of challenges and rewards. Selecting a professional remodeler is the first step in assuring a successful project. Borrowing rates are still very low which makes remodeling projects more affordable. So if you are considering remodeling part or all of your home, now may be the time to make it a reality. So how do you find a professional remodeler?
By reading this ORA/NARI Sourcebook you are well on your way. The professionals listed in the ORA/NARI Sourcebook are members of the Oregon Re- modelers Association, a chapter of the National Association of the Remodeling Industry (NARI). Being a member of ORA/NARI means professional remodelers adhere to a code of ethics in their business practice, along with other industry professionals such as suppliers, designers, and architects. Together we work to promote professionalism and integrity in the remodeling industry.
With all the new technology in home improvement, there are many products and questions homeowners will need answers to. The ORA's website www.oregonremodelers.org or www.nari.org are websites with valuable information to help consumers find the answers to their questions plus find the right professional and products for your project.
Members of ORA/NARI are also dedicated individuals helping our community. ORA/NARI partners with a non profit organization called ReFIT. ReFIT was started by an ORA/NARI members who joined together to help another member's son after an accident. ReFIT is dedicated to helping those in our communities who wish to stay in their homes and live with dignity while battling physical challenges. ORA/NARI partners with ReFIT to donate time and resources so it can continue helping members of our community.
I am very proud to be a member of this great organization and hope encourage you to use an ORA/NARI member for your project.
DEBBIE ANDERSON, President of the ORA [email protected]
---
Outstanding Remodeling Achievement
(Writing and photos provided by ORA Members » oregonremodelers.org)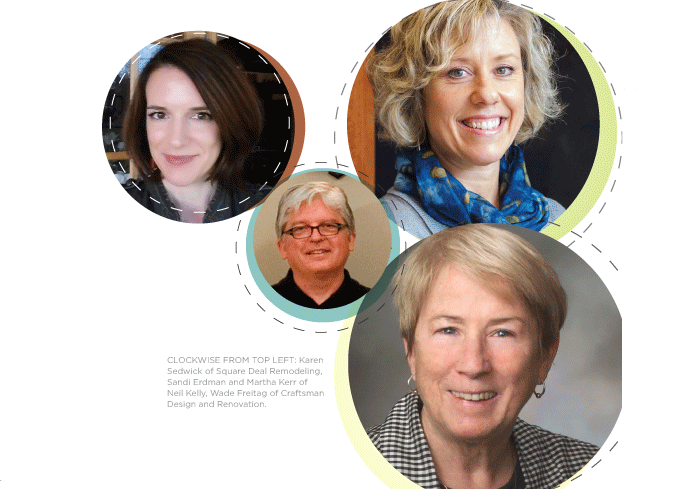 Oregon Remodelers Association/NARI is proud to present the winners of the Outstanding Remodeling Achievement Awards for 2015. Each of the projects featured represents that remodeler's unique response to the needs of the client.
---
Residential Exterior
Under $100,000

Full Circa Inc. » fullcircainc.com
503-309-9726 » CCB#: 75725
The historic Italianate/Eastlake style Earnest & Elizabeth Spencer House c.1884 was moved during the construction of the East Broadway bridgehead to a prominent raised double lot in the newly plotted Irvington neighborhood c. 1911 by Captain John Irving. The famous riverboat captain remodeled the house for his daughter in the Mission Style c. 1911 at 12th and Knott.
The year 2014 brought the final phase of a multi-year effort to accurately restore the 1908 remodel to its former aesthetic and structural splendor after decades of deferred maintenance. We deconstructed the first and second floor porch, deck and balustrades and rebuilt the built-in gutter system, being careful to retain as much of the original material as possible. The home's usable material, 1 x 8 v-groove shiplap, from the 1911 second story porch roof 1/2 wall railing was removed and stored in the basement. We also safely removed many layers of peeling paint and a 60 year old asbestos roof from the entire structure.
---
Historical Restoration
Over $250,000

Craftsman Design & Renovation » craftsmandesign.com
503-239-6200 » CCB# 131520
While the homeowners liked the coziness of their Craftsman bungalow, it suffered from an awkward entry, disjointed rooms, and an unworkable kitchen. A 1960s re- model compromised much of the home's charm and period features, and compounded the dark and claustrophobic feel of the home. In this whole house renovation, we improved the layout to make the most of every inch of space, especially in the tiny kitchen, and create unity and better traffic flow among the rooms. For instance, we added two feet to the kitchen's width by removing a chimney and closet, and reconfiguring an adjacent hallway. The home's 1912 origins were reinforced with a newly defined entryway, restored period details throughout, and a kitchen and bathroom remodel that authenticate the Craftsman genre. Energy-saving upgrades and the addition of a second-floor bathroom further enhance the clients' enjoyment of their home.
---
Whole House Remodel
Under $250,000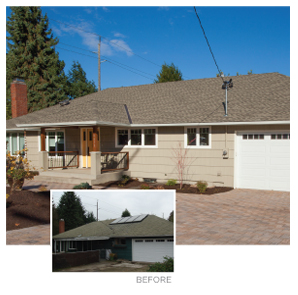 Square Deal Remodeling » squaredealremodel.com
503-254-4156 » CCB# 79188
A newly retired couple searching Portland for more than a year came upon a house that everyone else had passed over. While the home looked unloved, and unlovely, they knew that underneath a beauty was waiting to emerge. Taking on this major remodeling challenge, the couple jumped right in with a vision and a budget to move the kitchen and open it up to combined dining room/living room space – going from one end of the house to the other- without significant structural costs, securing space for laundry and butler's pantry in the old kitchen location, and enlarging the master to provide room for a luxury walk-in tile shower. Surface products selected are durable and economical – plastic laminate, engineered wood and luxury vinyl. The re-landscaped front yard, reconfigured front porch, along with the natural materials chosen for the driveway, bring out this homes true personality and welcoming spirit.
---
Residential Kitchen
$30,000 – $60,000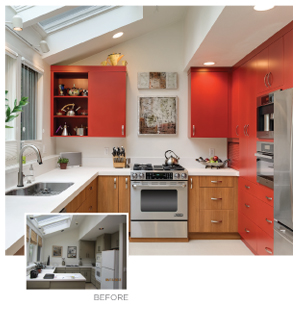 Neil Kelly Company » neilkelly.com
503-288-7461 » CCB# 001663
Our clients were downsizing from a 4200 square foot home to a 2000 square foot home, and their remodeling wish list included a kitchen that felt more open for entertaining. Their storage needs were considerable, and the space needed to work well for two cooks. By changing the floor covering in the adjoining spaces, we integrated the kitchen space to create a comfortable area to entertain. The new cabinet layout met their desire to maximize storage and still have a functional kitchen with adequate countertop for food prep and serving. The work triangle in the new space allowed two cooks to work comfortably without running into each other. Our clients also wanted a "wow" factor in the new design. Bold red cabinetry was the perfect choice. The white countertops (neolith) and whitewalls and floor covering kept the space light and bright. Wrapping the peninsula countertop with the waterfall edge completed the design in an interesting way.
---
Residential Kitchen
$60,000 – $100,000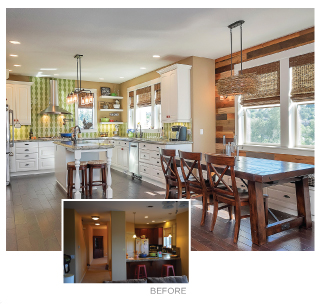 Dale's Remodeling » dalesremodeling.com
503-370-7609 » CCB# 59300
The object was to expand three existing spaces separated by bearing walls; including the kitchen, dining room and living room, into one large, open layout with innovative space solutions and functionality, while implementing the client's personal style. Functionality for entertaining was achieved with additional cooking and prep areas. Space was added
so that multiple people could work and gather comfortably. We used bright colors, a depth-varying backsplash and a barnwood accent wall to really give this kitchen a personality. Accent lighting enhanced the space dramatically while an open layout with deep cabinetry provided clever hidden storage solutions. Nook-style bench seating introduces another source for storage built in below. Other features add to the space as a whole for both cooking and entertaining with the center island prep sink, dual oven, hot/cold water dispenser and pot-filler creating this one of a kind entertaining space.
---
Residential Kitchen
Over $150,000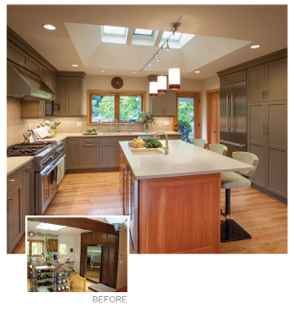 Square Deal Remodeling » squaredealremodel.com
503-254-4156 » CCB#: 79188
These homeowners waited a long time living with a very inefficient and ugly kitchen so they could remodel properly when they were ready. The goal of replacing the kitchen was easy compared to their other requests: Remove several interior walls to open up two adjacent rooms, create a more open floor plan to suit their entertaining lifestyle, and provide a visual 'lift' to their 8' main floor ceiling. The upper half of the staircase to the basement was realigned to de-emphasize its position in the middle of the open area. This allowed space for a buffet, which provides extra storage and staging area outside the kitchen for entertaining. A single skylight was reconfigured to create a faux vaulted effect over the kitchen island, opening up the room dramatically, bringing in natural light and that high ceiling feel they loved. Design aesthetic was inspired by nature, with a calm peaceful undertone.
---
Residential Bath
Under $25,000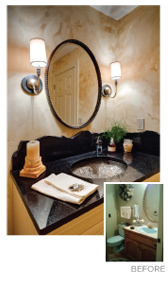 Neil Kelly Company » neilkelly.com
503-288-7461 » CCB# 001663
Our clients live in a 1982 colonial home that has a touch of Tuscany flavor. Their goal was to create a dramatic new feel in their powder room. This is the room that is used by guests, so a bit of "wow" was expected.
The existing bath was true 1980s style, right down to the baby blue ruffled sink and toilet. To follow along with the Tuscan feel of the kitchen just down the hall we went for dramatic lines and textures.
For cabinets we used a raised panel in soft yellow tones with a brown glaze. They are visually supported with black ball feet to balance with the polished granite countertop. The live edge back splash is hand chiseled and then smoothed to add dimension to the small space. The sink is cast bronze with a complimentary waterfall offset faucet. The mirror, accessories and lights were chosen to blend with the fixtures.
The floor is existing hardwood that flows from the hallway. The finishing touch is the handcrafted Venetian wall plaster in a combination of colors to soften and finish off the space. The overall effect is rich, warm and an extension of the adjoining spaces.
---
Residential Bath
$75,000 – $100,000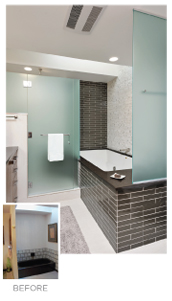 Neil Kelly Company » neilkelly.com
503-288-7461 » CCB# 001663
The home was constructed in 1979, and the clients had been living with the original bathroom for the many years they have owned it. With only a small tub and no shower, it was functionally not serving their needs and the surfaces and fixtures were very tired. Being 'empty nester's', they had designated his and hers Master Baths. Hers is this project, off the bedroom, and his is across the hall (also received a remodel). What she wanted for her bathroom was a sanctuary with all the creature comforts; a whirlpool tub with many extra amenities, a rain head, hand held, and body sprays in the shower, and a heated tile floor plus heat in the exhaust fan. She wanted an uncluttered, clean space, but with beautiful eye catching details. The cabinets are walnut for the visual richness of the wood and the mosaic with its understated wave design is Calcatta Marble. To allow those materials to stand out the off white field tile is a matte finish with a very subtle wave texture. With no window in the room, light was an issue. So we widened the existing skylight well to spread across the width of the room. The client requested all lighting be LED, so we added recessed lighting in the ceiling and a couple of sconces at the vanity – all LED and dimmable.
---
Historical Renovation
Under $250,000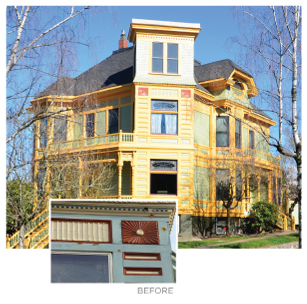 Craftsman Design & Renovation » craftsmandesign.com
503-239-6200 » CCB# 131520
With meticulous attention to every detail, we took the exterior of this long-neglected 1889 Victorian from a deteriorating eyesore to a beautiful representation of its period. For authenticity, we referenced historic photos to accurately recreate the home's original exterior and salvaged as much of the original material as possible, including individual balusters from the balconies.
The restoration was completed with materials and craftsman- ship that blend seamlessly with the 125-year-old home and will help it endure for decades to come. One of the greatest challenges was convincingly integrating new and patched wood elements, from custom-turned porch posts to minute dentil blocks. A master wood-turner recreated damaged or missing features, including balustrades, newel posts and larger porch posts, using mahogany for longevity. The paint scheme eschews the kaleidoscopic "Painted Lady" genre for a more limited palette, which better reflects the home's origins and allows the architectural details to speak for themselves.