Garrison Hullinger Interior Design brings elegance and function to shared spaces.
---
Creating gathering spaces that are open and uncluttered is a specialty of Garrison Hullinger, president and namesake of Portland's Garrison Hullinger Interior Design.
"We help create spaces that truly reflect their use and let people take in the views," Hullinger says. "Whether you're living daily in a home or hosting gatherings, we want to help you focus on whatever it is you're enjoying."
Hullinger displayed this philosophy during the recent construction of a vacation home on Yale Lake. The GHID team worked directly with the homeowners during the envisioning and construction of the home, allowing them to design details that would make such a difference in the experience of the home.
---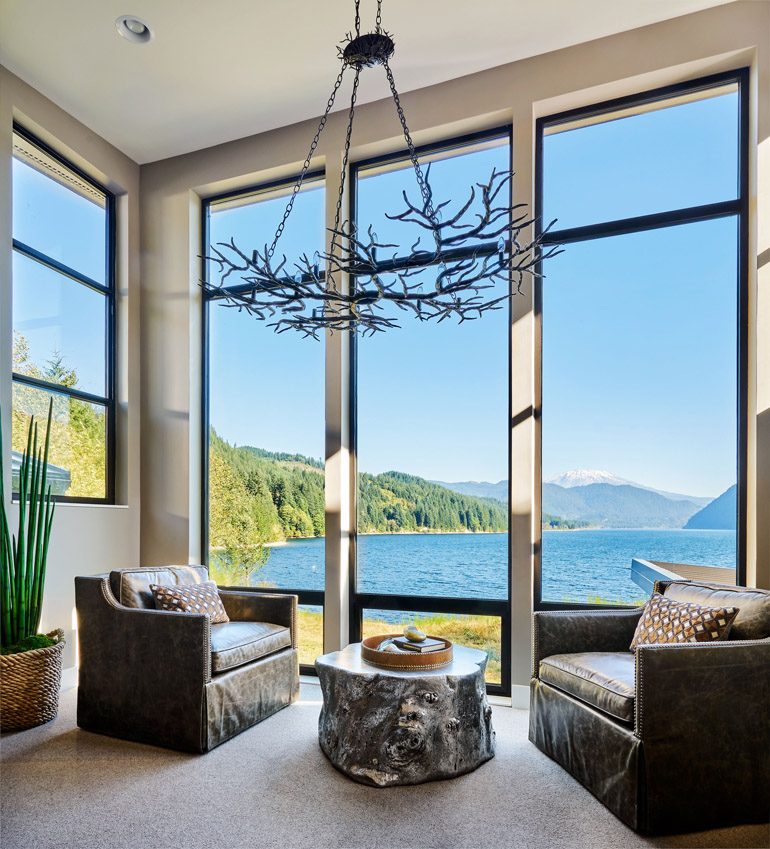 ---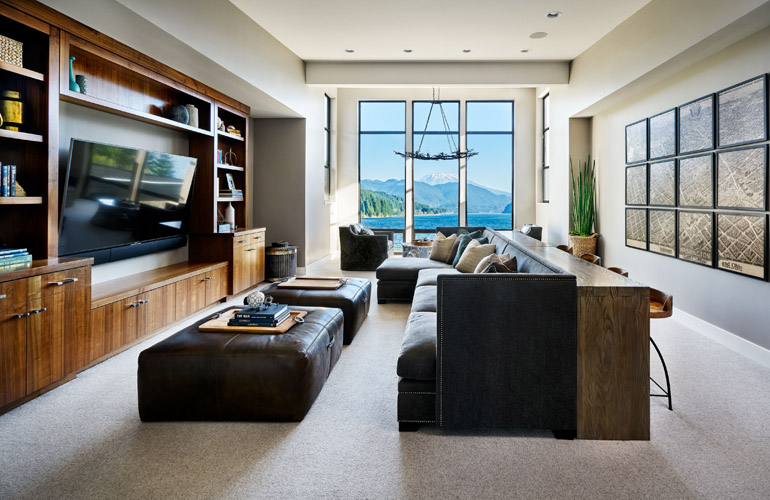 ---
These homeowners wanted ease of maintenance and minimal distractions from their incredible views of Mt. St. Helens, along with spaces that really worked for gatherings of different sizes. This led to creating "zones" for people to be in — more than that, where they want to be — such as the upholstered banquette flanking the kitchen, which provides a comfortable spot for guests to be close to the action in the kitchen without being in the way.
"Our approach is all about trying to be thoughtful about a space," Hullinger says. "The needs of a space will be a little different if you're hosting a girlfriends' weekend versus a family weekend with all of the young cousins."
---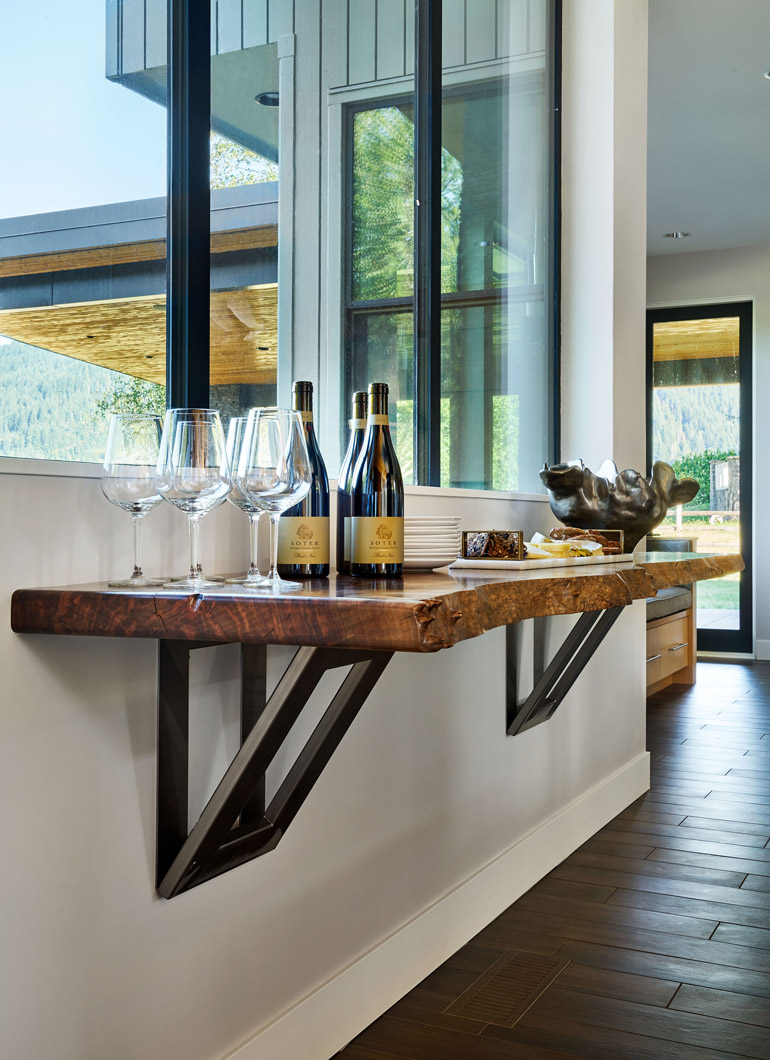 ---
One way Hullinger helped facilitate a variety of uses is with a live-edge shelf under a window with breathtaking views. The shelf could hold food for a buffet, wine glasses or a cocktail bar. It could hold objets d'art, or it could be a standing or seated work desk.
"Our goal was to make this a space that feels really comfortable for everybody and gives people a space to be engaged, while also being intuitive and easy for people to just plop down and spend time," he says.
The client's directive for blending the casual with the sophisticated is on display throughout the home. They did not want guests fretting over the luxurious feel and look of each space. "It may not be obvious, but we used very durable and practical materials and surfaces throughout the home," Hullinger says.
---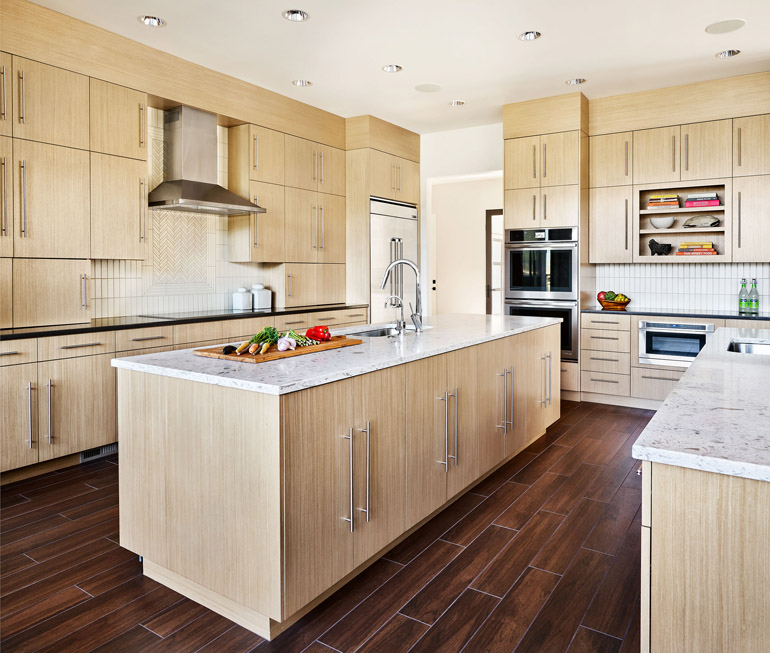 ---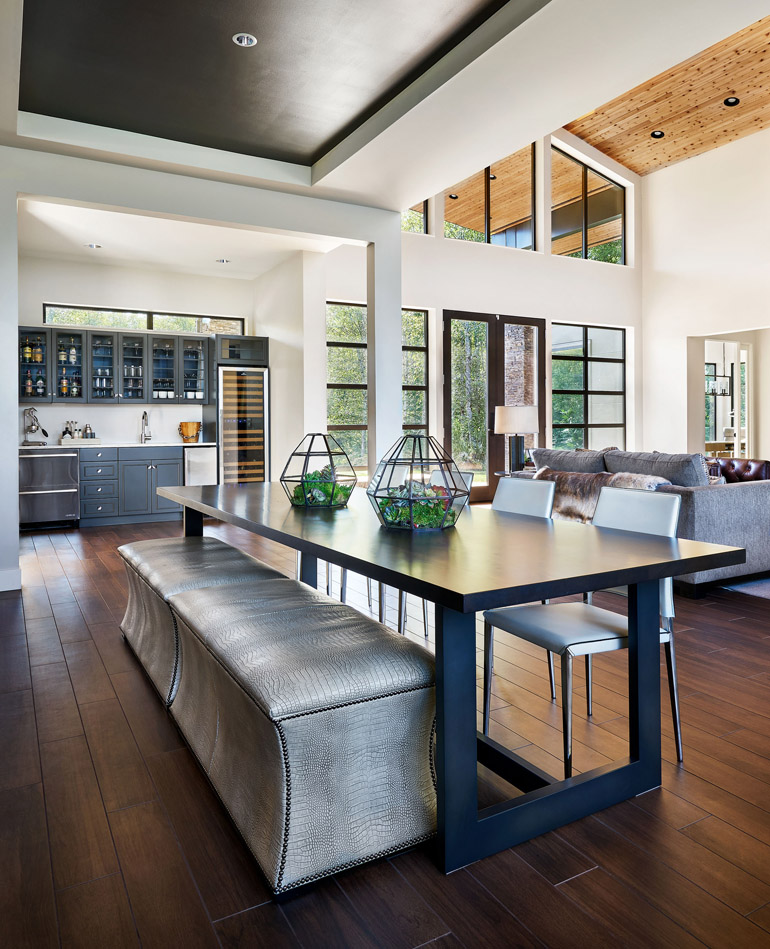 ---
For instance, the kitchen floor looks like wood but is actually durable porcelain tile. Quartz countertops are easy to care for, and a hidden appliance garage that pulls out keeps bulky items hidden. Two refrigerators accommodate the increase in food and drinks they'll need for long weekends — the drink fridge is accessible from the outside for easy in-and-out.
Hullinger's team asks a lot of questions up front. "And then we listen. And we continue to listen," he notes. "We know that beautiful and pretty will fall into place if we have done our job in providing the appropriate scale and environment for the home."