Photos by Jason Kaplan 
Fresh Coat of Portland was one of the first firms Kati Smith contacted when she needed to repaint her 1905 Lents bungalow. As she chatted with the sales manager about exterior color and finish options, she mentioned that she was also hoping to remodel her bathroom.
The Portland kindergarten teacher was surprised but delighted to learn she was also talking to a general contracting firm. Fresh Coat is a subsidiary of remodeling company RJ Ramos Construction. The sales manager told her they'd be happy to work on both projects.

That was the beginning of a true partnership that's allowed Smith to remodel her home in manageable chunks rather than attempting the whole project at once. "The staff at RJ Ramos Construction is really good about voicing their opinions but not outvoting me," she says. "I feel really respected. They always give me the feeling they value my opinion and I'm a person."
Creating that type of relationship with people is very important to Randy Ramos, president of RJ Ramos Construction. "We're very straightforward with our customers," he says. "We don't try to scare them or tell them we're the only ones who can do a job correctly; we're honest and upfront, and we aren't pushy."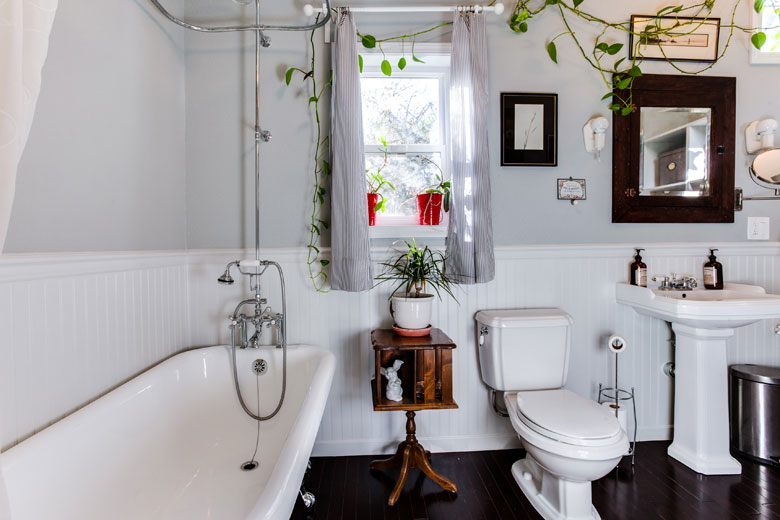 Rather than starting with the paint job, Smith asked RJ Ramos to work on her bathroom first. It needed to be completely remodeled; the construction crew even tore out an entire wall and replaced it. Among the many new features, Smith says her favorite feature is a vintage medicine cabinet she found in an old home and refurbished herself.
Though the home's exterior was in decent shape, Smith was eager to give it a new look. She walked the neighborhood for inspiration and worked with Fresh Coat to choose Sherwin Williams paints in Lemon Verbena and Cupola Yellow. Once the painting got underway, Smith quickly decided the house needed an accent color. "It was a little too blah and needed some pop," she says. Adding bright orange (Husky Orange by Sherwin Williams) in strategic locations added visual interest without adding much extra work.
Smith and RJ Ramos's next collaboration was the basement, which they did one step at a time. The first project was actually replacing the steps leading to the lower level. The old stairs were unattractive, dangerous and not up to code. Since there was no facing on them, it was easy for items to fall behind them. A door on the landing led outside, but it was set nearly two feet above the staircase, making it unusable.
"It was a very tight space, so we built a set of winder or multi-landing stairs," Ramos says. "That style works great when space is limited." His crew also removed the door. Some sheetrock to the inside and siding on the exterior made it impossible to tell there was once an exit in the space.
The basement was completely unfinished when Smith bought the house. Today there's a bedroom, bathroom, laundry area and kitchenette. RJ Ramos finished the walls and floors, keeping in place details like period doors and windows to let in light. There are several support beams throughout the space that needed to stay in place. The work crew painted them a dark color that contrasts with the walls.
"At first the beams seemed like they were in the way," Smith says. She changed her mind once the painting was finished. "It gives the space a rustic feeling." In the bedroom, the beams create separation between the bed and a small workspace and reading nook.
Up next is converting Smith's garage into an accessory dwelling unit. There's no question that she'll be working with RJ Ramos again. "For a single woman to find a contractor who takes you seriously, that's a big thing," she says.