Photos by David Papazian
As co-owner of Portland's Voodoo Doughnut, you wouldn't expect Tres Shannon to live in a cookie cutter McMansion. This is the man, after all, who put Nyquil on his doughnuts until the FDA stepped in.
In fact, the impresario who proudly relates that he lived with his mother until he was about 40 – shortly after he co-founded the ultra popular doughnut parlors – does not disappoint when it comes to his home's décor.
As lead guitar player for pop star Chris Isaak, Hershel Yatovitz has toured the world almost non-stop for two decades.
He's responsible for the acoustic guitar on the intoxicatingly beautiful Baja Sessions and all of the flawless electric lead on everything else Isaak has done since 1995.
A native of the the San Francisco Bay area, where Isaak's signature romantic surf/rockabilly sound was born, Yatovitz today makes his home in Milwaukie.
Yep, Milwaukie, Oregon.
Chef Vitaly Paley, considered one of the creators of contemporary Pacific Northwest Cuisine, was born near Kiev in the Soviet Union. By the time he opened Paley's Place Bistro and Bar in Portland in 1995, he'd cooked at some of the top restaurants in France and New York City, where he met Kimberly, then a professional dancer in Manhattan.
All of this might not have been possible without a refuge from the sometimes frenzied world of running restaurants. And that refuge is their home.
Gerry Lopez is known as one of the most graceful and fearless surfers in the history of the sport, a man whose laid back style belied the incredible skill and danger of the sport.
Fans of surfing are often surprised to learn that Lopez has lived for decades in land-locked Bend, Oregon, where he often rides every other kind of board besides his surfboard – everything from snowboards and kite boards to windsurfers and paddleboards – though he still loves to surf during his frequent trips to the tropics.
Channing Frye has not played for the Trailblazers since 2009 but Portland is still close to his heart. Frye and his wife still own two homes here and visit frequently, spending summers at their residences in Dunthorpe and Wilsonville.
Tres Shannon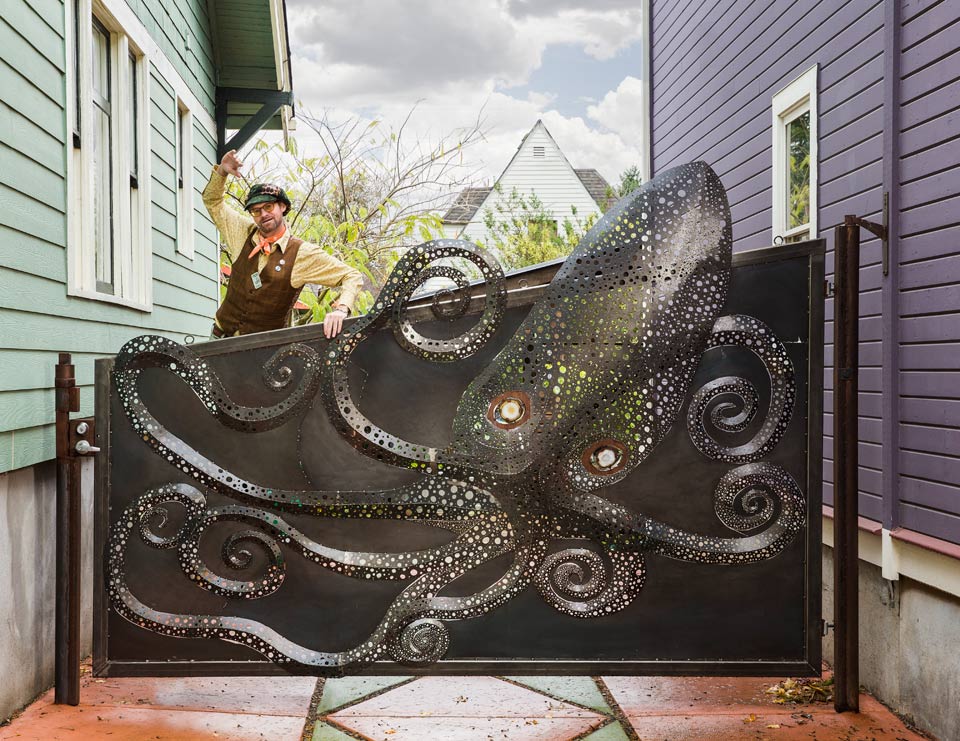 First, there's the giant octopus gate guarding the driveway to his 116-year-old North Port- land foursquare. More sea creatures adorn the front porch in the form of a  sh-shaped gate and metal art panels.  en there's the massive record collection with its own room inside the art-filled home, as well a bathroom devoted entirely to clowns.
Voodoo Doughnut, which Shannon founded in 2003 with business partner Kenneth "Cat Daddy" Pogson, continues to grow its legend worldwide with outlets now in Eugene, Denver, Austin and Taiwan. (Japan is now clamoring for Voodoo Doughnut store or two). In Port- land, home of the three original VooDoo Doughnut – one of which is still a food cart – the company's signature pink boxes remain a familiar site 24 hours a day. Everyone from downtown club kids, overseas tourists and President Obama has satisfied their munchies with one of Shannon's confections. And Voodoo Donut continues to top the media lists of the "best doughnuts in America" on a regular basis.
We discovered that the art-loving 49-year-old Shannon has been characteristically flamboyant in creating his exterior and interior world at home.
How did you end up moving into this purple house?
I have lived on Cleveland Avenue in some capacity for 11 years. At 40, I finally figured it was time to move away from my mother and I moved to a fourplex on Cleveland four blocks away from where I am now. I remember I would walk my dog Oprah Winfrey past the house before it was for sale. Oprah used to pee in the front yard and I would notice the house was super close to the neighbor's house, with only 1.5 inches between the houses. And I would think "Who would want to live so close to the neighbors?"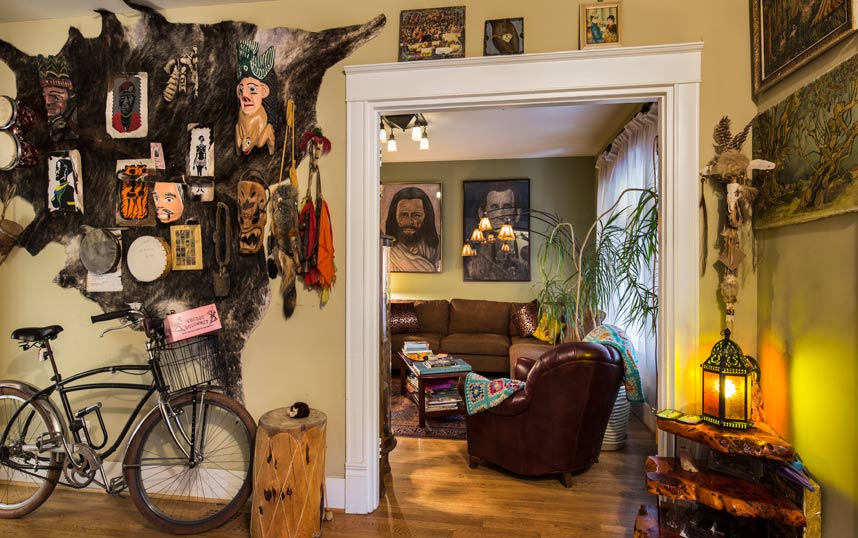 And then I literally got up one day and said, "I should buy a house." But I didn't have credit so I had to put money in a bank account and borrow against myself for three months to acquire credit. I looked at maybe 15 houses all over the place.  en this one came on the market in 2009. It was a little bigger and fancier than I wanted. (1,900 square feet with three bedrooms and 2.5 baths). I knew the lady who owned it from going to the Country Fair. She was a Country Fair hippie chick. And this was her house after her divorce. She had totally fixed it up before I bought it. So I have a purple house with great appliances and all different colors on the interior walls.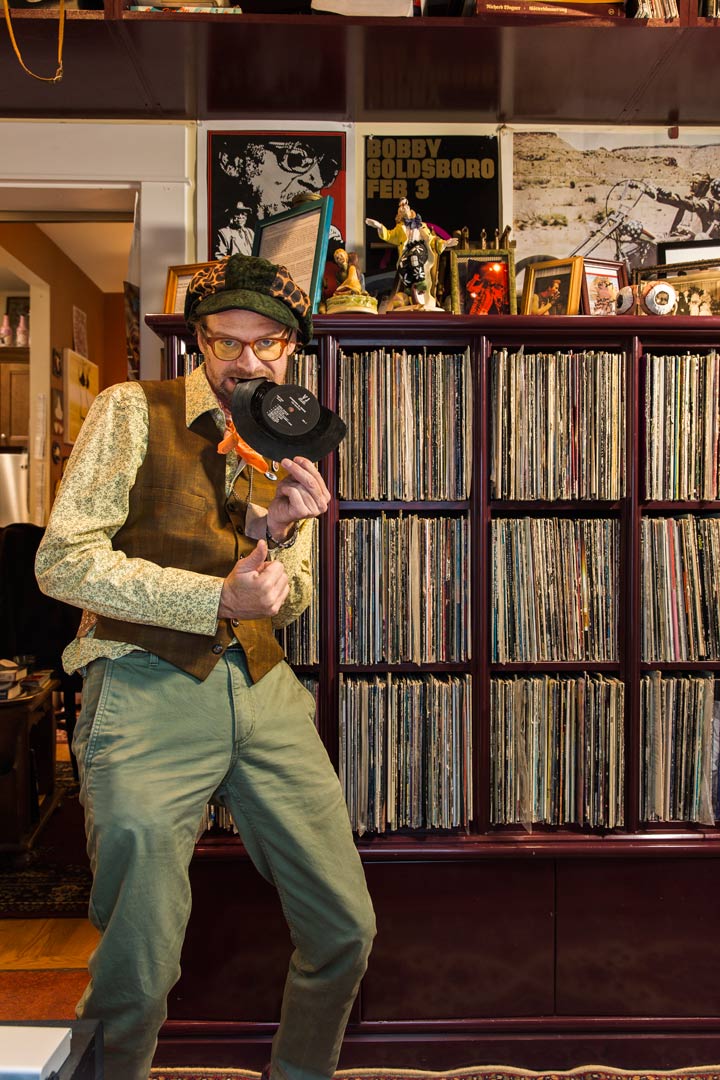 Describe some of its finer points.
My favorite areas are the outside areas. I love the front porch and that octopus gate in the driveway. My artist friend Rory Leonard created the octopus gate and the fish installation on the front porch. It's a love fest for Rory Leonard. I have speakers out there and I hang out in my backyard and read the New York Times and talk to my neighbors.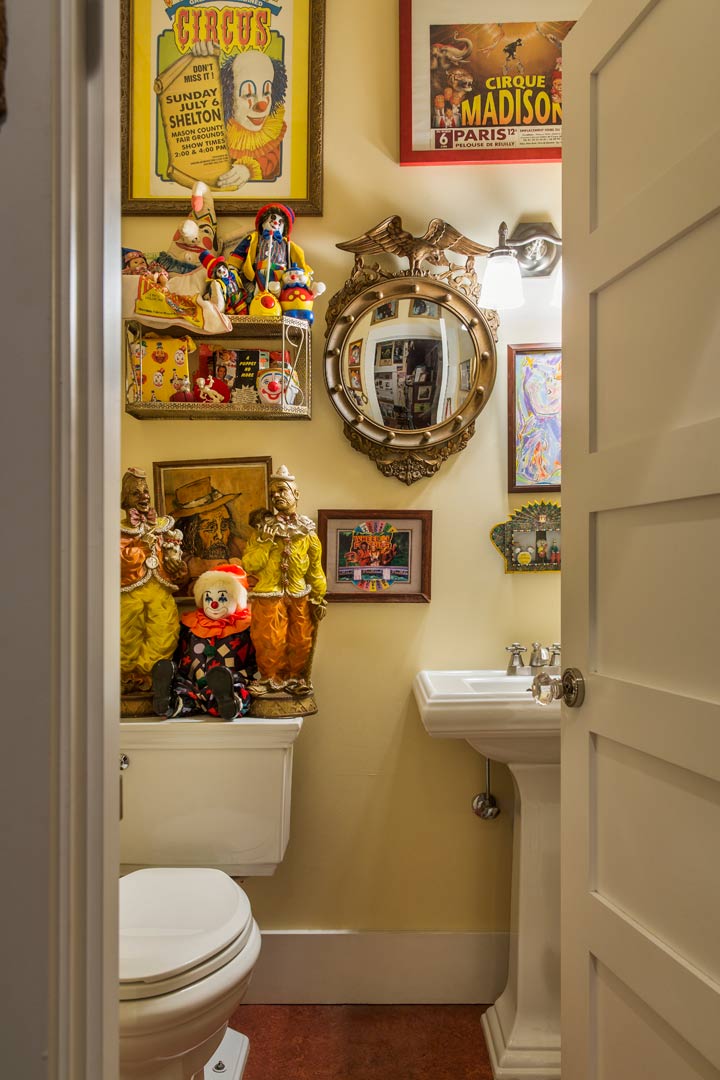 Let's talk about the clown bathroom.
I just love clowns. And the bathroom seemed like a good place to put them. It's a half bath for visitors, and you have to kind of warn them sometimes because about 40 percent of people are scared of clowns. And having clowns in the bathroom is kind of an eye opener.  e bathroom has a high ceiling and the walls are filled with clown art and there's some clown sculpture. If you sit down and look around there are clowns staring at you from all areas. I guess I just have a lot of art and stuff.
Hershel Yatovitz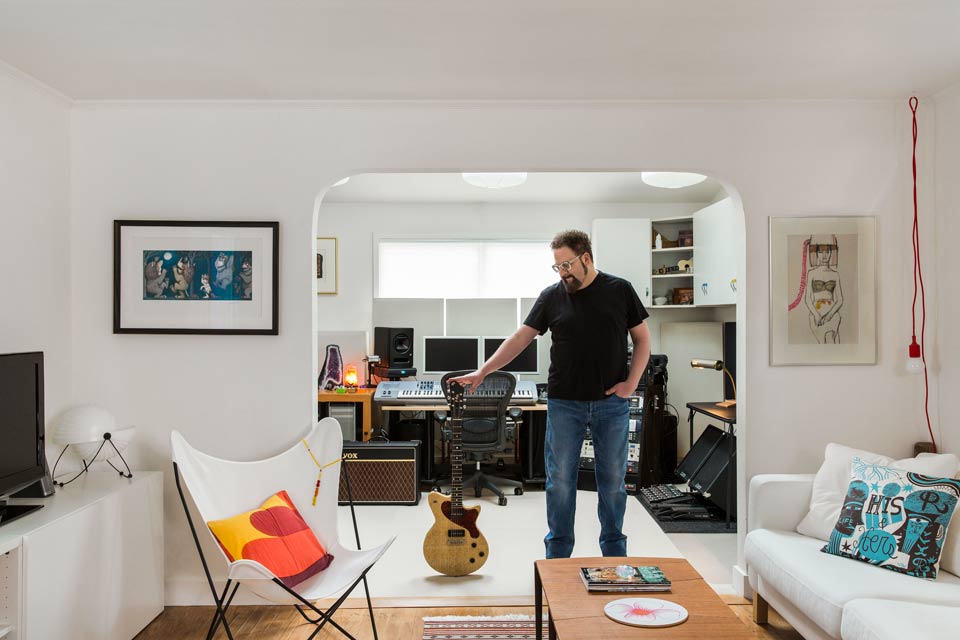 Yatovitz fell in love with Oregon and bought a home here in 2001, seeking what he calls "a friendlier and more relaxed" atmosphere than post silicon valley boom Palo Alto. "Folks in Oregon smile, and they let you merge in traffic. Music and art are alive in Portland. And at that time a working musician had a shot at actually becoming a homeowner."
In addition to being a world-class musician, Yatovitz has a longstanding interest in energy healing and meditation, a practice he has developed and deepened during his time in the Northwest, where there are plenty of other healers to interact with and learn from. He also studied with a Vietnamese spiritual master named Luong Minh Dang, whose healing method is called Human and Universal Energy (H.U.E.).
Through this healing art and meditation, Yatovitz has been able to stay happy and grounded during the some- times grueling months on the road.
"I'm on the road at least 50 percent of the time," he explains. "We are just releasing a new record so this next year we'll be doing lots of touring."
Do you have a favorite place to meditate at Home?
I have a meditation area in the living room with cushions and a Chinese table. It's nice to have a space that is peaceful and calm, but I practice meditation anywhere: Airplanes and noisy spaces. My general practice is to be in a living meditation or a walking meditation or to do short méditations to maintain a conscious contact with source energy and seek alignment with a higher purpose.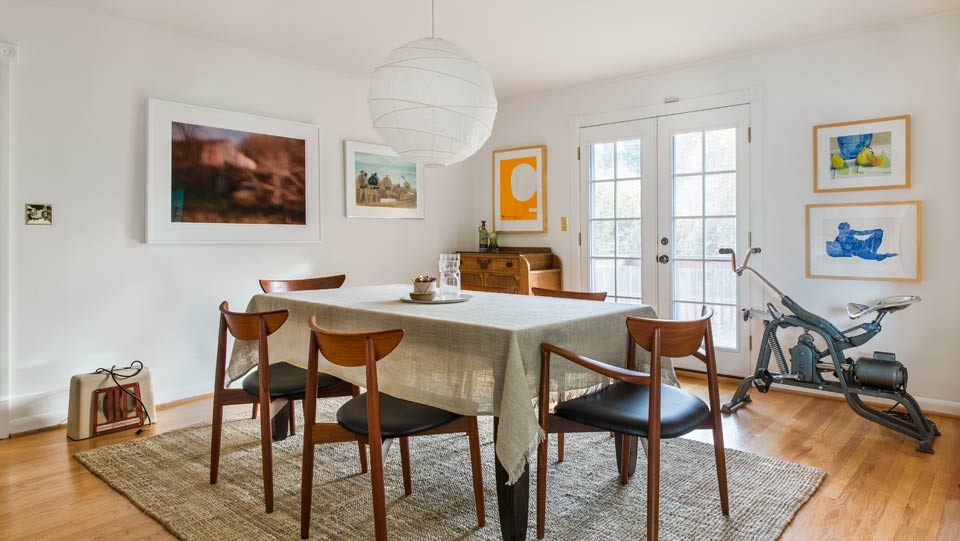 What impact has your wife, Samantha, had on the home?
My wife Sam is an art director and designer who runs her own company. She was raised by artists and I was raised
by an artist and an engineer and all four of our folks having nearly identical tastes in design. Calling it 'mid- century modern' would put it into a trendy box. My mom has reminded me, "it ain't retro if you were there the first time around." It's always been around me, so it just feels comfortable. But high functionality is an absolute must in order for me to consider something as being great design, so my taste may not be as artistically oriented as some.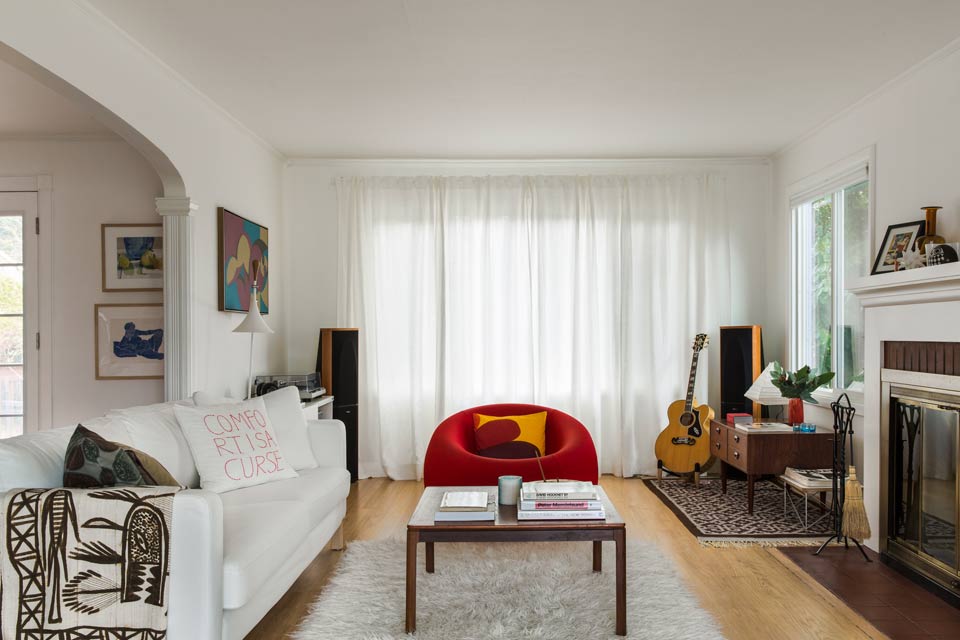 How would you describe your own taste?
I have been told I am picky wanting exotic features such as storage and counter space as well as a cool aesthetic. Since I'm a brat for function my marriage is quite complimentary. If you want to create, having beauty around you and an environment where you have a sense of self is key. We are blessed to have beautiful art created by loved ones.  at is a true gift.  e fact that my family's talent for art and design make me look good is a bonus.
What attracted you to this house – and Milwaukie?
A 1905-built house with a painter's studio with skylights added was a real find. My recording studio feels seamlessly integrated into the rest of the aesthetic, and since the ceiling is high and angled I'm able to easily avoid the sonic "boxy" problems inherent in rooms with parallel walls. So I was able to get a good sounding room together without major construction. And a guitar can make a nice wall decoration if nothing else.
Vitaley and Kimberly Paley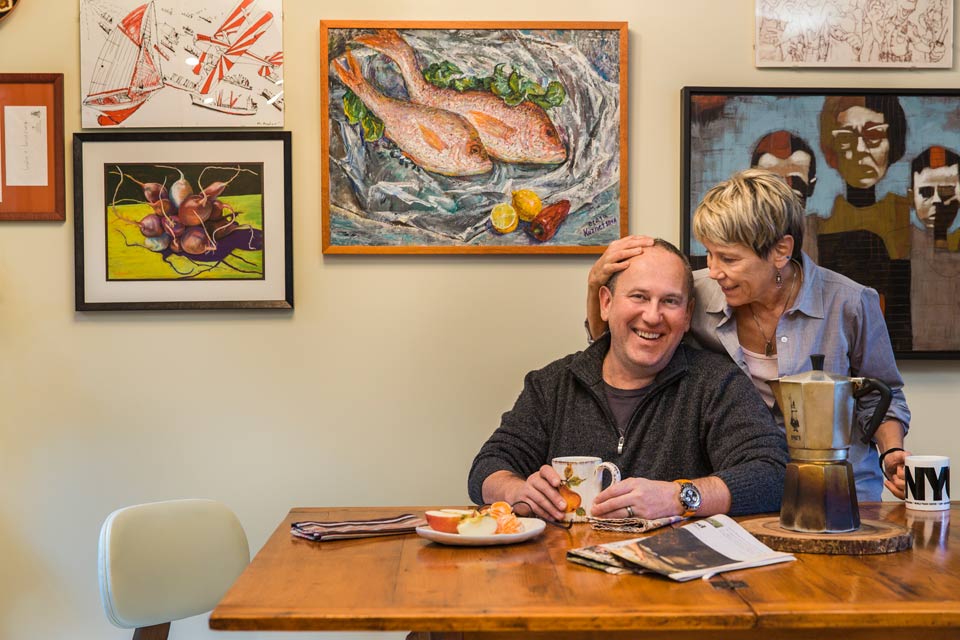 In an industry distinctly lacking in long-term success stories, husband and wife team Vitaly and Kimberly Paley stand out as enduring North- west region superstars.
The Paleys have managed to stay on top of the Portland restaurant scene for two decades by staying relevant with new restaurants infused with young energy while keeping old and new customers coming back to their Paley's Place, which still tops just about every list of Portland's best restaurants year after year thanks to its first rate cuisine and customer service.
In addition to Paley's Place, they have opened the Portland Penny Diner and Imperial, which was just named Restaurant of the Year by Willamette Week and Portland Monthly. Additionally, they o er a monthly Russian supper club, DaNet, which is now sold out months in advance.
The couple still lives in the home they purchased 20 on the west side of the St. Johns Bridge, shortly after opening their first restaurant.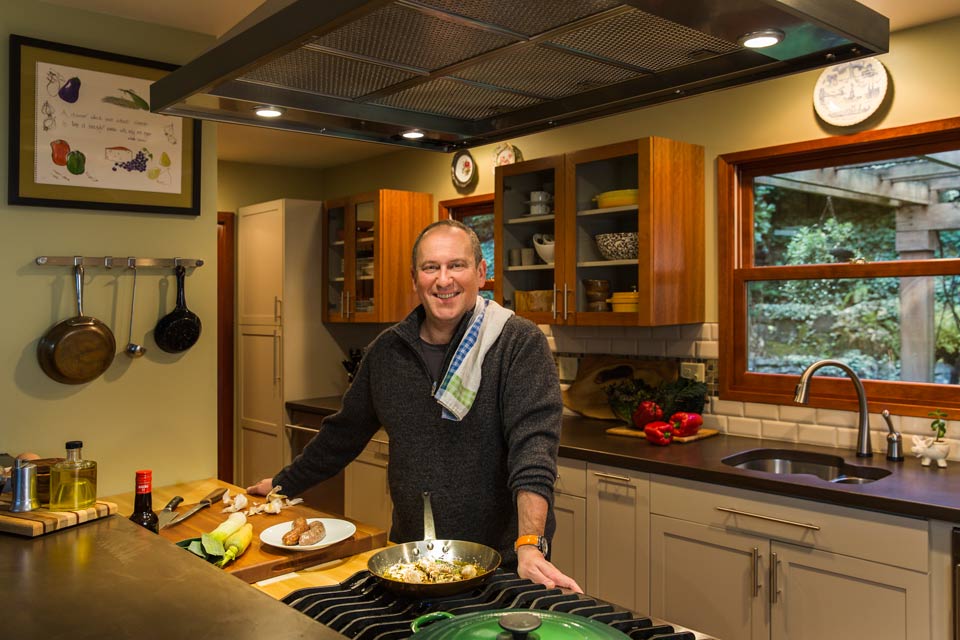 What would you consider the heart of your home?
Kimberly: Here's an old antique pastry table that is our dining table. It's a little high. Not only is it used for providing food but it ends up being used for everything. We have our coffee there, we talk there, we put our feet up there. We have dinner there.
Vitaly: When we remodeled our home, we wanted to have the sense that the middle of the house was open. The kitchen, dining area and living room are one space with a big window overlooking Portland and lined with trees. You can also see the mountains to the north.  at whole section – we live in it.  e outdoors are so inviting in our home that all year long we are outdoors. We even have an outdoor shower that is lined with rocks that our contractor built for us.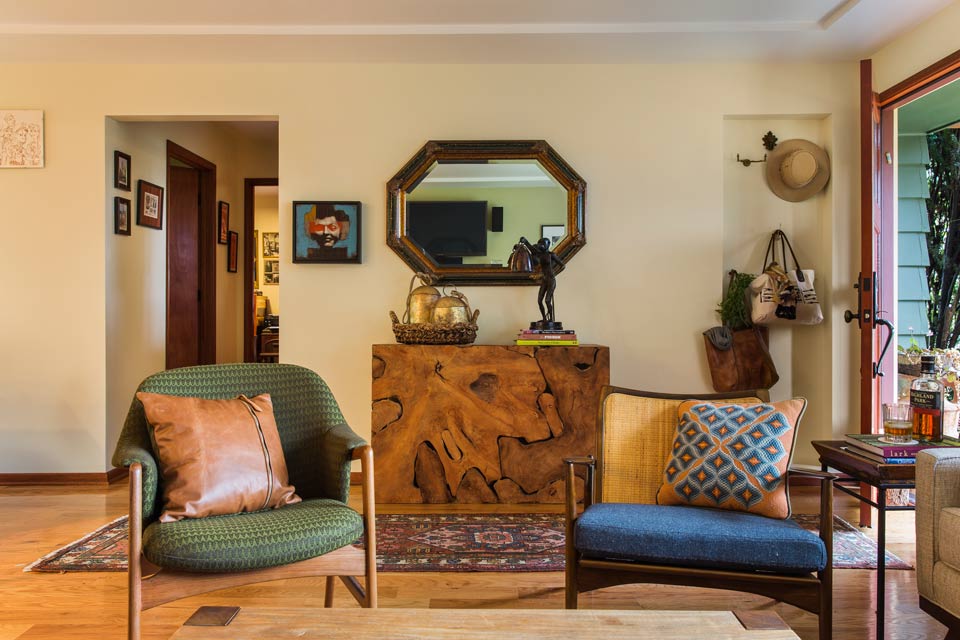 What did you want to achieve with the remodel?
Kimberly: Being restaurant owners we were definitely interested in light.  ere are no bright lights in restaurants. It's all about ambiance and kind of dim. We are basically living indoors for many years. As for quiet, we are on all the time in the hospitality industry. So we wanted to have a place where nature ends up providing the sounds and not people.
Gerry Lopez
He rode the deadly Banzai Pipeline on Oahu's North Shore with an almost spiritual connection to the enormous waves and became known as one of the greatest tube riders in the world.
Today, Lopez, a published author and spokes- man for Patagonia outdoor clothing company, teaches yoga at a local studio and builds sought after surfboards that he ships worldwide. He and his wife also travel frequently to tropical locations where the couple leads yoga/surfing retreats. His son, now 26, is a professional snow boarder who also lives in Bend.
Why does one of the greatest surfers of all time live in bend, Oregon?
We came here more than 20 years ago from Maui and I've been asked that question ever since. Bend is just a beautiful place. In five minutes from the center of town you can be out on the high desert or alpine wilderness or on the Deschutes River by yourself with just a bald eagle or the beavers or an otter if you are lucky.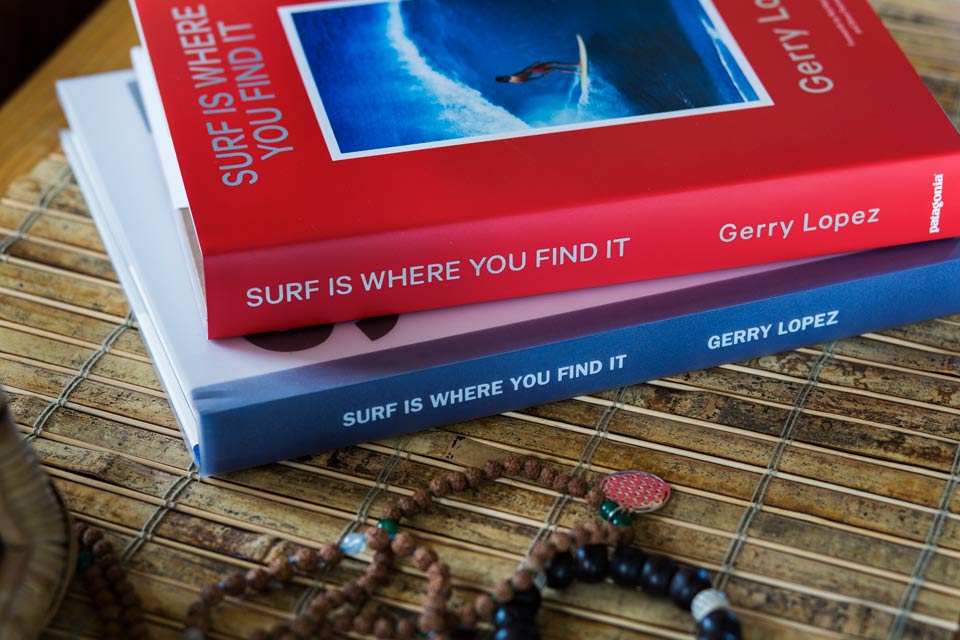 Have you been in this same House since you first moved to bend?
No, this is our third home in Bend. We moved in 12 years ago. It's on the southwest side of Bend on the way to Mt. Bachelor. We liked Bend so much we ended up buying our first house here on our second visit in the winter of 1992 and started coming back more and more. When our son started first grade we had to make a long-term decision about schools and we decided to give Bend a try. My son Alex grew up surfing the snow on Mt. Bachelor.
What appeals to you about this particular home?
I love everything about it – the house, the yard, the location. I have a great spot, in the living room close to the kitchen, to do my yoga every morning. I can see mountains and what the day is going to do. It's a great way to start the day. I watch the sun come up and go through my daily yoga routine. Depending on what my morning looks like I'm there practicing yoga anywhere from two to four hours.
Who designed the Home in such a personal way?
My wife, Toni.  The kitchen, the living room and the dining area are one big room- so whether it's just the two of us or a holiday gathering, it works perfectly. A house should have that kind of area, where family and friends can all get together.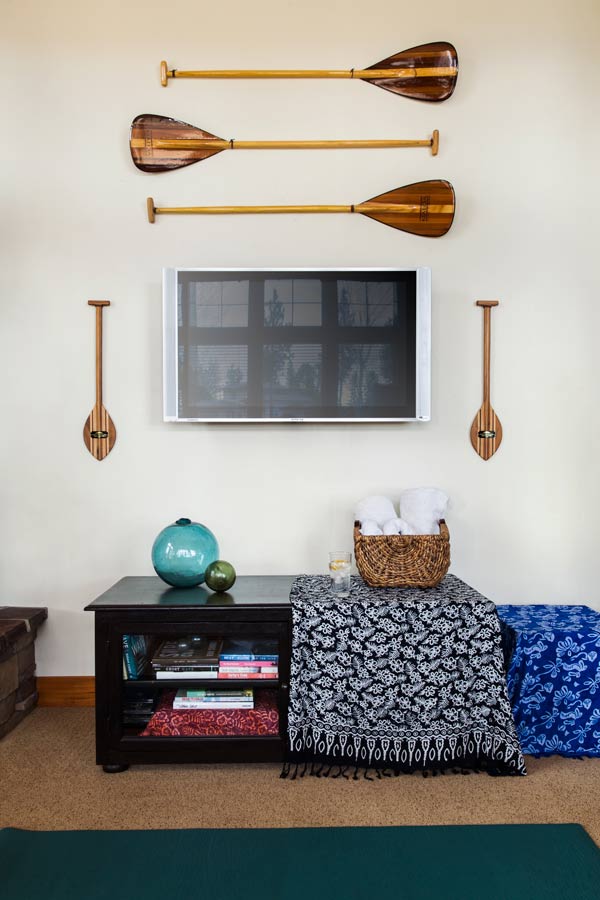 Is there a space that is just yours?
I would say the garage. Everything – all the toys – get stored there.  ere's snowboards, surfboards, stand-up paddleboards, kite boards, cross country skies, snowshoes, mountain bikes, and road bikes.  e square footage is almost half the size of the rest of the house!
Channing Frye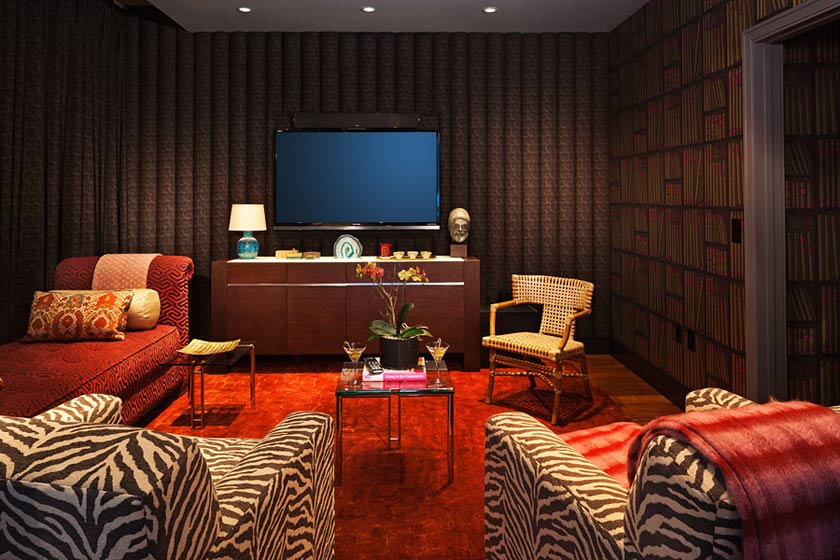 Channing Frye has not played for the Trailblazers since 2009 but Portland is still close to his heart. Frye and his wife still own two homes here and visit frequently, spending summers at their residences in Dunthorpe and Wilsonville.
Frye is now a member of the Orlando Magic, having left the Trailblazers in 2009 to play for the Phoenix Suns before being traded to the Florida team, where he signed a four-year $32 million contract in 2014.
We were lucky enough to get a peek inside one of Frye's first Portland homes, a three bedroom, 2.5-bath penthouse atop a South Waterfront highrise that he purchased when he was just 24.
This is a very colorful place for a bachelor pad? How did you achieve this look?
My wife, Lauren, worked with a design company but she came up with the color scheme. The couch is all her and the color on the walls – that is my color: New York gray. And then the table is a key element. I am more of a modern guy and she is more comfortable mixing and matching different styles. We love having people over, especially during the summer.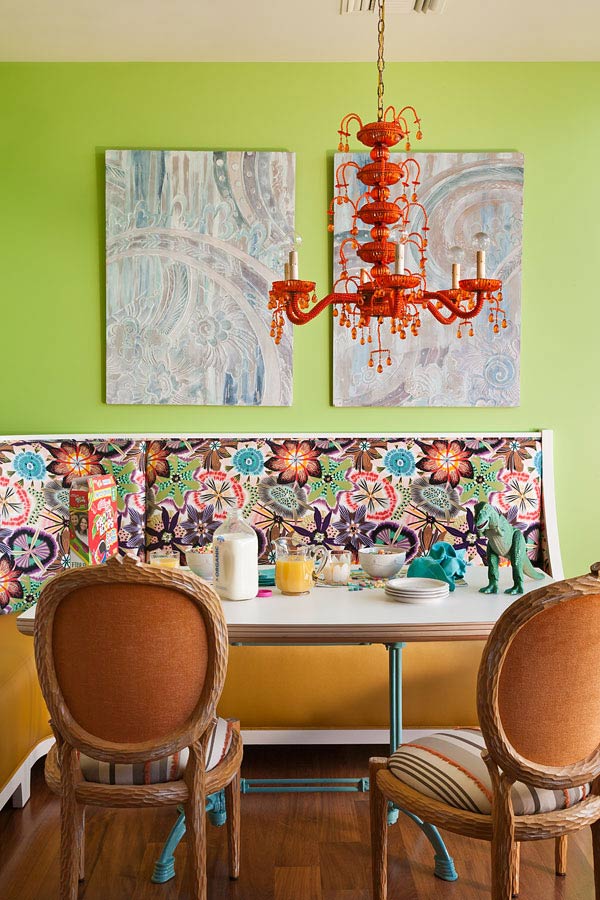 What appealed to you about living so high up in the Meriwether East?
I had just been traded to Portland and I had a friend of a friend who introduced me to a great guy and realtor and he showed me this spot and it had never been lived in. Everything about it – especially the views of the city – was just breathtaking. When it rains it seems like you are above the clouds. We used to call it the tree house. This was supposed to be my bachelor pad but I met my wife the first day I moved to Portland and it immediately became our spot. We fell in love and she helped me pick out all of the furnishings.  en we had kids and Dunthorpe made more sense.
wHat keeps you coming back to Homes in port- land even though you play for the magic?
My wife is a native of Oregon, went to Tualatin High School and the University of Oregon. She is the one who showed me every- thing that is great about Oregon. I fell in love with the city and stayed as long as possible and come back as much as possible. Our kids are now 5 (a boy named Hendrix) and 3 (a girl named Margeaux).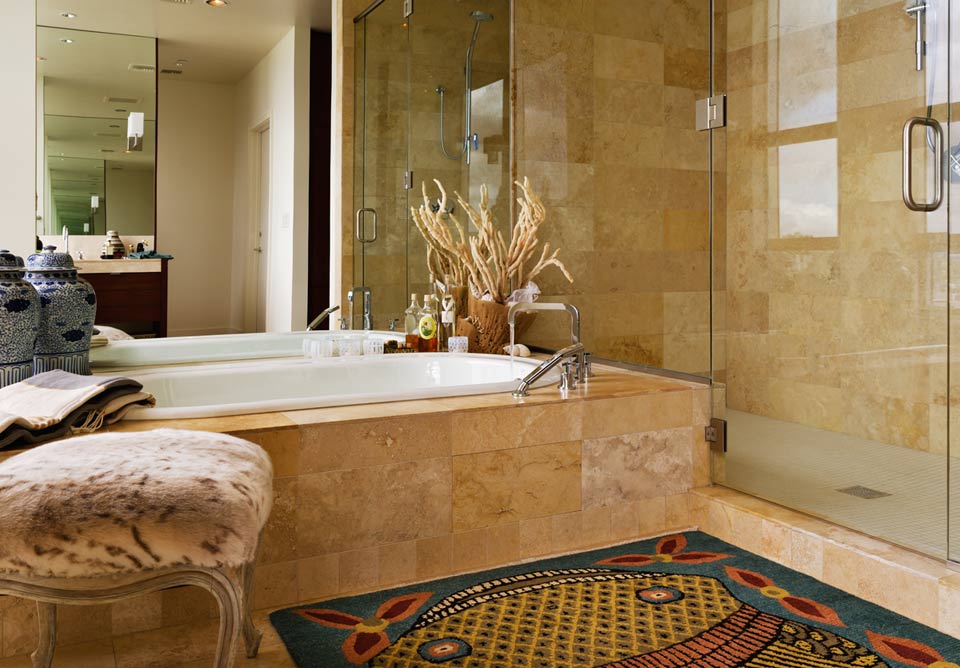 What are your fondest memories of this space?
I was 24 when I bought it and we had some bangin' parties in there. Ridiculous parties. No responsibilities, especially during the summer. Fourth of July was ridiculous seeing all the  reworks. And hanging out on Sundays when you were a little groggy. Everyone would sit on that big couch and we would order take out and put on old-school movies. It was always fun when you had 15 or 20 people.