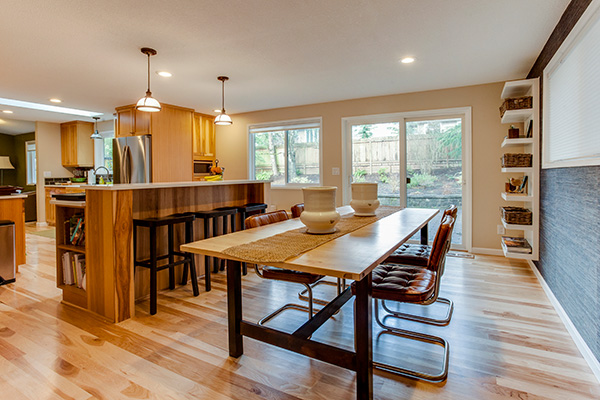 Designers: Ann Reed & Dulce Roberto
Written by Jack Rushall | Photos by Jason E. Kaplan
When is it time to bring in professional designers? The Prewetts, who own a cozy home in Southwest Portland, were not initially convinced they should take such action when tasked with remodeling their living and dining rooms. But after considering taking on the project themselves, they quickly realized they could use professional help.
The family sought counsel from Portland's ReDu Interior Design, a local firm owned by Ann Reed and Dulce Roberto who started the business after they realized their design chemistry together helped them to be more creative and efficient. This makes Ann and Dulce a design dream team, bringing two distinct perspectives and complimentary visions to each project.
As designers, Ann and Dulce aimed to guide, as opposed to control, the Prewetts desires. "We don't sell design products for commission; instead, we're motivated by the needs of the client," says Ann. "We try to inspire our clients, helping them discover their own style and match that with their practical needs." The Prewetts found this approach quite attractive.
Ann and Dulce helped the Prewetts discover a style that inspires them: First, the Prewetts learned that they preferred earthy tones, gravitating toward shades of green, light brown, and orange. Second, the Prewetts also loved the aesthetics and sustainability of the reclaimed and the recycled, adding new finishes to old furniture or finding a different purpose for old items.
The Prewetts' desire for an earthy theme happened to be ideal for Ann and Dulce who take pride in finding creative design solutions for many old furnishings and sourcing new products from local retailers like What's New? Furniture, a family-owned store that stocks many items sustainably made in Oregon.
With a style in mind, Ann and Dulce began their design in the living room from the floor up. They first chose a wool rug to create what Ann describes as a "piece of artwork on the floor." They used the colors of the rug as the basis for the design, using it to match fabrics, materials and furnishings.
In the dining room, Ann and Dulce helped the Prewetts make design decisions that helped them breathe new life into the space and keep the budget in check. One such decision was to keep their existing dining room table and simply update it by staining the legs charcoal black and surrounding it with modern chairs. By saving on the table, the Prewetts didn't think twice about installing a natural charcoal grasscloth wallpaper to create an eye-catching focal point.
The Prewetts, stunned by their redesigned living space, knew they didn't just need professionals; they needed a collaborative team like Ann and Dulce. ReDu Interior Design helped the Prewetts discover their personal style and create an inspiring design for their living space.

Q&A with What's New? Furniture
By Jon Shadel 
What is the style that What's New? does best?

We enjoy working with Mid Century Modern, Transitional and Contemporary Modern styles. Most of our pieces are smaller in design and fit into many of the Mid Century homes, condos and apartments around Portland. Best of all, our locally made sofas can also be customized to fit into any size or style of home.
What's sustainable about many of the products you carry?
An interesting part of our store is that we carry several items made by local craftsmen. They create furniture pieces that are unique in design. Many items are made of recycled products or made of materials that have been repurposed. For example, one of our most popular pieces is a side table made out of old railroad ties. We also carry a line of rugs that have items that are made from recycled products like denim, leather and silk.
What products did Redu source for this project?
Ann and Dulce decided to order our Portland style sofa and chair. This sofa has been extended to the size they needed for the room and it has a floating chaise ottoman. We also supplied the dining chairs and accent pieces found throughout the living spaces.

Before photos: