One bold hue carries the room for a mid-century remodel.
Photos by Lincoln Barbour Studio
---
Erin Davis' clients often have a visceral, intuitive response to color. "People often like a color immediately, but they don't always know why," says Davis, the lead designer and owner of Mosaik Design and Remodeling. So she wasn't surprised when the homeowners of a 1966 mid-century modern ranch in the Oak Hills neighborhood north of Beaverton were drawn to a watery turquoise during a walk-through at Pratt & Larson in Southeast Portland. The repeating "Crescent" tile pattern was the jumping off point for telling a story through color in the kitchen and front-door remodel. "Mid-century homes allow for the use of bold color," Davis says. "It's not a historic home, but it needed to have the right vibe."
---
---
"If you're going to pick a piece of jewelry for the kitchen, a backsplash is a great way to inject personality," says Davis. Walnut cabinets provide a stylish and classic nod to the mid-century era, enhanced with "Bowman" drawer pulls by Rejuvenation.
Tip: Use white accessories to make everyday objects recede and give the kitchen a less-cluttered feel.
---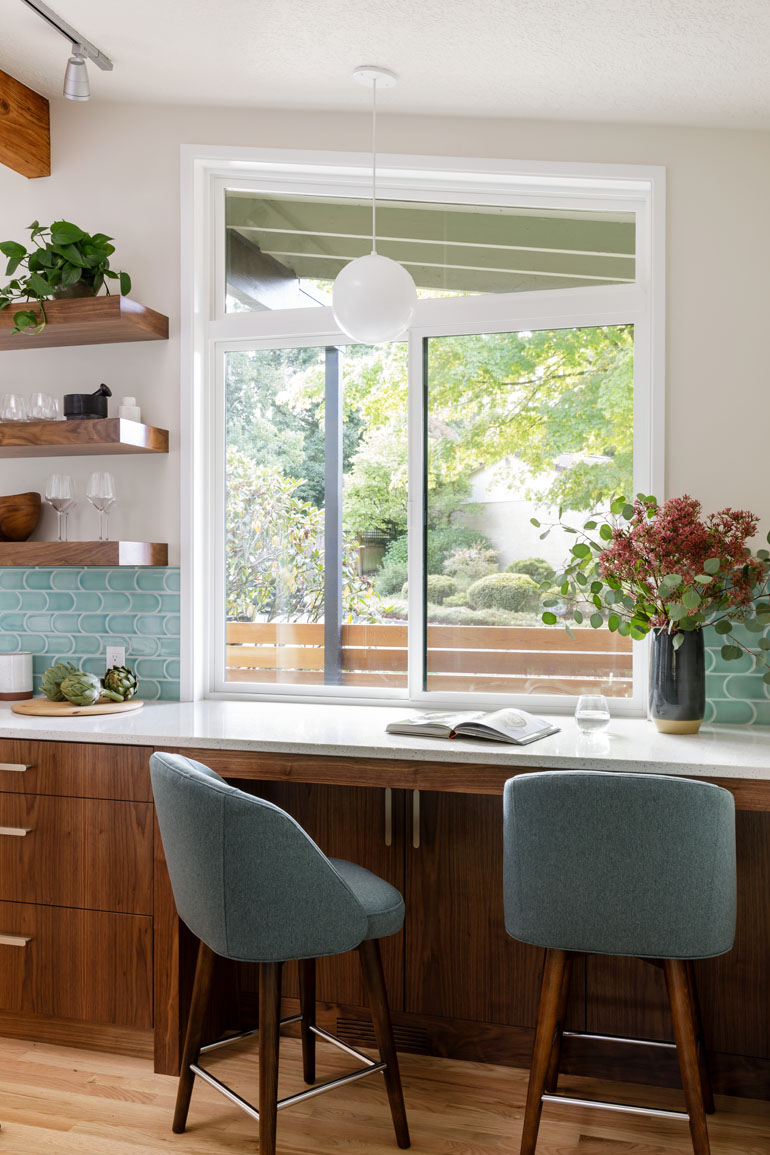 ---
Mosaik Design took efforts to lighten up the room while retaining the kitchen's footprint. Larger windows allow more natural light in, white walls brighten and reflective finishes lend sparkle to a galley kitchen. "Our old kitchen felt cramped, dark and dingy, and was barely meeting our needs," says homeowner Rogero. "It's hard to believe how much airier and more relaxing our kitchen feels now!"
Tip: It's OK to incorporate art, pictures and plants in a kitchen. Style it as you would any other living space.
---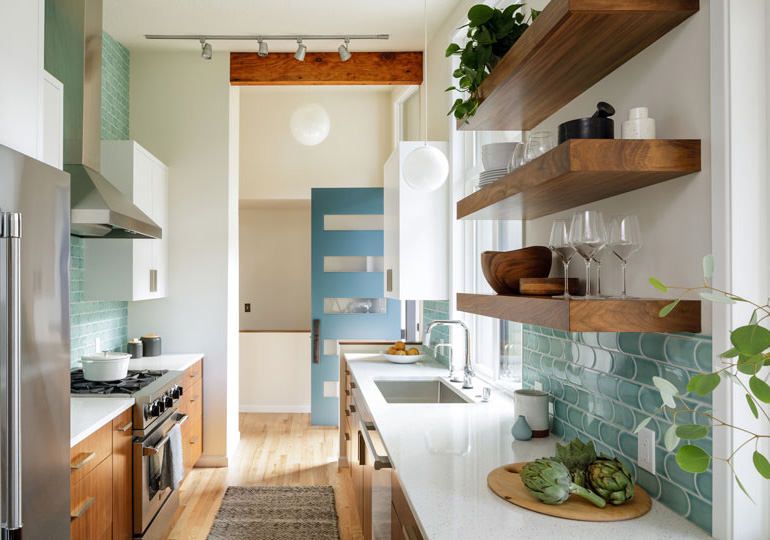 ---
The contemporary front door by Western Pacific for Simpson Door Company complements the kitchen color palette well. "The turquoise color was a calmer, more muted version of the bright inspiration photos Erin showed us," says Rogero. "It fit our style better and reminded us of some pretty bowls we had."
Tip: Use the same color in a different way three or more times in a room and you're on your way to telling a color story.