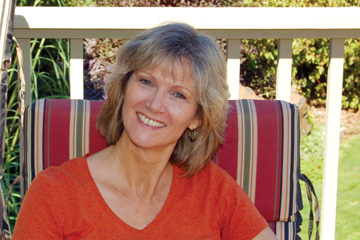 Editor-at-large Lori Russell says her home is a work in progress. "I'm already gathering ideas for my next project – our master bath."
White carpet in our master bedroom seemed like a great idea at the time. The light color would perk up an otherwise dark room and the thick plush would feel great underfoot on cold winter mornings. It would look just like one of those photographs in a magazine. Best of all, the remnant was just the right size and on sale!
My husband and I expressed our concerns to the salesperson — we have two teenage sons and a yellow lab after all — and he assured us that with a good vacuum, this carpet would clean up great.
We bought the carpet and a good vacuum. The plush is delightful on cold mornings — just ask our dog who sneaks in before dawn. The light color brightens the room and illuminates the trail of dirty footprints we leave on our journey from the hot tub on the deck to the master bath.
Looking back on our choice of white carpet, I realize my error was in imagining the room as a beautiful still life rather than the dynamic space that it is. Lesson learned. For our next project — and flooring choice — we will consider both the aesthetics we love and the lifestyle we enjoy.
In this issue, Oregon Home celebrates Oregonians and the builders, designers and craftspeople that help them create homes that fit the lives they live.
When Cheryl Janis and Philip Morgan left city life to make their home in an old-growth forest, they wanted a builder who would understand their desire to both live in the beauty of nature and to preserve it. The couple chose Salem-based ideabox, the maker of energy-efficient, prefabricated homes. Through their collaboration, Janis and Morgan now have the feng shui-inspired retreat in the woods they envisioned.
What does one really need in a vacation home? For Steve Smith and Kim DeMent, the list included a comfortable and functional space that allowed them to spend their time on fun rather than upkeep. That's a tall order for a 400-square-foot beach house, but the couple succeeded in using every inch of space by selecting design elements that serve multiple purposes and make the small home feel larger.
Libby Holah of Holah Design + Architecture solved the dilemma of puppy footprints and provided a place for her clients to party. The Oregon Remodeler Awards celebrates the best of the best from kitchen and bath renovations to historic restoration.
Whatever your next project, I hope this issue gives you some great ideas to transform your space into the place you call home.