Interior designer Jennifer Rae wants clients to be happy in their homes.
---
Jennifer Rae's grandfather instilled in her a passion for design. As a child growing up on the Oregon Coast, Rae would help him build all kinds of fun things, from decks and tables to a Victorian dollhouse.
"He really was my father figure and showed me what ambition and hard work looked like," says the interior designer.
But at 18, Rae lost her grandfather — and also the spark and ambition to continue working on projects like she always had with him. Then, a few years later, she decided to remodel her kitchen all by herself. That's all it took.
"I loved the entire process," Rae says. "It reignited that spark and made me realize that designing really is my passion."
Fast-forward through interior design school and a growing list of clients and projects on the Oregon Coast, and today Rae puts her passion to work with her firm, Jennifer Rae Design. She now specializes in custom interior design, including everything from lighting and layout plans to custom furniture, fixture selections, window treatments and just about anything connected to interior design.
---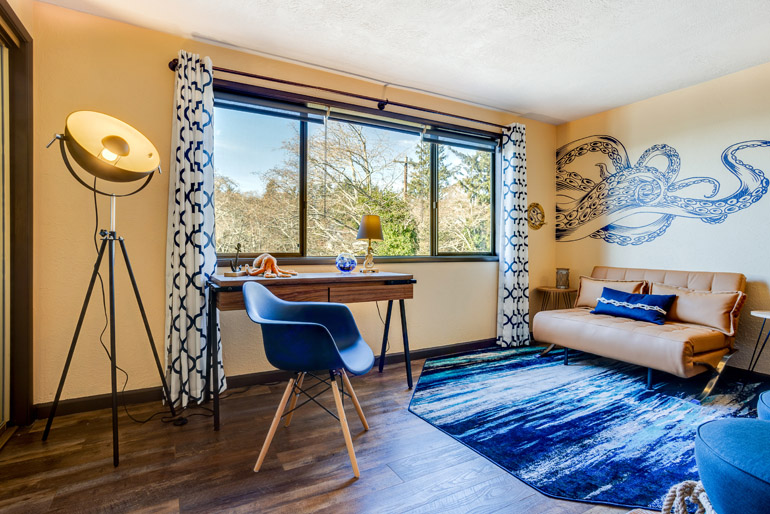 ---
But while aesthetics are an important part of her focus, Rae says her goal when working with clients is a little loftier than that.
"I aim to create spaces that feel like my clients' personal sanctuaries, whatever that means to them," she says. "Whether it's a private Zen-like home, an entertainer's dream or an over-the-top show home, my goal is to create a space that matches my clients' unique personalities so that they can live as authentically as possible."
Rae aims to accomplish this in part through an initial consultation, where she gets to know the client and finds out what they want, what concerns they have and what they're hoping to achieve.
"I try to figure out how they want to feel in their home or space, which gives me a good idea of their design style," she says.
One example: a client on the Oregon Coast who had a drab gray guest bedroom and wanted something more out of it, including the opportunity to use the room as flex space for work. Rae started with the color — something that she's run into a lot on the Coast, even though there's plenty of natural gray already blanketing that stretch of Oregon.
---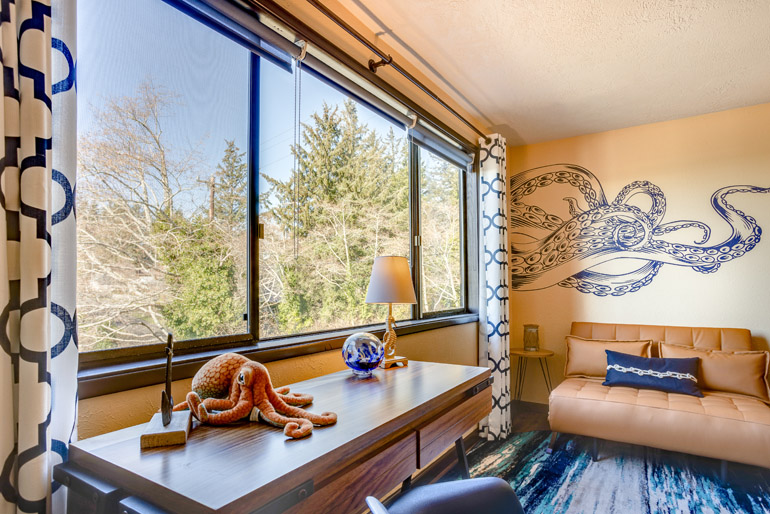 ---
"A lot of people like to paint their homes a blue-gray color on the Coast, but it doesn't work inside," Rae says. "There's such an abundance of that color outside that it ends up making their room feel cold and unwelcoming. So we went into this room and fixed it."
The fix included a warmer light-orange wall color that sets a comfortable tone, new furniture, bedding, artwork — much of it in various tones of blue — a seating nook and an octagonal blue rug that evokes ocean waves. One of the crowning touches is a large vinyl application of an octopus on the wall above the sofa in the nook. The inspiration for that was not only the coastal location of the home but also because the clients' daughter's favorite animal is the octopus.
"The room is fun, colorful, kid-friendly, and even though it's designed to be colorfully coastal, there's a bit of a mid-century influence," Rae says.
It's the kind of space that Rae always tries to create: one that's unique to each client and one that makes them happy.
"I just want people to be comfortable in their homes," she says. "Happy people spread joy and happiness and give off better energy. If you're happy in your home, you give off that energy in your life."
---