| | |
| --- | --- |
| | |
| Corey Martin says his Park Box duplex "is about how to find a small site and make it feel bigger and more connected to the landscape." | Corey, Michele and 3-year-old Casey Martin revel in how their light-filled duplex brings nature inside. // Photos by Paula Watts |
For all the beauty of its natural finishes and simple elegant form, or the do-it-yourself ingenuity that went into developing this affordable boutique duplex, the uniqueness of the Park Box might best be explained by 3-year-old Casey Martin.
"Our son was lying in the living room the other day, and he looked up at me and said, 'I really like our house,'" recalls his mom, Michele Martin. "He said, 'You can look up and see the trees, the birds, the clouds moving.' His awareness of nature has really floored us since we moved in."
"Casey understands the difference between winter and summer, where the sun comes up and where it goes down," adds Michele's husband, Corey, whose firm, PATH Architecture, designed the North Portland home. "In here you see the horizon, and the design of the windows is such that your view is guided upward. You don't have to look at all the cars and street. On rainy days it's nice to be in here and not have a single electric light on."
The Park Box was designed for nature lovers in the city who would prefer to live in the middle of nowhere if there were jobs and good restaurants. Because of all the light permeating the interior, and the subtle way one's eye is guided to the sky, seasonal affective disorder is simply not possible here, even during Oregon's perennially gray winter. On the house's east façade, floor-to-ceiling glass walls and sliding doors look out onto a covered deck and front yard. In the front of the house, the double-height great room's upper windows allow the Martins, both 40, whether at the kitchen table or reclined on the sofa, to watch the theater of Oregon's constantly changing weather.
---
"My favorite view is standing at the sink and looking out," says Corey Martin. "There's this unfolding process. It's about feeling that things far away are close."

The view of the great room from the top floor. Corey divides his time between his office on nearby Martin Luther King Jr. Boulevard and home. He works from home when he needs time to draw and to think.

// Photos by Paula Watts
All told, the light pouring into the great room, particularly because it's an extra story high, acts like a kind of fireplace or hearth — the place drawing everyone with its warmth of feeling. "It's something that we revel in every day we wake up," Michele says.
Although Corey Martin's design is quintessentially Northwest contemporary with its simple, natural palette and ample glass, the façade's lack of overhangs is a break from tradition. Oregon's celebrated tradition of midcentury houses, from simple builder-plan ranches to internationally acclaimed residential architecture by Portland architects like Pietro Belluschi or John Yeon, are all about guiding diffused, indirect light into wide-open interior spaces with tall glass and lots of exterior shading.
But Martin, an acclaimed up-and-coming designer who learned his craft under the celebrated Portland architect Brad Cloepfil (responsible for art museums in New York, Seattle and St. Louis), was inspired by advances in glass technology that allow light to permeate without unwanted heat gain. Despite the house's transparency, it remains cool in summer with just the opening of an upstairs skylight and a downstairs patio door.
---
The property, which Martin co-developed, was parceled into a duplex in order to bring down the budget. The Martins' side offers a minimalist palette: white oak floors giving way in the kitchen to a cooking island with natural butcher-block wooden kitchen countertops. The refrigerator and other appliances are tucked away in an adjacent pantry, and there is open shelving for dishware rather than cabinetry. Upstairs are simple earth-toned wool carpets. If there at first appears a lack of color, it's made up for by the subtly fluctuating color of light that bounces off the white walls and wood finishes.
On the other hand, the unit next door, owned by photographer Ty Milford and his wife, features more explicitly colorful countertops and flooring. "It was an ideal sort of hybrid situation," Milford says. "We weren't commissioning a high-end custom home, but it wasn't a spec home where all the decisions were made for you about finishes. Corey was able to say to us, 'Here's the shell. You can do what you want with the inside of it.'"
On 2009's sold-out Street of Eames modern home tour, visitors to the Park Box enjoyed seeing how two nearly identical architectural spaces took contrasting but equally successful approaches to the interior: one more Zen-like and serene in its natural wood surfaces, the other more playful because of color.
The Martin home is very lived in, but there is little unattractive clutter, with appliances and other items tucked away.
"We kind of joked that Corey and Michele have the Zen Norwegian cabin kind of thing," says Ty Milford, who lives in the other side of the duplex.
There's a geometric Russian doll quality in how the counter, table and accompanying bench go together, creating a sculptural look.

// Photos by Paula Watts
---
The Park Box's residents also refer lovingly to its flow: how each space, even upstairs, seems to look out toward the great room. "We really strived for and wanted a design where we could be in the same place at the same time doing different things," says Michele. "Our son can be playing and active while I'm cooking, or while Corey's working upstairs." (His home office-den is a large balcony overlooking the great room.) "There are no unused spaces," she adds. "Everything has a place, and everything makes sense. A home is also a place that…you live in this space but you have things you need to do. He's created a very fluid way to kind of move from room to room."
The Park Box overlooks Unthank Park, allowing the family easy access to broad lawns where Casey can play, as well as a youth academy where Martin hopes to mentor aspiring young designers. The burgeoning North Mississippi neighborhood is nearby with its funky row of restaurants, comic book stores and hipster bars, yet downtown Portland is just a short bus or MAX ride away.
"Everything kind of spirals off the center. Things are never centered. They're behind a wall or hidden," Martin says. "The result is that it has good flow. It's more of communal living, and that's an idea that hit home for me working on the Wieden+Kennedy building with Brad. We talked about the idea of a Native American longhouse and the idea that people live together clustered around a center or hearth. This is all about it being one space."
The Martin family enjoys the back deck. "Day to day living is magic," says Michele Martin. "Our son can be playing and active while I'm cooking. We came from several apartments that were very small and very dark. Now our outlook on getting through the gray days has completely changed."

// Photo by Paula Watts
---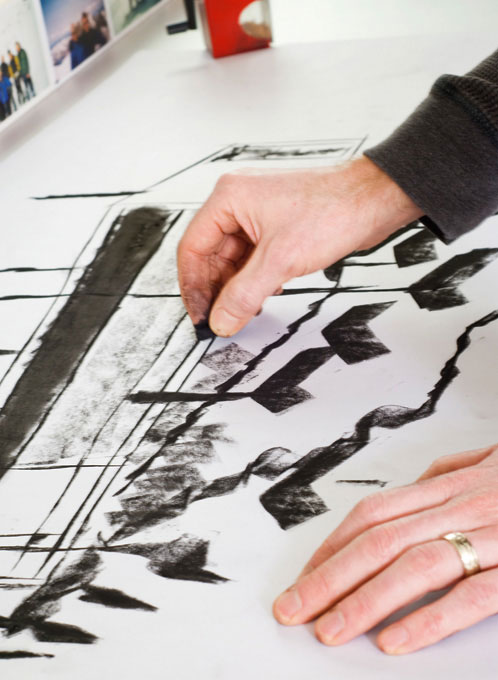 Art's place
Art in the Martin family's Park Box residence is a tale of two floors. Below, with light pouring in from the double-height great room, Corey Martin explains, "We feel the space itself and the changing light is enough so we are intentionally leaving the main walls unadorned."
Upstairs, however, the master bedroom and den are festooned with framed charcoal drawings by Martin, who was a working artist before becoming a designer.
"The drawings are quick gestures I did to explore the potential for larger sculptures in wood, cast glass and bronze," he says. "The drawings are very important to my current work because through them I discovered that my best work always comes out when I'm not trying to do something specific. The intuitive, unintentional gestures are the best. Learning that gave me the confidence to trust myself when designing anything, whether it's a piece of furniture or a building."