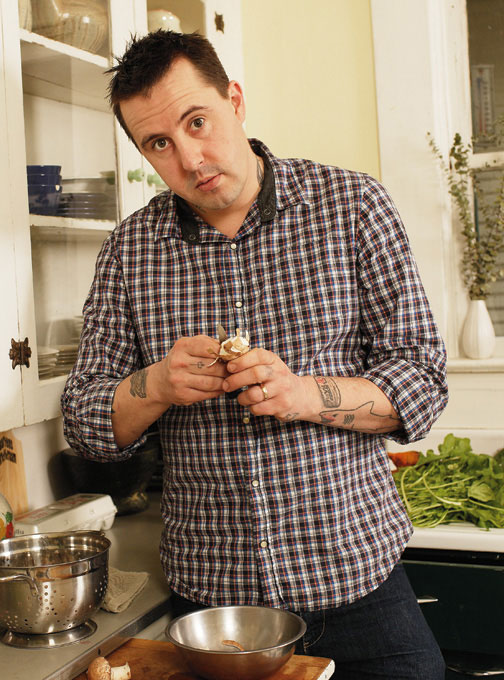 Photo by John Valls
Steeped in nostalgia
What they would change: more counter space and gas burners on the stove
Essential tool: a roasting pan
Knives are stored: in a drawer to the left of the sink
Spices are stored: on top of the stove
What's usually served on the side: the Rucker salad, a mixture of tomatoes, avocado, cilantro and canned corn
What's always in the pantry: canned corn
Tip for home cooks: Keep it simple to minimize the amount of dishes.
On a narrow street in the Brooklyn neighborhood of Southeast Portland, just a few blocks from singing rail lines, Gabriel Rucker, chef and owner of Le Pigeon and Little Bird, and his wife, Hana Kaufman, unintentionally channel the lives of the Italian rail workers who used to live on the road.
The couple doesn't own many spices or hoard good bottles of wine, but enjoy them sooner rather than later, and Kaufman's been known to pull the breakfast nook table into the kitchen so the girls can play cards and drink gin while the guys watch football.
The kitchen, which makes up the back third of the 1912 home, is steeped in nostalgia, from the electric Hotpoint stove (circa the 1940s) and the metal-handled GE Frigidaire to the black-and-white checkered linoleum and glass-door cabinets.
The setup inspires 29-year-old Rucker and 26-year-old Kaufman to sidestep modernity. They don't pop dirty plates into a dishwasher or warm leftovers in a microwave. Instead they push buttons on the electric stove and fill the sink with soap. And they don't press glasses into an automatic icemaker, but forego ice cubes to make room for a pint or two of ice cream in the tiny freezer inside the fridge.
Tonight they're making Rice-A-Roni as a side dish to chicken and broccoli. "As a chef, the restaurant is your creative outlet," says Rucker, who was named one of Food & Wine's best new chefs in 2007. "I don't feel the need to have accomplishments in the kitchen at home. Cooking is more about the act of us being together."
---
Kaufman, who was raised on what she describes as "hippie" health food, gravitates toward other people's childhood foods — meatloaf, tuna casserole and scalloped potatoes. On a shelf in the breakfast nook, she stores a few vintage cookbooks laced with cursive notes of past owners and a box of old recipe cards.
The room's floor plan, which lacks an island or central table, lends itself to hanging out with friends and family who don't mind mingling. "We only have one day off together, so we like to entertain," Kaufman explains. "Sometimes it's the only way for us to see people."
The tradition started in Rucker's bachelor pad apartment on Belmont Street, when friends would show up for his Sunday brunch. These days he doesn't sweat hosting 15 to 20 people for dinner, and enjoys splurging on ingredients.
"When you cook one night a week at home, it's worth it," he says.
For New Year's Eve, Rucker roasted a whole New York strip for steak sandwiches for a crowd in his favorite item in the kitchen: a heavy roasting pan with rack that lives in a drawer under the oven until needed.
As for the rest of the range, despite its aesthetic charm, the stove's electric coils don't thrill the chef. But he sees a worthy tradeoff. "I want a gas stove but having two ovens almost trumps it. We can make a roast and a casserole at the same time."
With two warm ovens and comfort food prepared by one of the city's young, talented chefs, it's no surprise the kitchen hosts crowds, just as it may have done almost a century ago. "If Gabe's cooking, people are going to come over," Kaufman says.
Hana Kaufman likes seeing what's stored inside the kitchen's original glass-doored cabinets.

A cheery breakfast nook off the kitchen is a quiet space for sharing an intimate meal or for flipping through cookbooks.

Simple built-in shelves hold artfully arranged cookbooks.

// Photos by John Valls
---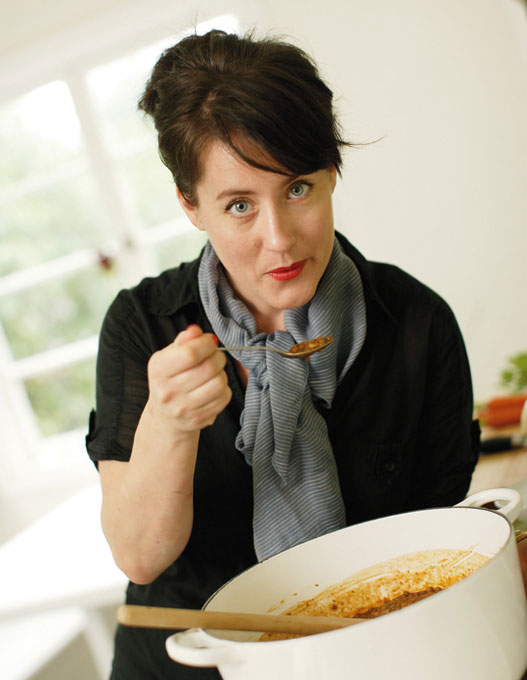 Photo by John Valls
Feminine and fiery
What she can't live without: a black enamel teapot and a straight-sided, white Le Crueset Dutch oven
What's always on the counter: large wood cutting board, olive oil, lemon olive oil, 30-year old balsamic vinegar and red wine vinegar
What she'd add to the kitchen: more space and a hanging pan rack
A meal isn't a meal without: a salad
What she'll never own: a microwave
Tips for the home cook: Put ingredients in small dishes or bowls to keep the kitchen organized and clean
Inside her 1947 North Portland home, Naomi Pomeroy, who was nominated for a James Beard award last year, cooks in a kitchen that's both fiery and softly feminine, an appropriate combination for a female chef who has risen to prominence by executing her own strong vision of food and dining.
The fire flickers in the stove, a massive vintage appliance that most likely was original to the home. When Pomeroy, 36, moved into the house, a few blocks from her restaurant, Beast, the landlords kindly offered to replace the old stove and fridge. But she was determined to maintain the period integrity of the mid-century kitchen, even if it meant living with a tiny freezer and half oven. "I begged the landlords not to take them away," she says.
Two years later, the white appliances still define the room's style and Pomeroy's sense of identity. "I know it's funny, but I just don't feel like a chef when I cook on electric," she says.
The softness comes from the room's color palette — the gray linoleum flooring and three shades of green tiles that make up the countertops and backsplashes. The hues change moods throughout the day, along with shifting diffused natural light that enters through windows above the sink and around the built-in breakfast nook.
The verdure extends from the bench inside the nook, which offers views of the small, leafy backyard that holds a live bunny rabbit, hulking smoker and grill, and wisteria-draped patio.
Indoors, white-painted wood cabinet doors and a deep pantry conceal all contents, precisely what Pomeroy prefers. "I like being able to hide stuff," she says. "I'm not a clear cabinet person. I don't think I could maintain the organization."
---
Pomeroy says the size and setup of her home kitchen parallels the kitchen at Beast. "I'm very used to working in a small space," she says. "I like having everything within reach."  There's countertop for mise en place but not enough for mess; she cleans up as she goes and happily employs the automatic dishwasher.
These days, Pomeroy and her 10-year-old daughter, August, are discovering the pleasures of dining at home more often, where meals mean classics like manicotti and lentil soup, dishes with straightforward preparation and minimal spices.
"The meals I'm able to do here are simple," Pomeroy says, "which for me means not too many courses and no dessert."
Recently the chef spent some time creating her own family meatloaf recipe, which included veal, bacon and ketchup. For Christmas, she hosted 30 family members and friends for prime rib, mashed potatoes and salad. Because of the constraints of her half oven, she cooked the three full prime ribs at the restaurant then brought them home. (A guest brought pie.)
Being so close to work has other benefits. "Sometimes I'll be in the middle of cooking dinner and will need an onion, so I'll send my daughter the few blocks to the restaurant to pick one up."
Her trusty Shun chef's knife also makes the journey between the restaurant and the house, because for Pomeroy, only the sharpest blade makes her feel at home.
Vintage containers and a vintage stove define the green-hued kitchen in Pomeroy's home.

The chef has a backup gas range in her garage that she's moved numerous times in case she needed to replace an electric stove.

Big windows and natural light create a fresh space for all manner of prep work.

// Photos by John Valls
---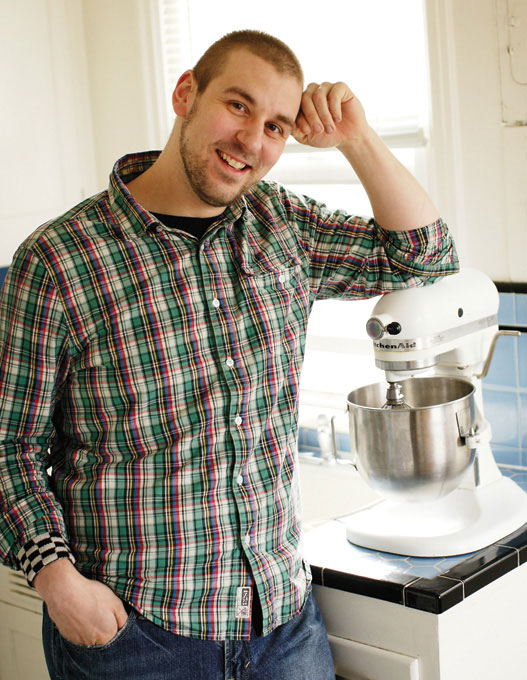 Photo by John Valls
Postage-stamp cozy
Favorite features: blue tiles and the amount of natural light
What he'd hate to lose: double sink with hose
What he'd never miss: the opaque cabinet doors
Favorite vintage appliance: KitchenAid mixer that was once used by DiMinno's grandfather, a pastry chef
Favorite modern appliance: a serious sandwich press
Breakfast isn't breakfast without: whole-wheat English muffins
Tip for home cooks: It's better to spend money on one good pot that you'll have for the rest of your life, rather than buying cheap junk you'll replace frequently.
Three years ago, Chris DiMinno and fiancée Jillian Koziol decided to embark on an adventure: They'd move to a strange new town without lining up jobs or housing first. As long as they ended up with some countertop for the coffee maker, they could make it work.
Within days of arriving in Portland, DiMinno, a lauded chef from upstate New York who cooked at the James Beard Awards last May, landed the job as head chef at Clyde Common, and the couple settled into a cozy second-floor apartment in the Hawthorne neighborhood. The bright, southwest-facing kitchen measures about 6-by-12 feet, a palatable space for the chef, who'd once lived in a tiny apartment in Brooklyn.
"It poses some challenges," the 27-year-old DiMinno explains, "but we do our best."
Even though the brick apartment building was constructed in the 1950s, the kitchen looks like it received a 1970s remodel, with sky-blue and black-edged tile countertops and backsplashes — one of the chef's favorite features. The straight-edged fridge and electric range may have also come from the same decade.
Even though DiMinno prefers a gas range, and has never cooked on an electric stove before, the glass-half-full optimist says the coils can bring water to a boil in just three minutes. Unfortunately, he finds the oven less pleasing. The coil-bottomed oven scorched a batch of cookies, the couple's first baking project in their Portland pad. Since then, they've installed a large baking stone on the lower rack, which diffuses the direct heat enough to successfully bake cookies and braise meats.
---
With space at a premium, DiMinno and Koziol have found ways to maximize the room they do have. For example, a slim, former ironing board closet now holds a large collection of spice jars, while a nearby built-in bookshelf stores reclining bottles of wine. And a slender Simplehuman trash can fits neatly between the fridge and a cabinet.
As is the case with so many postage-stamp-sized rental kitchens, the layout leaves something to be desired. "When I first got into this kitchen, I tried to make it as much like a restaurant as I could by keeping everything within arm's reach," DiMinno says. "But I quickly realized it didn't matter, because the stove is in the wrong place."
The large fridge lurking between the stove and the prep area doesn't stop DiMinno from whipping up meals at home, a low-pressure zone compared to a professional kitchen. "If something gets screwed up here, how do we fix it? Worst case, we'll call up Hammy's and order a pizza," he says.
Since Koziol also works at a restaurant, as the events director at Bluehour, the couple rarely eats dinner together. On the best nights, DiMinno, who works up an appetite by commuting by bicycle, comes home to late-night leftovers. "Jillian makes a hell of a taco," he says. More often, the All-Clad cookware and chefs knives get put to use for late-morning brunches. "When we do breakfast, we're caramelizing onions, boiling potatoes and cooking up sausages I made at the restaurant and brought home," DiMinno says.
No matter what's on the stove, the coffee pot, also an East Coast transplant, has found a permanent home on the blue countertop. "We don't mess with a French press, which everyone tells me is better," he says. "We're from New York. We don't have time to wait."
A well-used Staub pot. Brunch is the most common meal for DiMinno and Koziol.

He can live without a gas range, but DiMinno always needs his chef's knife to be sharp.

Even though the chef eschews most kitchen gadgets because they take up valuable space, the coffee-maker is a must.

// Photos by John Valls