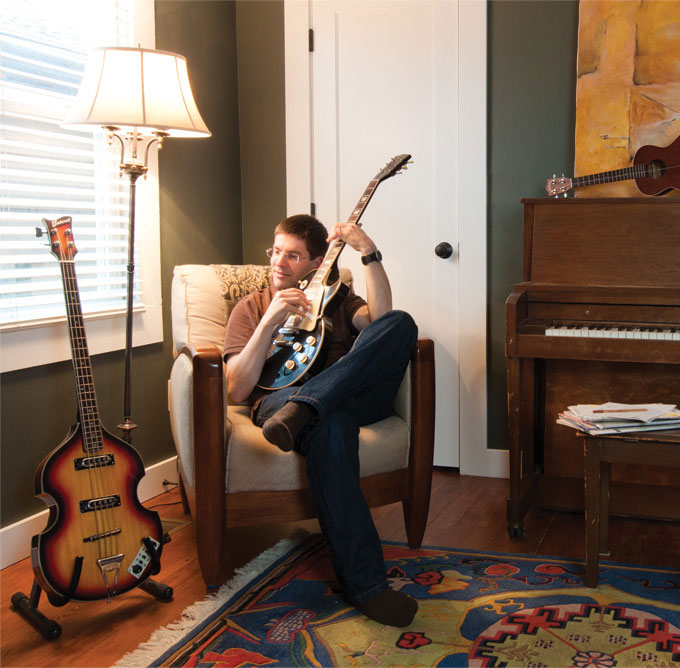 Scott Garred plays a 1991 Gibson Les Paul Standard in the light, bright music room, which now has plenty of space to make music and display instruments.  // Photo by Jon Jensen

When you walk into Scott and Michelle Garred's 1911 Sears kit bungalow in Portland's Alberta Arts district, the first thing you see is a room with an upright piano topped by a large piece of abstract art, a guitar, recording equipment and a red vintage toy airplane on the floor. It's a sign that this home manages to combine family life with the creative life.
After Scott graduated from Washington State University in 1996, he moved to Austin, Texas, to become part of its indie music scene and formed a band, Super XX Man. "I was just playing music and trying to survive," says Scott. "I probably had eight different jobs." His band, which has gone through several permutations, just released its 13th album, Vol. XIII: White Bed.
Eager to return to the Northwest, he and Michelle, whom he met in Austin, moved to Portland in 2000. Michelle, a molecular biologist and accordionist who occasionally plays with the band, got a job at OHSU, and Scott enrolled in the music therapy program at Marylhurst University. Now, he works as a music therapist at the Oregon State Hospital.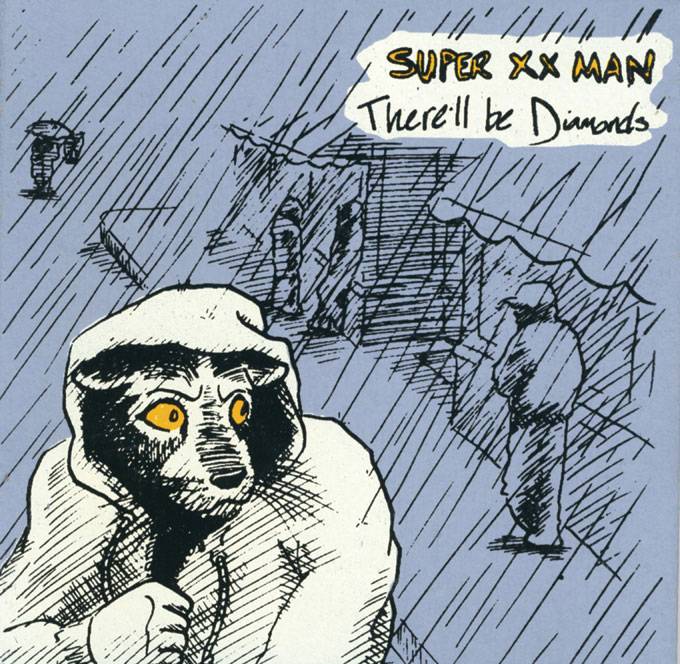 To hear Scott Garred's song House/Home from the album There'll Be Diamonds, click play in the upper left hand corner of this story.
When the couple began looking for a home in 2004, they wanted space for socializing and liked how the home's open living and dining rooms created a large common area. "Right after we moved in that June, we had band practice," says Scott. "We have a picture of Michelle sitting on a packing box playing the piano." Another goal was to have the reception for their August wedding in the house. "There was a mad rush to get the cosmetic things done," says Scott. "We rented a floor sander for the weekend I graduated from Marylhurst. I was just waiting for the ceremony to be over so I could start sanding."
---
More space, same footprint
Consider a dormer. "Dormers go a long way," says Greg Holah, the principal at Holah Design + Architecture in Portland. "We just did a dormer project that turned an open area into two bedrooms, a master bath with walk-in closet and an office area."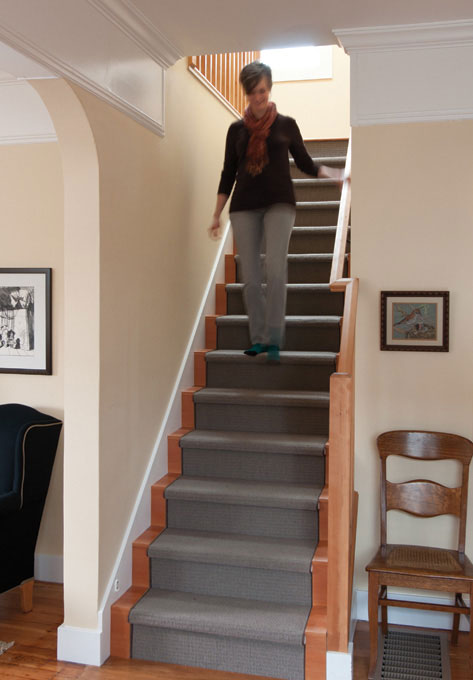 Photo by Jon Jensen
Rework the staircase. "Use stairs efficiently to gain space," says Holah. "Stacking the basement stair below the second floor stair creates a more useful layout."
Do the engineering. "Adding to the footprint increases the load on the house," says Hamish Murray, owner of Hamish Murray Construction in Portland. "You may have to add extra footings or shear walls to increase lateral strength."
Over the years, Scott, 38, and Michelle, 35, have transformed the house into a family home for themselves and their children, Cy, who is 4½, and 1-year-old Nadine.
In 2007, Michelle's Uncle Mike came to visit and helped them transform a badly laid-out, all-white kitchen into a functional space with custom dark wood cabinetry and unusual touches, such as dark red paint, vintage toys displayed on shelves and old Oregon license plates collected by Scott's grandfather used as a backsplash and as range hood accents. "We like old things," says Michelle. "But, we like them in the spirit of repurposing them like those license plates. You want to show them, so you find a way to use them."
Two years later, when Michelle was pregnant with Nadine, they decided to enlarge the house. The one-closet, one-bedroom, one-bathroom home no longer met their needs. "We were sleeping in the small space upstairs with Cy because it was larger than the small bedroom that's now the music room," says Michelle. "We were wondering where we could put someone else. We would either have to move or remodel."
They found their contractor, Hamish Murray of Portland-based Hamish Murray Construction, through friends. Murray recommended Libby and Greg Holah of Portland's Holah Design + Architecture to design the remodel, which took five months to complete. "Afterwards, I realized how ignorant we were about the design process," says Scott. "I initially thought all you needed was to rip up your house and design as you went along. We learned you need good design to get the most out of a project."
The home's remodel transformed it into a four-bedroom, two-bath, six-closet home without changing its footprint. "We were told if we wanted to stay within our budget that we needed to stay within the house's footprint," says Michelle. "Because of the economy, we were budget-conscious. Everybody knew we had a bottom line and couldn't overbuild or overdesign."
---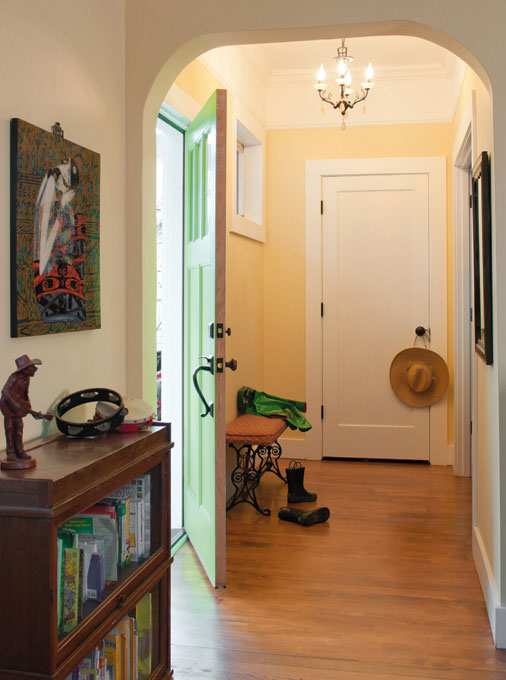 A painting from China hangs above a vintage bookcase in the new entryway, which gives the Garreds a place to hang their hats. //
Photo by Jon Jensen
The biggest design decision was moving the staircase. Initially, the front door opened right onto the staircase. Relocating the staircase off the dining room created space for a closet and entryway and improved access to the music room. "Now the flow of the home is much better because the new staircase connects the main living spaces of the house, which it didn't before," says Scott. The staircase, which has a skylight, leads to a small landing that gives way to the reworked second floor.
By adding a 300-square-foot dormer, an awkward upper story became functional and increased the home's size from 1,150 square feet to 1,450. The upstairs now has oak hardwood floors, several closets, a full bathroom and three new bedrooms.
---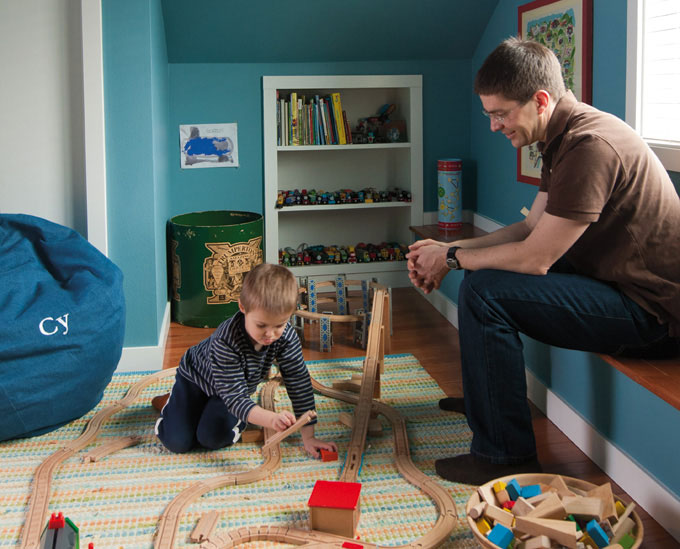 A new room for Cy has a child-sized wall bookcase filled with toy trains, and blue walls perfect for a boy's room.
Each bedroom has its own style. Cy's room, painted a dark blue, has a wall-length bench doing triple duty as a place to sit and store toys while hiding ductwork. Nadine's room, in springtime green, sports a vintage French chandelier and a retro chair, perfect for curling up with a doll or a book. The master bedroom, painted light blue, has a Juliet balcony to let in light and air. "The contractors couldn't believe how many different paint colors we used," says Michelle. "We used at least seven, but we like color and wanted each room to be unique."
LEFT: Nadine's room, like all the bedrooms, has a 9-foot ceiling for a spacious feel.

BELOW: Before, the children shared a cramped bedroom.

// Photos by Jon Jensen
---
Michelle and Scott Garred on their new iron balcony. The recycled corrugated steel siding adds texture to the home's new look.
Before, the home's original roofline was too low to make the upstairs livable for a growing family.
A vintage gnome holds court over the refurbished dining room. The ceiling medallion and large wall mirror are from Rejuvenation.

// Photos by Jon Jensen
Because they weren't planning to replace the home's siding, the addition was sided in seamless recycled corrugated metal to blend in with the older part of the house.
During the remodel, all the work upstairs cracked the lath-and-plaster ceilings of the living room and dining room, which added to the cost but included an unexpected silver lining. Not only were the ceilings and built-in dining room bookcase repaired, new crown molding was installed in both rooms. "Before, there was ugly plywood picture rail," says Scott. "Now, with the right kind of trim and fresh coats of paint, these rooms are a real pleasure to be in."
Of course, the house is still a home filled with music. "Singing is my favorite thing to do," says Scott. "The band doesn't practice here anymore, but I still record music for my albums at home. My home is in every single one of them."