By Jon Shadel | Photography by David Papazian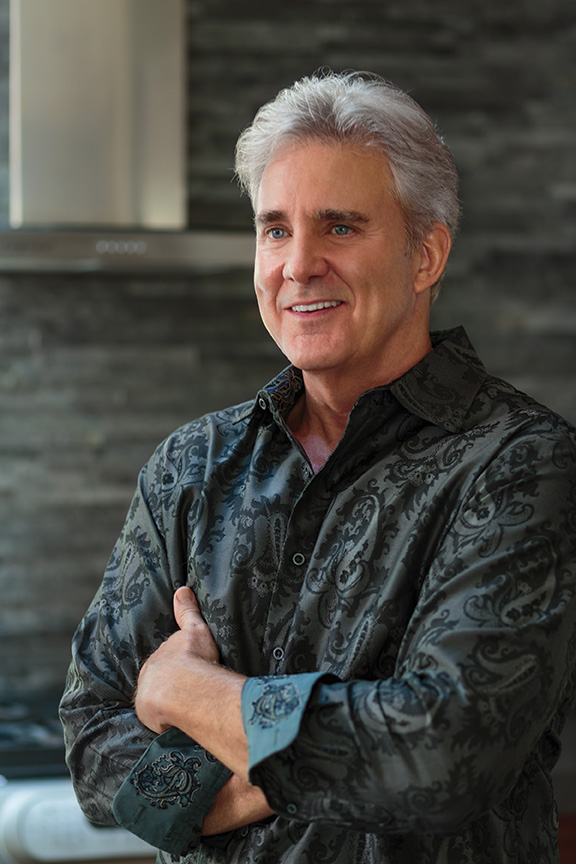 Standing in the shade of the towering Douglas fir trees, it is easy to forget that this Lake Oswego home is just a 15-minute drive from the bustling streets of downtown Portland. The relaxing ambience feels like a world distanced from the hustle of urban life.
That is why Sean Kilpatrick, one of Oregon's premier interior architects, first fell in love with this idyllic setting. His home—a Zenlike retreat incorporating a minimal style and natural materials—fits the site so well it is difficult to imagine what once stood in its place.
Kilpatrick gravitates toward a Northwest sensibility—an organic and functional style inspired by the region he has called home for more than two decades.
He typically designs contemporary residential spaces, and he thrives on the unique challenges each house provides.
But when Kilpatrick decided to remodel—and eventually rebuild— the previous house on his property, he did not anticipate that he himself would prove to be his most challenging client.
Kilpatrick's perfectionism as a designer might be best demonstrated by the fact that all of his work—designing some of Portland's most distinguished condominiums and homes—has come from referrals. However, when it came to designing his own home, that perfectionism became a huge challenge. His six-month remodel stretched into a two-year rebuild.
In the middle of the project, with much of the house gutted, Kilpatrick decided to change course by adding an upper level and increasing the home's square footage. That meant tearing down the home and starting from scratch. He put all of his possessions into storage and moved into a Craigslist rental for the duration of the project.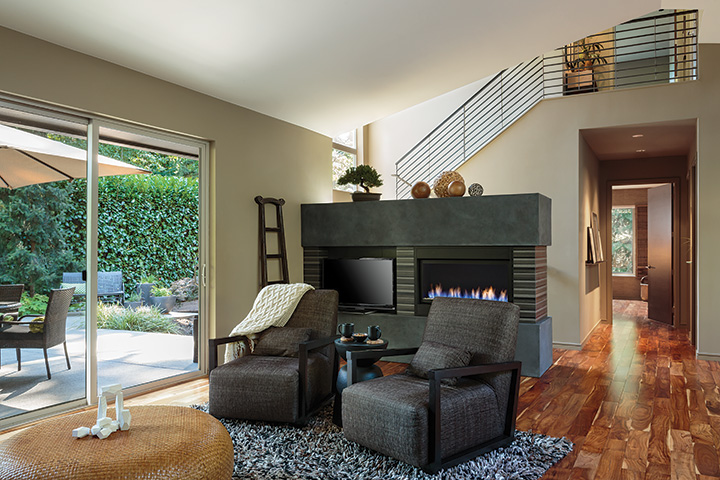 "I put myself through things my clients will never experience," Kilpatrick says. "I knew that I had to get everything just right or I would regret it later." Despite the sacrifices, the final result reflects his personal style and attention to all of the right details. His penchant for lighting, functional design and comfortable furnishings are evident throughout the 2,000-square-foot home.
As an interior architect, Kilpatrick approaches design holistically. He considers how optimizing interior structure affects the architectural plan of the house. "I design from the inside out, and that's what makes my work different from an interior designer's," he says.
He points to the placement of windows as an example. "A designer wouldn't give much thought to window placement, and an architect would typically determine their location based on the exterior of the home," he says. Kilpatrick placed windows to provide views of the home's woodsy setting and adjusted the architectural plan to bring in plenty of natural light.
Kilpatrick's obsession with refined interiors becomes clear moments after stepping through the door. The foyer flows into a great room that incorporates the kitchen, dining and living space. Acacia Asian walnut hardwood floors contrast with soothing grass-cloth wallpaper, and honed Israeli quartz countertops pair with African mahogany cabinetry. Skylights brighten the room with natural light.
Continuity is another hallmark of Kilpatrick's design. While many homes feature a lower ceiling height on the upper floor, he incorporated 9-foot ceilings on both levels to unify the space. The great room feels impressive and uplifting with 13-foot vaulted ceilings. Insulation added to the inner walls of the home reduces noise and ensures each room remains quiet and calming.
Kilpatrick's fixation with often-ignored details comes from his design philosophy. "I see how all of these interconnected pieces make up the bigger picture," he says. And no matter what type of project he is working on—a whole house, custom-designed furniture, consulting or project management—he doesn't want his clients to have any regrets. "I want to walk away with integrity. At the end of the day, my name is on it."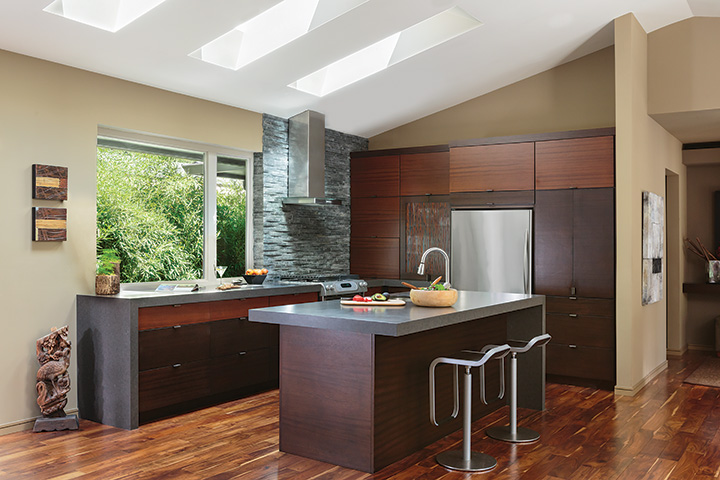 Kilpatrick created a contemporary home that reflects his personal preferences. He wants the same for his clients. "I live for challenges, and I want to create a space that reflects my client's style," he explains. "I never do the same design twice. Every space is unique, so every design must be different."