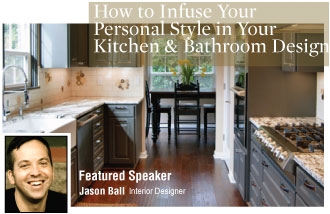 Are you thinking about embarking on a kitchen or bathroom remodel soon? Find out how to infuse the space with your own personal style, from renowned Portland designer Jason Ball. These free monthly design and remodeling seminars at Chown Hardware are a great opportunity to get world-class advice for the low price of free. 
One of the most confusing notions in today's design and remodeling world is this idea of doing a remodel for "resell purposes." Unless you're doing a remodel to sell your house next year, two, three or seven years is a long time to live in a home that doesn't truly reflect your personal style.

Jason Ball, principal design at Jason Ball Interiors will talk about different ways to infuse your personal aesthetic into your next remodel project. Jason will show you some case studies of kitchens and bathrooms in which the home owner brought in their personal style, while maintaining the "sell-ability" of their home.
When: Saturday February 4, 10:30 a.m.
Where: Chown Hardware, 333 NW 16th Ave, Portland, Oregon