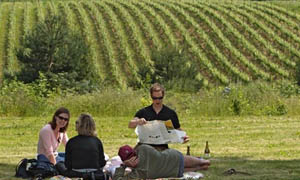 What better way to spend your three-day weekend than enjoying the many wineries that the Willamette Valley has to offer?
Join us May 26-28, 2012, for the 22nd annual Memorial Weekend in the Wine Country when more than 150 wineries and tasting rooms will be open across the Willamette Valley. Take this opportunity to visit some of the region's small, family-owned wineries rarely open to the public as well as larger wineries and tasting rooms.
For more information, including wine tasting routes, check out willamettewines.com.