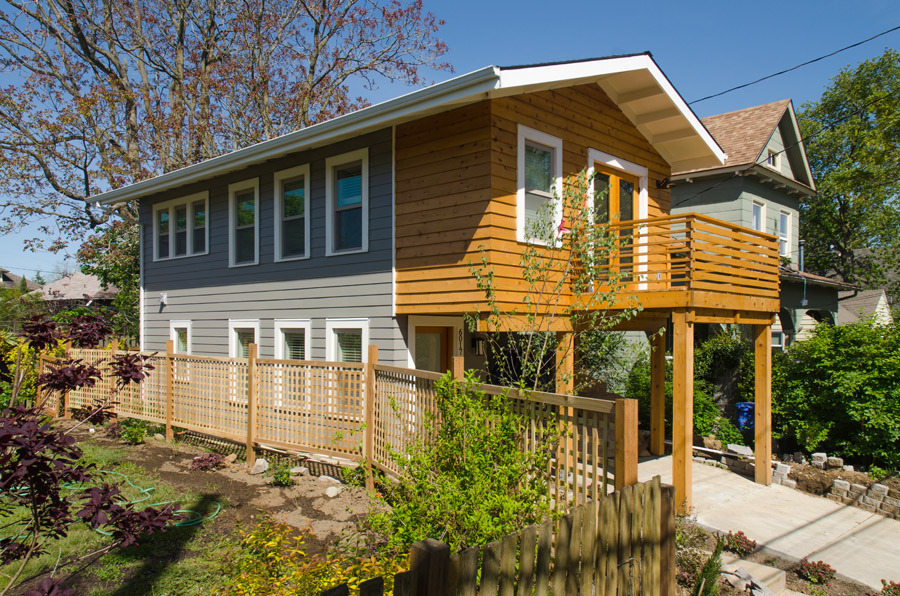 Caravan- The Tiny House Hotel, with support from the City of Portland- Bureau of Planning and Sustainability, Metro, the Oregon Department of Environmental Quality, and Earth Advantage, is hosting Portland's 2nd city-wide tour of Accessory Dwelling Units (ADUs) from May 29th-31st. ADUs are secondary housing units on single-family lots. After last year's sold out one-day event where 850 attendees toured 12 ADUs, this year's event will be double the size with a two-day tour that includes 25 ADUs across Portland.
Build Small, Live Large: Portland's Accessory Dwelling Unit Tour, offers attendees the extremely rare chance to see the interiors of 25 finished ADUs in a variety of locations across the eastside of Portland. The self-guided tour gives attendees access to the homeowners, builders and designers of the ADUs, and to printed and online comprehensive, educational information about the building process for each ADU.  Additional materials and registration can be found at: http://accessorydwellings.org/adu_tour/
On Friday evening, May 29th, there will also be a 3-hour ADU Workshop called "Getting Started with Permitting, Financing, and Design"- presented by Kol Peterson and held at the Alberta Abbey. Saturday, attendees will tour 12 ADUs throughout NE Portland. Caravan- The Tiny House Hotel, the first tiny house hotel in the United States, will open the doors to its six tiny houses on wheels to tour attendees for the entire weekend. Saturday evening, there will be a party at Caravan, featuring live music from Alexa Wiley and the Wilderness, as well as s'mores and local beer. On Sunday, attendees can tour 13 ADUs in SE Portland.
Portland has witnessed an eight-fold rise in the number of ADU permits since 2010.  This dramatic increase is the result of a 2010 City of Portland waiver of System Development Charges, which reduced the cost of building permits for an ADU by up to $11,000.  Before the 2010 waiver, approximately 30 ADUs were built in Portland annually, but in 2014 alone, there were 262 ADU permits.  The waiver's popularity caused the Portland City Council to extend the waiver until July, 2016. The inaugural ADU Tour drew attendees from across the country, showing the surging interest in small housing. For those who can't attend the spring tour, another City-wide tour of ADUs is already scheduled for next fall: November 7th, 2015.
Learn more and register at http://accessorydwellings.org/adu_tour/