Art in the Garden features outdoor art installations 
by local artists for display throughout the summer in Silverton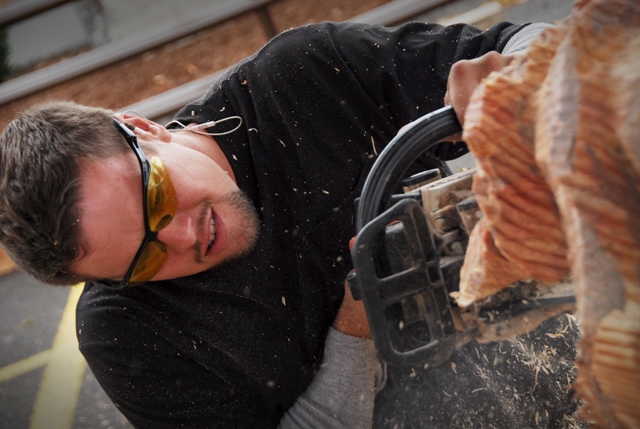 SILVERTON – The Oregon Garden has announced the return of its "Art in the Garden" presented by Capitol Subaru, a summer addition to the Garden that features three outdoor art installations by local artists. These pieces can be viewed anytime during regular Garden hours, July 10 through September 30, with paid Garden admission.
This year's featured artists include David Hillesland, Tyler Brumfield and Paul Jenkins. Hillesland is a self-taught, professionally apprenticed sculptor who finds beauty in the rough forms that lie within each piece of wood and takes great satisfaction in refining the natural elements of the wood, seeking the form that lies within. Hillesland will also be teaching chainsaw carving workshops at the Garden on July 18 and August 8; for more information, visit www.oregongarden.org.
Brumfield is an artist born and raised in the Willamette Valley who studied sculpture and graphic design at Western Oregon University. His primary medium is wood, because of its versatility in use, its natural beauty and its abundance in supply. He seeks to pair well-designed art with conceptual context, relatable to all.
Jenkins is a direct metal sculptor from Silverton who started in high school and earned a BS in Industrial Design. Jenkins spent many years employed as a Senior Sculptor, Mechanical Designer and Assembler. In his last 10 years before retirement, he worked with Michael Curry Design on "The Lion King" on Broadway as well as the Utah Winter Olympics. His piece is called "XLM" (Extra Large Mantis) and is a sculpture of a "Mantid" (praying mantis) made of galvanized sheet steel and stainless steel wire and painted with automotive paint.
Art in the Garden will kick off the installations with an opening reception on July 10 from 7 to 10pm in which the featured artists will give talks about their installations and inspiration, while guests enjoy live music, light appetizers and wine tasting. Tickets are $15 and available online.
Art in the Garden is generously sponsored by Capitol Subaru and Oregon Cordless Tool System.
About The Oregon Garden
The Oregon Garden offers more than 80 acres that showcase the natural wonders of the Pacific Northwest with more than 20 individual themed gardens and related attractions. The mission of The Oregon Garden is to welcome and inspire all visitors with an appreciation for the extraordinary ecology of the Pacific Northwest, and to provide a meaningful educational experience for gardeners of all skill levels and ages. The Oregon Garden offers memberships that help support new improvements and visitor programs. Visit www.OregonGarden.org or call (503) 874-8100 for more information.