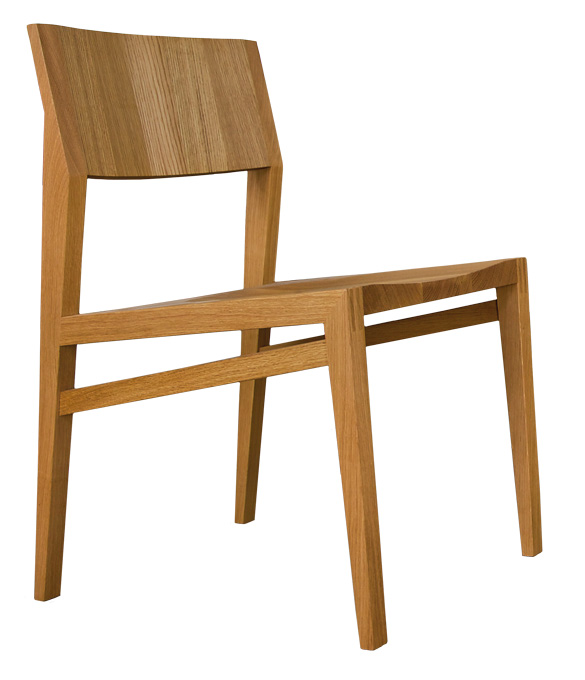 The slant of the seat and angle of the back make The Daily chair comfortable enough for everyday seating.
The shapes are lean, clean and modern in the true sense of the word. 
"I am really influenced by what is going on right now," says Ben Klebba of his fine wood furniture crafted under the name Phloem Studio in Portland. Minimalism may have started in the mid-Century but it continues to evolve, and Klebba is less interested in reproducing vintage than moving design forward.
"Minimalist furniture that works," he says is his aim. "A chair has to be comfortable."
The Nadine Lounge chair, named for his mother, is a fine wood frame with seat and back woven from seatbelt strapping. His Deciduous Table consists of several abstract leaf-like shapes. Klebba's furniture was featured at the Museum of Contemporary Craft, and has garnered regional design awards. His work is sold at the new Beam+Anchor store and Phloem Studio directly behind the Portland shop.
---
Ben Klebba at work in Phloem Studio where he designs and crafts furniture, including the Nadine chair with seatbelt strapping and the leaf-inspired Deciduous Table.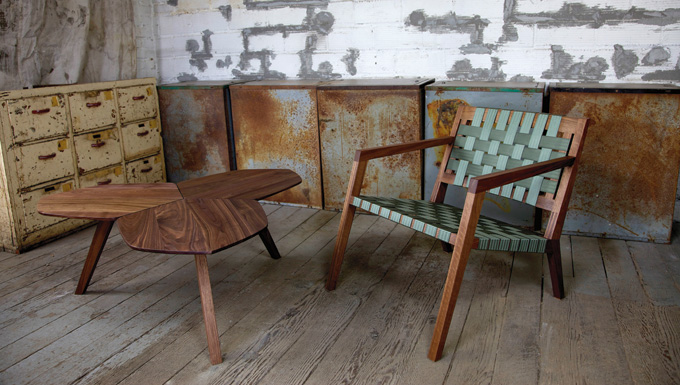 "My dad was a woodworker and I was around his workshop a lot when I was a kid in Michigan," he says. "But then, I wasn't so into it." 
When he "got tired of working in a record store" he looked back fondly on those days in the workshop, and apprenticed with a craftsman in Chicago before moving to Portland about five years ago. 
"I am inspired by the problem of trying to design as distilled and as simple as possible, yet still looking elegant." he says. "Music is huge in my life as are my friends and family and just creating and putting in the time and effort to do it right." 
Klebba's parents followed their children out West and now Klebba is thrilled when his dad joins him in the studio to work side-by-side. Phloem Studio designs and builds for both residential and commercial spaces including entire kitchen and reception areas, working closely with clients to interpret and realize their ideas with his own. They trust his eye. And he feels fortunate to work with creative clients.
"I like drawing and sketching and quality, simple things that last a long, long time," he says. "I strive to keep things simple."
$1,000, the Daily chair; $1,600, Nadine Lounge with straps; $1,800, Deciduous Table; Phloem Studio, Portland; Phloemstudio.com; Beam+Anchor, 2710 N. Interstate, Portland; beamandanchor.com