Randy Ramos was the church's saving grace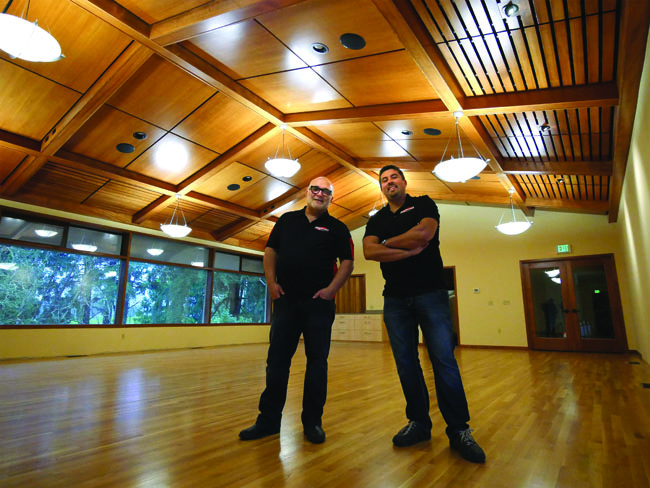 Written by Jack Rushall | Photo by Priscilla Rodriguez | www.freshcoatportland.com
When this church in Wilsonville began an exhaustive remodel of their dated 70s facilities, the congregation's faith was certainly tested. To be clear, this wasn't an issue of religion; the devout members of the St. Francis Church weren't questioning their beliefs. Instead, the scope of the job was so overwhelming, with so many rooms needing to be painted, that it became clear they required professional help.
Randy Ramos was the church's saving grace. Randy is the owner of Fresh Coat Painting in Portland. On both residential and commercial projects, Randy and his crew know how to tackle detail-intensive work. They've painted countless homes and businesses throughout the region, including carefully updating classic Victorian homes. And while this church isn't quite a home, the work Randy and his team completed here shows Fresh Coat's expertise in action.
"Commercial and residential projects are similar," says Bill Kruse, project estimator at Fresh Coat. "And we bring the same care and concern for quality to both." Considering the scale and quality demands of a project like this, Bill explains how this church demonstrates the team's capabilities for commercial and residential work alike.
They took a pragmatic approach to the immense project: Randy's interior and exterior painting business focuses on close attention to detail, and this becomes clear when you survey the trim and stained wood that was carefully matched to the church's original colors. All in all, Fresh Coat handled the color of the church's Parish hall, three classrooms, a library, a meeting room, a large hallway and also a kitchen.
"We do this kind of residential work all the time, but not on quite on this scale," Randy says, explaining how the scope of work required for the church was much greater than a large home would typically require. Altogether, Fresh Coat primed and painted all of the walls, ceiling and trim in addition to the stained wood ceiling of the Parish Hall.
Thanks to Fresh Coat's intimacy with detail, given their track record with projects of all sizes, this church is refreshed and opening its doors to another generation. This project shows that the right team, attention to detail and a little faith can yield some heavenly results.