Lori Dennis is one of the top interior designers specializing in green and sustainable design for residential and commercial buildings. A year after graduating from UCLA's design program in 1998 she established her own company in Los Angeles working on residential and commercial interiors nationwide. Her work has been featured in several publications including Dwell, House Beautiful, The New York Times and the Los Angeles Times. She also serves on the National Sustainable Council and is the author of Green Interior Design.
She was on her way to Palm Springs when Oregon Home caught up with her via phone to talk about sustainability, windows and her role in The Real Designing Women debuting this summer on HGTV. Questions and answers edited for brevity and clarity.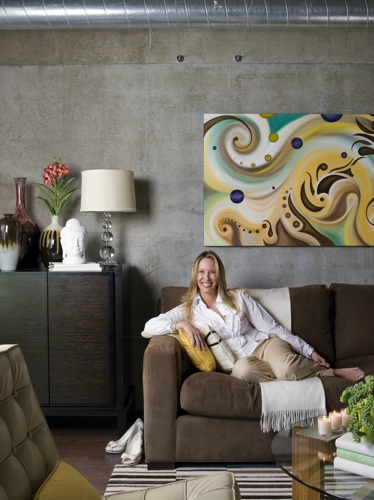 Q. Why did you make sustainability your focus? 
A. It's always been the way that I live and it just made sense when I went into interior design. Make the space beautiful and useful (and sustainable.) And then it became a trend. But that's okay, that's good. I know that Oregon is very, very conscientious. But people are embracing it as a lifestyle, not just in Oregon, which I know is into it, but across the country. Recycling, we all get it.
Q. You sound as if you know Oregon pretty well.
A. I don't know it that well but Oregon is known for being aware of sustainability issues. I was just there representing Milgard at the Portland Home Show. I spoke to the crowd about my top five design trends — Sustainability, Americana, Gentleman's Lounge, Technology and Smaller Spaces — and how windows relate to them. For the sustainable or green trend: good windows reduce the amount of energy needed to heat or cool a home. Opening a window instantly improves indoor air quality. Sunlight is also a natural disinfectant. There's an Americana trend. You'll be seeing red, white and blue in design everywhere and "made in America" starts to mean something again. (Milgard windows are made in the USA) There's a huge trend in menswear fabrics in the home and garden. Think hounds tooth fabric on outdoor chairs. Technology, making products better, stronger, longer lasting and easier to use; for example Milgard's SmartTouch lock and Creation Bauman's washable synthetic silks. And smaller spaces: The mega mansion is dead, long live small, well-planned spaces with the best quality materials one can afford.
Q. Beyond windows, what does green design mean in terms of interior design?
A. It's about the materials we bring into our house, the need to bring good products into the home. (She mentioned low emission paints, carpets and upholstery, reusing and repurposing vintage items, and investing in high quality furniture built to last rather than cheap items that need to be replaced frequently.) The greenest thing you can do is put together a room that will be around a long time.
Q. Was focusing on sustainability a savvy business decision or a personal interest?
A. In San Diego, when I was kid people were very aware of the energy crisis, gas prices were soaring, everyone was recycling. We were seeing solar panels going up all over. And then it kind of dead stopped in the '80s. Because it had been financially driven. When the economy improved, consumers went back to consuming. But there were these people like Ellen McCrady who practiced these things (conservation and sustainability) all along. Ellen McCrady was a forerunner in the whole awareness of sick building syndrome. She kind of was a pioneer and struggled in the tide of the '80s when it was about buying as much as you could, flashing a lot of money.
Q. Tell us about the upcoming HGTV show. Is it a reality show?
A. The Real Designing Women features the lives of three interior designers. It's not one of those quick turn-around room makeover series but really shows all the work that goes into it, all the extra avenues, the marketing techniques we use to keep a business going. You do kind of forget the cameras are there. I don't think I've done anything too terrible or embarrassing.
The format of HGTV has brought such awareness to the public about home design . . . and how it's affordable for a normal person, and that's great. But on the flip side, it's been kind of a drag for designers because (on HGTV) they say "We did this whole show for $2,000!" but they don't say that they've had things donated and free labor so it's misleading. Labor is expensive. It's probably a $20,0000 job not $2,000. The format of The Real Designing Women is different. I'm very, very excited about it. It will help with the book (sales) and my business.
Q. The introduction to your book is very sweet when you trace your awareness of the power of interior design back to a gift of Popeye sheets you received at age four.
A. It's bitter sweet. My mother moved us to California. She went away from her support system in New York City. Her whole family was there. And we were definitely struggling. There was no money. I think she feels terribly about it now, especially after reading the book, but she didn't pay attention to the decoration of the room. It was just a cot. It looked like a jail cell.
She wrote in her book: One day a package from my aunt arrived. It contained colorful Popeye sheets. I was thrilled and immediately ran to make the bed. Thirty-five years later, I still remember the vivid transformation those bold, happy comic strip sheets made in the drear room. After that experience, the decoration and design of spaces captivated me.