There's Never Been a Better Time to Rediscover Oregon by Car!
We've teamed up with our friends at Meredith Lodging to present a weekly itinerary and local guides for some of Oregon's most loved beach and mountain towns, to help you rediscover our state this Summer! We have compiled well-researched shortlists about where to go, favorite stops along the way, where to stay, what to do and "inside-scoop" about what locals love. Each week, we'll share a new location, spotlight beautiful homes to book, list sights you won't want to miss and offer-up insider information on what to eat, drink and discover.

You can also enter to win a 3-night vacation to the beach or mountain town of your choice (among the markets we visit), along with a Yeti cooler, Meredith Lodging camp cups, playing cards and other goodies, some Oregon Home swag and local goods to make your getaway both luxurious and delicious. We will also be gifting every person who enters with a free digital subscription to Oregon Home magazine!
>> To follow along on our Road Trip Summer and enter the Grand Giveaway, click here to visit meredithlodging.com/roadtripsummer
---
And the Winner of a Luxury 3-Night Stay and Prize Package is …

Katherine Hawks
@mamahawksflying (on IG)
Katherine has chosen Roads End as her prize destination. Congratulations!!!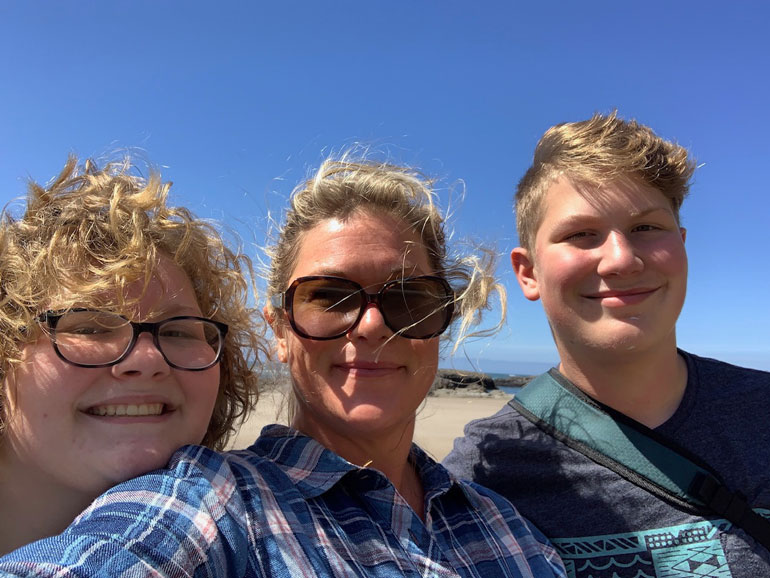 ---
Follow Along As We Rediscover Oregon's Best Places!

---
Week 8: Yachats and Waldport
Road Trip to Yachats/Waldport – Best Places to Stay, See, Eat and Discover
Stunning coastline views, breathtaking sites like Cape Perpetua, Thor's well and sunsets over the Alsea Bay Bridge. Award-winning craft beer, popular local restaurants and coffee shops and a bustling farmer's market – the beloved beach towns of Yachats and Waldport have something for everyone. Tucked in to the southern-most part of Lincoln County these towns are slightly less frequented than larger cities to the North, and that makes all the difference.
---

---
Week 7: Luxury Homes in All Directions
Take your Oregon Vacation to the Next Level with a Stay at Top Luxury Homes in Central Oregon and On the Oregon Coast.
How about a Summer road trip with luxury as your destination? A scenic drive through Oregon's natural beauty to a private, professionally cleaned vacation home that looks like it is out of the pages of a magazine? Our answer to both questions is an enthusiastic yes, please!
View the entire Luxury Collection here.
---

---
Week 6: Depoe Bay and Bella Beach
Bella Beach and Depoe Bay – Where to Stay and Things to See, Eat and Discover
Located just south of Lincoln City, Bella Beach and Depoe Bay are two jewels of the Oregon Coast! These most-loved locations are revered for their unique scenic beauty, incredible whale-watching opportunities and also for the fact they may be slightly less travelled than some larger Oregon Coast vacation destinations.
View all Bella Beach and Depoe Bay homes.
---

---
Week 5: Manzanita
Manzanita – Where to Stay and Things to See, Eat and Discover
Tucked into a gorgeous stretch of beach – and in between two state parks – sits a crown jewel of the Oregon Coast, Manzanita. It is easy to see why Manzanita is one of Oregon's most-loved beach towns, featuring breathtaking ocean views and a charming main street (Laneda Avenue) that offers many locally-owned and carefully curated restaurants, wine shops, home stores, candy stores, a toy store, a pet store and an art gallery to name a few.
View all Manzanita homes here.
---

---
Week 4: Sunriver
Sunriver – Where to Stay and Things to See, Eat and Discover
There is something for everyone to love about Sunriver – the absolute best of Central Oregon is right outside your door! From limitless outdoor recreation opportunities to shopping, dining, and discovering new things, Sunriver will always deliver. We have captured our best Sunriver trip itinerary – full of local inside scoop and travel tips – so you can plan your perfect Sunriver #staywithmeredith
---

---
Week 3: Olivia Beach
Olivia Beach – Where to Stay and Things to See, Eat and Discover
Located in the heart of Lincoln City, Olivia Beach is a community of charming Nantucket-style cottages with deep front porches perfect for morning coffee, community greenspaces, an on-property playground, sand volleyball court, firepit, fitness center and seasonal pool – all across the street from one of the most scenic stretches of the Oregon Coast. Olivia Beach is a much-loved Oregon Coast vacation destination. This carefully planned community, tucked in just behind the highest ridge of beautiful Nelscott beach offers homes of all sizes and vacations for all budgets. You will love its prime location, oyster-shell lined pathways, wood-planked boardwalk, and proximity to the sea.
View all Olivia Beach homes here.
---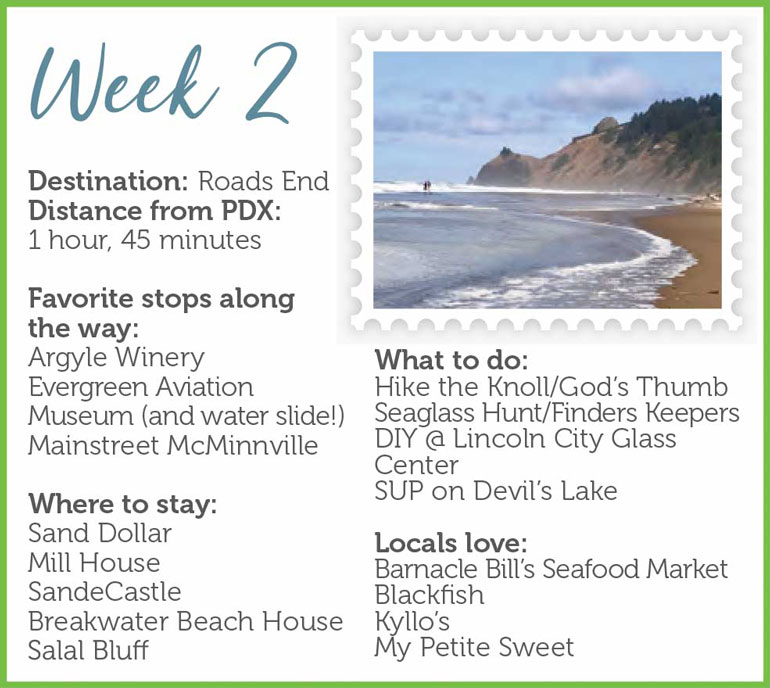 ---
Week 2: Roads End
Roads End – Where to Stay and Things to See, Eat and Discover
Tucked in on the northernmost part of Lincoln City and featuring one of the most stunning headland views on the West Coast, Roads End feels like a beautiful, best-kept Oregon Coast secret. Stunning sunsets, impressive surf, an expansive coastline dotted with Oceanfront and Oceanview homes of all sizes, it is easy to see why Roads End is a favorite destination. Meredith Lodging has an extensive collection of Roads End vacation rentals, making it easy to plan an unforgettable vacation.
View all Roads End homes here.
---

---
Week 1: Rockaway Beach
Rockaway Beach- Where to Stay and Things to See, Eat and Discover
Rockaway Beach remains to many Oregonians a "best-kept secret" Summer getaway location. Tucked in along a less-traveled stretch of beautiful coastline between Tillamook and Cannon Beach, Rockaway Beach has so much to offer visitors – and makes for an ideal Oregon Road Trip.