This is the first in our regular series with Meredith Lodging about making your weekend getaway in one of Oregon's destinations feel like home. Here, Oregon Home publisher Courtney Kutzman heads to Lincoln City with her young family.
---
My husband, Nate, our baby, George, and I dash out of Portland as often as we can, but we still need to feel as much at home as possible wherever we land. Our most recent stay took us to Meredith Lodging's Mill House, a dreamy Lincoln City beach rental in the Belhaven neighborhood.

---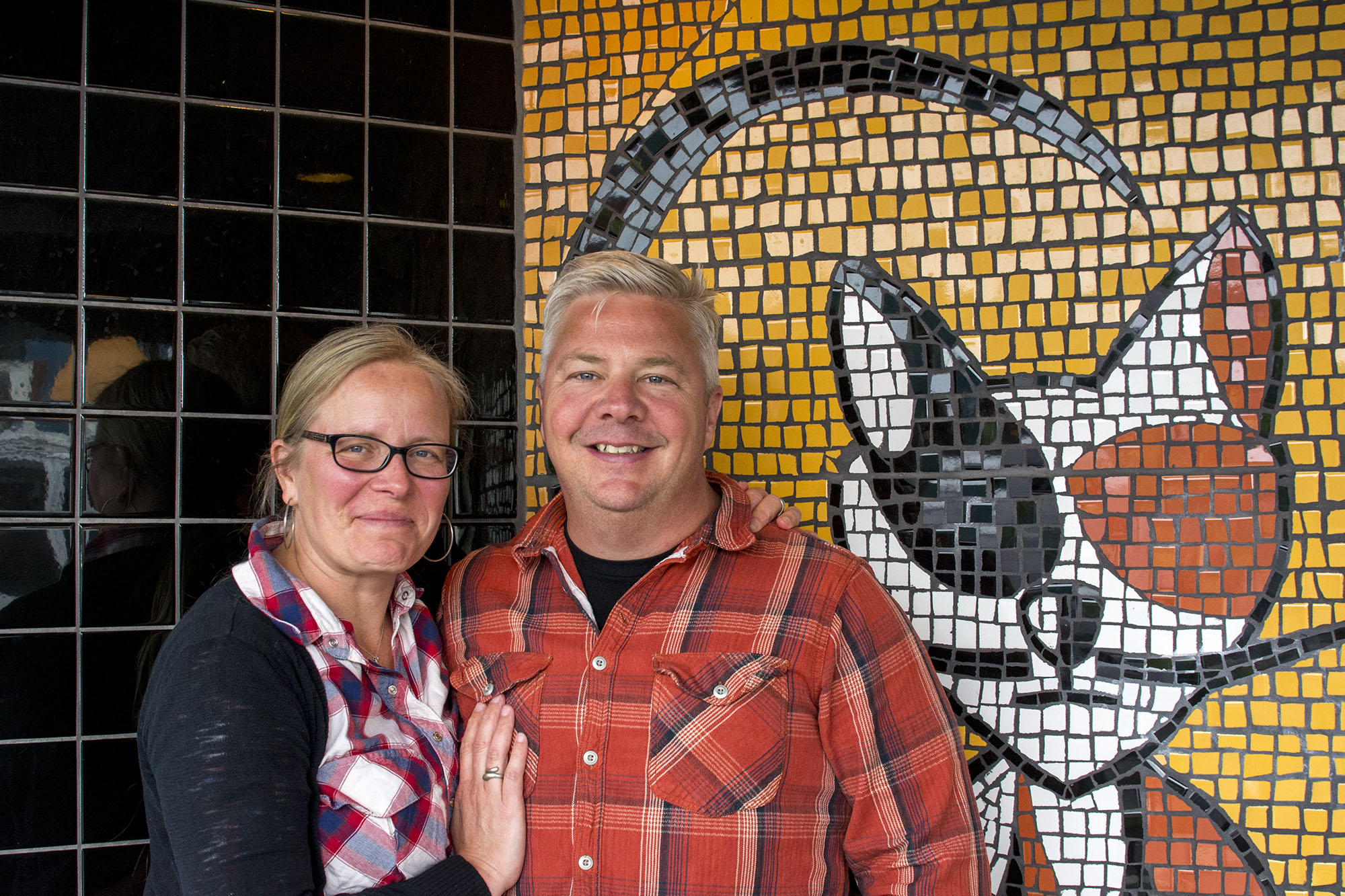 Off to a fairy-tale start at Mill House. We were greeted by a sweet neighborhood kitten!
---
MILL HOUSE
The Specs:
Sleeps eight, perfect for families or a group of friends
Two master suites, one bunk room
Three full baths, one half-bath
Two patios overlooking the ocean with Adirondack chairs, a charcoal grill, antiques, gas fireplace, library nook, community basketball court and fire pit, media/game room, and a light-swathed great room with ocean views
---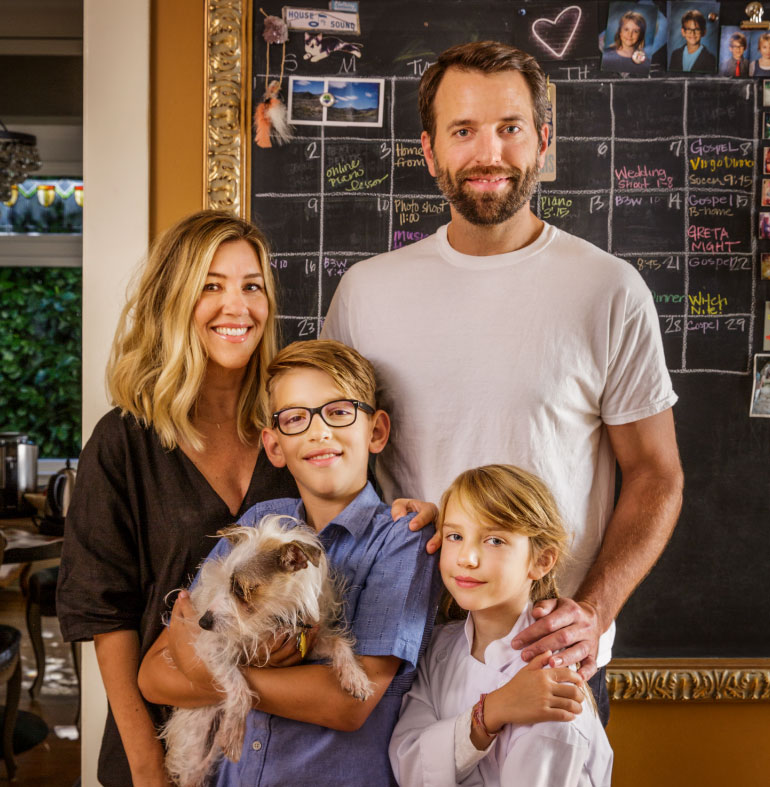 One of the first things my husband, Nate, said to me when he saw my turquoise convertible was, "When can we take this thing to the beach?" Fast-forward nine years, a more practical car, and one baby later, and you'll still find us exploring all that the Oregon Coast has to offer.
---
HOME AWAY FROM HOME PRO TIPS:
Out of sight. Move in and put the suitcases back in your car. Who wants to think about packing up to go home?
Play it again. Bring a speaker and make a music playlist for the trip. At this point, our playlist is a compilation of songs from all of our travels, and every time we hear one, it brings us back to that special travel memory. Madonna dance party recommended.
Bon appétit. Plan meals ahead of time and utilize the kitchen. Mill House came equipped with every single kitchen tool and appliance my heart desired. Barnacle Bill's is a great local staple for fresh seafood.
Unplug. Try and limit phone, TV and iPad time. Be present.
Live like a local. Get out of your comfort zone and explore the town of your home away from home. We enjoyed happy hour at Kyllo's, played at the dock at Regatta Grounds Park and hiked to Drift Creek Falls.
---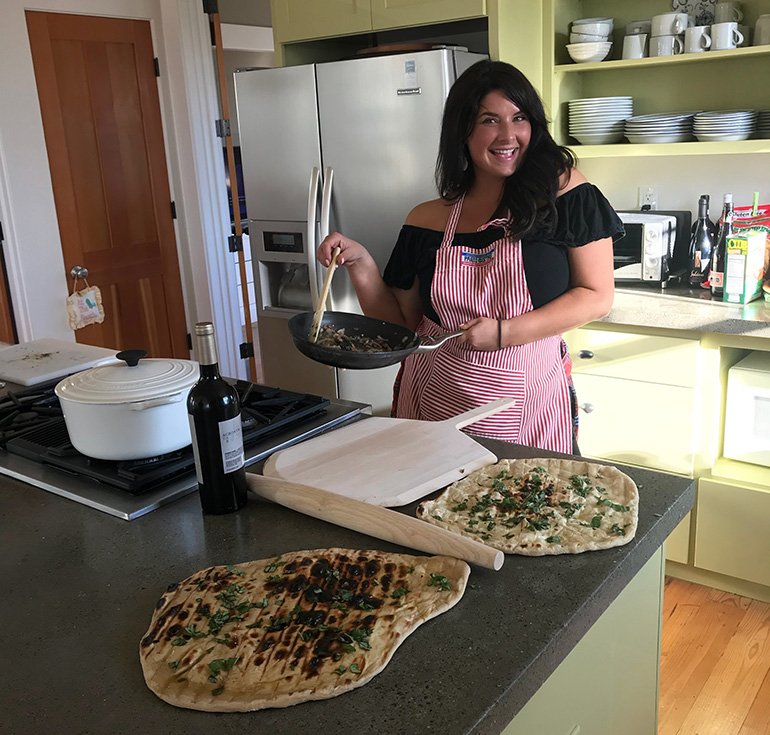 In need of an easy, crowd-pleasing recipe during your stay? Grill your pizza!

---
Mill House is located in the Roads End area of Lincoln City in the luxury neighborhood of Belhaven. The extremely walkable neighborhood has 12 Meredith Lodging rentals. All are expertly crafted newer homes with forest and ocean views designed to make the most of life at the Coast. Families gather to play in Belhaven Park while others venture on the five-minute trail to the beach.
The best vacations are those where you truly feel at peace and comfortable in the space. Our lovely experience at Mill House exceeded our expectations and truly captured the essence of a Home Away From Home.
---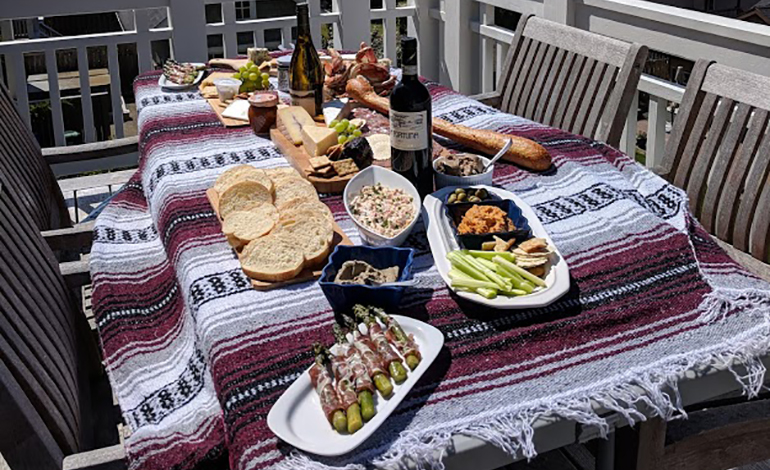 ---
SMOKED SALMON DIP
Ingredients:
2 shallots
2 cloves garlic
1 T unsalted butter
1 fileted smoked salmon (Salmon from Barnacle Bill's!)
1/4 C fresh chives
2 T capers
1/4 C mayonnaise
1/4 C whipped cream cheese
1 lemon, including zest
Salt & pepper
1 T olive oil
Preparation:
Sauté shallots and garlic in butter until shallots are translucent. Transfer to bowl and add smoked salmon. Stir in chives, capers, mayonnaise, cream cheese, lemon and lemon zest. Mix all together by hand until smoked salmon breaks up. Add salt and pepper to taste and stir in olive oil. Top with diced chives and serve with grilled baguette and crackers.
Enjoy!
---
Let Meredith Lodging Help Find Your Perfect Home Away From Home
1-855-318-0921
meredithlodging.com
#homeawaywithmeredith