With so many charming towns and neighborhoods to choose from along the Oregon Coast, deciding on an ideal vacation destination is the challenging part. Thankfully, Meredith Lodging's team of reservation experts is happy to help aid in the process with a fantastic website with a variety of homes and neighborhoods that make for an unforgettable vacation.
---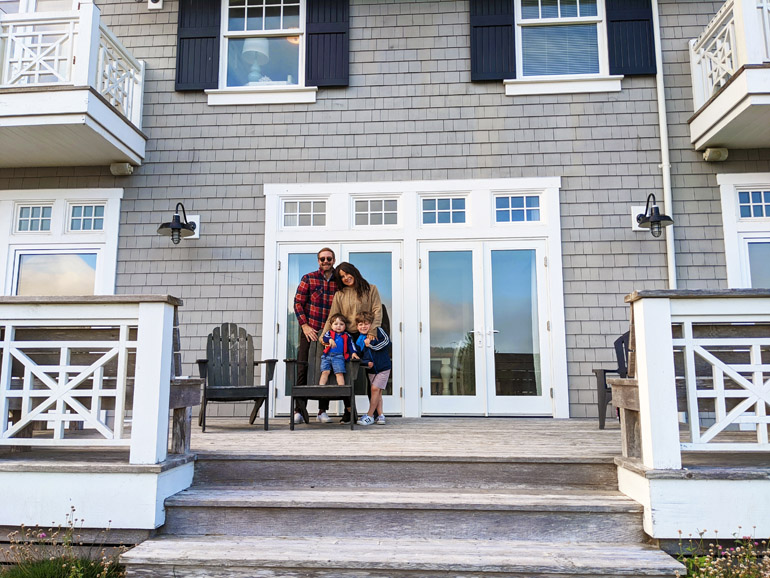 ---
In addition to being known for having beautiful homes in Oregon's most-loved destinations, Meredith Lodging is also known for having beautiful homes in some of the most treasured resort communities on the Oregon Coast and in Central Oregon, too. The latest Home Away From Home getaway brought publisher Courtney Kutzman's family and their friends to two beloved coastal resort communities in Lincoln City—Olivia Beach and Belhaven in Roads End. In Olivia Beach, the group enjoyed a stay in a home called Time to Coast, then traveled up Highway 101 to the Belhaven community for a stay in a home called Coco Beach.
---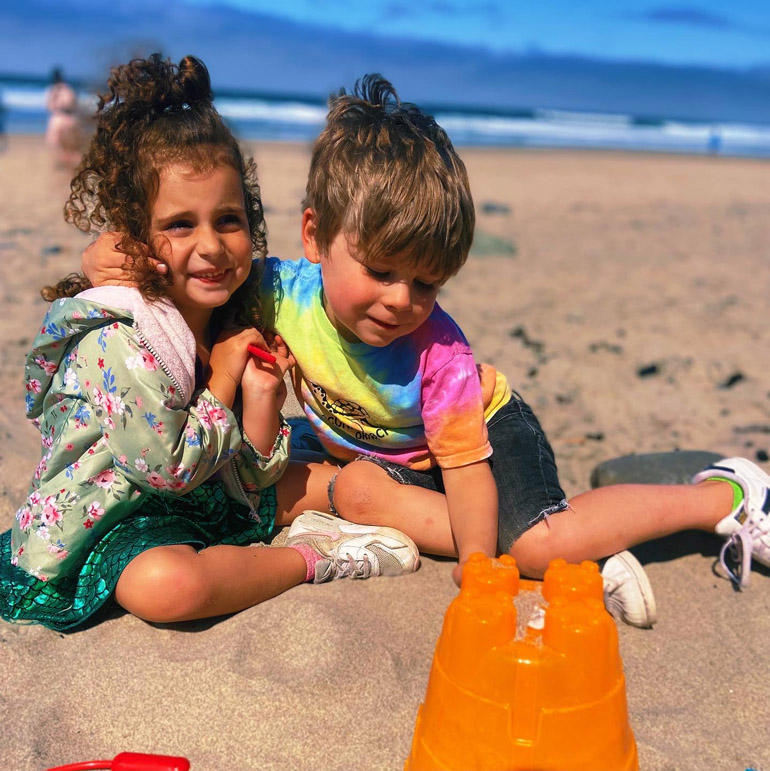 ---
Why We #StayWithMeredith
Beautiful, private homes in Oregon's most-loved places (and a Luxury Collection offering extra-special getaways)
Family-friendly homes with amenities kiddos love
Work from "home" amidst inspiring new surroundings
Easy and safe, contact-free check-in/out
Sparkling clean homes
Meredith Lodging is growing! They now offer beautifulhomes in Leavenworth, WA, and Big Bear, CA.
---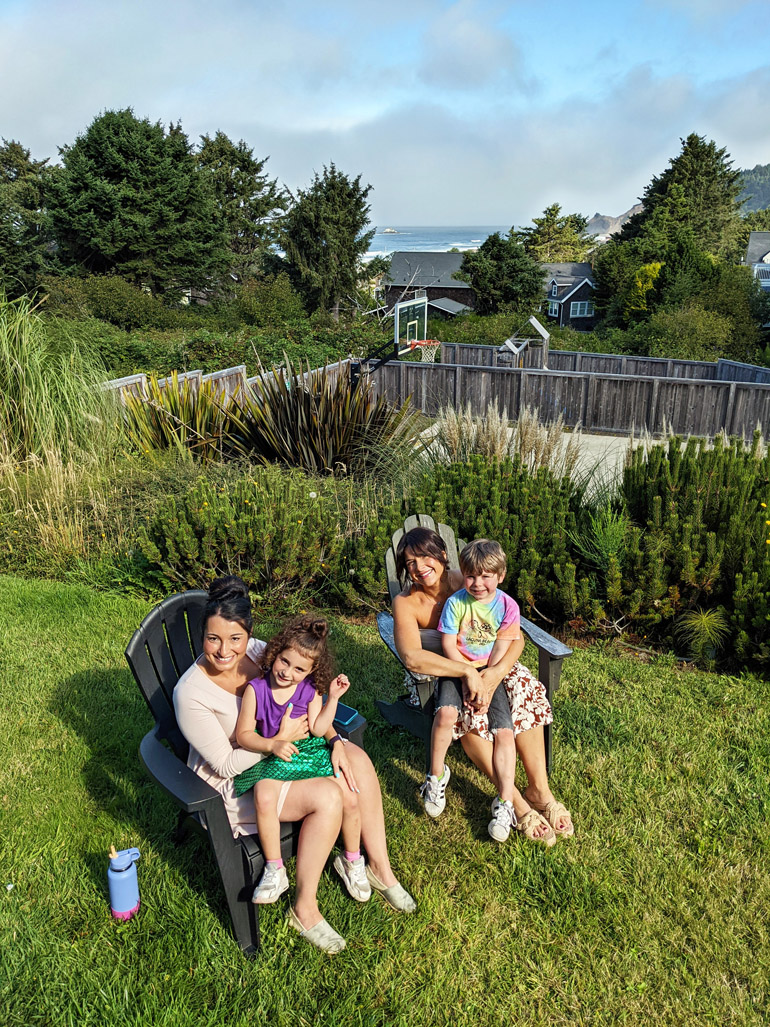 ---
Olivia Beach is a charming seaside resort community tucked in behind an oceanfront ridge that runs along Nelscott Beach. The neighborhood is incredibly family-friendly and perfect for anyone looking to experience a coastal community seemingly out of a storybook. The lush landscaping, oyster-shell-lined paths and Nantucket-inspired cottages are lovely and tranquil, and provide the perfect setting for an unforgettable and quaint coastal getaway. Spend your time swimming in the neighborhood pool, take the kids to the picnic area and playground, or challenge the group to a volleyball tournament on the sanded volleyball court. This community also offers convenient and private access to beautiful Nelscott Beach.
---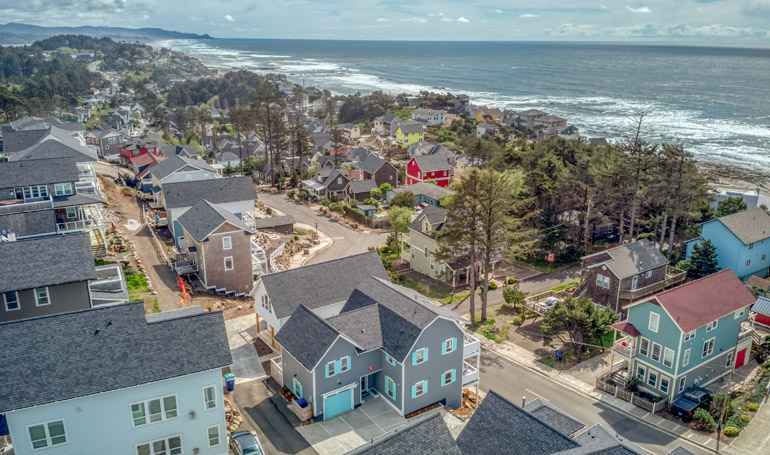 Meredith Lodging resort communities Olivia Beach in Lincoln City (shown here) and Belhaven in Roads End offer guests close proximity to the beach with family-friendly amenities like on-property playgrounds (below).
---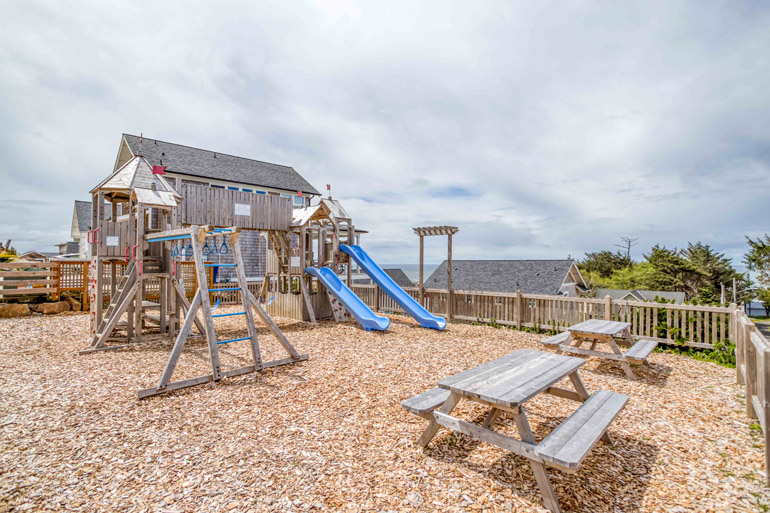 ---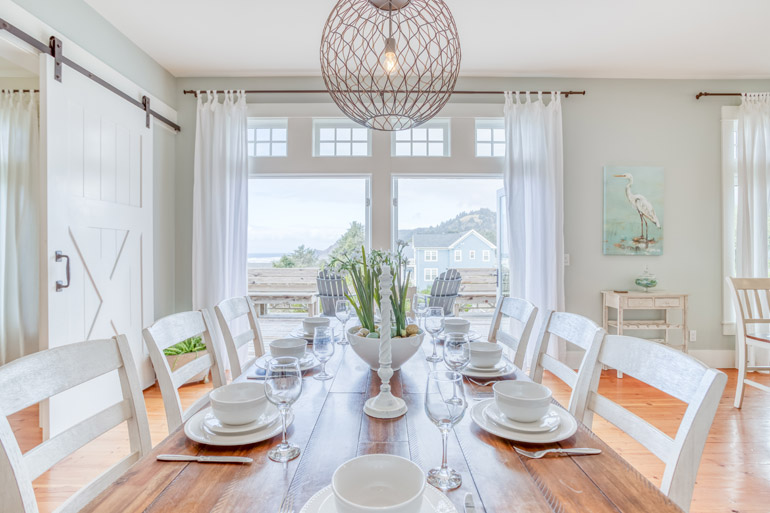 Homes in the Belhaven community offer expansive views of Roads End out almost every window.
---
Locals Love:
---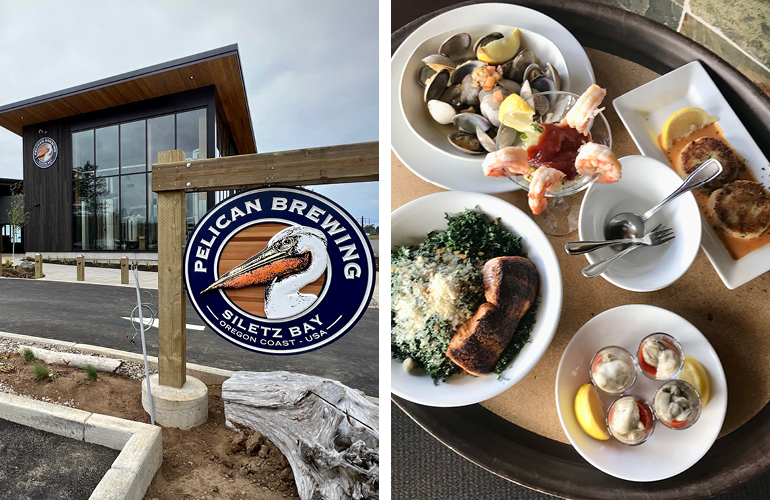 The new Pelican pub (left) offers craft beer and pub fare with beautiful views of Siletz Bay. Everyone enjoyed the very popular and seafood-focused Happy Hour menu at Kyllo's (right), where every table has an ocean view.
---
Time to Coast is a stunning home perfectly appointed with everything guests could ever want in an Oregon Coast vacation rental. This home also features a ton of family friendly extras—Ms. Pac-Man was a hit, as was the ping-pong table, air-hockey, sauna, hot tub and endless amounts of beach toys. The wraparound porch overlooks the gorgeous neighborhood of Olivia Beach (and offers ocean views, too!) and is the perfect spot to sip coffee and breathe in the ocean air.
---

Time to Coast sits in the upper part of Olivia Beach, offering beautiful views over the community and out to the Pacific.
---
Welcome Home to Time to Coast
Home Highlights:
4 bedrooms / 3.5 bathrooms
Sleeps 13 guests
In-home sauna
Private hot tub
Fire pit
Ping-pong and air-hockey tables
Arcade console
Wraparound porch with ocean views
---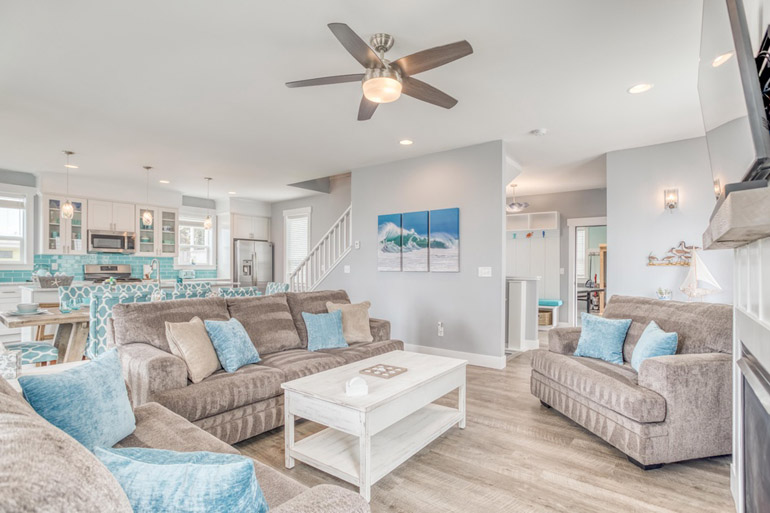 The light-filled living room at Time to Coast in Olivia Beach offers plenty of room for everyone to gather together.
---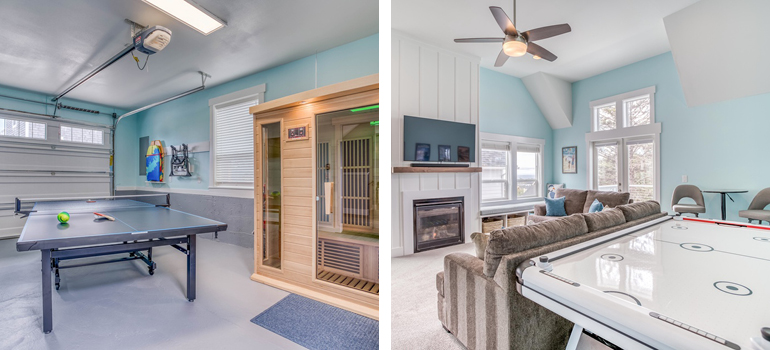 Time to Coast is full of playful touches the whole family will love, including a ping- pong table, air-hockey table and Ms. Pac-Man arcade game (below).
---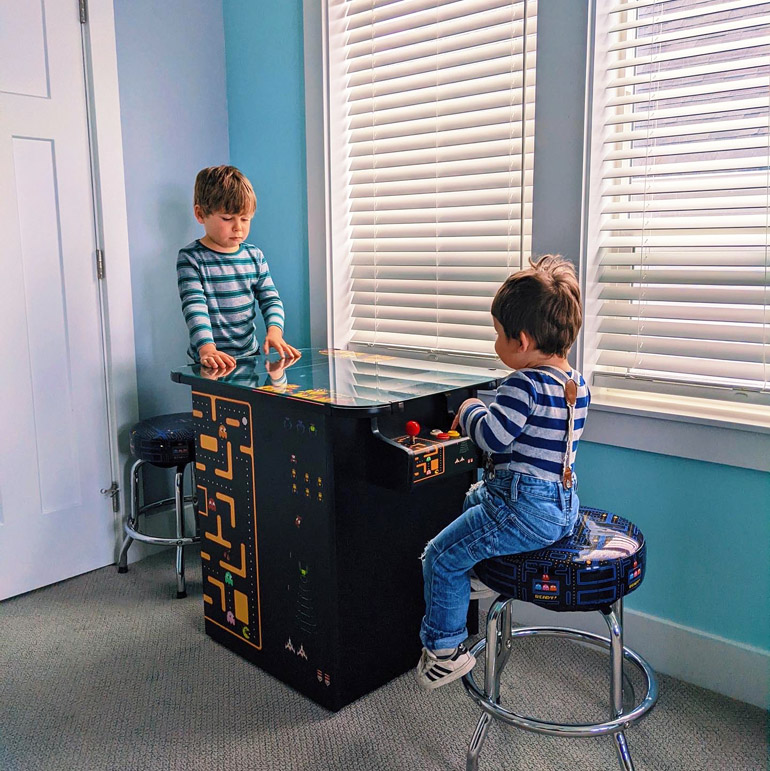 Time to Coast offers guests of all ages the chance to play Ms. Pac-Man as many times as they like—no quarters required!
---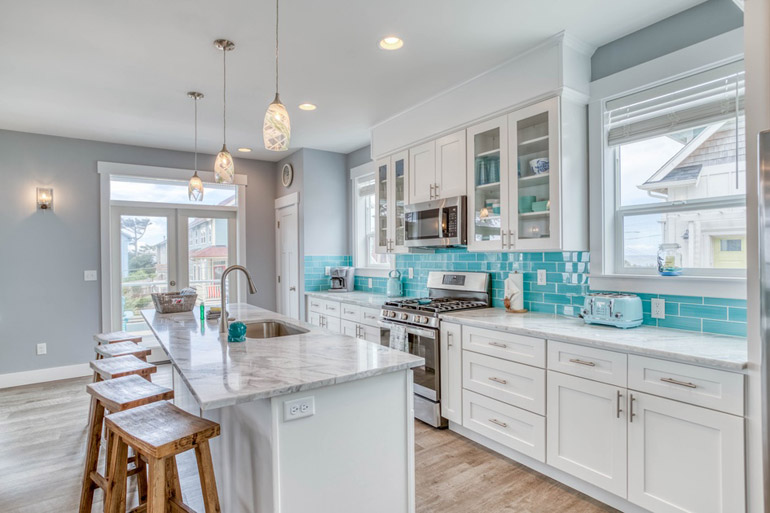 The chef's kitchen extends the great room and features high-end appliances and beautiful views overlooking Olivia Beach.
---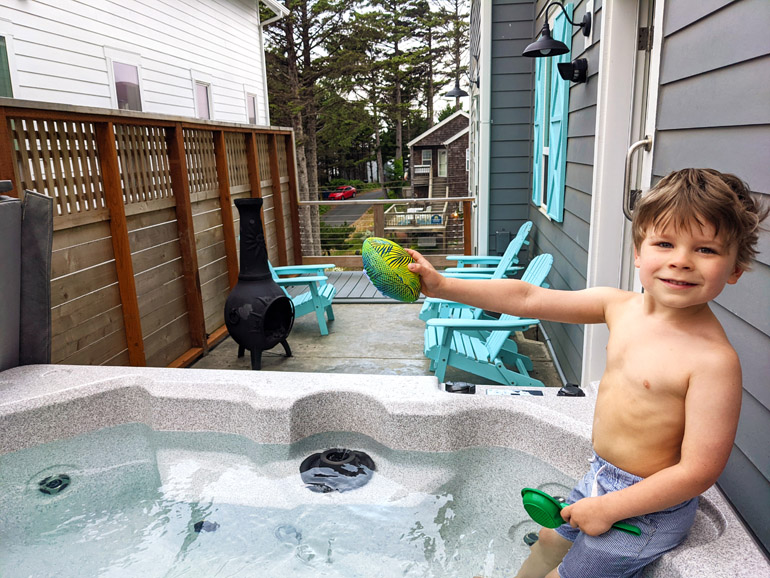 The home's large and private hot tub provided a great place to relax after a day of exploring the Olivia Beach community and nearby Nelscott Beach.
---
After a stay at Olivia Beach, the group traveled to the Roads End community of Belhaven to spend the second half of their getaway at the incredible Coco Beach home. This light-filled, well-appointed home is perfectly decorated and breathtakingly beautiful. Coco Beach offers ocean views out almost every window, gorgeous gathering spaces, and is conveniently located near the community basketball court and playground, which makes for effortless fun for the whole family. The community spaces also offered up some delicious late-summer wild blackberries ripe for picking with the kids. When you are ready to head to the beach, it's a short, pretty walk along the tree-lined path to the sea. Coco Beach provided the perfect retreat for the entire group and an ideal spot to celebrate, too—the group enjoyed a festive birthday feast lovingly prepared in the chef's kitchen, followed by a neighborhood walk to check out the other incredible Meredith Lodging homes nearby. Each evening was capped off by gathering the group on the ocean-view deck to enjoy yet another stunning Oregon Coast sunset.
---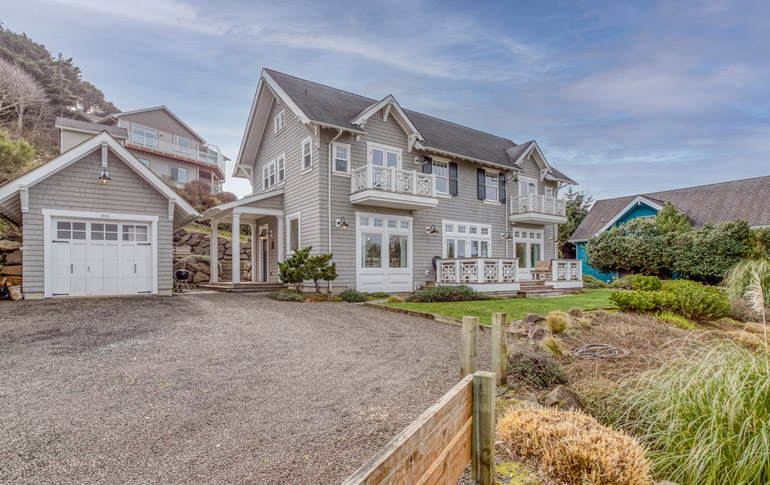 Like all the homes in the Belhaven community, Coco Beach welcomes you with its cottage-inspired architecture and inviting porches and decks.
---
Welcome Home to Coco Beach
Home Highlights:
5 bedrooms / 3.5 bathrooms
Sleeps 10 guests
All bedrooms have ocean views
French country kitchen
Outdoor ocean-view porch with built-in seating
Large selection of board games
---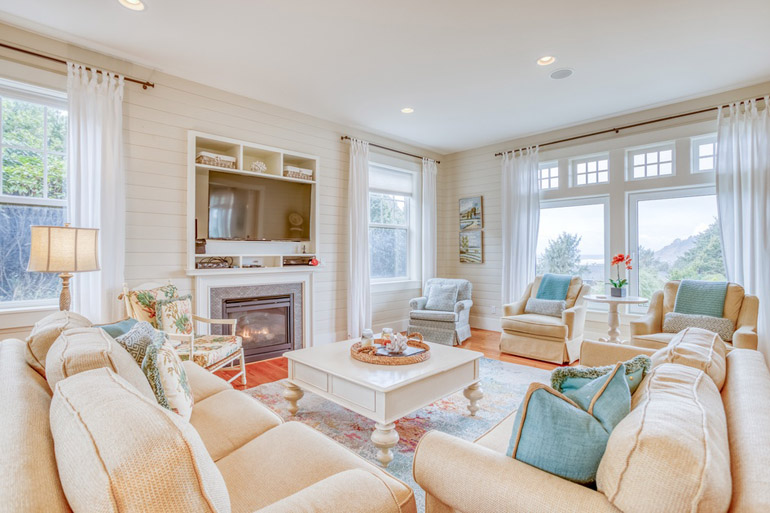 The great room of Coco Beach includes a cozy fireplace, seating for everyone and breathtaking views of Roads End Beach.
---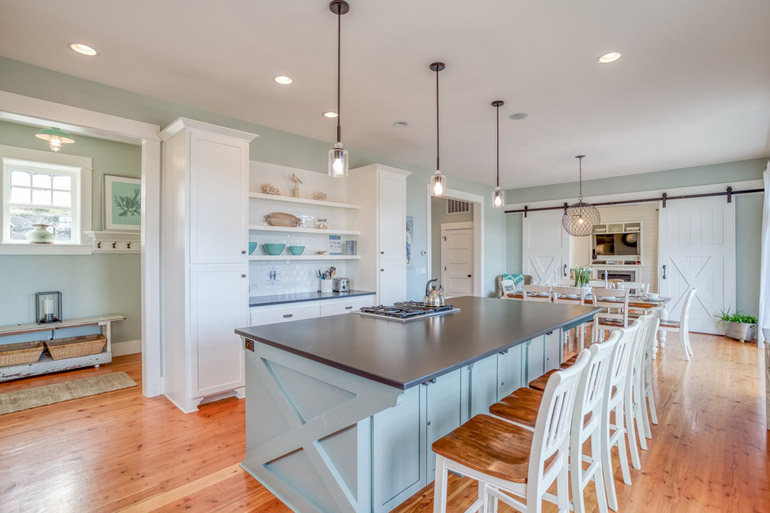 The well-designed high-end kitchen has ocean views as well and will bring out the chef in every guest!
---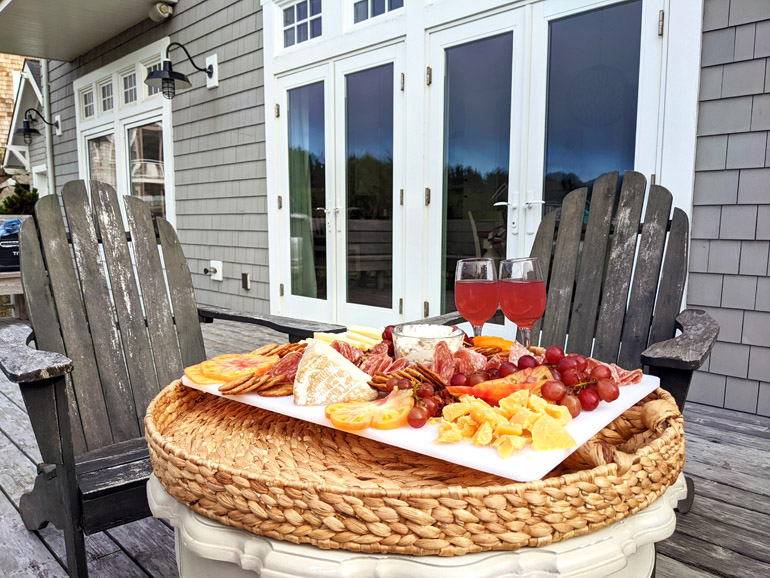 The many ocean-view outdoor spaces at Coco Beach provided the perfect spot to enjoy some sunset charcuterie.
---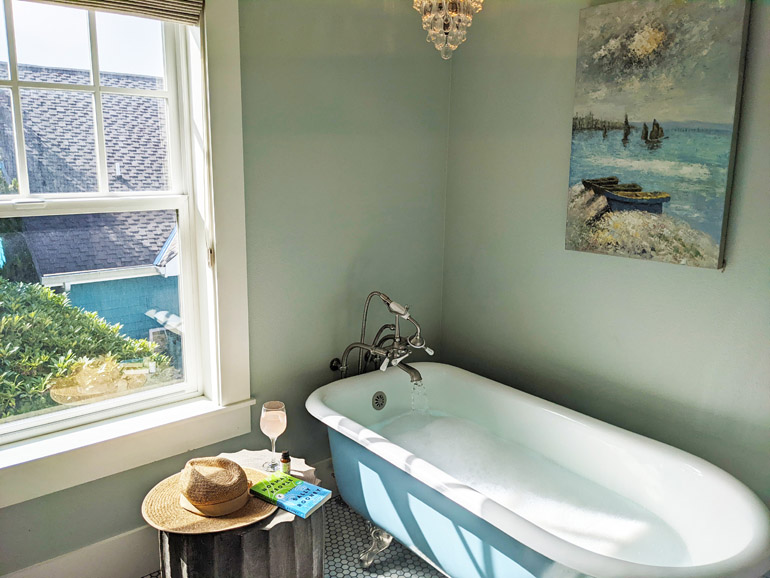 Coco Beach has room for everyone, including cozy bedrooms and luxurious bathrooms—like this one, with a large clawfoot tub—perfect for reading a book!
---
Fun fact: Belhaven was the setting of the very first Home Away From Home getaway four years ago, when the same group stayed at Mill House. (Although three kids have been added to the two families' broods since then!) It really is the perfect place for a family-friendly Oregon Coast getaway.
If you are looking to plan a getaway the whole family will love, and one full of amenities right outside your door, Meredith Lodging has so many options to consider! They have beautiful, private homes in the treasured resort communities of Olivia Beach, Belhaven, Bella Beach, Bayshore and Mt. Bachelor Village Resort. Their helpful and locally based reservation teams can help you find and book the perfect home.
---
Book Your Getaway Today
Let Meredith Lodging help find your perfect home away from home.
855.318.0921 | MeredithLodging.com | #homeawaywithmeredith