Most people see a shovel purely as a gardening implement, but when metalsculptor Joseph Warren looks at atool, he sees the beginnings of an animal. "A shovel makes a good chest piece," he says. "A pickaxe can be a spine."
Warren, who was born and grew up near Boston, studied comparative literature at the University of Massachusetts, and later moved to Portland, where he received an M.A. in creative nonfiction at Portland State University. He became interested in both art and sustainability and began taking classes such as welding and graphic design at Portland Community College.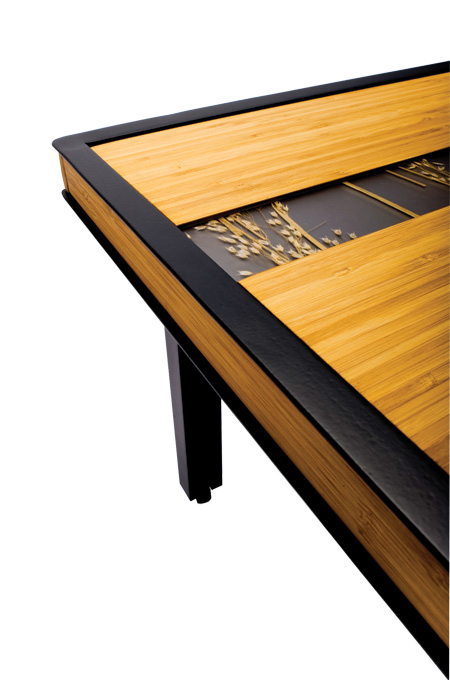 "In 2003, I was backpacking in Southern Oregon, and I found an abandoned cache of old rusty tools, and I decided to pack them out," he says. "I made my first animal from those tools. Since then I've made giraffes, elk and deer as well as commissions of people's pets. I love to recreate things in the natural world." Now he gets metal salvage from friends as well as from junk stores and scrap piles throughout the state.
Warren, who works in a shared studio space at Shop People, first builds a heavy base and a structural frame, then welds the design. "I clean up some of the metal, but I love rusty salvaged pieces, too," he says. "When I'm done, I cover it with a vinegar patina and a clear enamel."
To get the anatomy and geometry of the animals correct, he uses photos that show animals in different poses. Don Quixote on His Horse Rocinante (above) is his first piece that combines human and animal forms. "Initially,
I had some trepidation about making a human," he says. "I didn't want it to look robotic." The 12-foot-tall, 5-foot-wide and 2½-foot-deep sculpture of Don Quixote and Rocinante is $12,000. Commissioned pets start at $1,000.
Contact metal sculptor Joseph Warren at weld-designed.com
His work can also be seen at the Love Art! Gallery (8036 S.E. 13th Ave., 503-954-2656) in the Sellwood neighborhood of Portland.