A Portland indie wallpaper designer known for enlivening restaurants and hotel spaces brings her maximalist vision to the home.
---
It's been a week since Kate Blairstone installed a riotous wallpaper pattern called "Pike Place" on the ceiling and two out of four of the walls in her converted garage studio in St. John's, in North Portland. The wallpaper designer, known for her idiosyncratic palettes and symbol-driven patterns, has been toning down some of the other elements in the studio like art objects and colors now that her walls are populated with the wallcovering featuring crabs, mushrooms, mussels, octopi, glass pipes, cabbage, fish and jade tassels.
"Obviously, it's a lot," Blairstone says. "It's dimmer here now because the overall value of the colors is darker, but the combination feels joyful to me. It feels very me."
---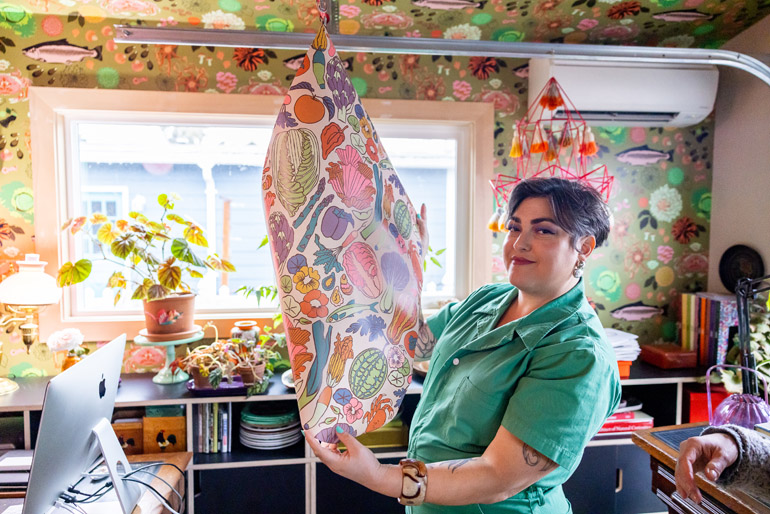 ---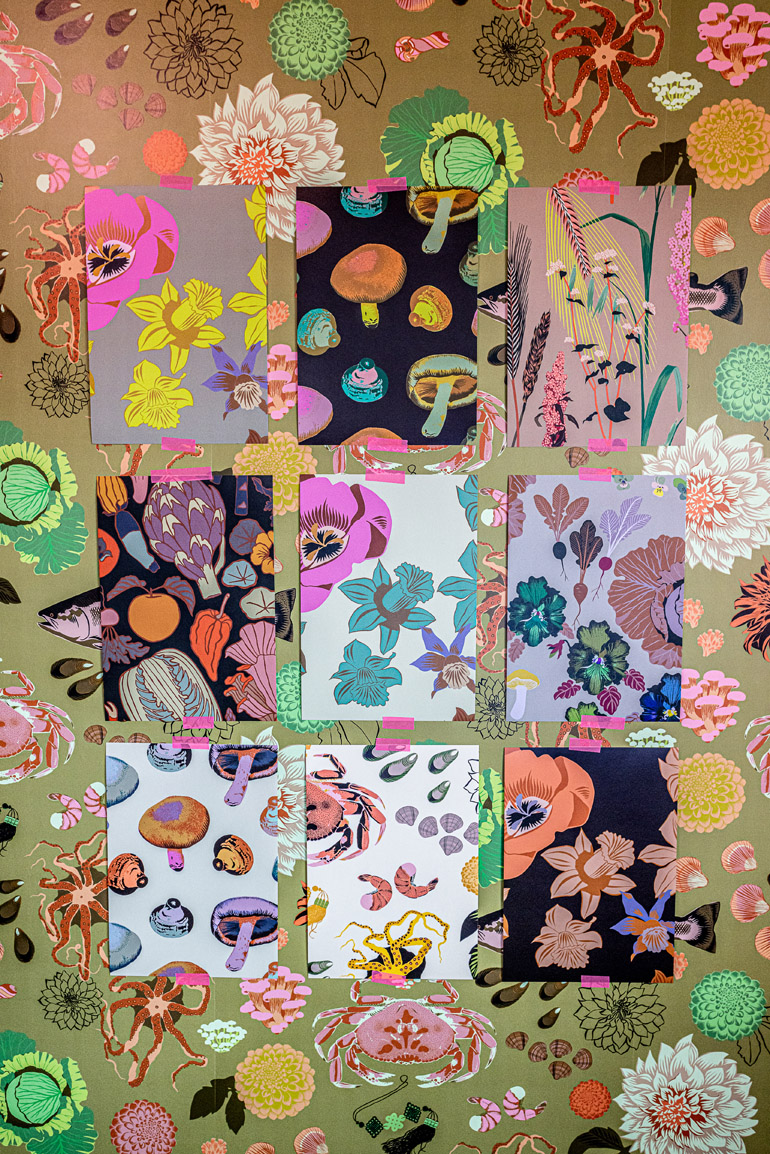 ---
Many of Blairstone's surface patterns speak with this aesthetic — a voice confident in its references, inventive in its exploration of color and even a bit racy in how it is all pulled together. One of her newest, a spring pattern, gathers seasonal delights like delicate blooms and hearty vegetables, mushrooms and foliage into a midnight dream hike. Then there's a pattern that leans more traditional, an ebullient collection of heirloom roses in pinks, reds and white from a folksy floral wallpaper (it's giving cool-grandma vibes). Or how about that psychedelic pattern of shiitake mushrooms that looks like it could work beyond a chef's kitchen or mycologist's powder room? Whatever she is working on, Blairstone's trick is to take the imagery of the Pacific Northwest and reimagine it to feel both familiar and exotic, personal and universal. It's a maximalist, color-rich, symbol-heavy style that favors the bold.
That's pretty much the kind of people who end up putting Kate Blairstone wallpaper in their homes — clients who aren't afraid to take a chance on rich, immersive stories and colors. And now, anyone who hasn't already taken the full leap with her wallpapers can find her patterns at Cargo, Inc., where she collaborates with Cargo owner Bridgid Blackburn on a line of home goods.
---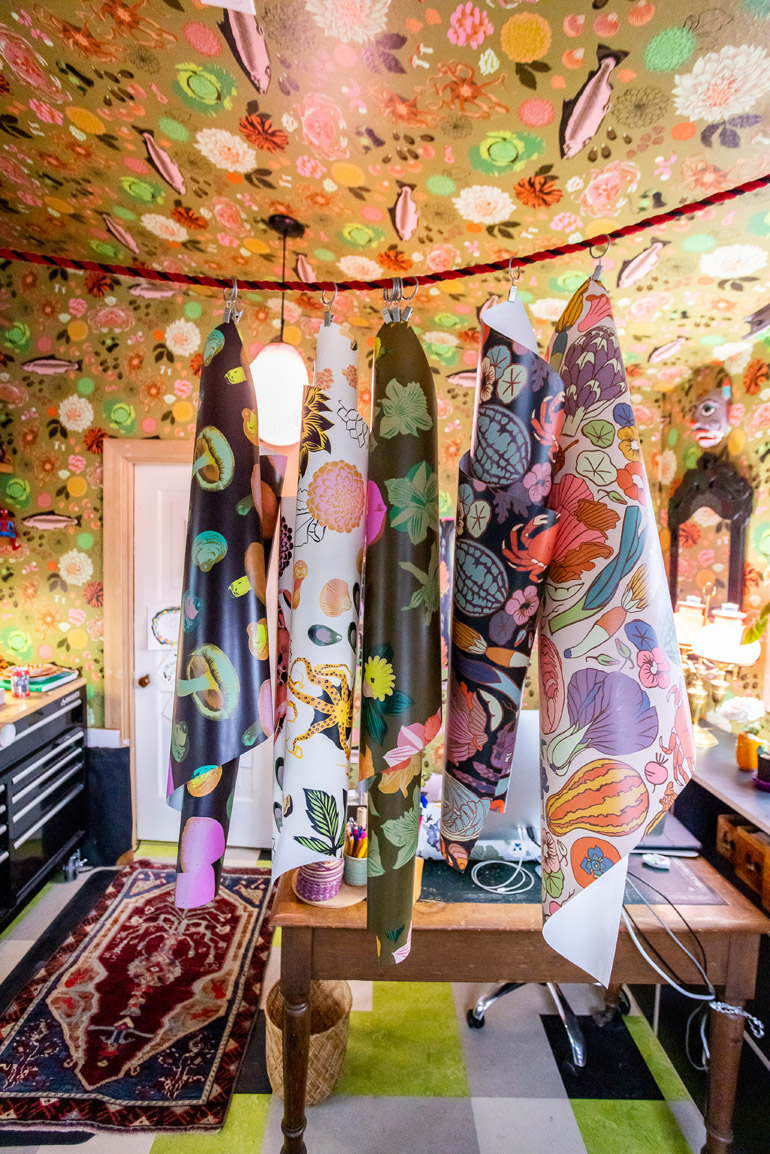 ---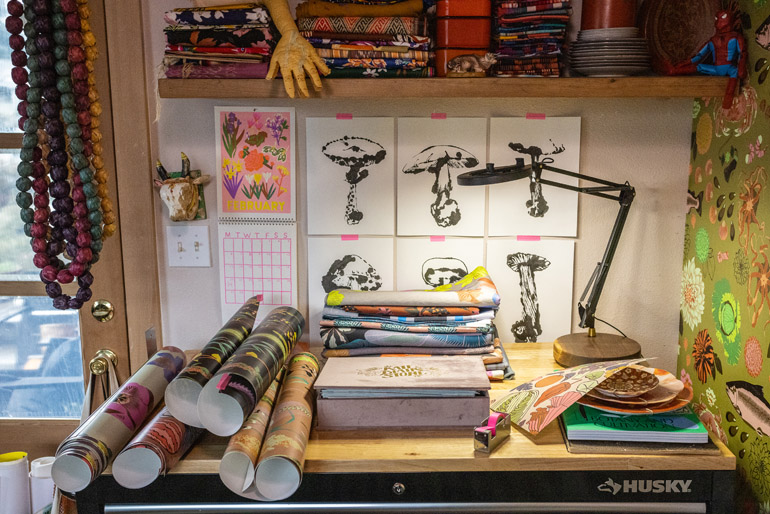 ---
This moment was years in the making. Blairstone went to school at the Pacific Northwest College of Art for printmaking, inspired by woodcuts, Japanese prints and textile design. "There wasn't a path for what I'm doing," she says. "Art school doesn't really combine all of your influences and give you a way forward." She got her first break in wallpaper while working alongside her now partner, the indie horror writer Matt Blairstone, at fabled brunch spot Besaw's, during its expansion into a larger, more modern space. She designed the restaurant's custom wallpaper — incorporating elements from the community garden the restaurant had left behind when it moved. "It became part of our strategy, to translate the sense of community from here to there," Blairstone says. "How do we talk about our ethos in a way that makes people feel welcomed and references the old environment?"
These questions now drive her work — how do you translate what a person cares about into a visual language, and then present it in a way that continues to engage them in an immersive sensory experience? How do you make the familiar feel exotic? How do you capture what seasonality feels like in a way that gives a sense of permanence? It's also what has made her papers a favorite for hotels and restaurants looking to brand themselves and their customers' experiences — and how she ended up designing the "Pike Place" wallpaper for the State Hotel in Seattle.
For years Blairstone worked back-to-back in a third bedroom of a mid-century rambler she shares with her partner and their 6-year-old son, Roman, with views of her beloved garden outside. But since moving her workspace to the garage, she's had more room to play — and discover the happy accidents that come with more space. "I couldn't make a mess, so there was a lot of control over how I made work," Blairstone says. "Now what I like to do is a dedicated two-week period of time where I am really focused on one subject matter and I'm just drawing and iterating on something."
---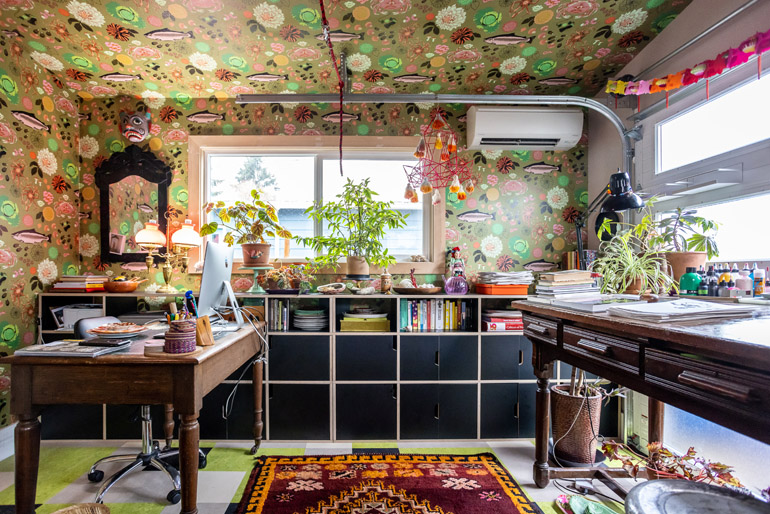 ---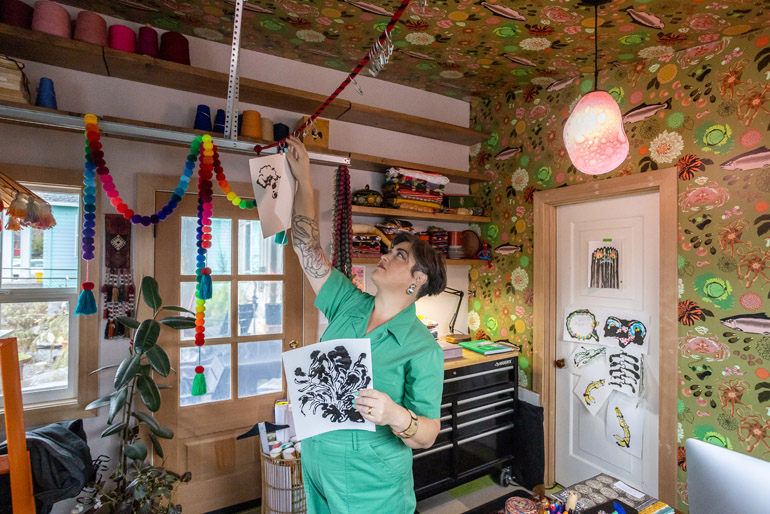 ---
Until recently, Blairstone's work for homeowners had been more of an outgrowth of her projects creating custom paper collaborations with individual clients. She loves working with experts, especially horticulturalists. A radicchio-inspired paper she created with a group of Italian horticulturalists became a wallpaper pattern attractive to home gardeners who jive with the deep purples of the bitter chicory. Or she'll go deep into grains with a group of ancient grain experts for a poster concept, eventually combining elements of the poster into a four-colorway wallpaper with Manolo Walls, the exclusive distributor of the wallpapers.
Blairstone knows that many homeowners are timid with wallpaper — afraid they'll tire of it too easily. But she is always searching for those people who want the fully immersive experience with color, someone who sees her patterns as a component of a layered, bigger vision — not just as an accent wall or small moment. Not someone who just wants to dip a toe in, but a homeowner who wants something transportive.
"Yes to powder rooms," Blairstone says. "But can we do that everywhere?"
---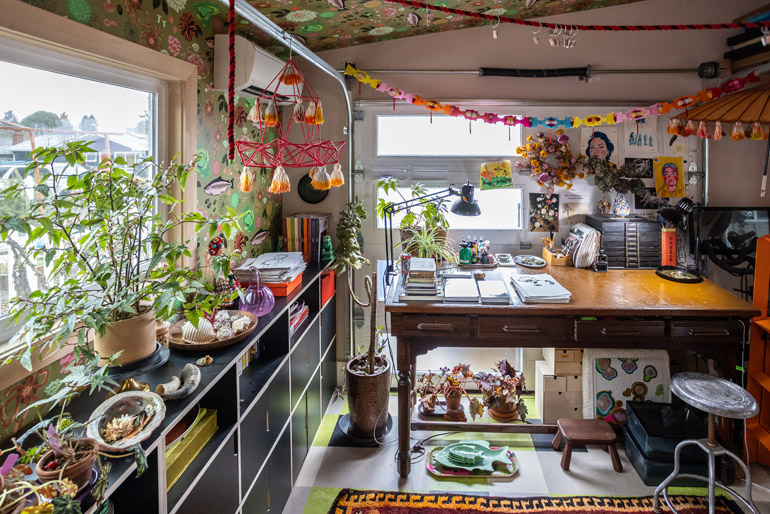 ---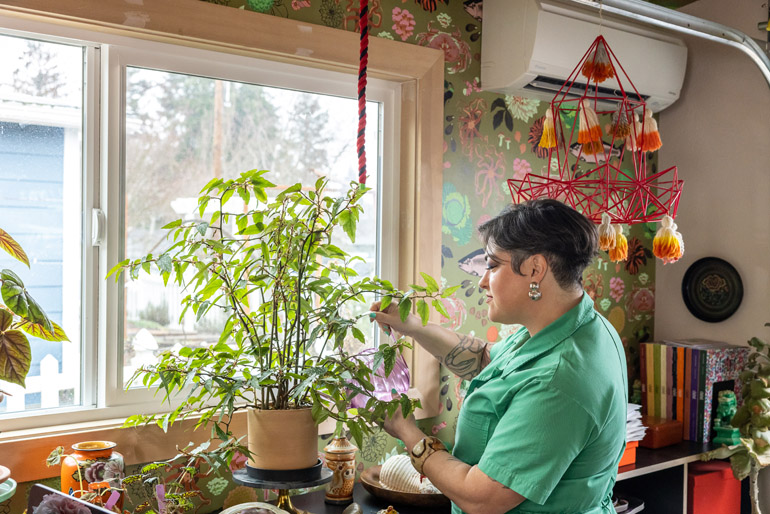 ---
Anatomy of a Wallpaper Pattern: "Mahonia"
The four colorways of Blairstone's most popular wallpaper pattern present a Pacific Northwest garden of mahonia, sword fern and floribunda roses in different light at moments throughout the day: Dawn, Midday, Evening and Midnight. "I'm all about seasonality and capturing a moment," Blairstone says. "That's what I really care about doing — creating a group of things that really feel like they exist outside of time but are hyper-specific to a moment."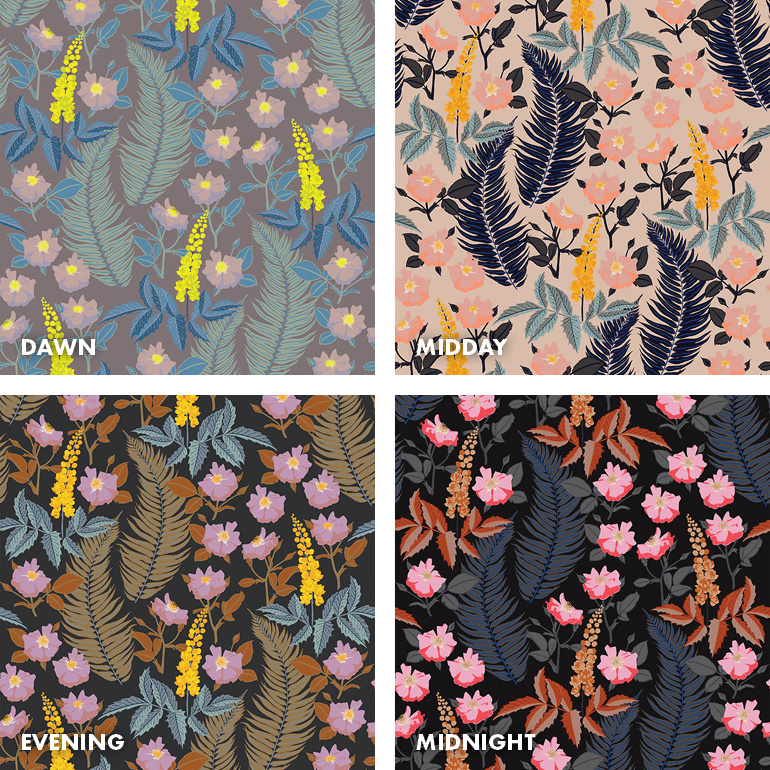 Mahonia Wallpaper, $195/roll
---
Spring Vibe: Maximalist Decor
The Kate Blairstone collaborations with Cargo, Inc. bring pops of color to the home.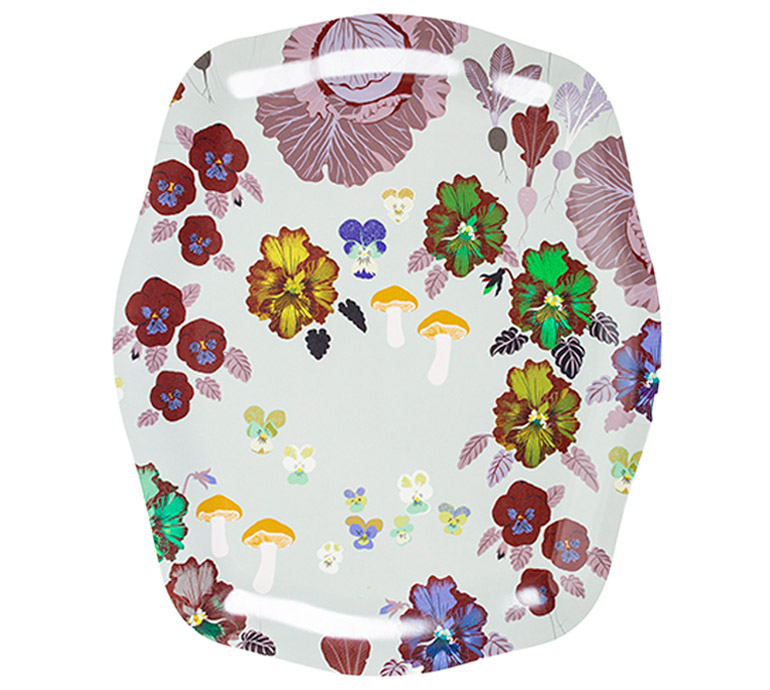 Pansy Rococo Tray, $82
This hosting favorite was inspired by characteristic growth at the cusp of winter and spring, with pansies, crisp radishes and mushrooms.
---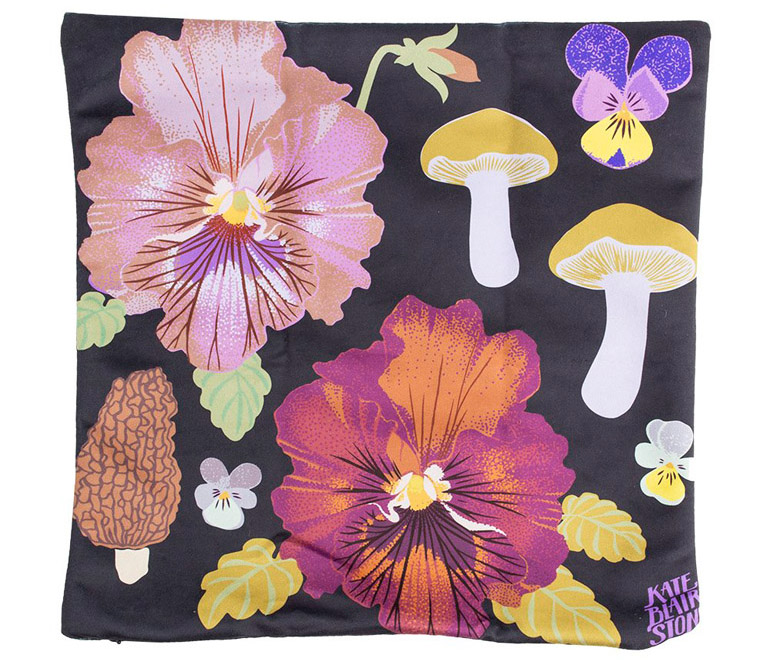 Forager Pillowcase, $78
Spring motifs like pansies, morels and shittakes get a moody turn in a velvet throw pillow.
---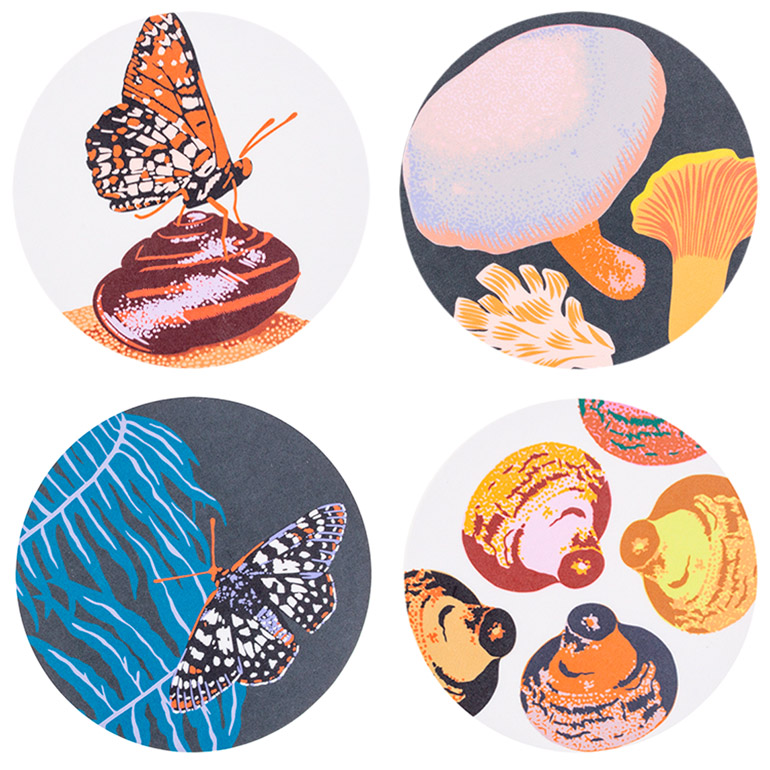 Forest Floor Coaster Set, $48
These laminated melamine and birch-veneer coasters evoke treasured memories of walking through Oregon's forests.
---
All housewares products available at Cargo. Wallpaper from Manolo Walls.