Growing up, fiber artist and painter Julie Simpson loved designing on graph paper. "I spent many, many hours coloring and drawing and making designs in the squares," says the Olympia, Wash.-based artist. "I think all the time I spent doing that still influences my love of color and structure."
Simpson's high school teachers encouraged her to apply to art school at the design-forward Rhode Island School of Design (RISD) in Providence, R.I., where she gained admission and studied textile design. "In a lot of ways, I owe my career to my high school art teachers who convinced me that I had the talent not only to get into a good art school, but also to make a living as an artist," she says.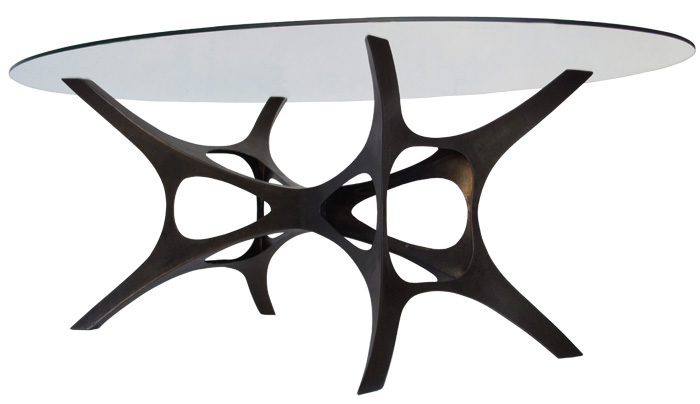 After she graduated, Simpson worked as a fiber artist, then evolved into working with a mix of mediums. "I worked on looms making wearable art, but I continued to work on my painting," she says. "Now I incorporate a lot of different materials—paint, paper and fiber—into my pieces of art."
These six acrylic paintings are from her Six Line Series. "I do a lot of work in series because I like to work with patterns and the influence of shapes," she says. "The pieces you're showing started out as a way to play with concepts of scale, space and perspective. At RISD, I took an architecture class called Patterns of the Land, which influenced my art because I like to paint structures that you find in nature."
Simpson likes to combine texture, color and fiber in her work. "I use many layers of paint to create several layers of texture and color," she says. "Then I hand-stitch black nylon thread directly onto the canvas—creating the thin black lines separating the shapes of different paint colors—to infuse fiber into my paintings." The price for one 5-inch-square painting starts at $150.
Contact fiber artist and painter Julie Simpson via juliesimpsonart.com. Her work can also be seen at Matter Gallery (113 Fifth Ave., SW, 360-943-1760 or go to matteroly.com) in Olympia, Wash.