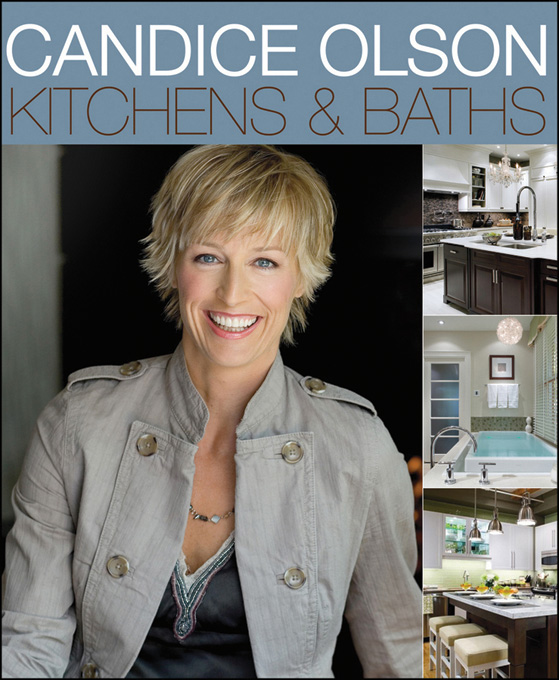 Candice Olson doesn't mind copycats. The HGTV star of Divine Design and Candice Tells All makes it easy to replicate her interior design with online resources, and now with her new book.
"I bet if you walked down the street and asked people what room they most want to renovate, about 80 percent would say kitchen first, and bathroom second," Olson says. "They are always on people's radar."
The book breaks down 30 remodel projects by challenge, solution and style elements. And, Olson jokes, it will keep readers young.
"I used to say that a kitchen renovation would age me 10 years, " Olson says. "Now that I've done hundreds, I'm certifiably prehistoric."
The complexities and expense of kitchen and bath remodels call for timeless design. The biggest shift in kitchens in recent years has been the open plan that invites family and friends to participate in cooking. She's not a fan of statement cabinetry or color appliances: "They may become the avocado green of the future." Stainless steel is classic but, "I have young kids and you could not pay me enough to have a stainless steel fridge because of the fingerprints." Improved consistency in color and finish of fingerprint-resistant models make it more appealing. 
She sees a trend away from industrial/commercial kitchen design. "I think it started when guys first started cooking and wanted the big Harley-Davidsons of ranges," she says. "Are you really running a diner from your home?" 
The remodels on the HGTV shows are shot in and around Toronto, Canada. Renovation costs are never mentioned because the series airs in 130 countries and labor prices vary wildly. Clients pay. 
"It's not a collaborative process," she says of designs for the show. "I do my Dr. Phil and sit down and analyze the family upside down and backwards."
After that, clients agree to relinquish all control. That presents unique challenges. "Sometimes we say we can't tell you why, but we need another $5,000," Olson says. 
Fortunately, clients have never been less than thrilled with the results. And fortunately for the rest of us, there's no crime in stealing style.