ACE OF PLACE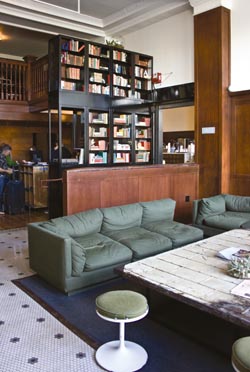 We've loved the ACE HOTEL (1022 S.W. Stark St., 503-228-2277 or go to [email protected]) ever since we made a pilgrimage to its stairwell to ooh and ah at Oregon Home "Home Front" illustrator Evan B. Harris' enchanting pink-and-gray murals.


After a detour to the mezzanine level to swipe a couple of complimentary notepads imprinted with ACE HOTEL, we were back in the lobby of the 1912 building, standing in front of the real draw to the recently renovated 79-room hotel: its photo booth ($3 for four black-and-white shots).
  And that's how you know you're in a hipster place. The twenty-somethings tapping away on their laptops don't lose even a keystroke when they see you walk your Aussie into the booth, pull the curtain and coo, "Mabel! Is that a kitty cat?".

PAGING MAGAZINE LOVERS!
Whether you prefer home magazines that take you into modern pads ($8 for the British import Living Etc.), bungalows ($7 for Style 1900) or castles ($9 for The World of Interiors), you'll find a got-to-dog-ear-it read at RICH'S CIGAR STORE & MAGAZINES (820 S.W. Alder St., 503-228-1700 or go to richscigarstore.com). The company has more than 100 homecentric magazines among its 2,500 periodicals. They also stock cigars, pipes and more than 200 blends of tobacco.

MASTERS' PIECES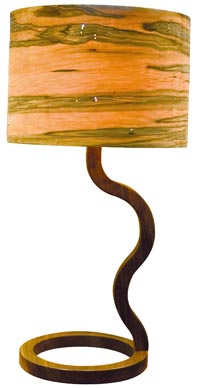 You'll find large and small one-of-a-kind pieces of contemporary fine American craft (from dining room sets to great earrings) at THE REAL MOTHER GOOSE (901 S.W. Yamhill St., 503-223-9510 or go to therealmothergoose.com), a gallery that features the work of more than 1,000 super-talented artists nationwide.
  Look for jewelry, glass, ceramics, exotic wood vessels and boxes, handcrafted furniture, kaleidoscopes, nightlights, games and toys. We liked this George Beirson lamp with wooden shade ($465) and Ralph Phillips' Haiku Table, an end table crafted from zebrawood, bubinga and maple ($1,675). In this place, looking can lead to buying!
FRESH + SOPHISTICATED = MKID
"We love traditional, we love contemporary," says Amanda Klash, the principal designer behind MONTGOMERY KLASH INTERIOR DESIGN (1111 S.W. Alder St., 503-224-7797 or go to montgomeryklash.com), defining the style that she and designer Emma Davis create for their clients from their kicky yet classic shop, MKID. "We really got into color this year."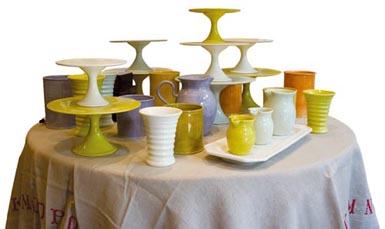 And how! Colorful Pot Luck Studio dishware ($30 for a small cakeplate) fills a Libeco Belgian linen-covered tabletop. Bold Dash & Albert Rug Co. cotton runners adorn the wall. Even the Austrian-imported David Fussenegger hot water bottles ($42) are little works of art!
STITCH CENTRAL
If your favorite pastime includes sewing, knitting or needlework, welcome to the best fiber arts district in the city. Knitters will love KNIT PURL (1101 S.W. Alder St., 503-227-2999), which stocks amazing wools such as Catherine Lowe Couture Yarns ($47 for a ball), Lantern Moon needles ($38), baskets meant to be heaped with yarn and Eucalan wool wash. JOSEPHINE'S DRY GOODS (521 S.W. 11th Ave., 503-224-4202 or josephinesdrygoods.com) is named for a now-departed finch that served as a mascot for the 32-year-old boutique. The shop is filled with natural-fiber fabrics such as Liberty of London fine cottons.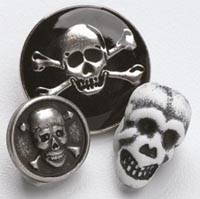 If buttons are your embellishment of choice, leave half an hour to hole up in THE BUTTON EMPORIUM & RIBBONRY (914 S.W. 11th Ave., 503-228-6372 or go to buttonemporium.com). This 11-yearold store stocks thousands of buttons! These skull-icious Skull & Crossbones shanks ($1.75 for 25-mm black button; $1 for 5/8-inch silver one) are imported from Germany. The white skull-shaped resin beauty (85 cents for a 3/4-incher) is made in France. (And yes, Yvonne, my Halloween-loving sister, I bought these for you!) THE PLAYFUL NEEDLE (1103 S.W. Alder St., 503-235-1636 or go to the-playful-needle.com) sells handpainted needlepoint canvases (think Melissa Shirley Designs and K. Moilineux patterns) and some 70 types of needlework threads.